Lemon Cream Pasta with Chicken Recipe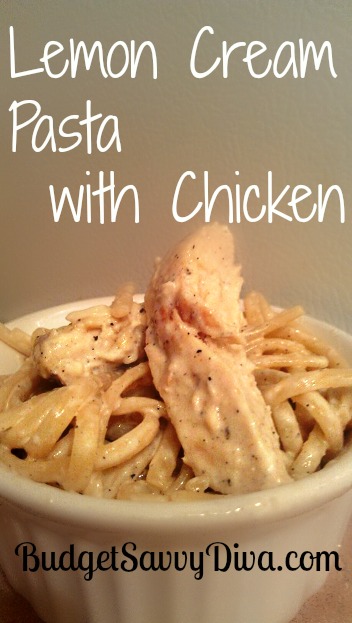 Did you pre-order Budget Savvy Diva's Book Yet ?! Over 40 Recipes
Find out all the details HERE
Make sure to pin the recipe or REPIN IT!
Everyday at 1 pm PST/ 4pm EST Budget Savvy Diva posts a NEW RECIPE 🙂 I might miss this time every now or then – but I know you understand
Make sure to follow Budget Savvy Diva on Facebook 🙂
Find Copy Cat Restaurant Recipes HERE
Find Crock Pot Recipes HERE
Find Gluten Free Recipes HERE
Find more Recipes HERE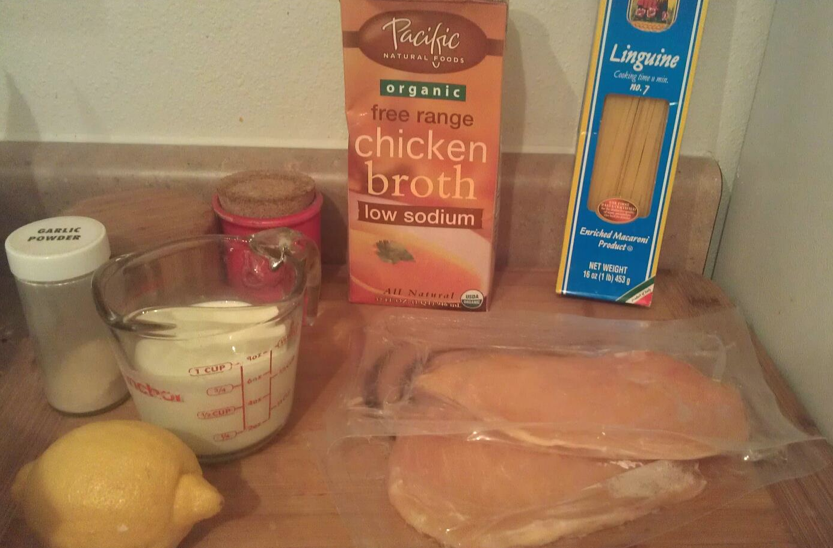 3 skinless, boneless chicken breast halves ( flattened works best)
1 lemon – zest and juice
2 teaspoons garlic powder
1.5 teaspoon pepper
32 ounces chicken broth
1/2 pound of Linguine pasta ( uncooked and broken in half)
1 cup heavy cream
salt
What To Do
In a large skillet ( set to medium heat)  add juice of half a lemon. Place chicken onto skillet. Season with salt, pepper, 1 teaspoon of garlic powder.
At the same time in a medium size sauce pan bring  to a boil – chicken broth, 1 teaspoon of garlic powder, rest of lemon juice and zest
Add uncooked pasta to boiling chicken stock. Cook until pasta is cook — there should not be any excess liquid.
Add cream to pasta and stir.
Cut cooked chicken into bite size piece and mix into the pasta
Season with salt and pepper to taste
Enjoy
Lemon Cream Pasta with Chicken Recipe
Ingredients
3 skinless, boneless chicken breast halves ( flattened works best)
1 lemon - zest and juice
2 teaspoons garlic powder
1.5 teaspoon pepper
32 ounces chicken broth
½ pound of Linguine pasta ( uncooked and broken in half)
1 cup heavy cream
salt
Instructions
In a large skillet ( set to medium heat) add juice of half a lemon. Place chicken onto skillet. Season with salt, pepper, 1 teaspoon of garlic powder.
At the same time in a medium size sauce pan bring to a boil - chicken broth, 1 teaspoon of garlic powder, rest of lemon juice and zest
Add uncooked pasta to boiling chicken stock. Cook until pasta is cook -- there should not be any excess liquid.
Add cream to pasta and stir.
Cut cooked chicken into bite size piece and mix into the pasta
Season with salt and pepper to taste
Enjoy
Recipe is adapted from HERE