One Dish BBQ Chicken and Vegetables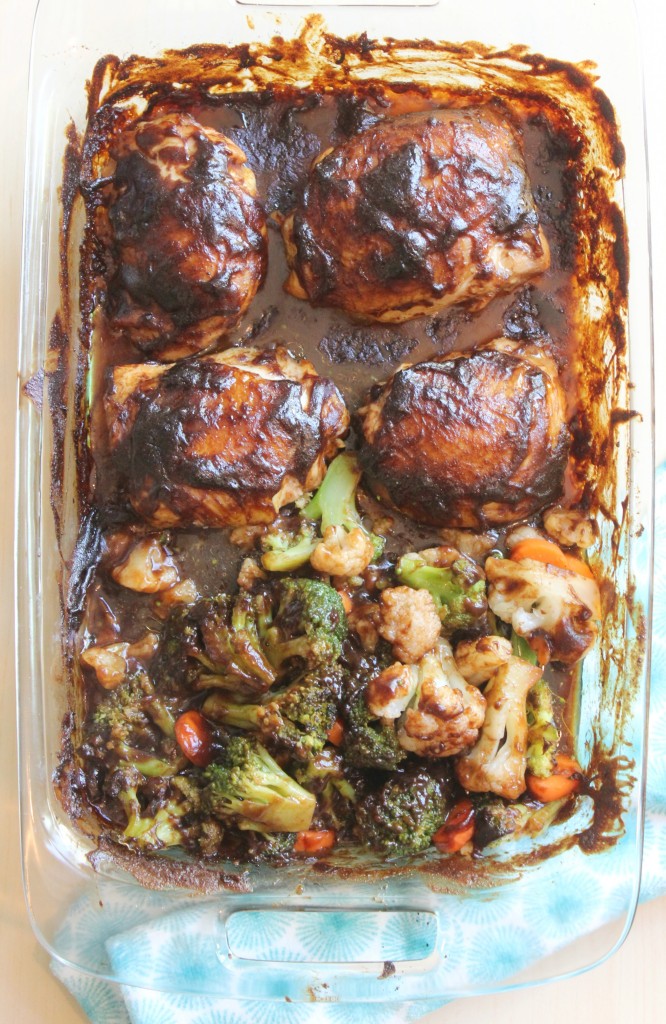 I cook dinner almost every night and I am always looking for ways to make dinner easier to make and how to make as little dishes as possible ( since I have to clean them afterwards). I recently found KC Masterpiece BBQ Sauce Mix & Dry Rub ( have you seen this product yet?).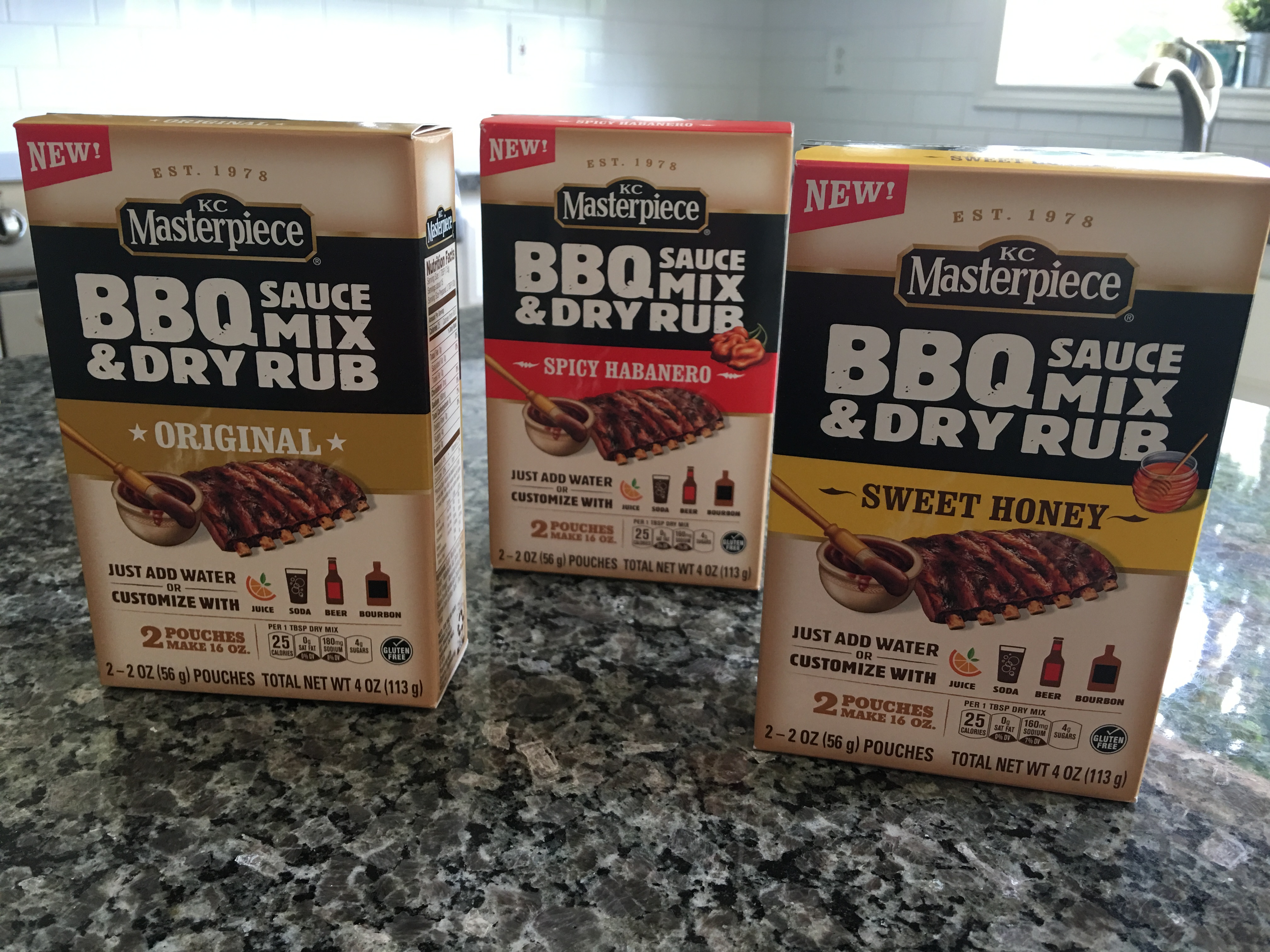 The KC Masterpiece BBQ Sauce Mix & Dry Rub is so easy to use. You can either simply use the dry rub on your meat ( which is amazing by the way – I used the spicy habanero last night on a whole chicken ( perfection)) or you can add 3/4 – 1 cup of water, soda, beer, bourbon or juice. If you add 3/4 cup of liquid you will be creating a personalized BBQ sauce while 1 cup of liquid will create a marinade. The sky is the limit with all the different combinations and ways to cook with KC Masterpiece BBQ Sauce Mix & Dry Rub.
KC Masterpiece barbecue sauce was created in Kansas City ( which is known for their barbecue).  Using KC Masterpiece will give your dish that authentic BBQ taste. KC Masterpiece barbecue sauce and marinade varieties are gluten free, except for Caribbean Jerk marinade and Honey Teriyaki marinade. I love that the recipe I have for you today is gluten free so everyone in my family could enjoy it.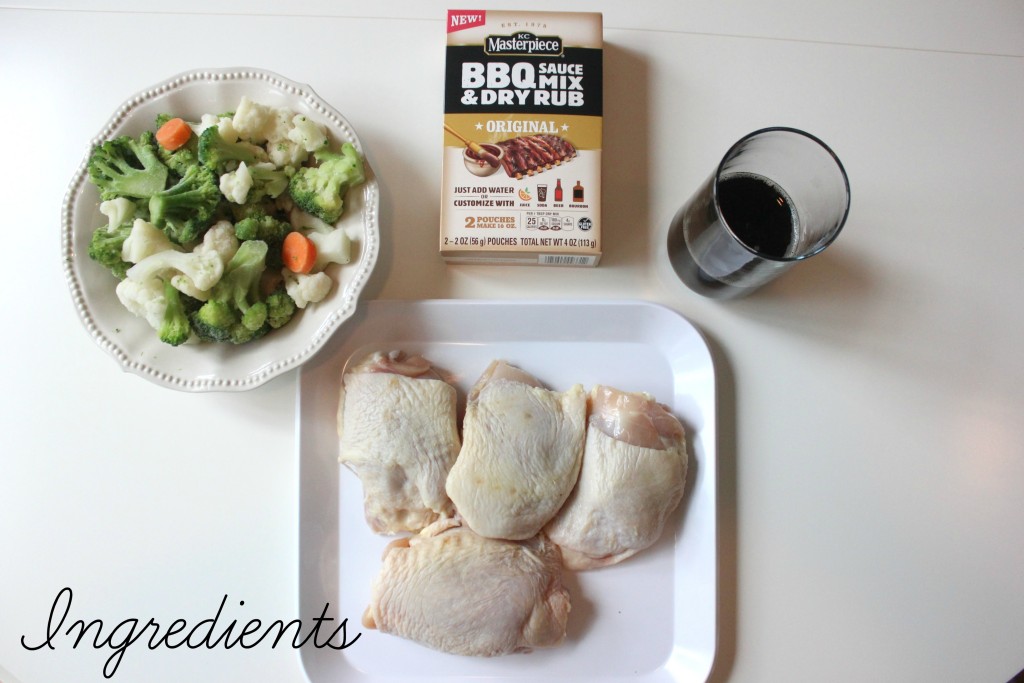 This is all you are going to need. I cook for my family everyday of the week – my time is limited so I love to make simple recipes that are yummy for everyone with very easy cleanup
This whole recipe uses one plate and one casserole dish ( plus a mixing spoon).
My dad had a kick making the BBQ sauce. We used 3/4 Cup of Root Beer Soda – for this recipe I actually used both BBQ packets in the box. We placed both packets in the casserole dish with 1 1/2 cup of Root Beer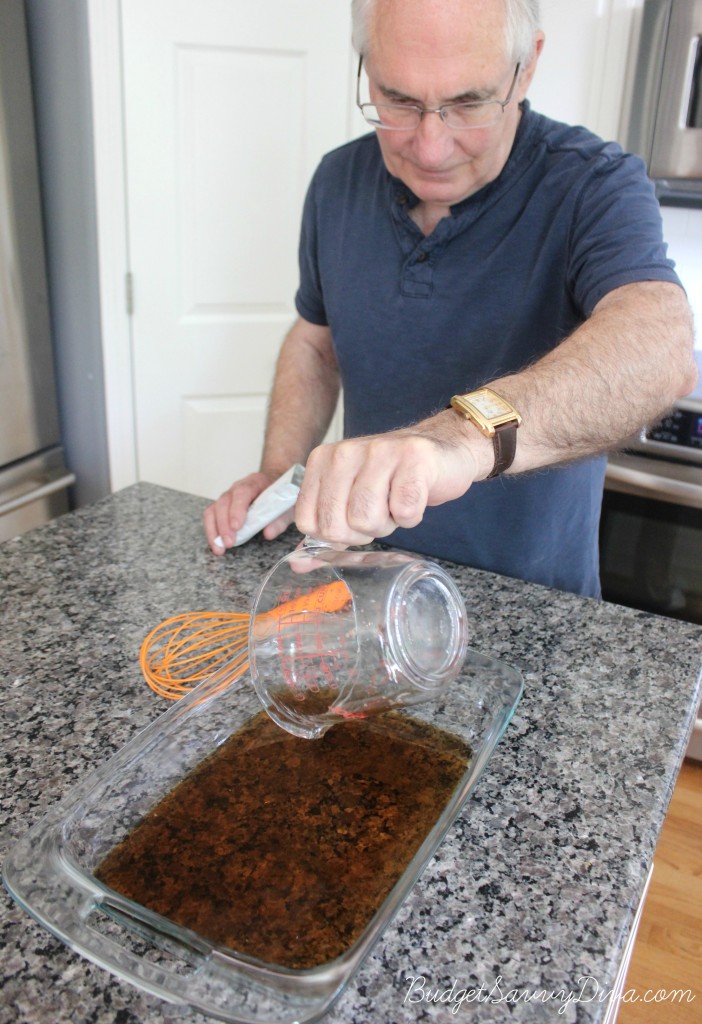 Eric was our official taste tester. We got 2 thumbs up!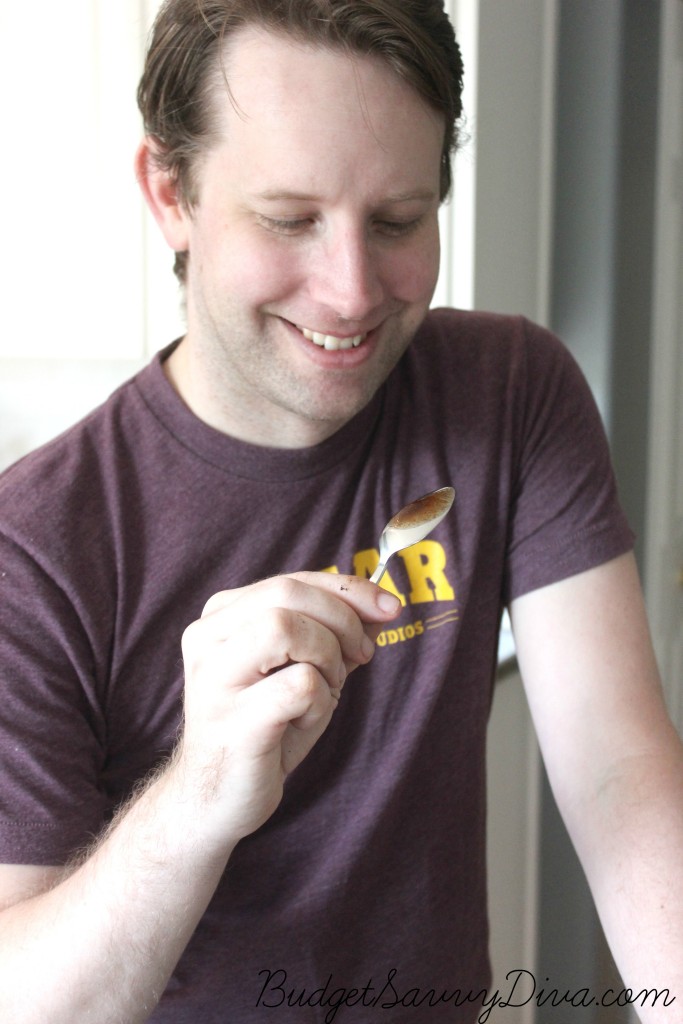 I took about 1/2 of the BBQ Sauce out of the pan onto a plate ( you can use a bowl). I placed the chicken in the pan – brushing the BBQ sauce onto the chicken. Baked the chicken for about 20 minutes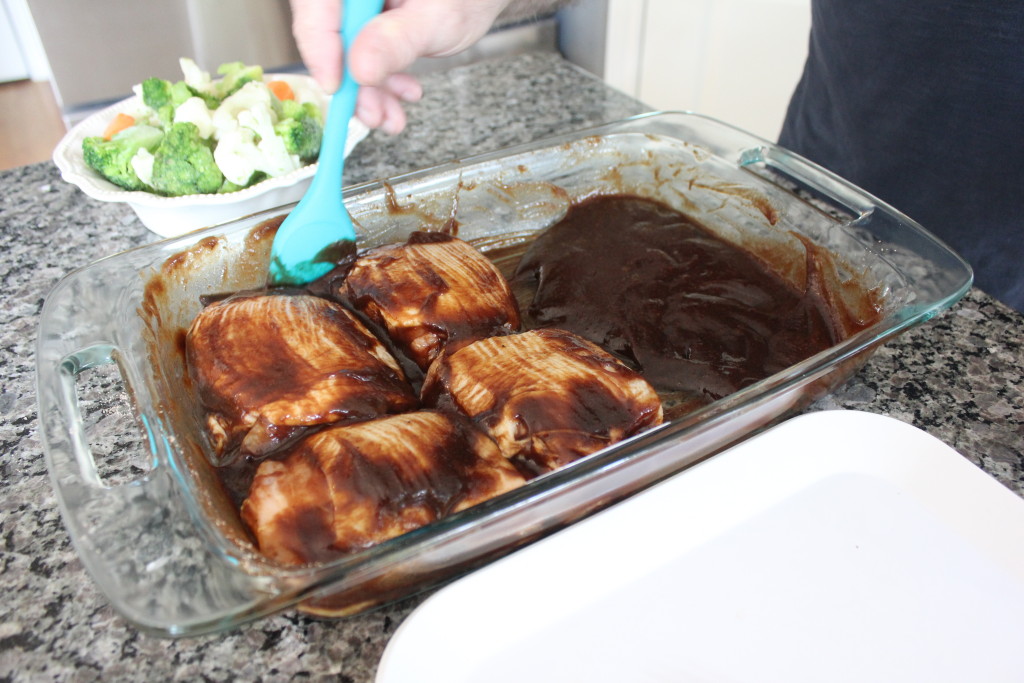 Then I added in a bag of my favorite frozen veggies – use the rest of the KC Masterpiece's BBQ Sauce on top and bake for another 20 minutes.
Here is my dad mixing in the veggies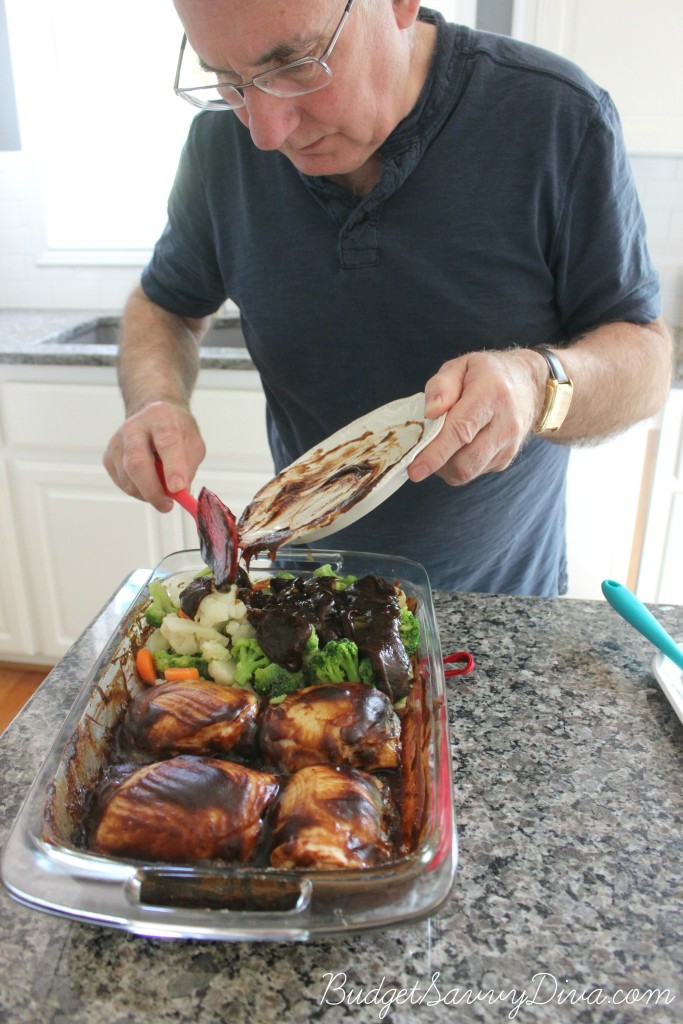 Once the 20 minutes is up the dish is ready to serve. Simple and easy to make on a busy weeknight PLUS cleanup is super easy.
If you do make my One Dish BBQ Chicken and Vegetables please make sure to comment and let me know what you thought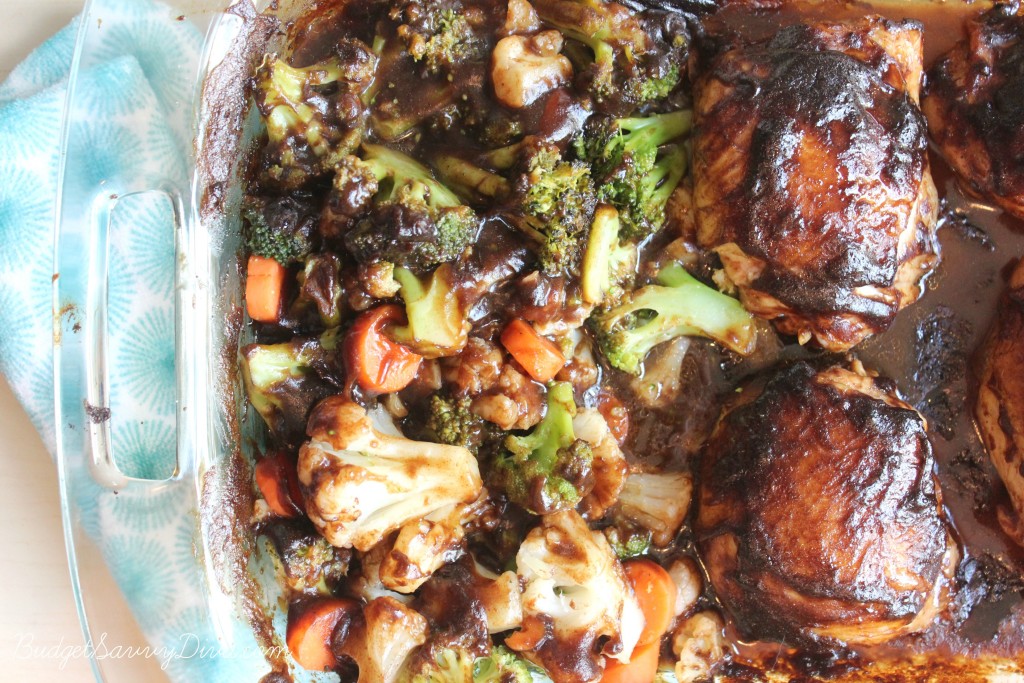 One Dish BBQ Chicken and Vegetables
Ingredients
2 Pound of Chicken Thighs
1 Package of KC Masterpiece's BBQ Sauce Mix and Dry Rub ( contains 2 packets)
1½ Cup of Root Beer Soda
16 oz of Frozen Vegetables
Instructions
Preheat oven to 350
In a casserole dish whisk together the BBQ Sauce mix packets and soda
Take ½ of the BBQ Sauce out of the casserole dish and place in a bowl or plate
Add Chicken the BBQ Sauce - Bake for 20 minutes
Add Vegetables ( Frozen) and the rest of the BBQ Sauce
Bake for 20 more minutes
Serve
This is a sponsored conversation written by me on behalf of KC Masterpiece. The opinions and text are all mine.