Living on Well on Less – Save Hundreds on Food With These 3 Tips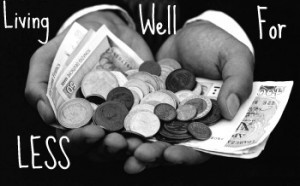 For more Living on Well on Less Post – Head on over HERE!
If you are buying fast food for lunch and/or dinner, if you buy your whole chickens already cut up, or if you always depend on the grocery store ads to tell you what the best deals are  – – then you can save hundreds of dollars by following these 3 tips.
#1. Plan your meals by what is on sale at the grocery store. If you plan your meals, then you are less likely to impulse buy at the grocery store or spend it on high calorie fast food.  Spending $10 at the grocery store on some type of meat/poultry, vegetables, and starch can provide 4 healthy meals instead of 2 small fast food combos.  By spending that $10 on what is currently on sale at 2 grocery stores:  a whole roasted chicken on sale for $5, 2 bags of frozen vegetables at $.88 each, and 1 baguette $1.59.  This leaves you left with $1.65 for a litre of generic soda, bottled water, or cookies for dessert.  So, without really cooking (other than microwaving the frozen veggies), you have 4 quarter chicken meals with sides and drink.  You can actually add more sides, increase the portion size, or stretch that $10 into even more meals if you are willing to do some very simple cooking!  Which leads me to my 2nd rule.
#2. Buy whole chickens on sale. I love it when whole chickens go on sale for $.59 or $.69 cents per pound.  I always buy the limit, put some in the freezer, and go back another day and get more before the sale is over.  You can actually buy 2 whole chickens for the same price as that whole roasted chicken on sale mentioned above.  If you don't know how, or want to spend the time roasting a whole chicken, then Google "Frugal Gourmet boiled chicken" for the world's easiest way to cook chicken.  If you can boil water, you can cook a whole chicken.  Also, by buying chickens  whole on sale and cutting them up yourself, you can save from $2 – $4 per pound.  So take the average of $3 per pound savings times one 2.5 lb. chicken eaten every other week.  $3 x 2.5lbs. = $7.50 x 26 weeks = $195 savings!
#3. Always compare prices. It's just a matter of simple math to figure out the best value in canned and packaged items, and in many cases, supermarkets have done the math for you.  However, that is not always the case, and I'll tell you why.  I was looking at three different sized cans of the same beans of the same brand on the shelf of one of the top three grocery chains.  The largest can was "on SALE," and as expected, the per oz. cost of the largest can was definitely cheaper than the smallest can.  However, the middle sized can only had the total price of the can listed.  By taking a moment to divide the cost of the can by its ounces, I found out that the middle sized can was actually cheaper than the larger can on sale!  So always compare the cost per oz. to determine the best deal, don't depend on the markets to always steer you to the best deal, and remember that bigger is not always better!
If you'd like more tips and some recipes, check out my links below to "Like" or "Follow" me.  Also, if you are in the San Diego area, I put together cooking classes and foodie field trips for 1/2 the price of cooking schools and stores.  Cheers!
Terree aka The Frugal Foodie
http://www.facebook.com/#!/pages/THE-Frugal-Foodie/101724446541356
http://twitter.com/#!/ms_terree