How To Lower Your Grocery Bill In 2021 And Beyond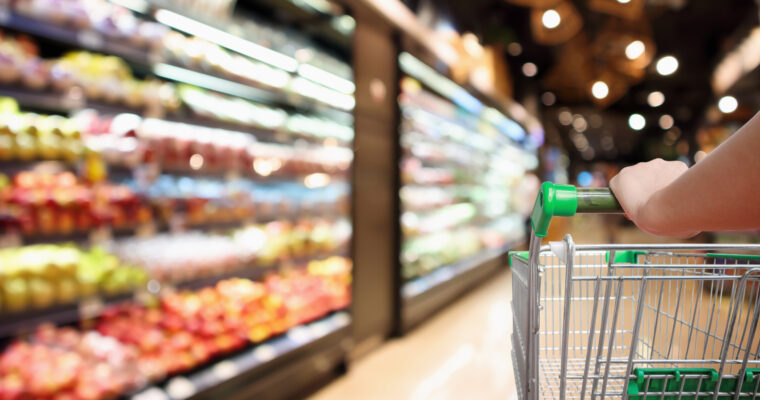 We all have to eat. But we don't need to spend more than we need to for the privilege. In this article, we'll share ways to lower your grocery bill in 2021.
Everybody has to pay the grocery bill. If you have a busy schedule and are surrounded by fast food places and restaurants, as many of us are, it's easy to find yourself spending more on food than you want to. And even if you rarely eat out, preparing food at home can easily rack up a hefty bill. Want more tips on how to save money on everything in your life – check out AskMoney.com.
You're probably already aware of a few basics to save money on food – more cooking and less takeout. But if you really want to save on groceries, it'll take more than that. You'll want to shop smarter to make the most out of your budget without compromising on your health. But how can you lower your grocery bill and keep a healthy diet at the same time? Here are a few easy things you should consider:
Track how much you spend on groceries for a week
You might already know where your main food expenses lie. It's also possible that you're racking up unnecessary expenses out of habit. How much is that daily pre-packaged sandwich or coffee costing you in a week? You might be surprised by the amount.
When you track where your food budget stands, you'll clearly spot areas where you can scale back. Moreover, you'll have a handle on your daily meal patterns and even be able to integrate changes that'll work for your diet.
Home-cooked meals are undoubtedly cheaper than eating out at restaurants. However, for many people, the process of cooking just seems so daunting, especially if you aren't used to it. But anyone can cook. You only need to start off with simple ingredients and simple recipes.
Home-cooked meals will also ensure that you're well aware of exactly what you're putting into your body. And if you can get your ingredients on sale, the cost of your meals will most definitely be significantly less than what you'd typically pay at restaurants. So, learn a new skill and save some money while at it.
Create a shopping list and stick to it
You also want to plan your meals in advance and know the ingredients needed for each. The time you'll spend planning for this will end up saving you time while shopping.
Grocery stores usually research consumer habits, and they specifically design stores to ensure that shoppers purchase as much as possible. The enticing display of the food section is there to make sure you notice items you might have ignored, and therefore drive more purchases in the process. Small items and candy are placed near registers for the same reason.
This is why having a grocery list is crucial. If you know exactly what you want, you'll be less likely to buy on impulse. It's also wise to stick with the store or generic brand of groceries when available. They're generally similar to the brand-name versions, without the extra markup for the brand.
You should also consider paying in cash, using coupons, calculating the bill as you go, and making arrangements to go to the store less often.
Buy your non-perishables in bulk
Items such as rice, pasta, spices, beans, nuts, and household products like paper towels and toilet paper are staples that tend to be cheaper in bulk. Plus, the more you buy at a time, the less you have to remember to pick them up.
An easy way to look at it is by checking the price per volume on the items. This is helpful when comparing two similar items – the price per volume will tell you how good of a deal you're getting. In most cases, the price per volume will be listed on the left side of the price display, while the amount you're paying will be on the right.
Pick up a rewards card from your grocery store
Most grocery stores do offer free rewards cards, discount cards, or points cards. These cards will not only earn you points but also give you discounts and sale prices whenever you shop. In many cases, you won't be able to get the sale price on the items you want unless you have the store card.
Without a discount or points card, it's quite easy to miss out on some sale discounts. Items are usually scanned quite quickly during checkout, and you may not realize it until you get home and check your receipt. To make sure you always get these discounts, have your points card next to your source of payment.
Consider meal delivery services
If savings and convenience are on top of your list, meal delivery services could be what you're looking for. They essentially offer you the ingredients, with some even offering fully-prepared meals, meaning you could skip grocery shopping altogether and easily prepare a quick meal from the comfort of your home.
Most meal delivery services have a huge selection of meals to choose from with recipes for the same. Plus, the prices are quite attractive, and it's easy to find promotions and great sale discounts.
Buy local produce in season
Local farmer's markets tend to have fresher and cheaper fruits and vegetables. Find out if there's a market near you. Another great option is to sign up for CSA (Community Supported Agriculture) food share.
With a CSA membership, you get a box of local fresh produce delivered to you every week. This way, you'll get a lot of veggies. In-season produce will often come at a much better deal than out-of-season produce. Generally speaking, fruits and vegetables are considerably cheaper for stores to buy when they're in season, and even better for the environment.
Learn how to store groceries properly
Although canned foods, noodles, and seasonings are not necessarily a problem in terms of shelf life, it's a different story with other foods. Fresh fruits and vegetables need to be replenished every one to two weeks as they're perishable and won't last very long, even when they're stored in the fridge.
However, their shelf life can be prolonged by putting them in the correct location of the fridge and freezer. Ensure that you put meat in the freezer as soon as you get them from the store. Keeping meats frozen will certainly make them stay fresh for many weeks, so buy them when they're cheap and don't be afraid to stock up.
Consider buying groceries online
Buying your groceries online is a great way to save money as you won't be distracted by all the product placements and delicious smells. You can simply search for and then buy what you need. Additionally, since you're shopping online, you'll have the time to think about whether or not you really need the items you've added to your cart.
While the delivery fees might be a bit pricey, you can find promotions giving out low-fee or free deliveries when you try a new service or subscribe to a list. Plus, how many times have you spent significantly more than typical delivery fees in the grocery store after falling to the temptation of purchasing items you didn't plan for?
You can also save money on the cost of delivery by opting to pick whatever you shopped for at the store. You only need to place your order online and the store will give you a pickup time and location to pick your pre-packaged groceries.
In many cases, the cost of picking up your order can be cheaper than delivery fees by up to 50% or 75%. So, if online shopping is something available to you, you should consider making the most of it.
Extra tips to keep your grocery bill lower
Here are some extra tips to help you keep your costs down:
Consider going vegetarian, or cut down on your meat consumption
This is a great way to save some money on your groceries as meat can be quite pricey. Try non-meat sources of protein like lentils, beans, peanut butter, tofu, brown rice, and more.
Lower the frequency of an expense instead of the dollar amount.

 
This can help you scale back on some additional food expenses. In place of ordering less when eating out, eat out fewer times a week or a month. Or, buy processed foods and meat on fewer occasions.
Don't stick to just one grocery store
Sales won't happen all at once. Every store is different, and each is constantly in competition to provide consumers with the best prices. Make the most of this and shop around for the best prices. Take the time to scout out the varying prices and follow the cheapest ones.
Start small and be positive
Just as with a diet plan or a fitness plan, when you feel run-down or deprived, you'll have less motivation to make permanent changes to your budget. Luckily, there are many ways to cut down your food bill without feeling like you're missing out, and most of them have the added benefit of being healthier options.
Final Thoughts
These are just some of the tips to start saving money on your grocery bill this year. Since many of us are going to be holed up in our homes for a while, it probably makes sense to focus on things like meal delivery services and having your groceries delivered. What do you think?