*Brag Shopping Trip Picture of The Day* Underware and Socks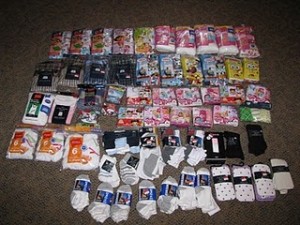 Thanks! Reader Jessica!!!
If you have a Awesome Shopping Trip Photo – please send it to [email protected]!
This is what Jessica Said
As a parent of 3 young children, keeping up with buying socks and underwear can be so frustrating, mostly due to the price you end up having to pay for the darn things!
Today as I walked into Walmart, I saw the best thing ever!! A shopping car FULL of socks, underwear, boxers, panties and tights for $1 a pack!!!! Talk about a pot of gold under a rainbow, LOL!!
Needless to say, I filled my cart FULL of different sizes & I walked out of Walmart with 60 packs of all these goodies for $60!! I'm one happy momma today!! And seeing that underwear & socks are typically around $5-7 each, I just saved around $300!!!!
What do YOU think about this Shopping Trip?
Check Out MORE BRAG PICTURES