Cancelling Orders for the FREE Covergirl Blushes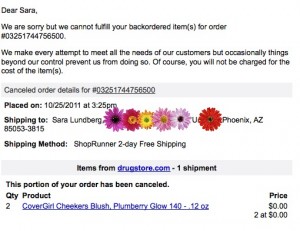 One word… Annoyed.
You know that awesome deal I posted
*HOT* 2 FREE CoverGirl Items ( NOW OVER)

All the items were IN stock when I ordered, I used a valid coupon that was on THEIR site, it WASNT a pricing error, and I have a valid shoprunner account. But my order was JUST cancelled. As I am sure a lot of Budget Savvy Diva readers will be as well.
I understand that they received all these orders where they basically be giveaway free products ( however – Covergirl was going to fully reimburse them )  – now I am not feeling like promoting Drugstore.com anymore on Budget Savvy Diva.com if they are going to pull stuff like this – because I do not want to make y'all run on WILD goosechases for nothing
So I am SO sorry if your order gets cancelled 🙁
How do you feel about the cancellation ?