First Look At DR. SEUSS' THE LORAX! In theaters March 2!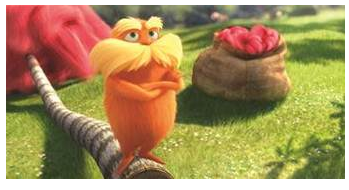 Discover the legend of the Lorax with the *first look* at the trailer for Universal Pictures' DR. SEUSS' THE LORAX exclusively on iTunes Trailers.
*** PLUS check out NEW photos & apps! *** 
The upcoming 3D CGI release from the creators of Despicable Me brings Dr. Seuss' classic tale to life.  Featuring an all-star voice cast, including Danny DeVito, Zac Efron, Ed Helms, Taylor Swift, Rob Riggle, and Betty White, Dr. Seuss' The Lorax is in theaters in Real Tree-D and IMAX, March 2, 2012.
THE LORAX APP for iPhone, iPad, iTouch and Android
Want to see what the Lorax's stache would look like on you? The Lorax Stache app will help you find out. Put your phone up to you face and the Lorax's stache and mouth will move to the sound of your talking.
THE LORAX STACHE FACEBOOK APP
Look like The Lorax with this fun app. Add the Lorax's moustache to a photo from your Facebook album or from your computer. Post to your Facebook albums, the Lorax Stache Gallery and easily post your 'stached image as your profile photo with a branded clickable footer that let's everyone know the Lorax is coming. Try it out here!