Budget Savvy Diva's Hands Tested Positive For EXPLOSIVES at Airport Security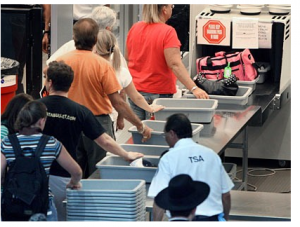 So y'all know that I travel a lot – mostly for Budget Savvy Diva related things but today I am traveling to see my parents for Christmas in Portland, OR. I got to the airport this morning with plenty of time – totally thought I lucked out because I was going to have tons of time to find deals before my flight…. boy I was WRONG.
I was first pulled over by TSA – left me just say I understand what they are doing and they were very professional and nice to me the entire time – I even got two compliments on how pretty my eyes are 🙂 )  – A TSA officer wiped my hands with a cloth and put it in a machine after which all these red lights and alarms went off. He instantly called for backup because
My Hands Tested POSITIVE for Explosive Materials!!!
All of a sudden TSA agents appear they go over my ID again and again. I am then taken through the body scan machine ( joy)
– Then I had to take down my hair ( from a pretty bun) to make sure I did not have any pins in my hair after which the TSA agent ran her fingers through my hair ( joy)
– All my luggage and I were taken to a roped off area where I sat in a chair and the used wipes on everything! Including all those 300 Dole free product coupons that I brought with me to mail ( took them a extra 10 minutes to wipe those alone)
– Then I was taken to a room where I was patted down ( COMPLETELY) I am not going to go into details but it is something I never want happen again.
After all of this I was released.
The only thing I can think could of triggered that reaction from the machine was the sunscreen I put on my face this morning – though I did wash my hands well afterwards.
So what do you think about my airport security experience?