Chocolate Covered Strawberries with Potato Chip Topping
If you like this recipe then PIN IT on Pinterest
Everyday at 5 pm PST/ 8 pm EST Budget Savvy Diva posts a NEW RECIPE 🙂
Make sure to follow Budget Savvy Diva on Facebook 🙂
Find Copy Cat Recipes HERE
Find more Recipes HERE
So I knew I wanted to create a Valentine's Treat for all of you. I saw strawberries were on sale + I had white melting chocolate left over from Christmas ( it was a unopened bag), so I thought chocolate covered strawberries would be perfect. Problem was I wanted to add a unique topping to it and my friend Kristy over at Adventures of a Couponista mentioned how about potato chips. So that is what I did and you know what – they ROCK!
What You Need
White Melting Chocolate  ( most stores sell it in the baking section)
Strawberries
Potato Chips
What To Do
Place chocolate in a small bowl — I would try only about 1/2 cup of chocolate at first. Place bowl in the microwave and set for 30 second intervals ( stirring each time) till melted.
Crush potato chips – It only took like 5 chips to do a pint of strawberries 🙂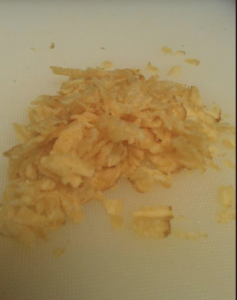 Dip strawberries into the chocolate.
Sprinkle chips on top and put on a plate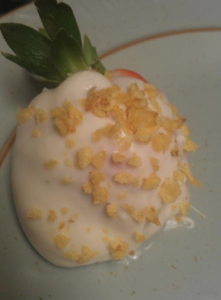 Place plate in the freezer for 5 minutes if you want to enjoy them right away or place in the fridge for later 🙂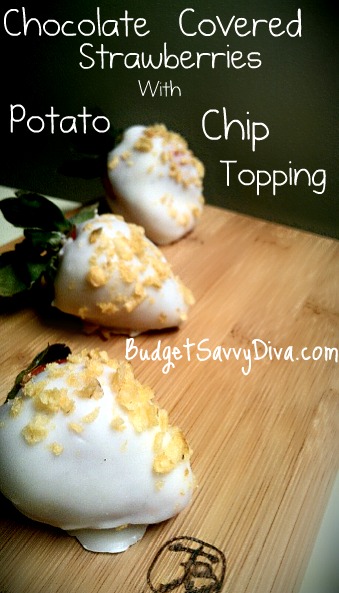 Chocolate Covered Strawberries with Potato Chip Topping
Ingredients
White Melting Chocolate ( most stores sell it in the baking section)
Strawberries
Potato Chips
Instructions
Place chocolate in a small bowl -- I would try only about ½ cup of chocolate at first. Place bowl in the microwave and set for 30 second intervals ( stirring each time) till melted.
Crush potato chips - It only took like 5 chips to do a pint of strawberries 🙂
Dip strawberries into the chocolate.
Sprinkle chips on top and put on a plate
Place plate in the freezer for 5 minutes if you want to enjoy them right away or place in the fridge for later 🙂