If you like this recipe then PIN IT on Pinterest
Everyday at 5 pm PST/ 8 pm EST Budget Savvy Diva posts a NEW RECIPE 🙂
Make sure to follow Budget Savvy Diva on Facebook 🙂


Find Copy Cat Recipes HERE
Find more Recipes HERE
This is my SUPER EASY Banana Nut Bread Recipe – I think every cook should have a banana nut bread recipe in their collection 🙂 I love how simple it easy it is to make PLUS it makes my kitchen smell so delightful all day. Enjoy from my kitchen to yours.
What You Need
1 pack yellow cake mix
2 eggs
1 ripe banana
1/2 cup milk
1/2 cup pecans (chopped)
1 Tablespoon Cinnamon
1/4 Cup of Packed Brown Sugar
1 Tablespoon Vanilla Extract
What To Do
Combine pack of yellow cake mix, milk, vanilla, cinnamon, brown sugar and eggs in mixing bowl.
Add banana to mixture make sure the banana are well mashed.
Mix in 3/4th of Pecans.
Pour into greased pans – I use loaf pans and cupcake pans.
Place the rest of the pecans on top as garnish
Bake at 350F  till the toothpick, placed in the middle, comes out clean.
Enjoy
and Banana Nut Loaf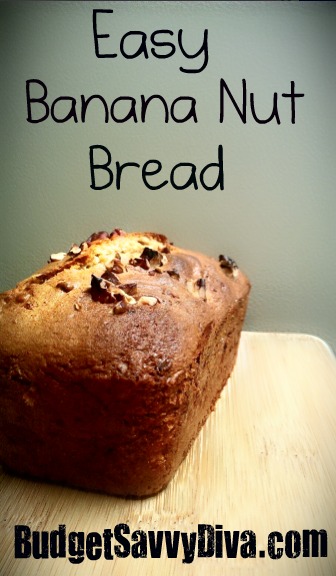 How yummy does THAT look 🙂
Easy Banana Nut Recipe
Super Easy and Yummy Banana Nut Bread Recipe
Ingredients
1 pack yellow cake mix
2 eggs
1 ripe banana
½ cup milk
½ cup pecans (chopped)
1 Tablespoon Cinnamon
¼ Cup of Packed Brown Sugar
1 Tablespoon Vanilla Extract
Instructions
Combine pack of yellow cake mix, milk, vanilla, cinnamon, brown sugar and eggs in mixing bowl.
Add banana to mixture make sure the banana are well mashed.
Mix in ¾th of Pecans.
Pour into greased pans - I use loaf pans and cupcake pans.
Place the rest of the pecans on top as garnish
Bake at 350F till the toothpick, placed in the middle, comes out clean.
Enjoy