Easy Flat Bread Pizza Recipe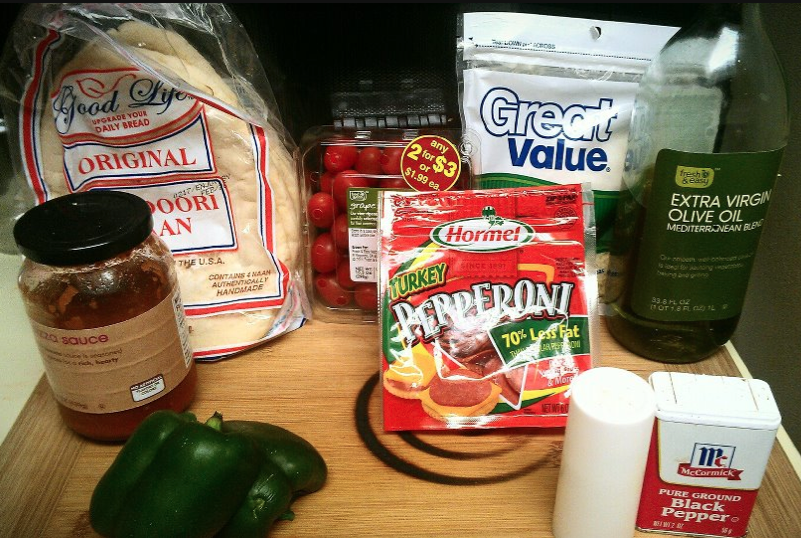 If you like this recipe then PIN IT on Pinterest
Everyday at 5 pm PST/ 8 pm EST Budget Savvy Diva posts a NEW RECIPE 🙂
Make sure to follow Budget Savvy Diva on Facebook 🙂
Find Copy Cat Restaurant Recipes HERE
Find Crock Pot Recipes HERE
Find Gluten Free Recipes HERE
Find more Recipes HERE
This is one of the first recipes I ever made. I remember getting home from middle school and being hungry for a afternoon snack, I would raid the fridge for veggie, cheese, and naan bread ( sometimes pita bread) and I would make myself a pizza. Now I buy gluten – free pizza crust and do the same thing.
You can even make a "pizza bar" where you lay out all the toppings and people can put together their own creation, then you can pop it in the oven for about 10 minutes and enjoy 🙂
What I love most about this recipe ( other than being INSANELY yummy) is that measuring is out the window. Little cheese, TONS of cheese, or no cheese it is TOTALLY up to you …. You rock any way you make it !
Below is one of my favorite pizzas BUT you can totally pick and choose what you want on yours.
What You Need
Naan Bread
1 pint Grape Tomatoes – Halved
Green Pepper – Thin Slices
1 Tablespoon of Olive Oil
Pizza Sauce
Mozzarella Cheese
Pinch of salt and pepper
Turkey Pepperoni
What To Do
Preheat the oven to 350.
Take Naan Bread and spread pizza sauce and add desired amount of cheese ( for me it is A LOT .)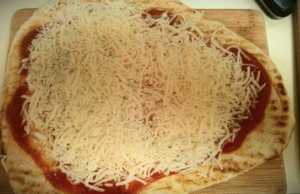 Next comes the meat – I added a "healthy" layer of turkey pepperoni
In a skillet on medium heat I add 1 tablespoon of olive oil and cook tomatoes and bell peppers ( this is optional- remember this is YOUR pizza) – I add salt and pepper. When tender I add to pizza.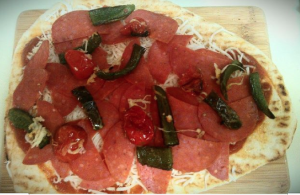 Pop this baby in the oven till the cheese is nice and melted.
Enjoy 🙂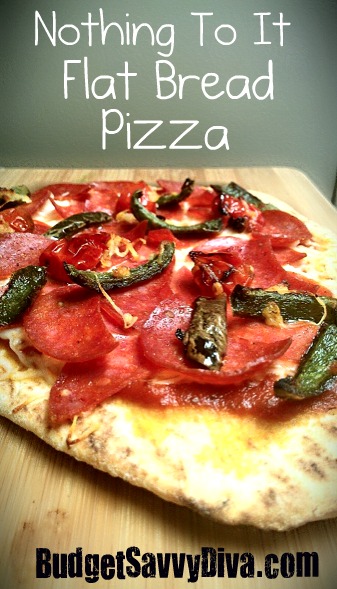 Easy Flat Bread Pizza Recipe
Yummy Pizza without Break A Sweat 🙂
Ingredients
Naan Bread
1 pint Grape Tomatoes - Halved
Green Pepper - Thin Slices
1 Tablespoon of Olive Oil
Pizza Sauce
Mozzarella Cheese
Pinch of salt and pepper
Turkey Pepperoni
Instructions
Preheat the oven to 350.
Take Naan Bread and spread pizza sauce and add desired amount of cheese ( for me it is A LOT .)
Next comes the meat - I added a "healthy" layer of turkey pepperoni
In a skillet on medium heat I add 1 tablespoon of olive oil and cook tomatoes and bell peppers ( this is optional- remember this is YOUR pizza) - I add salt and pepper. When tender I add to pizza.
Pop this baby in the oven till the cheese is nice and melted.
Enjoy 🙂
Big Thanks to The Pioneer Woman for reminding me about Naan Flat Bread Pizzas 🙂