Incredible Chicken Nuggets Recipe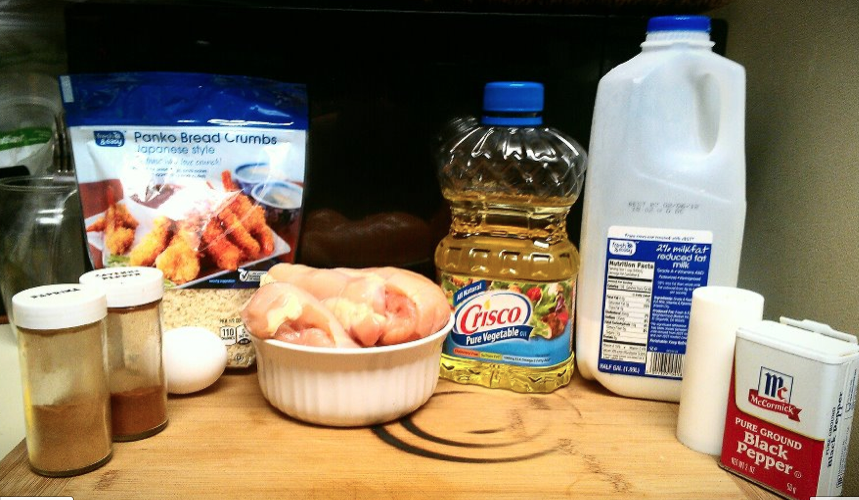 If you like this recipe then PIN IT on Pinterest
Make sure to follow Budget Savvy Diva on Facebook 🙂
Find more Copy Cat Recipes HERE
Find more Recipes HERE
This recipe simply just works on every level – easy to make, kid friendly, nice on the wallet, and it is yummy to boot! You can use gluten free bread crumbs to make this gluten free as well 🙂 Mr.Savvy has eaten up to 30 ( yes 30 ) of these "famous" chicken nuggets at a time.
What I like to do is make the recipe when I get a good deal on chicken and freeze the cooked nuggets so Mr.Savvy can have a snack whenever he wants 🙂
They can be breaded in advance and fried  or baked later in the day , or just bread and fry them the night before and just microwave them!
What You Need
1 large egg
1/3 cup milk
1 pound boneless skinless chicken breast, cut into bite size pieces
Pinch of cayenne pepper
1 1/2 cups panko bread crumbs ( or gluten free bread crumbs)
1/4 teaspoon paprika
1.5 teaspoon garlic powder ( not shown in picture above)
Salt and pepper ( a couple pinches of each)
1/2 cup canola or vegetable oil
What To Do
Mix Egg and Milk together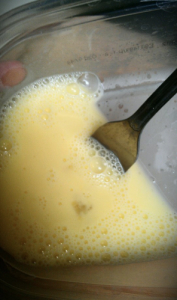 In a large bowl soak chicken in the egg mixture.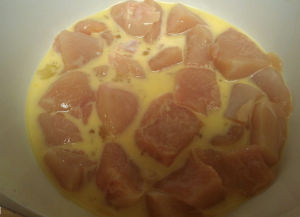 In a bowl combine panko, pepper, salt, garlic powder, paprika, and cayenne pepper.
Take a cookie sheet and place paper towels on top.
Heat oil in a pan and add chicken ( after you roll it in the panko mixture)  – cook till golden brown ( 5 minutes each side)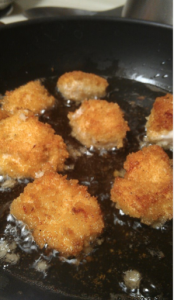 Transfer chicken to the paper towel to cool.
Enjoy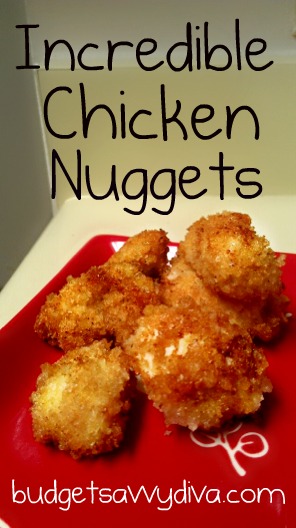 Again these freeze very well – you can also bake these bad boys at 350 for about 15 minutes.
Incredible Chicken Nuggets
Chicken Nuggets that your whole family will love.
Ingredients
1 large egg
⅓ cup milk
1 pound boneless skinless chicken breast, cut into bite size pieces
Pinch of cayenne pepper
1½ cups panko bread crumbs
¼ teaspoon paprika
1 teaspoon garlic powder
Salt and pepper ( a couple pinches of each)
½ cup canola or vegetable oil
Instructions
Mix Egg and Milk together.
In a large bowl soak chicken in the egg mixture.
In a bowl combine panko, pepper, salt, garlic powder, paprika, and cayenne pepper.
Take a cookie sheet and place paper towels on top.
Heat oil in a pan and add chicken ( after you roll it in the panko mixture) - cook till golden brown ( 5 minutes each side)
Transfer chicken to the paper towel to cool.
Enjoy