Barbecue Chicken Nuggets Recipe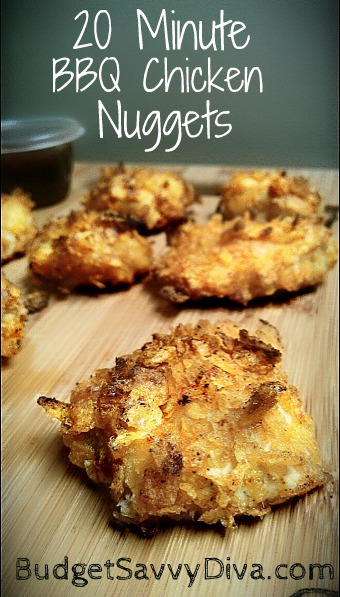 There is something about chicken nuggets that make everyone happy 🙂 Today we are going to use BBQ chips as a coating instead of breadcrumbs. These babies are so good there is no need to fry them.

If you like this recipe then PIN IT on Pinterest
Everyday at 5 pm PST/ 8 pm EST Budget Savvy Diva posts a NEW RECIPE 🙂
Make sure to follow Budget Savvy Diva on Facebook 🙂
Find Copy Cat Restaurant Recipes HERE
Find Crock Pot Recipes HERE
Find Gluten Free Recipes HERE
Find more Recipes HERE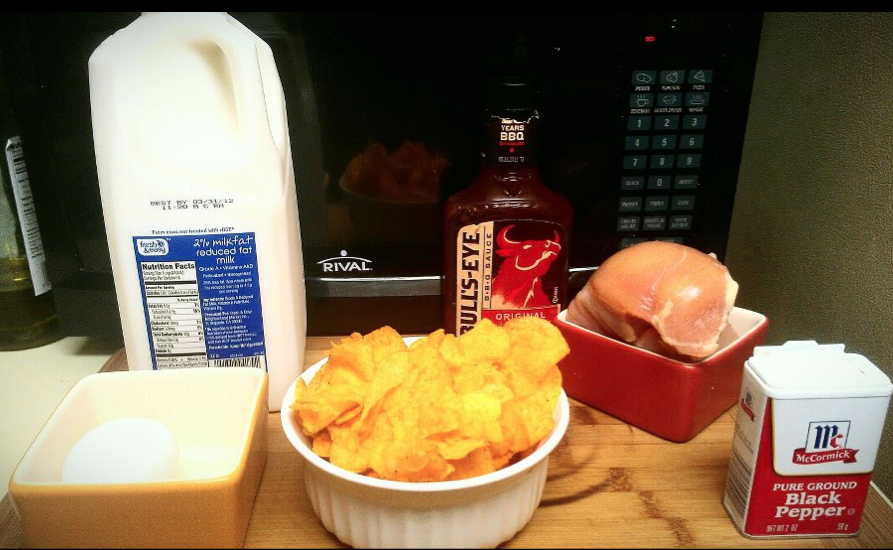 1/2 pound of chicken breast ( cut into bite size pieces)
Pepper
1 egg
2 Tablespoons of Milk
4 cups of crushed BBQ chips
What To Do
Preheat oven to 400
Whisk milk and egg together and season with pepper.
Dip chicken into the egg mixture, then roll in chips.
Place onto parchment paper on a baking sheet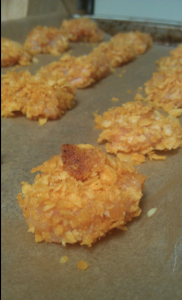 Bake for 10 – 15 minutes.
Serve with barbecue sauce 🙂
Enjoy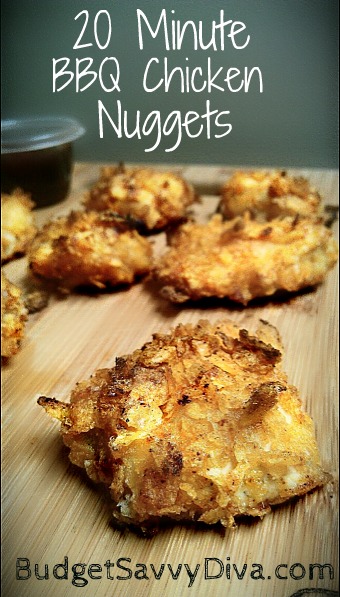 Barbecue Chicken Nuggets
Perfect for home or for parties. EXTREMELY kid friendly and done in only 20 minutes.
Ingredients
½ pound of chicken breast ( cut into bite size pieces)
Pepper
1 egg
2 Tablespoons of Milk
4 cups of crushed BBQ chips
Instructions
Preheat oven to 400
Whisk milk and egg together and season with pepper.
Dip chicken into the egg mixture, then roll in chips.
Place onto parchment paper on a baking sheet
Bake for 10 - 15 minutes.
Serve with barbecue sauce 🙂
Enjoy
Check out another Chicken Nugget recipe from the Budget Savvy Diva 🙂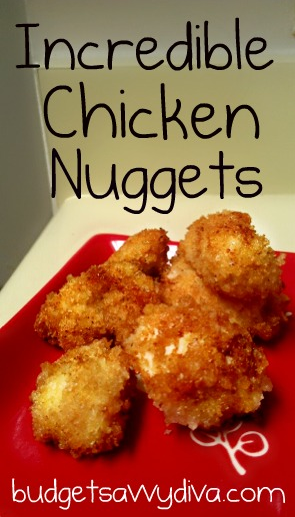 This recipe is adapted from a Taste of Home Cookbook ( 5 Star)