Creamy Southwestern Rice Recipe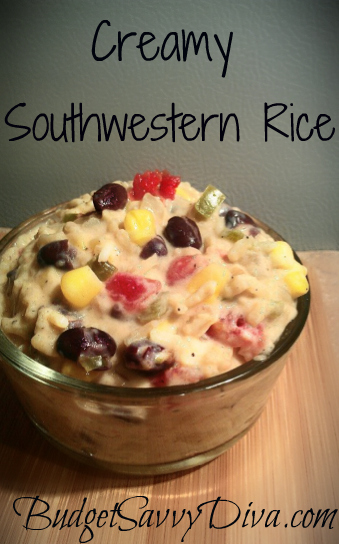 Make sure to PIN This Recipe or Repin 🙂

Gluten – Free. Perfect side to any meal. Rich with TONS of flavor ( great way to get your family to each veggies).

Everyday at 1 pm PST/ 4pm EST Budget Savvy Diva posts a NEW RECIPE 🙂 I might miss this time every now or then – but I know you understand
Make sure to follow Budget Savvy Diva on Facebook 🙂
Find Copy Cat Restaurant Recipes HERE
Find Crock Pot Recipes HERE
Find Gluten Free Recipes HERE
Find more Recipes HERE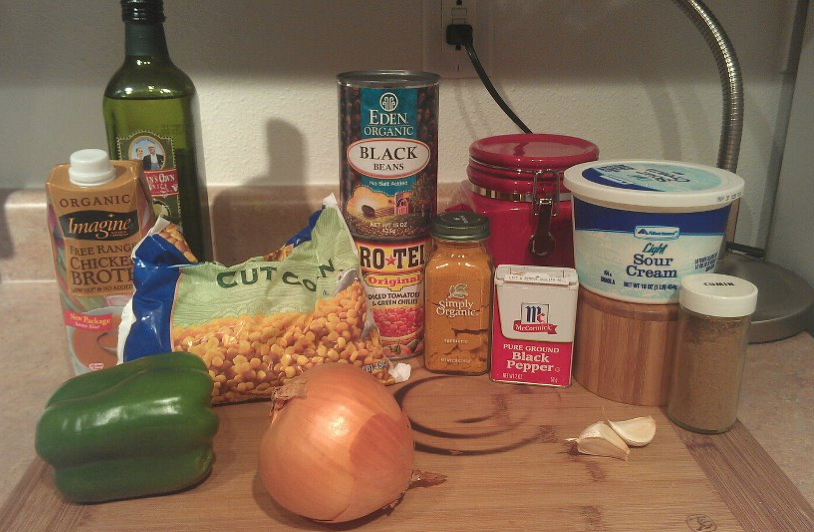 1/2 medium green pepper, diced
1/1 medium onion, chopped
2 garlic cloves, minced
1 tablespoon olive  oil
Reduced-sodium chicken broth
1/2 cup uncooked long grain rice
1/4 teaspoon ground cumin
1/4 teaspoon of pepper
Pinch of salt
1/8 teaspoon ground turmeric
1/2 can black beans, rinsed and drained
1/2 can Rotel, undrained
5 ounces package frozen corn, thawed
1/4 Cup of light sour cream
What To Do
 Heat oil in large pan. Add onions and peppers cook till tender. Add garlic and cook for one minute.
Add broth and rice ( I started with about 7 oz of broth and ended up using more). Bring to boil. Reduce heat, cover and let simmer for 15 minutes. Rice should be tender if it is not add more broth and let it cook for more time.
Add seasonings ( salt, pepper, turmeric, cumin)  – mix.
Add beans, Rotel and corn – heat through.
Mix in sour cream and enjoy 🙂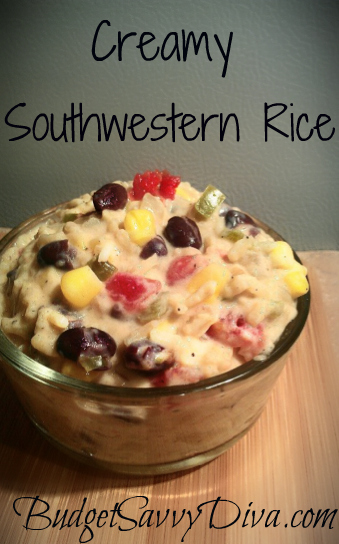 Creamy Southwestern Rice
Gluten - Free. Very Kid - Friendly... Done in about 25 minutes
Ingredients
½ medium green pepper, diced
1/1 medium onion, chopped
2 garlic cloves, minced
1 tablespoon olive oil
Reduced-sodium chicken broth
½ cup uncooked long grain rice
¼ teaspoon ground cumin
¼ teaspoon of pepper
Pinch of salt
⅛ teaspoon ground turmeric
½ can black beans, rinsed and drained
½ can Rotel, undrained
5 ounces package frozen corn, thawed
¼ Cup of light sour cream
Instructions
Heat oil in large pan. Add onions and peppers cook till tender. Add garlic and cook for one minute.
Add broth and rice ( I started with about 7 oz of broth and ended up using more). Bring to boil. Reduce heat, cover and let simmer for 15 minutes. Rice should be tender if it is not add more broth and let it cook for more time.
Add seasonings ( salt, pepper, turmeric, cumin) - mix.
Add beans, Rotel and corn - heat through.
Mix in sour cream and enjoy 🙂
Recipe is adapted from HERE