Penne with a Creamy Pesto Sauce and Chicken Recipe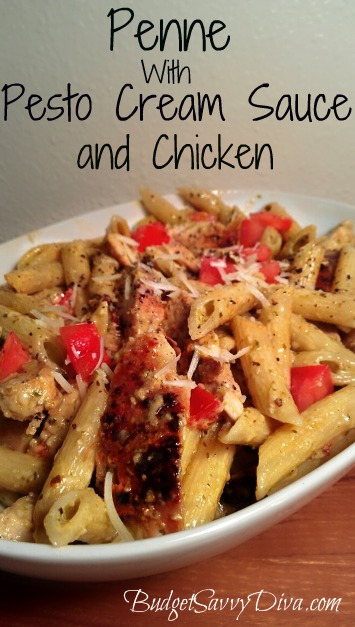 Make sure to PIN This Recipe or Repin 🙂
Such an amazing pasta dish. Delicious and simple. Make it tonight

Everyday at 1 pm PST/ 4pm EST Budget Savvy Diva posts a NEW RECIPE 🙂 I might miss this time every now or then – but I know you understand
Make sure to follow Budget Savvy Diva on Facebook 🙂
Find Copy Cat Restaurant Recipes HERE
Find Crock Pot Recipes HERE
Find Gluten Free Recipes HERE
Find more Recipes HERE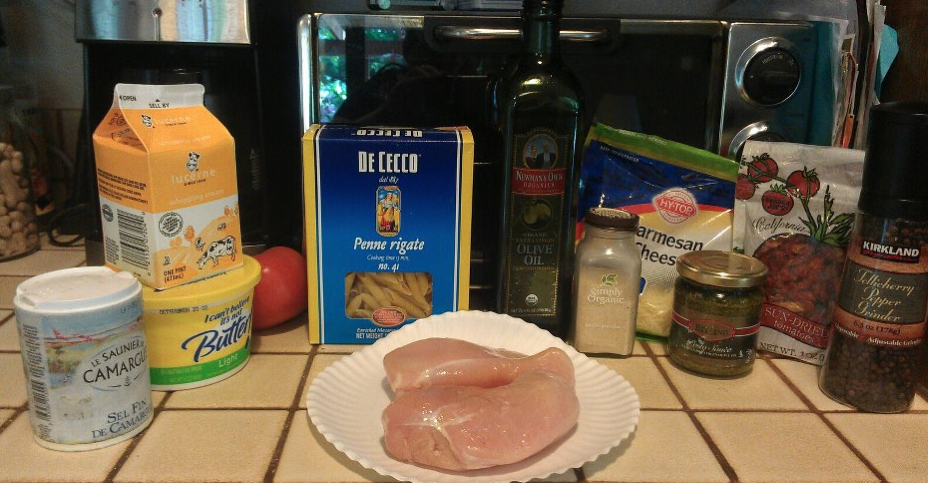 What You Need
Garlic Powder
2 large chicken breasts
1/3 cup Grated Parmesan Cheese
Salt And Pepper, to taste
Extra Virgin Olive Oil
1/2 cup Heavy Cream
2 Tablespoons Butter ( or margarine )
Store Bought Pesto
12 ounces penne pasta
1/3 Cup of diced tomato
1 Tablespoon of sun – dried tomatoes diced
What To Do
Cook pasta as instructed on the box. Drizzle a little oil after pasta has been drained
Cook chicken ( season with salt, pepper; garlic powder) and slice into bite size pieces.
In a medium-size saucepan heat cream and butter. Stir in pesto ( about 3 oz).
Combine pasta, sauce, chicken, cheese; tomatoes.
Season to taste
Enjoy
Penne with a Creamy Pesto Sauce and Chicken
Simple but Amazing. Your family will love it.
Ingredients
Garlic Powder
2 large chicken breasts
⅓ cup Grated Parmesan Cheese
Salt And Pepper, to taste
Extra Virgin Olive Oil
½ cup Heavy Cream
2 Tablespoons Butter ( or margarine )
Store Bought Pesto
12 ounces penne pasta
⅓ Cup of diced tomato
1 Tablespoon of sun - dried tomatoes diced
Instructions
Cook pasta as instructed on the box. Drizzle a little oil after pasta has been drained
Cook chicken ( season with salt, pepper; garlic powder) and slice into bite size pieces.
In a medium-size saucepan heat cream and butter. Stir in pesto ( about 3 oz).
Combine pasta, sauce, chicken, cheese; tomatoes.
Enjoy
Recipe is adapted from HERE