Tips for Organizing Your Stockpile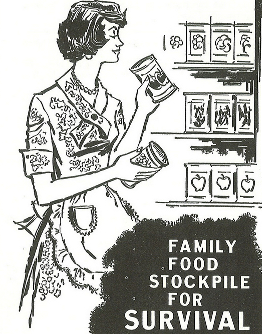 Recipe post will be a bit delayed today while I'm enjoying Disney.  (I hope you all understand) 🙂
If you plan on storing your stockpile in the garage, or in an unfinished basement or cellar, keep in mind the temperature may get pretty low in the winter – and if you're not careful, animals could get into your stockpile. The best place for a stockpile is in your pantry, but it's easy to outgrow a small pantry after just a few good trips to the store. You can use closets, the basement, or even a spare room, to keep your stockpile organized and full.
You can even put some of your stockpile underneath beds or other furniture, so it's out of sight but easily accessible. Sometimes you have to get creative when storing food in small places!
You can organize your stockpile alphabetically, by size, by category, or really however you want to. My favorite way to organize my stockpile, just like coupons, is by category. I put all of the bathroom items together, cleaning products together, and food products together. The food products can then be separated by cereals/breakfast items, fruits/vegetables, pasta, etc.
Rotate your stockpile. Just as they do at the stores, you need to bring the older products to the front when you add newer products. This will prevent items from spoiling, expiring, and being covered in dust from sitting for too long. When you plan your menu each week, think about the items you have in your stockpile already before adding things to the grocery list.
Use buckets. You can use food grade buckets to store bulk dry goods (like flour and dry beans). You can also use Rubbermaid storage bins or other storage solutions for keeping your food safe from rodents or other animals if you are stockpiling in the garage or basement.
Purchase can organizers (at Goodwill or at garage sales, to save money) for your canned goods. They can get out of control quickly, so it's better to buy them now rather than later.
If you don't keep your stockpile organized, you won't know what you have and you also can't use it (or donate it) effectively, so use the tips above to help get (and keep!) your stockpile organized.
What's your best organizing tip?