Maybelline Super Stay Lipstick Class Action Lawsuit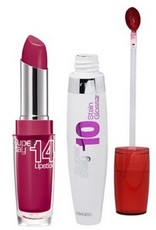 Maybelline Super Stay Lipstick Class Action Lawsuit
Maybelline has been hit with a class action lawsuit claiming its "Super Stay" lipstick and lip gloss don't last as long as promised. The complaint accuses L'Oreal SA of falsely advertising the staying power of both products, which sell for about $9 each.
According to the Maybelline Super Stay class action lawsuit, filed by three women in Manhattan federal court, L'Oreal and Maybelline make "misleading, inaccurate and deceptive" advertising claims regarding its "Super Stay 14HR Lipstick" and "Super Stay 10HR Stain Gloss."

The products are advertised as having "super staying power" that "won't fade," but that's not the experience the Plaintiffs had with the products. According to the class action lawsuit, "the Super Stay products do not remain on the wearer's lips for the extended periods as advertised" and "wear off and fade after only a few hours of wear."
The Maybelline Super Stay lipstick class action lawsuit is seeking more than $5 million in damages for a proposed class of consumers who purchased the makeup based on advertising statements about their "super staying power." It is alleging unjust enrichment, breach of warranty and violations of various consumer-protection laws.
Go HERE to find all the details.