Rolo Stuffed Sugar Cookie Recipe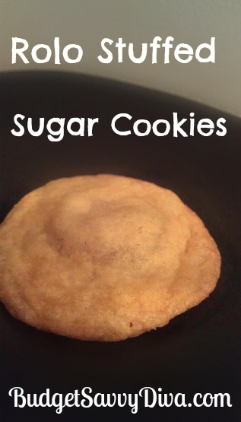 Make sure to Pin or REPIN this recipe 🙂
Make sure to pin the recipe Everyday at 1 pm PST/ 4pm EST Budget Savvy Diva posts a NEW RECIPE 🙂 I might miss this time every now or then – but I know you understand
Make sure to follow Budget Savvy Diva on Facebook 🙂
Find Copy Cat Restaurant Recipes HERE
Find Crock Pot Recipes HERE
Find Gluten Free Recipes HERE
Find more Recipes HERE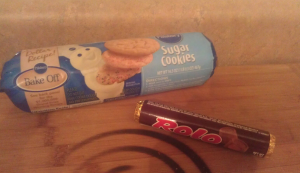 What You Need
Pre made Sugar Cookie Dough
Rolo Candy
What To Do
Follow the directions on the sugar cookie packaging ( pre-heating temperature)
Take one rolo candy and take about 1.5 tablespoon of dough and cover the rolo in it. It should look like a golf ball
Place your golf ball dough ball on parchment paper on a cookie sheet and bake till cookies are golden brown
Enjoy!
Rolo Stuffed Sugar Cookies
Ingredients
Pre made Sugar Cookie Dough
Rolo Candy
Instructions
Follow the directions on the sugar cookie packaging ( pre-heating temperature)
Take one rolo candy and take about 1.5 tablespoon of dough and cover the rolo in it. It should look like a golf ball
Place your golf ball dough ball on parchment paper on a cookie sheet and bake till cookies are golden brown
Enjoy!