Consumer Reports Naughty and Nice List of 2012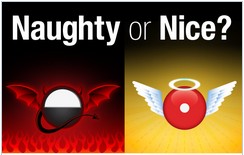 Here are a few that made the list for 2012:
 Naughty List
Forever 21 made the naughty list due to their inconsistencies with returns with online versus in-store purchases.
Spirit Airlines also made the naughty list due to their increases in fees for just about anything, including a maximum of $100 for a carry on bag!
Time Warner Cable made the naughty list because of their announcement to charge $3.95/month for customers to lease a cable modem.
Nice List
Home Depot made the nice list this year because of their willingness to dispose of old appliances at no charge.
Kohl's made the Nice List because of the "No Questions Asked – Hassle Free" return policy.
Nordstrom also made the list due to their free shipping, free returns on orders of any size.
Find all of the details of this article at ConsumerReports.org.