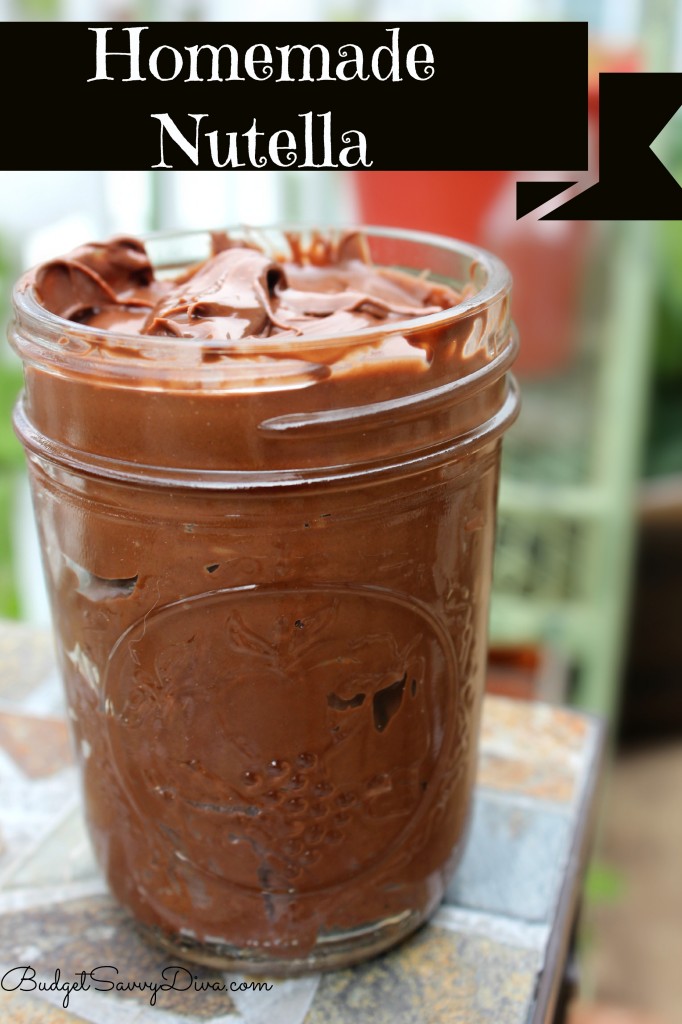 Make sure to pin the recipe or REPIN
Everyday at 1 pm PST/ 4pm EST Budget Savvy Diva posts a NEW RECIPE 🙂 I might miss this time every now or then – but I know you understand
Make sure to follow Budget Savvy Diva on Facebook 🙂
Find Copy Cat Restaurant Recipes HERE
Find Crock Pot Recipes HERE
Find Gluten Free Recipes HERE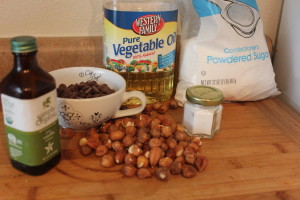 What You Need
1 cup hazelnuts
12 ounces milk chocolate chips ( melted – I use the microwave)
2 tablespoons vegetable oil
3 tablespoons powdered sugar
1 teaspoon vanilla extract
1/2 teaspoon salt
What to Do
Preheat the oven at 350 – lay hazelnuts on a cookie sheet and toast them for about 14 minutes – you will need to get the skins off the nuts ) toasting them helps this – place the nuts in a towel and rub them together till the skins are removed. Let the nuts cool ( I pop them into the fridge)
In a food processor – process the hazelnuts till a paste forms. Add all the ingredients except the melted chocolate – process till very smooth. Add melted chocolate and blend. The mixture will be a little hot and runny but it will firm up once you let it cool down. This recipe makes about 2 cups and I use Mason jars to store the Nutella. It can last at least a week ( honestly we never have it around longer than that )
Enjoy!
Homemade Nutella Recipe
Ingredients
1 cup hazelnuts
12 ounces milk chocolate chips ( melted - I use the microwave)
2 tablespoons vegetable oil
3 tablespoons powdered sugar
1 teaspoon vanilla extract
½ teaspoon salt
Instructions
Preheat the oven at 350 - lay hazelnuts on a cookie sheet and toast them for about 14 minutes - you will need to get the skins off the nuts ) toasting them helps this - place the nuts in a towel and rub them together till the skins are removed. Let the nuts cool ( I pop them into the fridge)
In a food processor - process the hazelnuts till a paste forms. Add all the ingredients except the melted chocolate - process till very smooth. Add melted chocolate and blend. The mixture will be a little hot and runny but it will firm up once you let it cool down. This recipe makes about 2 cups and I use Mason jars to store the Nutella. It can last at least a week ( honestly we never have it around longer than that )
Enjoy!
Recipe is adapted from HERE