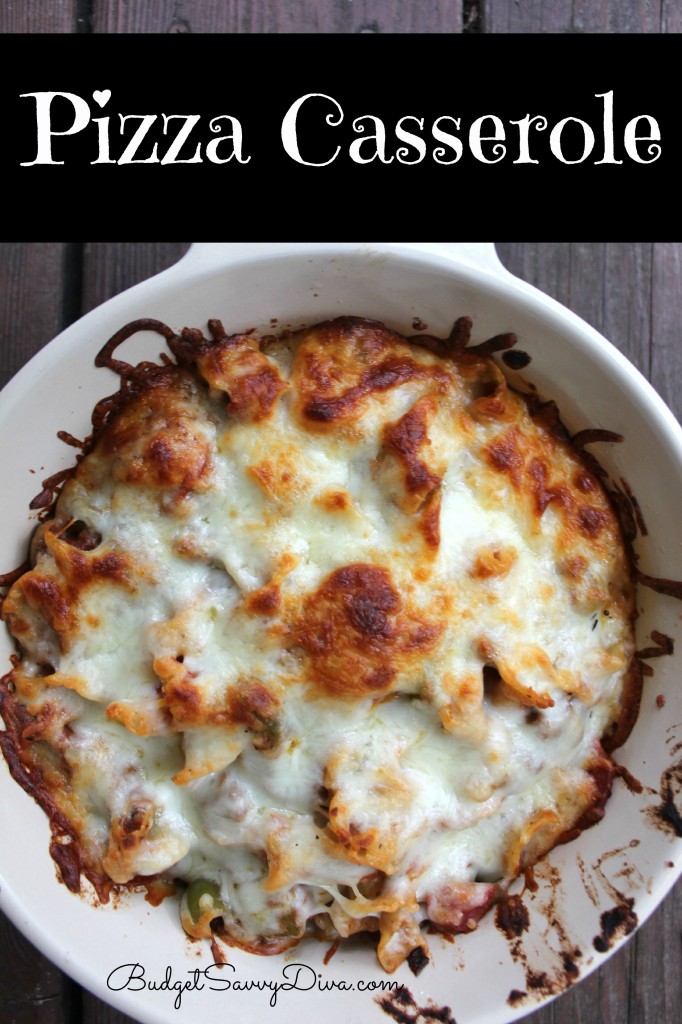 Make sure to pin the recipe or REPIN
Everyday at 1 pm PST/ 4pm EST Budget Savvy Diva posts a NEW RECIPE 🙂 I might miss t his time every now or then – but I know you understand
Make sure to follow Budget Savvy Diva on Facebook 🙂
Find Copy Cat Restaurant Recipes HERE
Find Crock Pot Recipes HERE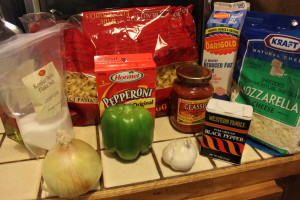 Ingredients
2 Cups of Egg Noodles
1/2 pound of beef
1 Cup of Chopped Onions
1 garlic clove, minced
1 green bell pepper, chopped well
1.5 cup of pepperoni
14 ounces of pizza sauce
1 Cup of Mozzarella
1/4 Cup of Milk
olive oil
Salt
Pepper
Directions
Cook the egg noodles
Preheat oven to 350
While the oven is preheating – heat a skillet over medium heat. Add 1 teaspoon of oil – Add onions, green peppers cook for 5 minutes. Add garlic cook for an additional 2 minutes. Add Beef.
Brown beef and drain excess fat
Add in pizza sauce, milk, pepperoni, pinch of salt and pepper and noodles
Gently mix everything together
Place in a 2 quart casserole dish — I would grease the dish with a little oil.
Top with cheese – bake for 30 minutes — for the last 5 minutes put the broiler on to brown the top
Enjoy!!! This is a great meal to freeze and reheat
Pizza Casserole Recipe
Ingredients
2 Cups of Egg Noodles
½ pound of beef
1 Cup of Chopped Onions
1 garlic clove, minced
1 green bell pepper, chopped well
1.5 cup of pepperoni
14 ounces of pizza sauce
1 Cup of Mozzarella
¼ Cup of Milk
olive oil
Salt
Pepper
Instructions
Cook the egg noodles
Preheat oven to 350
While the oven is preheating - heat a skillet over medium heat. Add 1 teaspoon of oil - Add onions, green peppers cook for 5 minutes. Add garlic cook for an additional 2 minutes. Add Beef.
Brown beef and drain excess fat
Add in pizza sauce, milk, pepperoni, pinch of salt and pepper and noodles
Gently mix everything together
Place in a 2 quart casserole dish -- I would grease the dish with a little oil.
Top with cheese - bake for 30 minutes -- for the last 5 minutes put the broiler on to brown the top
Enjoy!!! This is a great meal to freeze and reheat
Recipe is adapted from HERE