RECALL ALERT: PF Changs Home Menu Pork and Leek Dumplings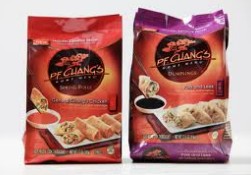 **RECALL ALERT**
Some P.F. Chang's Home Menu Pork and Leek Dumpling frozen appetizers are being recalled due to the possible presence of undeclared allergens, crustacean shellfish (shrimp) and fish (pollock). No reported illnesses as of yet.
These items were sold at various retailers in the following states: Alabama, Arkansas, Arizona, California, Colorado, Connecticut, Delaware, Florida, Georgia, Iowa, Illinois, Indiana, Kansas, Kentucky, Louisiana, Maryland, Maine, Michigan, Missouri, Mississippi, North Carolina, Nebraska, New Mexico, Nevada, New York, Ohio, Oklahoma, Pennsylvania, South Carolina, Tennessee, Texas, Utah, Virginia, Washington, Wisconsin and Wyoming.
Affected Product: P.F. Chang's Home Menu Pork and Leek Dumplings with UPC0 36200 21215 8
Lot Codes: 0663 312871 & 0663 312971
Use By dates: MAY082014 or MAY092014
Go HERE for more details.