Caramel Apple Cupcakes Recipe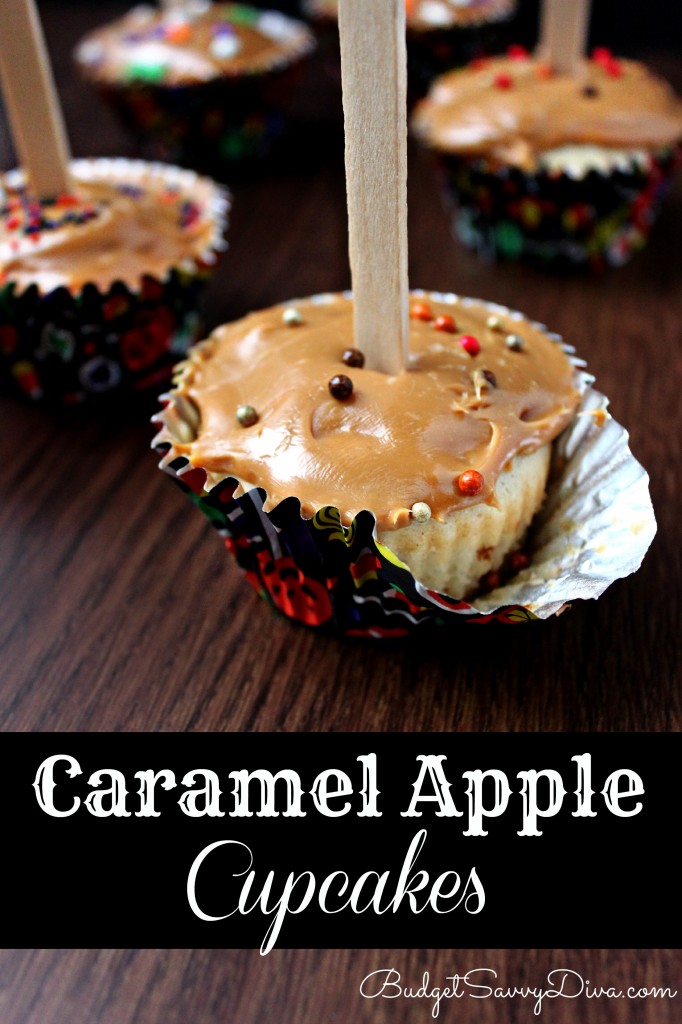 Make sure to pin the recipe or REPIN
Everyday at 1 pm PST/ 4pm EST Budget Savvy Diva posts a NEW RECIPE 🙂 I might miss t his time every now or then – but I know you understand
Make sure to follow Budget Savvy Diva on Facebook 🙂
Find Copy Cat Restaurant Recipes HERE
Find Crock Pot Recipes HERE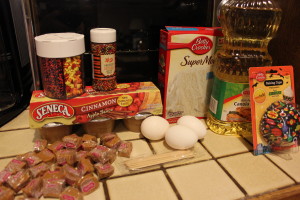 Ingredients
3 Egg Whites
Vegetable Oil
White Cake Box Mix
1 Cup of Cinnamon Applesauce
25 – 30 Caramels ( Unwrapped)
Sprinkles and wooden sticks
Directions
Preheat oven to 350. Line cupcake try with cupcake liners
Make a double broiler ( if you do not know how check out the link HERE )
Place caramels in the double broiler — it will take a VERY long time to melt down the caramel to have it be useable — do not worry
In a large bowl mix egg whites, white cake batter, apple sauce, and 1/3 cup of oil
Fill each cupcake liner till it is 2/3rds full
Bake for 20 minutes
Let cupcakes cool  for 15 minutes
Using a knife place caramel topping on each cupcake – quickly place wooden stick and sprinkles on top. The caramel will set VERY quickly
Enjoy!
If you make any of my recipes or crafts please take a picture and place it on Instagram or Twitter – use the hashtag #budgetsavvydiva so I can easily find it 🙂
For more Halloween Ideas Please Check out the Budget Savvy Diva Halloween Pinterest Page
Make sure you are following Budget Savvy Diva on Pinterest

Caramel Apple Cupcakes Recipe
Ingredients
3 Egg Whites
Vegetable Oil
White Cake Box Mix
1 Cup of Cinnamon Applesauce
25 - 30 Caramels ( Unwrapped)
Sprinkles and wooden sticks
Instructions
Preheat oven to 350. Line cupcake try with cupcake liners
Make a double broiler ( if you do not know how check out the link HERE )
Place caramels in the double broiler -- it will take a VERY long time to melt down the caramel to have it be useable --- do not worry
In a large bowl mix egg whites, white cake batter, apple sauce, and ⅓ cup of oil
Fill each cupcake liner till it is ⅔rds full
Bake for 20 minutes
Let cupcakes cool for 15 minutes
Using a knife place caramel topping on each cupcake - quickly place wooden stick and sprinkles on top. The caramel will set VERY quickly
Enjoy!