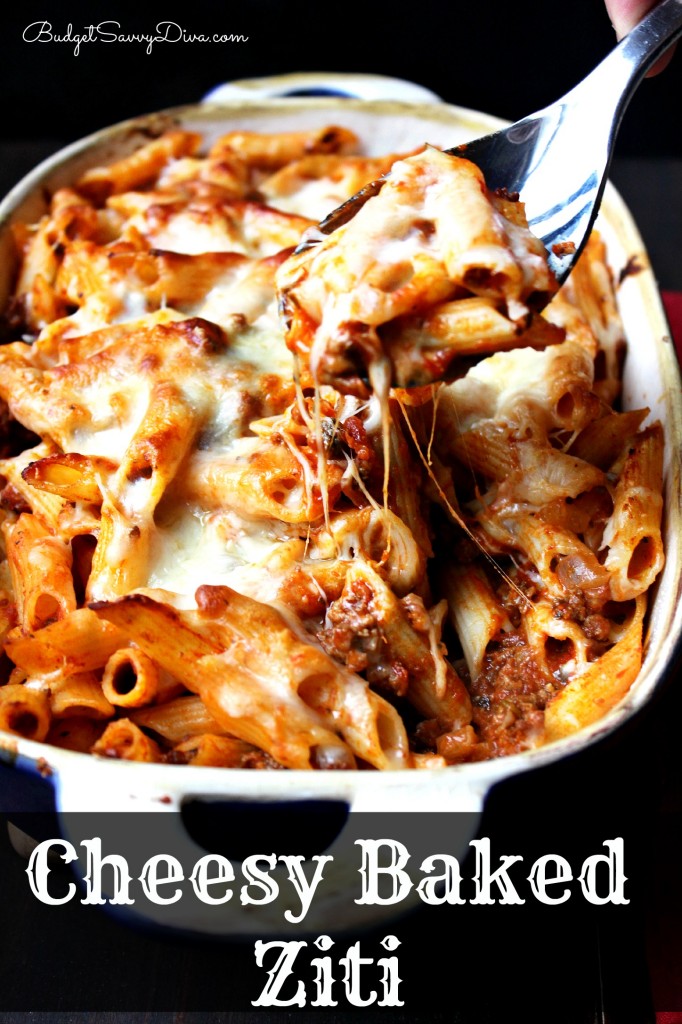 Be awesome and make sure to pin this recipe on Pinterest 🙂 Click the picture above or repin this recipe 🙂
You are welcome for this Baked Ziti Recipe , make it and you'll see. I have totally been in a casserole binge the past month and my family is NOT complaining. That's because my casseroles tend to have cheese…. let me correct that…. my casseroles have TONS of cheese
Not only tons of cheese but I always make sure to have that top layer of cheese – you know what I am talking about – that cheese that gets all golden baked goodness
And…. now I am hungry.
Enjoy this baked Ziti recipe — it simply rocks I am beyond confident that if you make this baked ziti you and anyone else who tries it will love it
One more note – I know the pasta used is NOT ziti …. My super market Winco did not carry ziti — how does a store not have ziti is BEYOND me. You can use Penne for your baked ziti, it just wont have those ridges to hold the saucy goodness, but you'll enjoy your baked ziti none the less- trust me!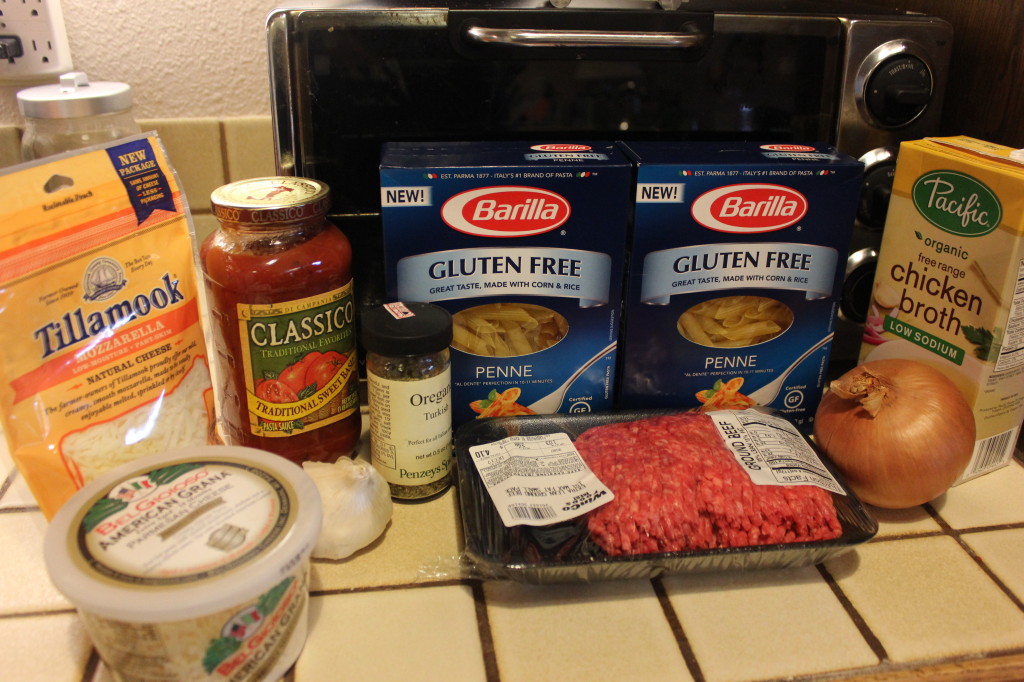 This recipe is gluten -free. If you have not tried Barilla gluten – free pasta make sure you do — it really rocks ( not sponsored….. but if you want to send me a truck of  Barilla gluten – free pasta I would not object!
If you do not want to use chicken broth you can use vegetable broth
This recipe is enough for 4 extremely hungry people or 6 semi – hungry people
I went a little crazy with the final product pictures — seriously this dish cannot take a bad picture!
Most photogenic baked ziti ever!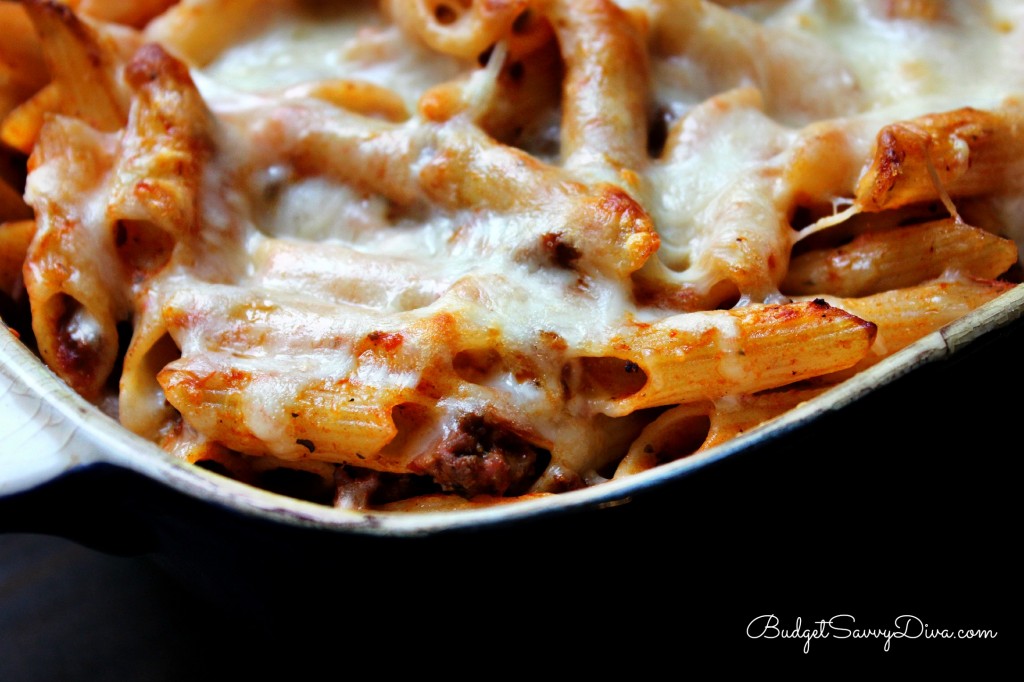 First on BAM!
Ready for the second one ?!!!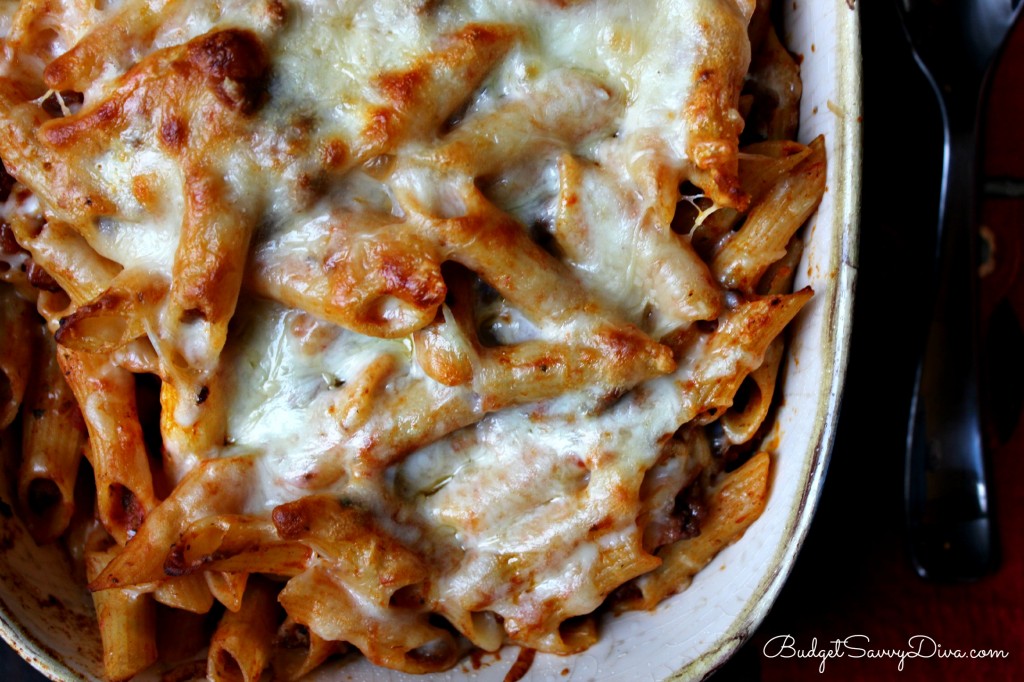 Hungry yet ?!
Ready for the LAST ONE Baked Ziti Picture!!!
Are you sure ?!
Ready…..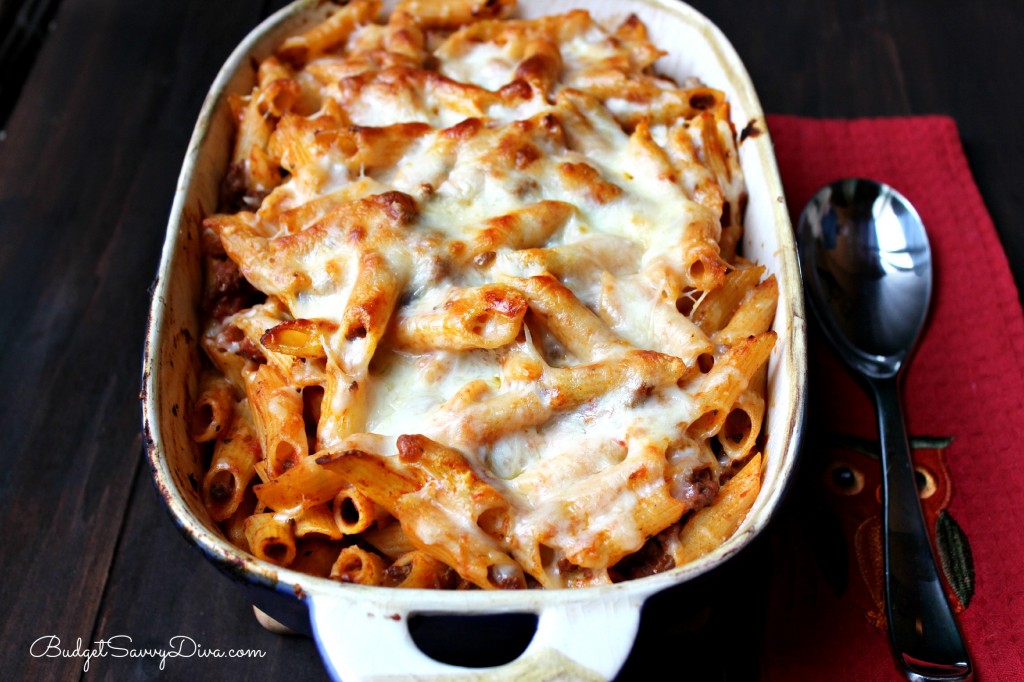 Cheesy Baked Ziti Recipe
Ingredients
1 lb ground beef
1 cup onion, chopped
1 garlic cloves, minced
1 (32 ounce) jar meatless sauce
1 cup chicken broth
1 teaspoon dried oregano leaves
1 (16 ounce) pasta - cooked and drained
2 Cups shredded mozzarella cheese
1 cup grated parmesan cheese
Instructions
Preheat oven to 375. In a large skillet add a little olive oil - add onions and garlic ( cook for 5 minutes) - add beef. Brown beef and drain fat
Add in sauce, chicken broth and oregano
Cook on low for 10 minutes
Stir in pasta and ¼ cup of mozzarella cheese
Spread into a casserole dish sprinkle the rest of the cheeses on top and bake uncovered for 30 minutes
Recipe is adapted from HERE