Classic Baked Ziti Recipe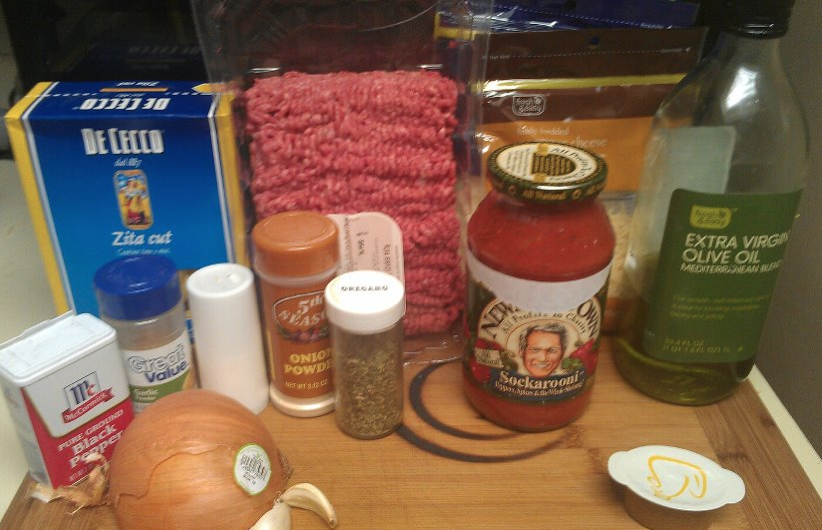 If you like this recipe then PIN IT on Pinterest
Everyday at 5 pm PST/ 8 pm EST Budget Savvy Diva posts a NEW RECIPE 🙂
Make sure to follow Budget Savvy Diva on Facebook 🙂
Find Copy Cat Restaurant Recipes HERE
Find Crock Pot Recipes HERE
Find Gluten Free Recipes HERE
Find more Recipes HERE
Sometimes a classic does not need to be messed with – and this baked ziti is one of them. Simple and classic this dish is paired well with a fresh salad.
Gluten – Free Version: Use Corn pasta instead of wheat pasta
Enjoy 🙂
What Do You Need
1 lb lean ground beef1 cup onion , chopped
pinch of salt
1 teaspoon of onion powder
1 teaspoon of garlic powder
1 teaspoon of pepper
2 garlic cloves , minced
1 (32 ounce) jar meatless sauce
1 cup chicken broth
1 tablespoon of Olive Oil1 teaspoon dried oregano leaves 1 (16 ounce) package ziti pasta , cooked and drained
2 cups of shredded mozzarella cheese1 cup grated parmesan cheese
What To Do
Preheat oven at 350
In a large skillet – heat oil and cook onions for 8 minutes than add garlic and cook for one minute. Add beef and cook till no longer pink ( drain excess fat). Stir in sauce, chicken broth, pepper, salt, onion powder, garlic powder, and oregano. Heat through.
Stir 1 cup of sauce into the "cooked" ziti pasta.
Place 1/2 of the ziti into a 13×9 baking dish.
Place 1 1/2 cup of mozzarella cheese and 1/2 cup of Parmesan cheese
Top with rest of sauce.
Top with rest of pasta.
Cover and bake for 20 minutes.
Sprinkle with mozzarella cheese and Parmesan cheese.
Cook till cheese is golden brown
Enjoy 🙂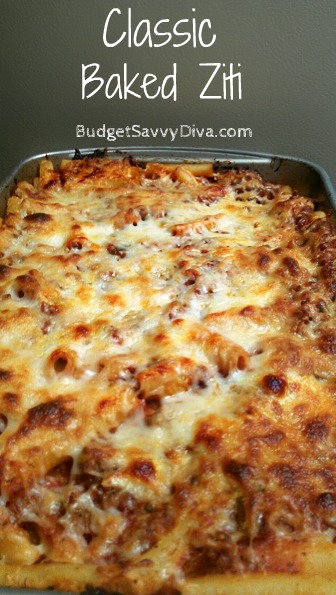 Classic Baked Ziti
Comfort food at its best.
Ingredients
1 lb lean ground beef
1 cup onion , chopped
pinch of salt
1 teaspoon of onion powder
1 teaspoon of garlic powder
1 teaspoon of pepper
2 garlic cloves , minced
1 (32 ounce) jar meatless sauce
1 cup chicken broth
1 tablespoon of Olive Oil
1 teaspoon dried oregano leaves
1 (16 ounce) package Ziti pasta , cooked and drained
2 cups of shredded mozzarella cheese
1 cup grated Parmesan cheese
Instructions
Preheat oven at 350
In a large skillet - heat oil and cook onions for 8 minutes than add garlic and cook for one minute. Add beef and cook till no longer pink ( drain excess fat).
Stir in sauce, chicken broth, pepper, salt, onion powder, garlic powder, and oregano. Heat through.
Stir 1 cup of sauce into the "cooked" ziti pasta.
Place ½ of the ziti into a 13x9 baking dish.
Place 1½ cup of mozzarella cheese and ½ cup of Parmesan cheese
Top with rest of sauce.
Top with rest of pasta.
Cover and bake for 20 minutes.
Sprinkle with mozzarella cheese and Parmesan cheese.
Cook till cheese is golden brown
Enjoy 🙂
This recipe is adapted from HERE