Buffalo Chicken Cheesy Pasta Recipe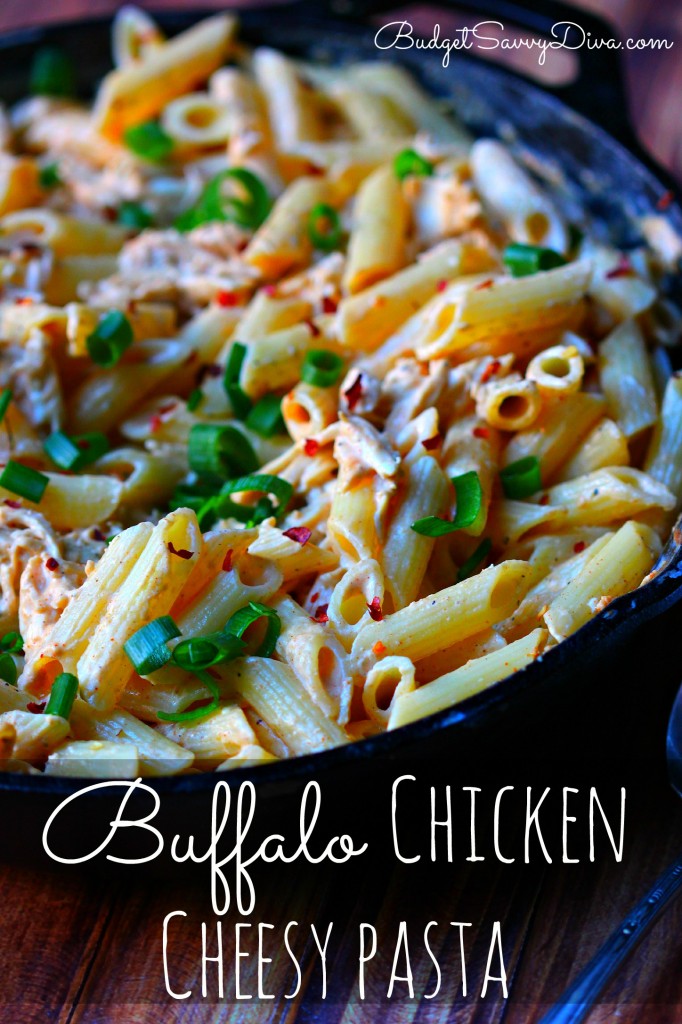 Make sure to REPIN this recipe 🙂
My family loves a little spice –  I made a buffalo chicken dip before and my family went crazy for it – the recipe is on this site let me know if you want me to find it for you
Anyways – I thought it would be fun to take the elements of a buffalo chicken dip and pair it with some pasta – I used Barilla's gluten free pasta so I could enjoy the dish as well
I made a bunch of dishes the same day I made this – and this one was my mom's favorite 🙂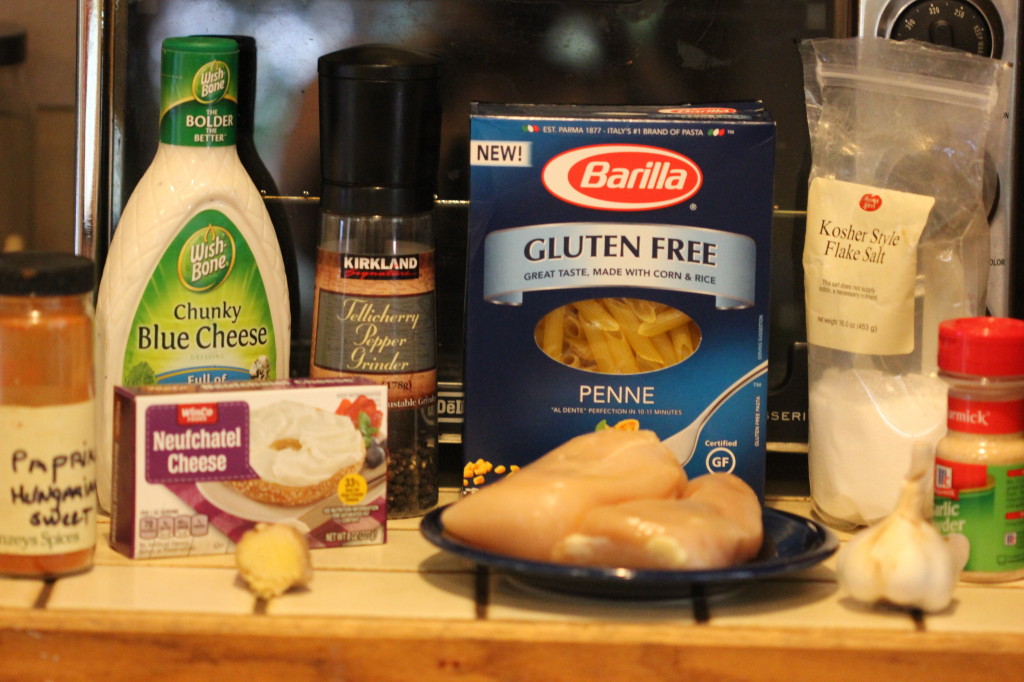 So I really did not know what type of blue cheese dressing to get – I ended up getting the chunky kind… It worked out well – though next time I will use the light version and see if the taste is affected too much
Oh do you see the ginger knob in the picture…. thanks Dad. No there is no ginger in the recipe.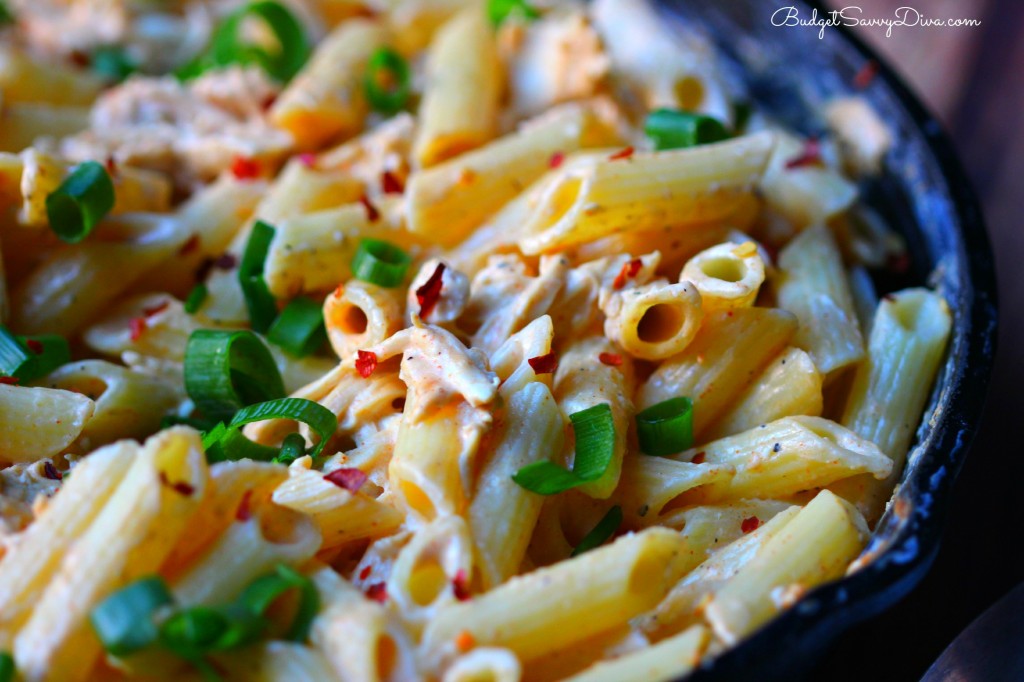 I finished off the dish with green onions and red pepper flakes 🙂 I decided to mix everything in the cast iron skillet since it meant dirtying tons of dishes… plus I love the look of it ( I do not love the weight — that pan is like 10 pounds)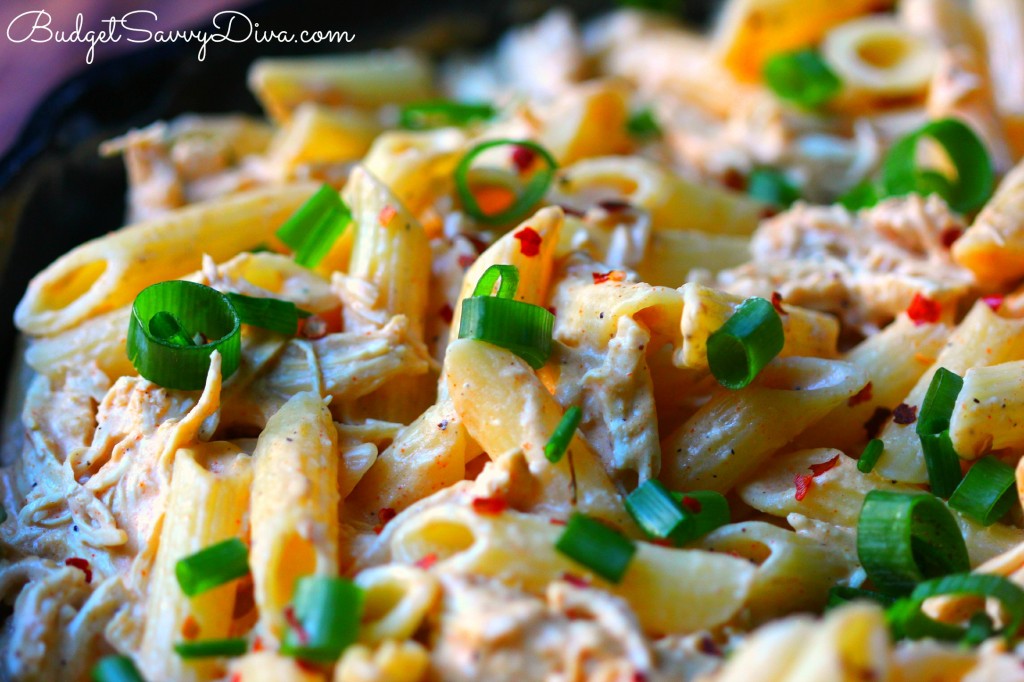 If you do make the Buffalo Chicken Cheesy Pasta Recipe please make sure to comment and let us know what you thought 🙂
Love You Guys!
Buffalo Chicken Cheesy Pasta Recipe
Ingredients
2 Cups of Cooked Chicken Shredded
8 oz of Cream Cheese Light
¼ Cup of Hot Sauce - Franks
½ Cup of Water
1 tsp of paprika
1 tsp of Garlic powder
½ tsp of salt
½ Cup of Blue cheese dressing
12 oz of Penne Pasta ( gluten free - optional)
Green onion - chopped garnish
Red pepper flakes - Garnish
Instructions
Cook pasta according to the directions on the box
While the pasta is cooking - heat a skillet on medium heat - add hot sauce and cream cheese ( cook for 4 minutes) Add paprika, garlic powder, pepper, and salt
Cook until combined
Add water - mix well
Add chicken and blue cheese dressing - set heat to low. Cook for 5 minutes
By this time the pasta should be cooked - add the drained cooked pasta to the skillet - mix well
Garnish and Enjoy!
 Recipe is adapted from HERE