Honey Maid for the Holidays – DIY Santa's Workshop
This shop has been compensated by Collective Bias, Inc. and its advertiser. All opinions are mine alone. #HoneyMaidHouse #CollectiveBias

For as long as I can remember I've been putting together gingerbread houses in preparation for Christmas. Even in school, when the holidays would start to get close, my teachers would purchase one of the large kits and as a class we'd construct a gingerbread house for our classroom. I remember how much fun I always had mixing up the icing, creating the houses borders and using an assortment of yummy candies to put the final touches on our creation. Even as an adult, I still love to create a delicious gingerbread house with my family during the holidays and have enjoyed all the different designs we've put together over the years.
This year we decided to try something new — instead of using traditional gingerbread, we worked together with Honey Maid and used their graham crackers to construct this years Santa's Workshop!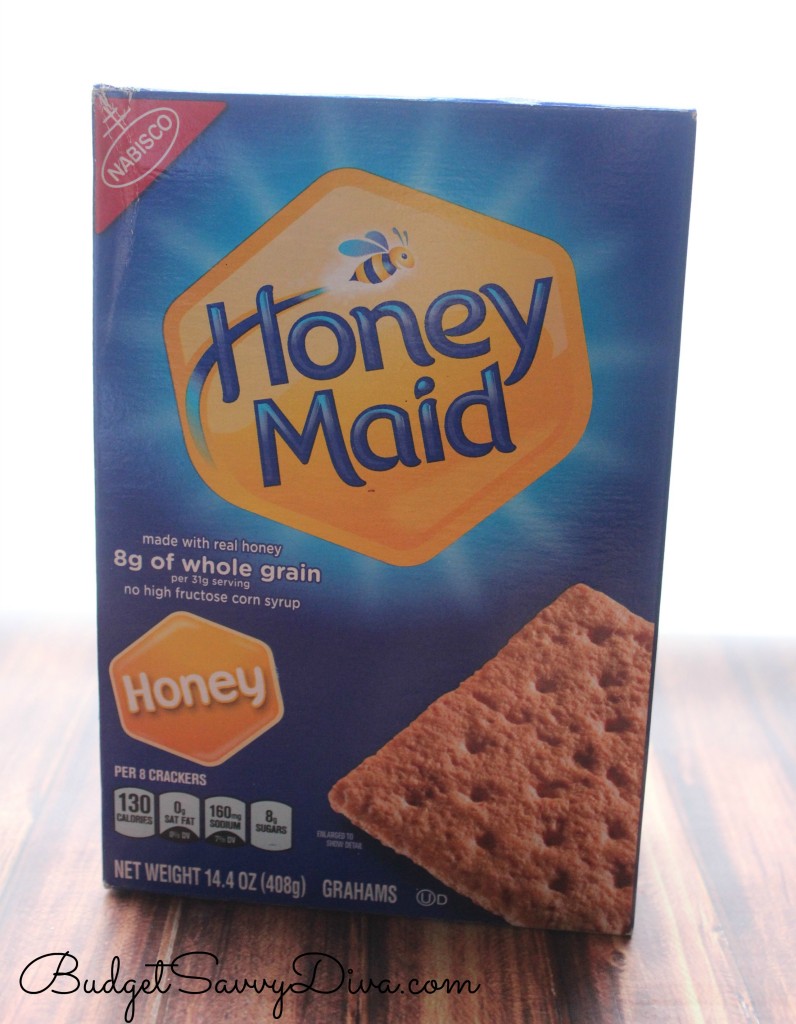 I went to Walmart to get everything I needed for the workshop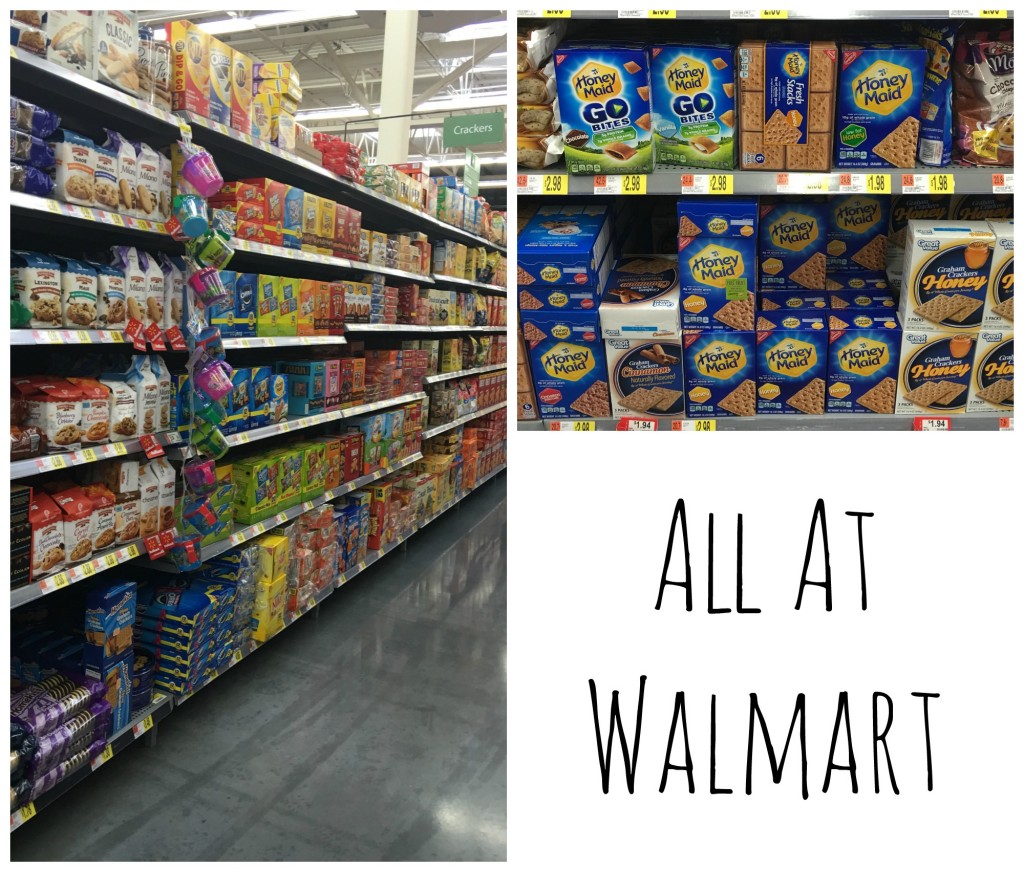 While I was Walmart there was a Honey Maid Demonstration happening – it was tons of fun PLUS there was a $1 coupon for Honey Maid ( score!)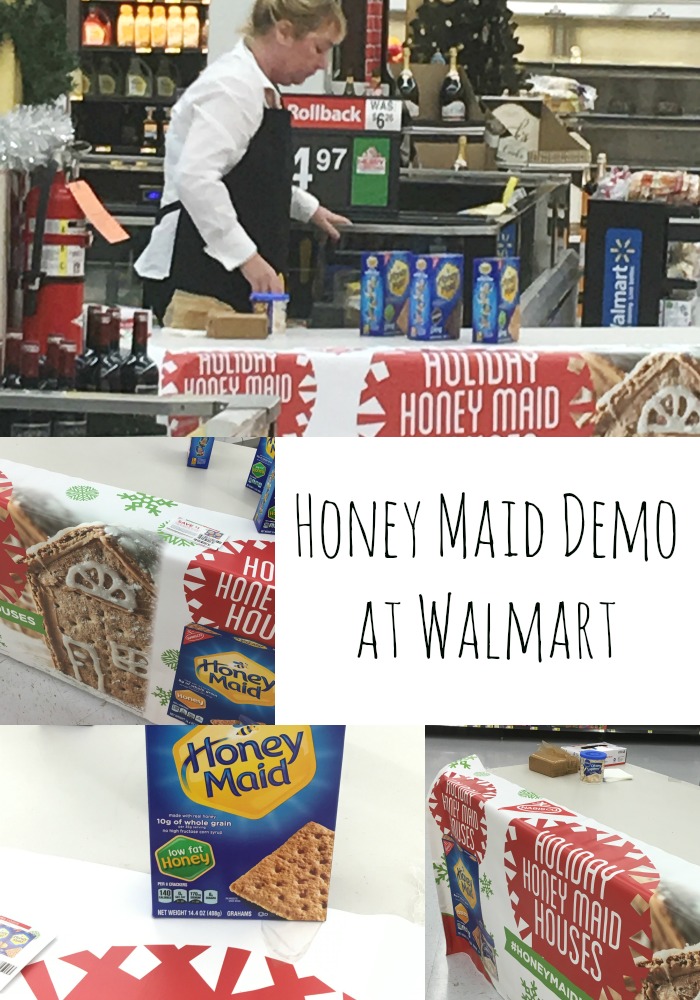 One thing we wanted to explore with this years holiday workshop was healthier alternatives to previous years sugary versions. There are so many children and adults who have allergies or strict diets, that it can be hard for them to be able to enjoy traditional gingerbread houses with so many different kinds of sweets and all that sugary icing, so, I started brainstorming different things to use that would be better for you yet an altogether yummy alternative.  I headed to my local Neighborhood Walmart Market for healthy ingredients.
This is everything I used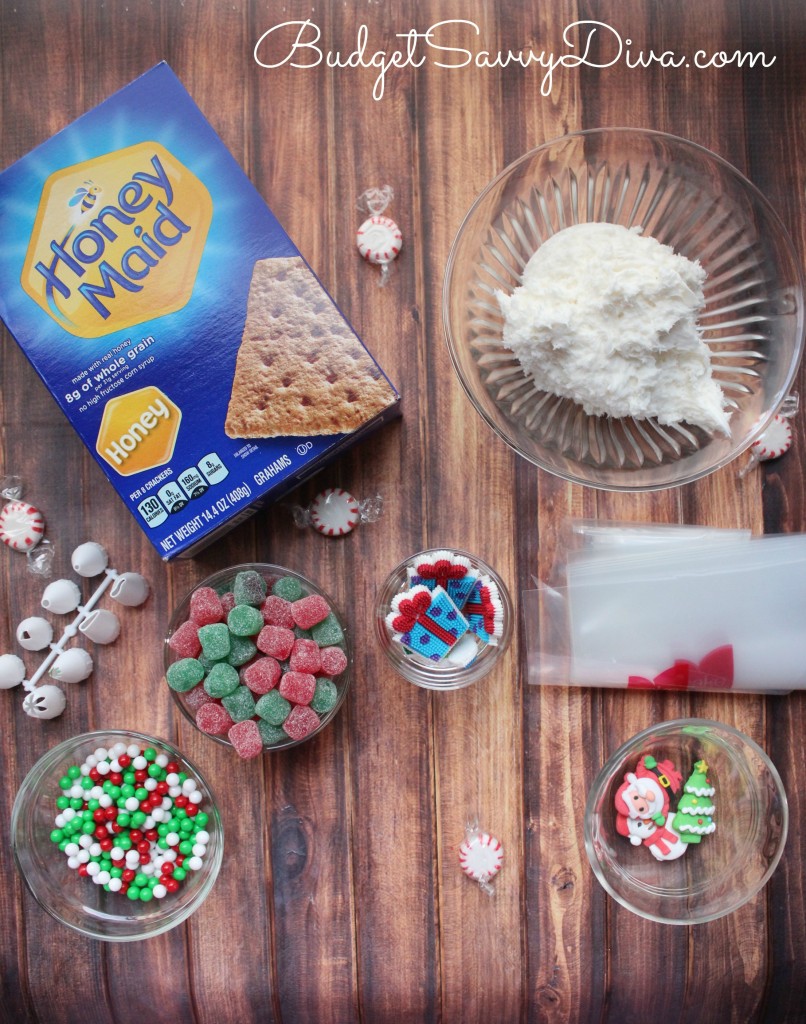 I wanted the workshop to be "sweet" so it has elements that are sugar but not items that you would not "Jump" to eat. Like the Santa and Christmas tree are edible but most would not try and eat them. Most houses have tons of candy on the roof ( I just sugar – it is edible sugar – but it really is for looks only) – so you have that sugar ( snow) look but it is almost impossible to eat. I used the same "snow" around the workshop – so you have the look of snow ( which is edible) but will not be eaten. I also used some non-edible trees in the background to give some more pop without
For icing, I had to figure out what I could use that would cut out traditional sugar but that would also stay firmly in place without melting or sliding off. An eggless royal icing is one way I found that would give me the desired look and taste without overdoing it for the icing and "cement" to keep my house together but if you aren't keen on that method you could also try a good fat-free or vegan yogurt and see if that holds well enough to keep your house standing.
Recipe for Icing
Eggless Vanilla Royal Icing

Ingredients

1 1/2 cups confectioner's sugar
4 teaspoons milk
2 to 3 teaspoons light corn syrup
1/2 teaspoon vanilla extract
Directions
Whip all the ingredients together – it is ready to use.
For the decorations it was a little easier to get inventive and think of fun, yummy AND healthy options. From nuts to dried fruit and even veggies (if you want to make a vegetarian veggie house) there was no end to the different types of goodies I could use for the decor. I even took a poke around the web and saw that one person even used dried bananas to create shingles on top of their healthy house. I decided to use less items on my workshop to limit the sugar. I also used cherry juice to turn my icing red. For the gumdrops I cut  them into 4 pieces each – they are the path leading to the workshop.
I focused the decoration to only the front of the building – so it makes a bang but it limits the amount of sweets that are normally on "traditional gingerbread houses"
If you're like me and like to create a graham cracker house filled with goodies, this is another great opportunity to fill it with goodies that are better for you and your loved ones than the traditional plethora of junk foods. You can fill your graham cracker or gingerbread house with a variety of sweet or savory nuts, healthy yet sweet cereals, dried fruits and more. Really, the sky is the limit, especially when you think about how many sweet yet healthy options you consume on a daily basis anyways. There's no specific set of rules to say what can or can't go into your graham cracker house!
Using my icing I secured the Honey Maid first then I decorated – I thought it would be fun to show a step-by-step process

Be sure to check out more ways to decorate your Honey Maid House this season at Delicious Moments of Joy. I'd love to hear about how you are decorating your gingerbread house!
Here is the final look 🙂