5 Easy Ways To Save Money On Groceries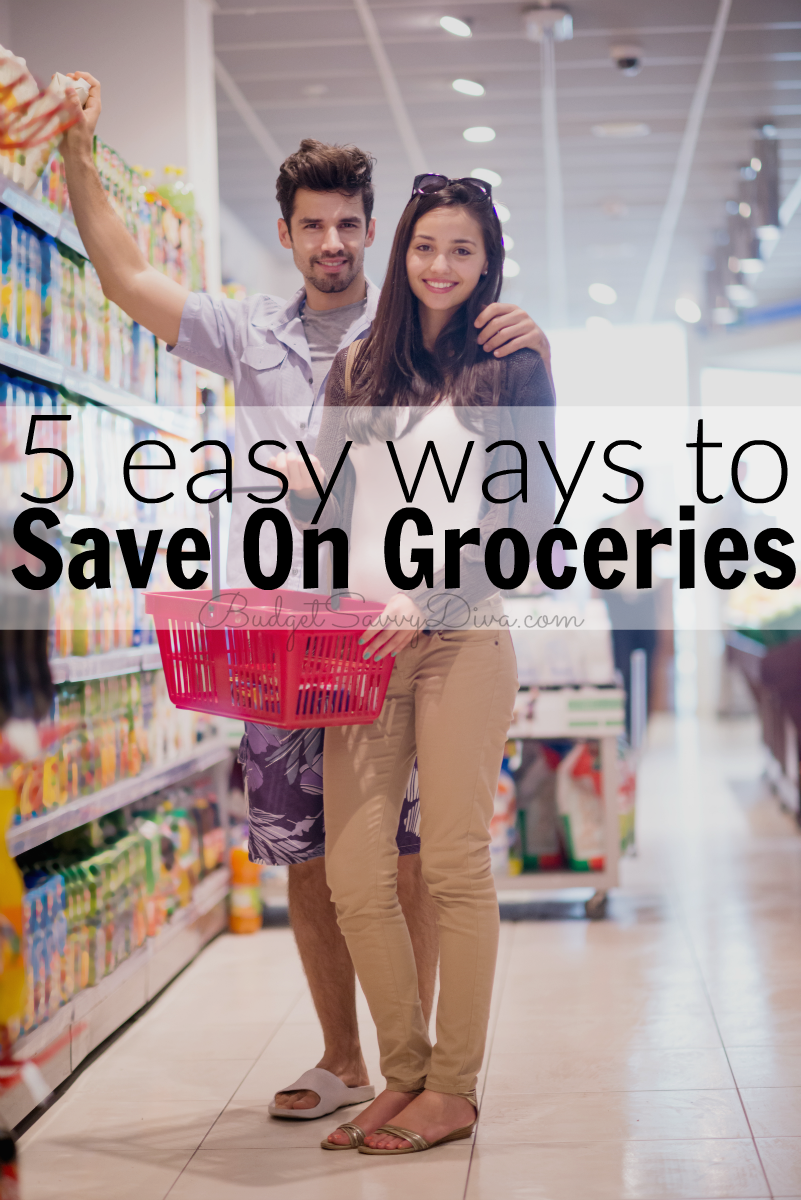 One of my biggest sources of stress comes from my weekly visit to the grocery store. Being as budget conscious as I am it really gives me anxiety as I wander through the aisles trying to fit everything I need into one trip without going over budget. Often times I'll cross things off of my list for the week if it seems the price is a little too high or if I think I can put it off when it comes on sale again but finding substitutes for some of our go-to products can be a bit of a hassle. These days, the cost of groceries is just outrageous compared to what you could buy for the same amount of money 10 years ago. Each week I'm just astounded by the high prices at my local grocery store.
Although the cost of living and buying groceries each week can be a little high, I've made it my mission to find ways to save on groceries and have found 5 tried and true ways to save! When I started my research I was pretty impressed with what I found and would love to share my top 5 ways to save money on groceries with my readers.
Watch for sales. I highly recommend checking your local grocery stores weekly ad to check for their best deals for the week. Mine local stores will also list their BOGO deals along with their savings list so I can stock up on great items while saving money.
Coupons, coupons, coupons! I can't tell my readers how often coupons have helped me save big on some of my favorite items. You can find some of the best ones in your Sunday paper and if you have more than one, many times your grocer will allow you to stack them for extra savings.
Savings Apps. I personally use Ibotta – sign up FREE here – which is always updating their rebates every Thursday! Using the app is simple, just find your local chain within the app and it'll pull up the rebates they have for the week. More often than not they list items that you buy from week to week and they give you cash back on verified purchases. I've made over $50 back in a little over a month and they payout is instant.
Make a Grocery list. This is super important. Sticking to a list that you've sat down to make previously is a great way to help save money. The key is sticking to it and not buying anything that isn't part of the list. Buying items strictly on the list will help you stick to your budget while diverting from the list only adds to your growing total.
Make a meal plan. Meal plans are great in that they allow you to buy just the essentials for each meal each week. Planning exactly what you need and never straying from that list allows you to plan out what you're spending on each meal and budget accordingly.
These are my top 5 ways to save money when visiting my local grocery stores. They're so simple and easy to follow, anyone can do it and experience great savings just like I do each week. Trust me, sometimes it may seem like your savings are tiny but in the long run, every little bit helps!