Grilled Peaches and Chicken with Mint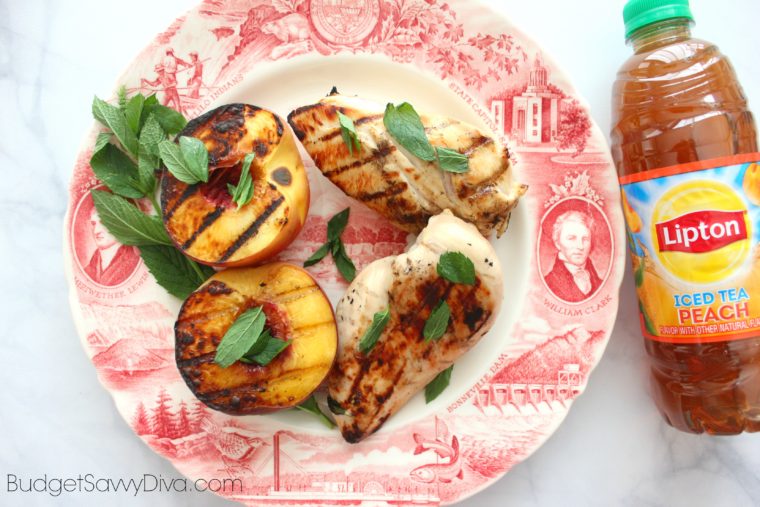 We had a particularly hot weekend recently and after working on the yard all morning, Eric and I stopped to relax on the deck with a glass of iced tea. We needed to refresh and recharge because we had an event we needed to get to in a couple of hours. We both found that we were craving iced tea so I went for my Jug of Lipton Iced Tea and poured us a couple of ice filled glasses. It was unsweetened because that's how I usually like it.
Eric wanted a bit of sugar in his and that's when I was hit by discovery number two: Iced tea is pretty much the only beverage that is regularly customized. You could have a family meal centered around a jug of Lipton iced tea, and everyone could have their preference of sweetened, unsweetened, with lemon flavor , without lemon flavor, with something else… mint? Tea is so versatile that way. My two favorite ways to enjoy Lipton Iced Tea – is in the peach and lemon flavors.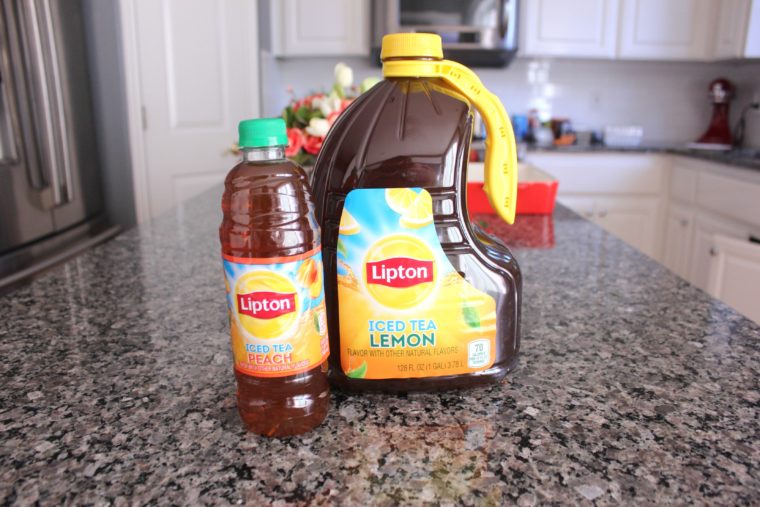 We sat for a little while and talked first about tea, and then more about the things that are important to us. We talked about my plans for my garden, and visiting my parent's to pick fresh blueberries and make pie. As we brightened up after sipping our iced tea, we decided to prepare a quick lunch before we went, so we could enjoy a few more moments on the deck. The iced tea really helped us to savor and appreciate the moment and we wanted to make that moment last. Inspired by Lipton Iced Tea, I decided to reinvent one of my favorite recipes for a fun, light, afternoon bite. What I love about this recipe is that it is so simple – chicken, mint, peach, and of course Lipton Iced Tea in lemon and peach flavors.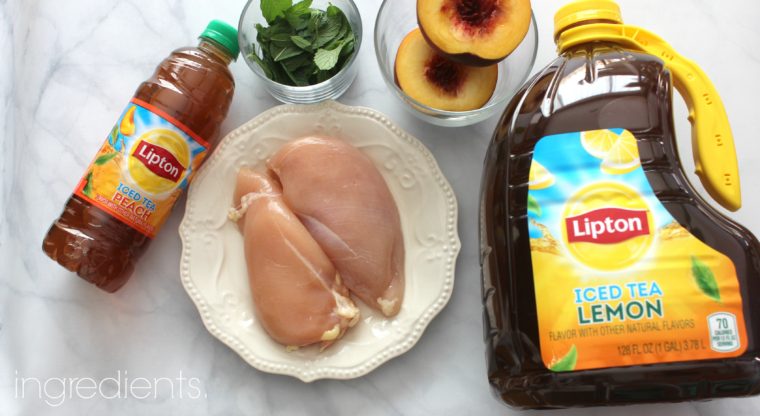 The tea really made our meal as we came to appreciate that it is moments like this that matter most. It was the perfect opportunity to detach from the busy world around us to find inspiration through optimism and enjoyment. Make sure to check out Bright Bites.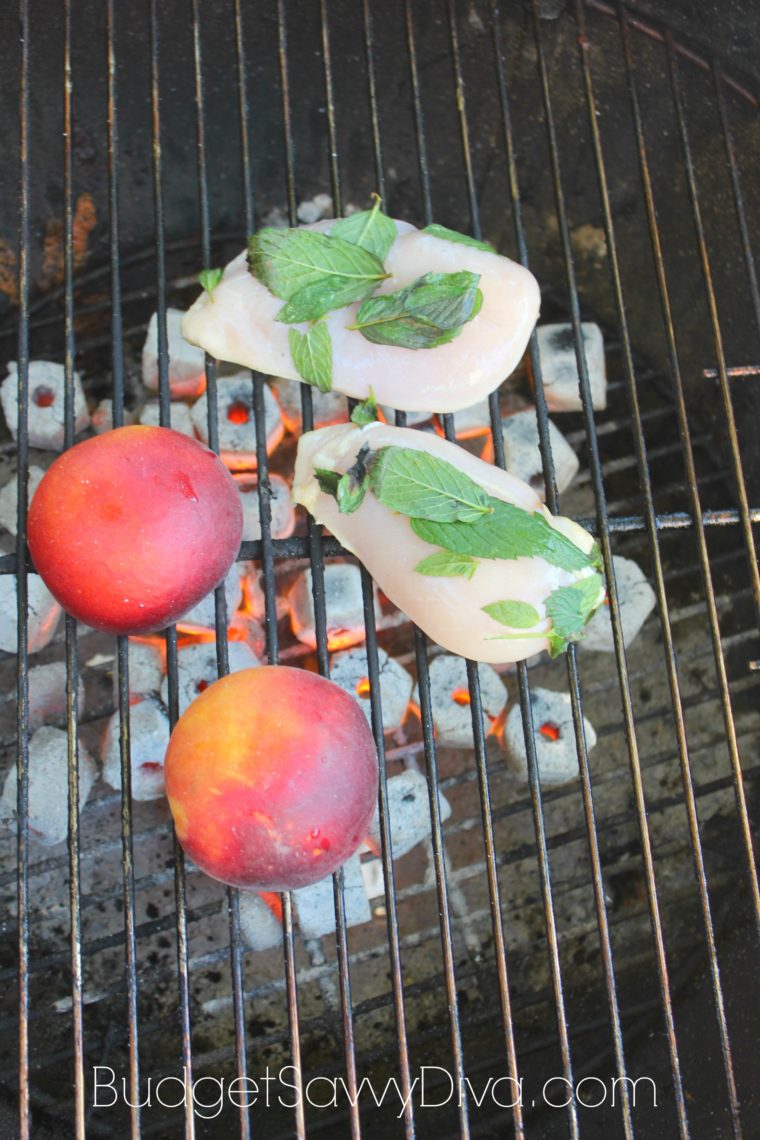 If you do try the Grilled Peaches and Chicken please make sure to comment and let me know what you think – also check out the recipe video below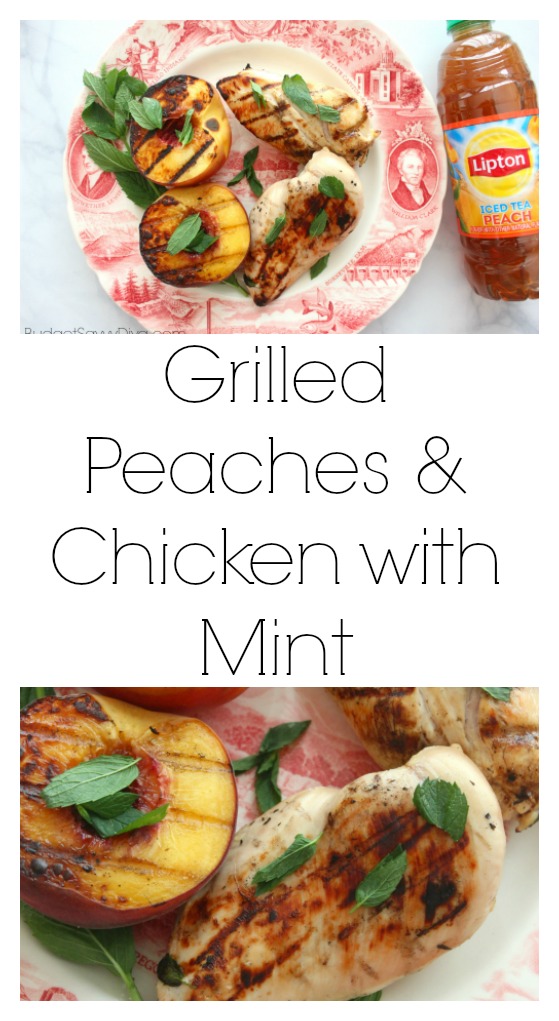 Grilled Peaches and Chicken with Mint
Ingredients
1 Pound of Chicken Breast
2 Cups of Lipton Peach Iced Tea
1 Cup of Lipton Lemon Iced Tea
½ Cup of Mint
2 Peaches - cut in half
Instructions
Heat up your grill - while the grill is heating
Place the chicken in a casserole dish pour the Lipton Iced Teas over the chicken top with mint - set aside for 1 hour in the fridge
Brush Lipton Peach flavor Iced Tea on the peaches
Place peaches and chicken onto the grill.
Peaches will be done in about 5 minutes
Chicken will take closer to 15 minutes
Take both off the grill and enjoy
This is a sponsored conversation written by me on behalf of Lipton. The opinions and text are all mine.