Miles of Memories: One Woman's Journey to All 50 States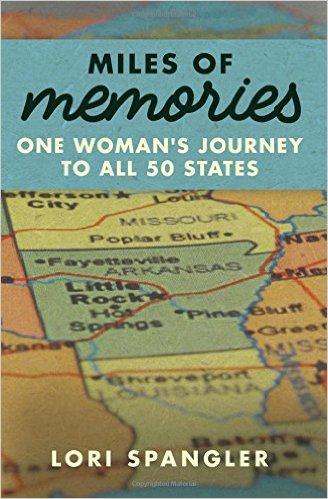 Books make great gifts! You can find something for just about anyone on your list. Here is a great book idea for the women on your shopping list.
Miles of Memories: One Woman's Journey to All 50 States
Growing up in rural Minnesota, "going on a trip" in Lori Spangler's childhood meant traveling twenty miles to her grandparents' house. As she grew older and ventured out of the "Land of 10,000 Lakes," Lori discovered her love of travel.
From Hawaii to Maine, Lori has crossed the border of every state. Her debut book, Miles of Memories: One Woman's Journey to All 50 States, not only takes readers on a unique road trip, it validates that anyone can do anything they set their mind to.
Following her travels from state to state in Miles of Memories, Lori includes fun tidbits she learned on her journey to join the All Fifty States Club. Each chapter ends with "Lori's Learning," where she includes words of wisdom she gleaned from her travels.
Having set her own personal goal and succeeded, Lori has advice for others looking to add traveling to all 50 states to their bucket list: do it! Lori encourages readers to have fun and enjoy everything they experience-flat tires and smelly fish included."
This post is part of the Budget Savvy Diva Holiday Gift Guide 2016 – make sure to check it out! Disclaimer – This product was provided for free so I could get some great photos and add it to this list. Nothing is posted that I have not checked out myself. Everything on this list is something I would buy myself.