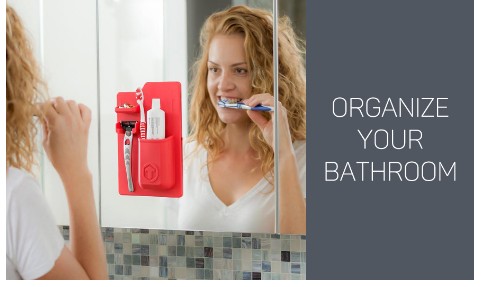 Here is a great gift for just about anyone! Anyone who travels and stays in hotels, college students or anyone!
Founded by two brothers, Tooletries is an Australian company based out of LA that specializes in innovative bathroom and travel accessories that all globetrotters, jet-setters and the highly organized have found beneficial to their lifestyles.. Made from 100% silicone, Tooletries' Mighty collection offers modern bathroom accessories such as toothbrush holders that feature a material technology called Aussie Grip Technology. This nifty technology allows Tooletries products to be sturdy, non-slip, and reusable so you can peel and stick at anywhere you go.
The Mighty collection doesn't require adhesives, suction cups, or any permanent mounts. With its ingenious Aussie Grip technology, all Mighty accessories easily stick to shiny surfaces, such as glass, mirror and tile. Its modular design gives all three products the ability to jigsaw above and next to each other creating a "mighty" combo..
Perfect for everyday use, the following products will organize your bathroom while giving it style. Tooletries products can be used in the shower, above the bathroom sink, at hotels, dorm rooms, etc.
This post is part of the Budget Savvy Diva Holiday Gift Guide 2016 – make sure to check it out! Disclaimer – This product was provided for free so I could get some great photos and add it to this list. Nothing is posted that I have not checked out myself. Everything on this list is something I would buy myself.