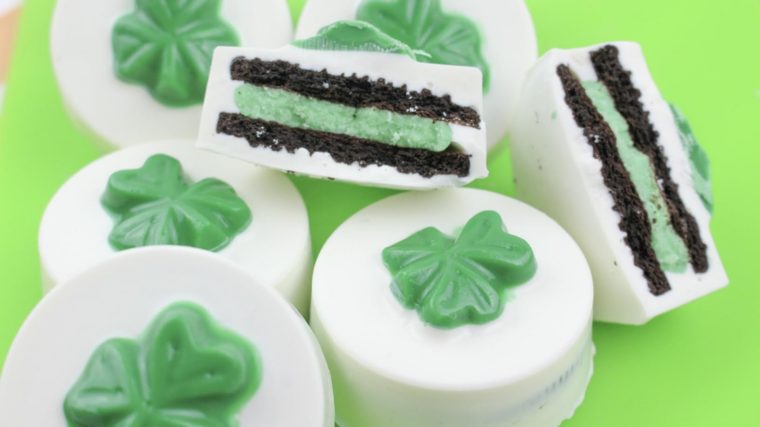 Being pretty pregnant with twins I am surprised I have so much energy. Don't get me wrong I do not have a ton but I have a lot and I really want to be in the kitchen. I made Eric cinnamon rolls yesterday – I cannot wait to bake with the twins someday. I thought I would make some fun Shamrock Mint Oreos especially since Eric and I are both Irish 🙂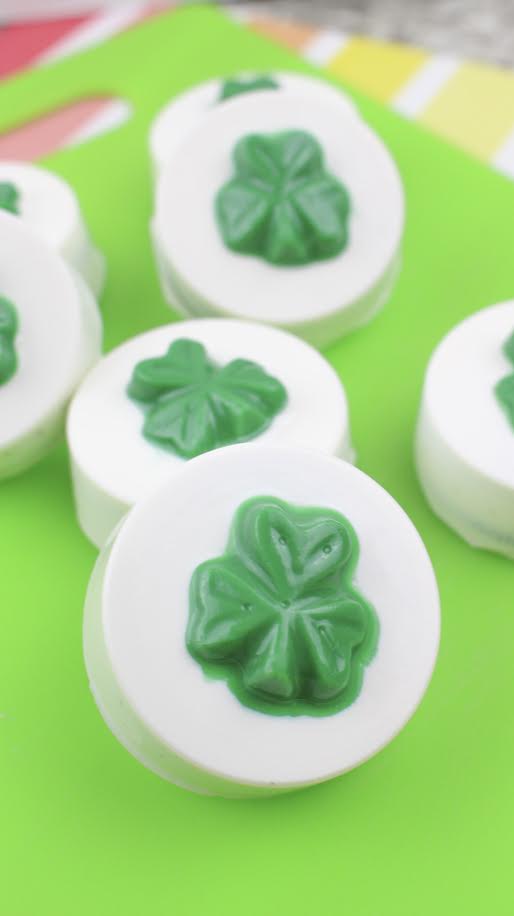 Shamrock Mint Oreos
Ingredients
Shamrock Oreo Mold ( I found mine on Amazon)
12 mint flavored Oreo cookies
½ cup Wilton green candy melts
12 oz bag Wilton white candy melts
Instructions
Add the green candy melts to a small microwave-safe bowl. Microwave for 45-50 seconds. Stir until completely melted and smooth.
Carefully pour the melted green candy into the shamrock part of each cookie mold. (I used a teaspoon).
Place the cookie molds in the refrigerator and chill for 10 minutes to allow the green chocolate shamrocks to harden.
Add the white candy melts to a double boiler over medium heat. Stir occasionally until melted and smooth. Remove from heat and transfer to a small bowl for easier handling.
Remove the chilled cookie molds from the refrigerator. Pour 2 Tablespoons of the melted white chocolate into each mold.
Place a mint Oreo cookie on top of the melted chocolate.
Pour additional melted chocolate on top of the cookies, up to the top of each mold.
Chill for 30 minutes to allow the chocolate to harden.
Pop the cookies out of their molds and ENJOY!!