Mango Tomato Summer Salad with Pork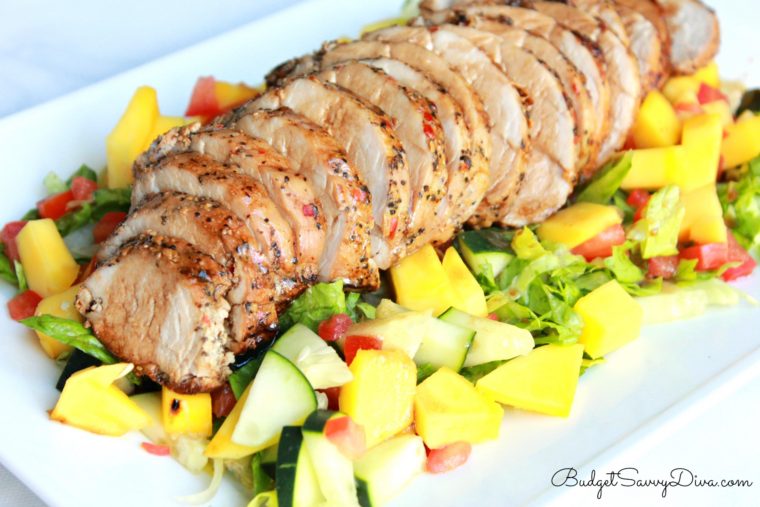 Sponsored post written by me on behalf of Smithfield® Marinated Fresh Pork.  The opinions and text are all mine.
When Smithfield asked me to do another recipe for their Marinated Fresh Pork and said it needed to be a meal that can be made in thirty minutes, I jumped at the opportunity because my focus right now is on making quick meals with recipes that Eric will be able to prepare when the babies are here.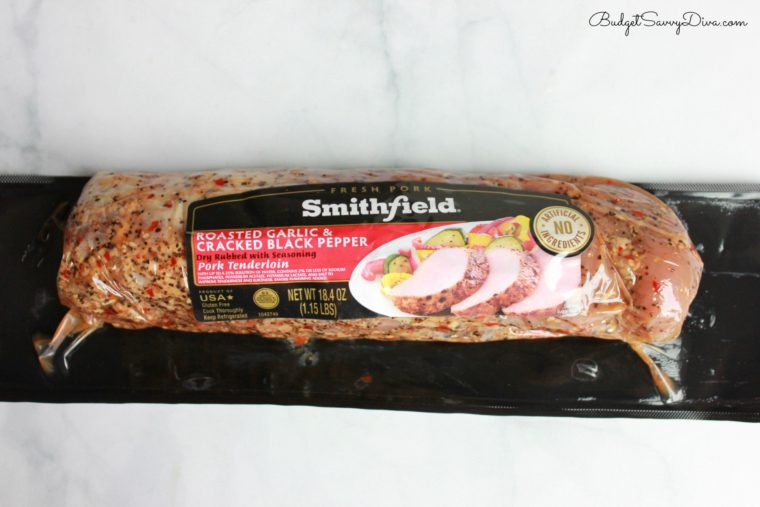 I know cooking will be largely out of the question and we don't want the temptation of ordering out all the time, so pre-made meals and easy/fast recipes are going to be a lifesaver. Smithfield is the best way I know to get real flavor, real fast. We picked up our Smithfield Marinated Fresh Pork at Safeway in the fresh meat section.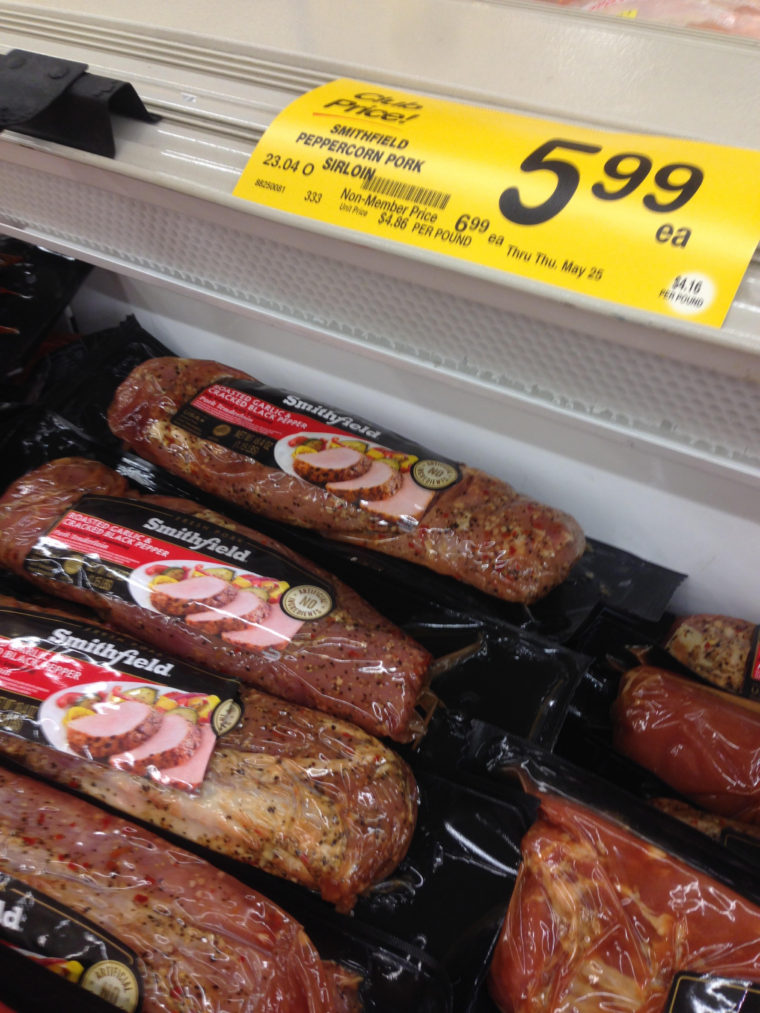 I've worked with Smithfield Marinated Fresh Pork before and it is the best.  Eric devours it.  His favorite is the Roasted Garlic and Cracked Black Peppercorn Pork Tenderloin.  He will eat the whole thing by itself and call it done, but it's important to eat proper meals with fruits and veggies, etc.  It's also super helpful if those added components can be mixed together with the pork served on top.  It makes plating easy, uses less dishes and is great for refrigerating. The point is to get real flavor, real fast, so I decided on a salad of mangos, tomatoes, and other fresh ingredients for a quick and easy dish with even quicker and easier prep after quick and easy storage.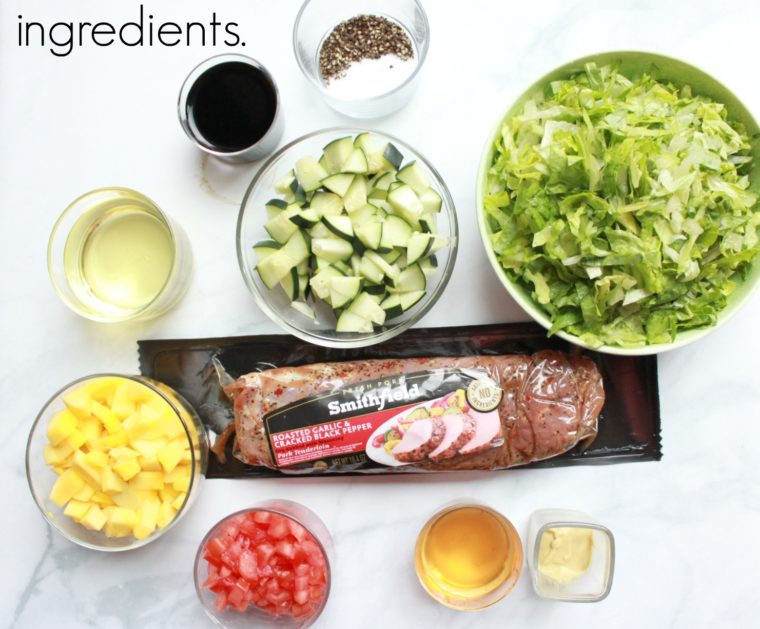 The fresh vibrancy of this summer dish is a healthful component to the delicious and high quality Smithfield pork.  I witnessed Eric pick at it throughout the day after having a full serving and I thought that was absolutely perfect.  Having food available to pick and grab, like a fruit bowl, trail mix, or a perfectly marinated pork tenderloin is a great way to get real flavor, real fast and to make sure you keep eating when you don't really have time to think about food.  We've been told what to expect, but we also have never had newborns before, so we take comfort in having a plan in place to make sure we don't forget to eat.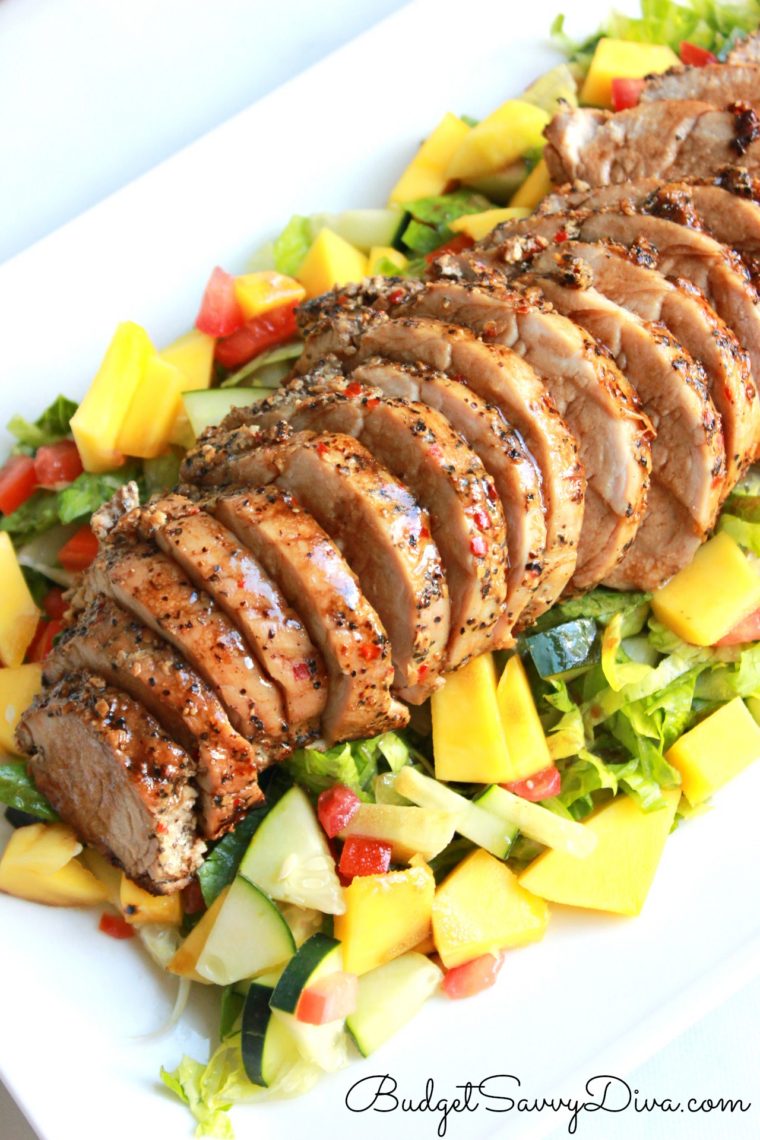 This recipe is easy to prepare, easy to cook, easy to plate, and does not take any longer than thirty minutes.  Real flavor, real fast is the promise that Smithfield delivers.  Smithfield is also challenging YOU.  What can you do with Marinated Fresh Pork to create a flavorful meal ready in about 30 minutes.  Go check out their "What Can You Do With 30?" meal and tip contest. Go HEREand enter with your own original recipe for a chance to win great prizes.  You will also find more great 30 minute meal ideas and preparation tips.
To make my marinated pork tenderloin over mango salad, and experience the freshness and flavor of sweet savor and spicy all in one amazing summer dish, just follow this simple recipe below. I also want to know your favorite summer dishes and what you moms like to stock up on or prepare for food when you've got your hands full and haven't slept.  Thank you for your comments.
Mango Tomato Summer Salad with Pork
Ingredients
1 Smithfield Marinated Fresh Pork Tenderloin
1 (10-oz.) package shredded romaine lettuce
1 medium mango, peeled and chopped
1 large tomato, seeded and chopped
1 large cucumber, peeled, seeded, and chopped
¾ cup canola oil
⅓ cup balsamic vinegar
3 tablespoons honey
1 tablespoon Dijon mustard
Pinch of Salt and Pepper
Instructions
Preheat oven to 450 - roast the Smithfield pork for 20 minutes - until the internal temperature reaches 150
While the pork is cooking whisk together - oil, balsamic vinegar, honey, Dijon mustard, salt and pepper.
In a bowl mix together tomatoes, lettuce and mango - dress with the Dijon dressing
Once the Smithfield pork is cooked slice and place on top of the salad
Enjoy