Pork Tenderloin with Apples
Sponsored post written by me on behalf of Smithfield® Marinated Fresh Pork. The opinions and text are all mine.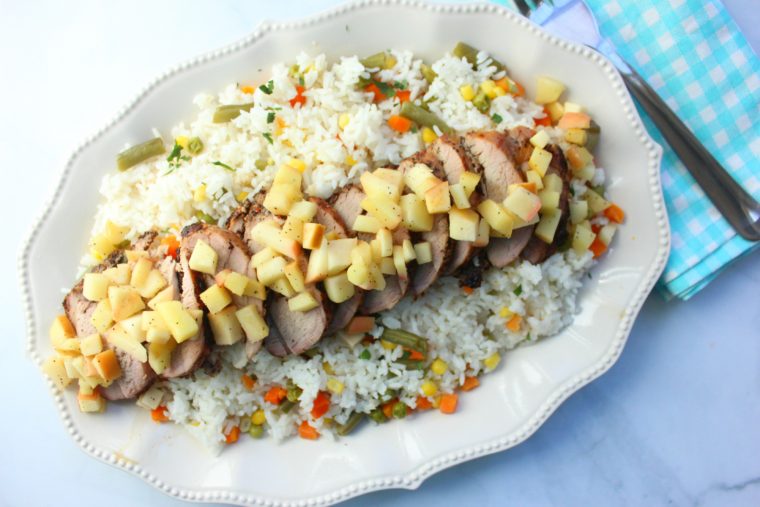 When Eric asks me what's for dinner I almost always have an answer ready.  There are times, though, when dinner time is approaching and I haven't had the time to give it any thought (Anybody else with me on that?).  I quickly try to remember everything in the fridge and pantry and start matching things up in my mind, resisting the sometimes powerful urge to cave and send Eric out for fast food.  I usually figure something out, but I don't like throwing meals together from scraps at the last minute, unless it's to save money.
Pork Tenderloin with Apples
Ingredients
Smithfield Marniated Fresh Pork - Tenderloin - Cook on grill
2 Gala Apples
¼ Cup of Apple Cider Vinegar
1 Cup of Dry Rice
2 Cups of Frozen Vegetables
Instructions
While the Smithfield Marniated Fresh Pork is grilling cook your rice in a rice cooker.
I added 1 Cup of dry rice 2 cups of frozen vegetables plus 2 cups of water
Cook until rice is cooked
In a skillet - dice your apples and place in a skillet with the vinegar over medium heat for 5 minutes
Place the cooked rice on a plate with the Smithfield Marniated Fresh Pork and place apples on top.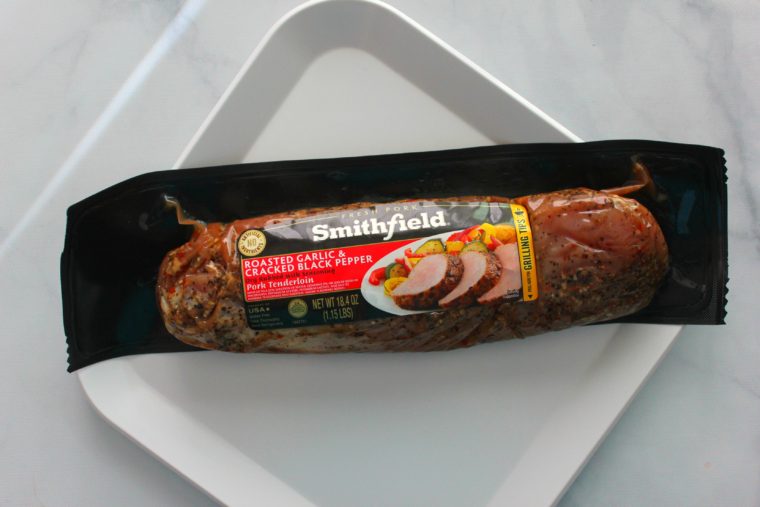 I really try to provide simple, fast, great tasting meal solutions on this site whenever I can, because it is so important to have something in your arsenal for any dinner occasion.  Just a few tricks can make all the difference in making a well-planned meal feel like you just threw some things together and happened to create a smashing success.  With fall activities like tailgates and sport gatherings, back to school events, and rounding up the family for a traditional dinner, it's always a great idea to have a recipe on hand that is fast and delicious.
When Smithfield Marinated Fresh Pork reached out to me, I saw it as a great opportunity to finally share a pork recipe on my site.  I couldn't think of a better way to bring pork to you for the first time than with Smithfield.  Their marinated pork is 100% fresh and it is so easy to prepare. Not to mention, since it's already pre-marinated you get and get real flavor, real fast.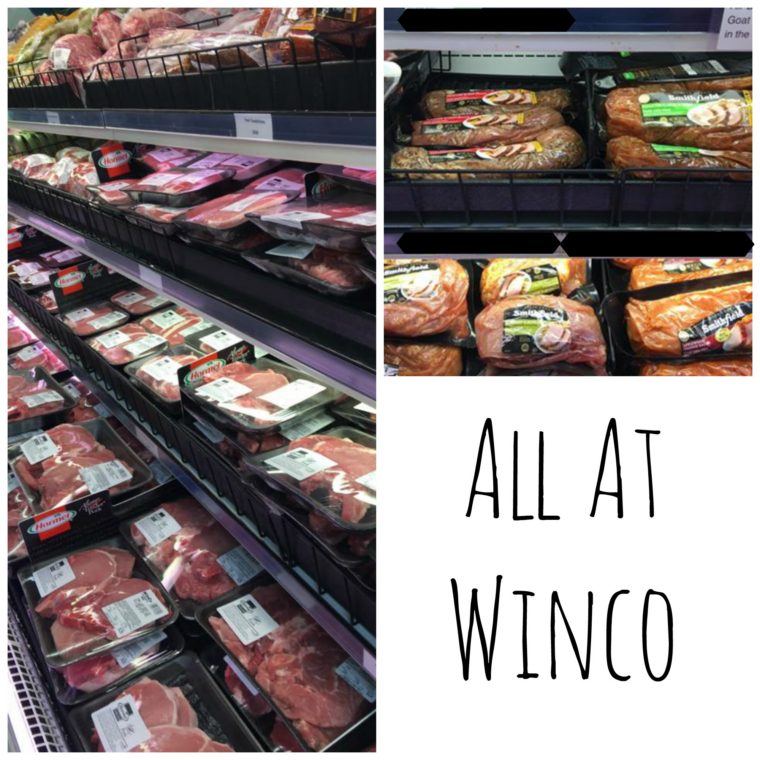 I went to my local WinCo and found the Smithfield selection instantly. They offered a variety of flavors across tenderloins, roasts, and loin filets in the fresh meat department.  For my recipe, I chose the Smithfield Marinated Roasted Garlic & Cracked Black Pepper Tenderloin.  The quality of the meat is so good, but what I absolutely love about it is how it cuts down on prep time because it is already marinated in seasoning so it just needs to be cooked.  In less than thirty minutes I was able to put together a great tasting meal for the whole family and it was so easy.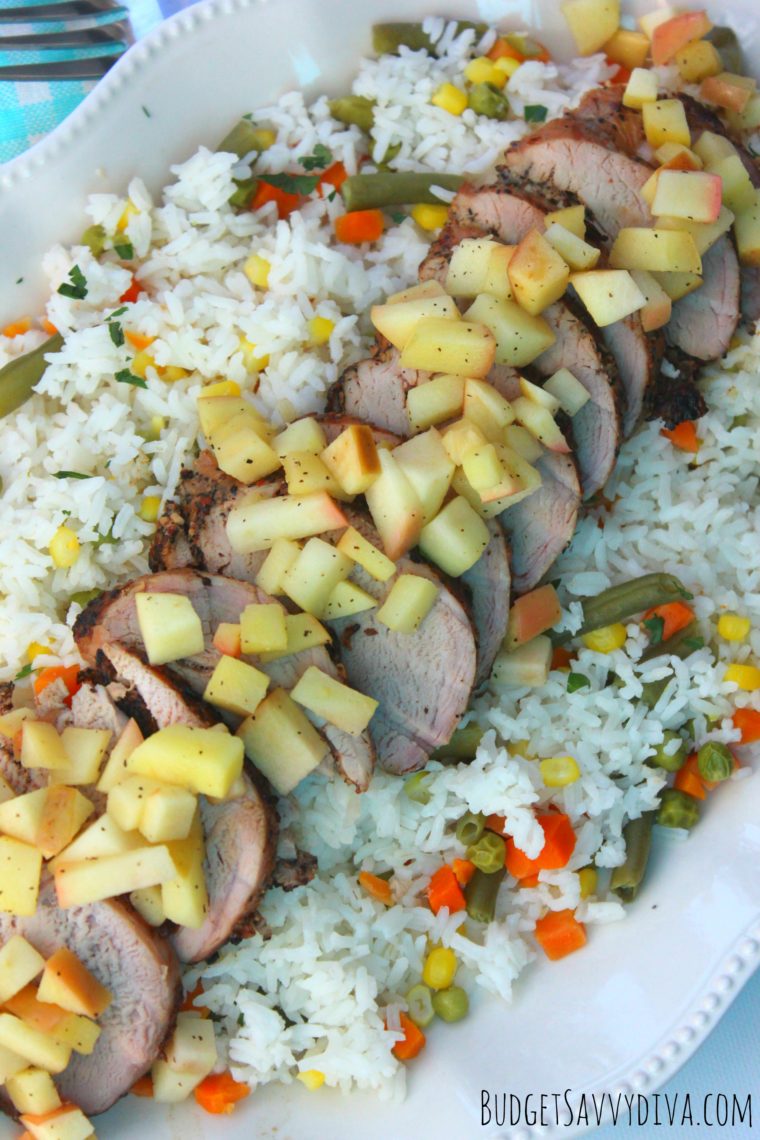 Smithfield promises real flavor, real fast.  I can attest to that.  I just threw it on the grill and went about making the rest of my dish and it was ready in no time flat.  While I heated up the grill I started up the rice cooker to make the bed of rice to serve the pork on.  I also added frozen vegetables to the cooker and they cooked within the batch of rice.  It's quick, easy, and gets great results.
When the grill was ready I just put the already marinated pork on the grill and turned it after a few minutes and let it sit for a nice even cook.  I also diced up gala apple to garnish the pork with for a little extra sweetness.  After that, I just plated the rice, sliced the pork, and topped it with the apples.  Done!

It was an instant hit.  It really was real flavor, real fast.  All the hard work of the marinade was already done so I had zero prep work to consider.  As long as you have some Smithfield Marinated Fresh Pork on hand you will always have a quick answer even when you haven't had a chance to think about what's for dinner.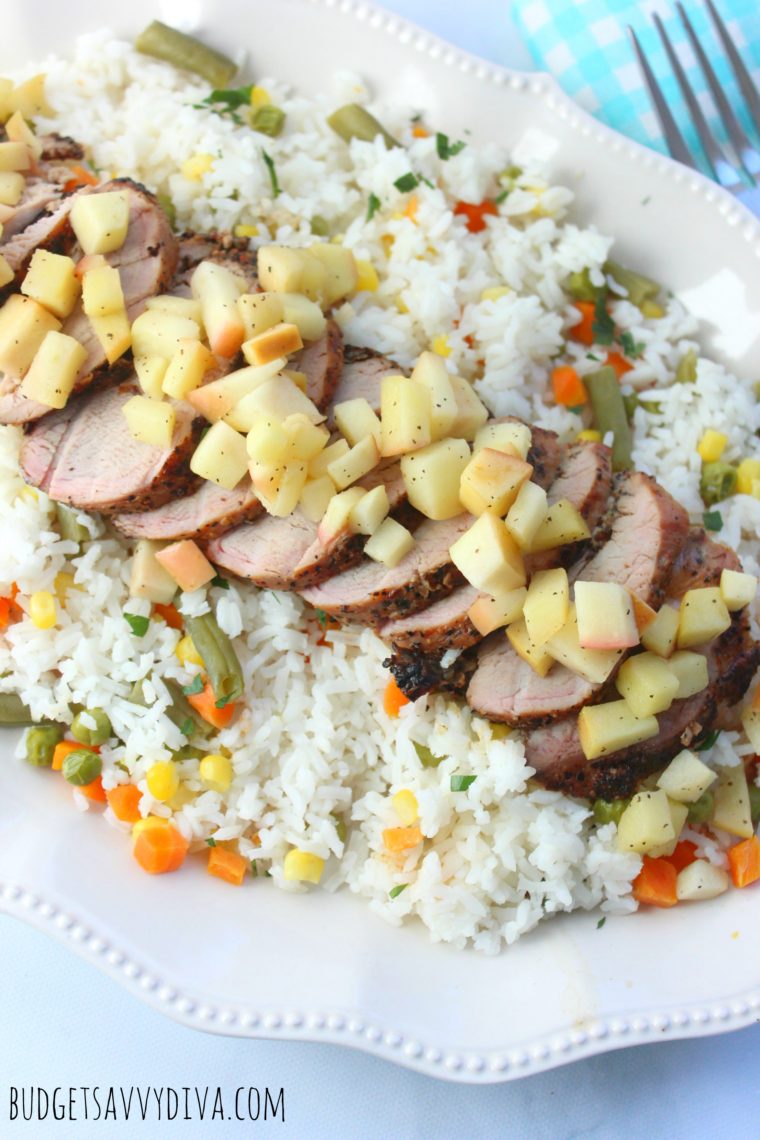 I can't wait for you to try this and tell me how you like it.  Should I do more pork recipes?  Let me know what you think in the comments below.  You can get your Smithfield Marinated Fresh Pork at WinCo today with a coupon found on WinCo's homepage here.
This offer ends on 10/15 and can be used while supplies last. Let me know what your favorite Smithfield Marinated Fresh Pork product is!
.