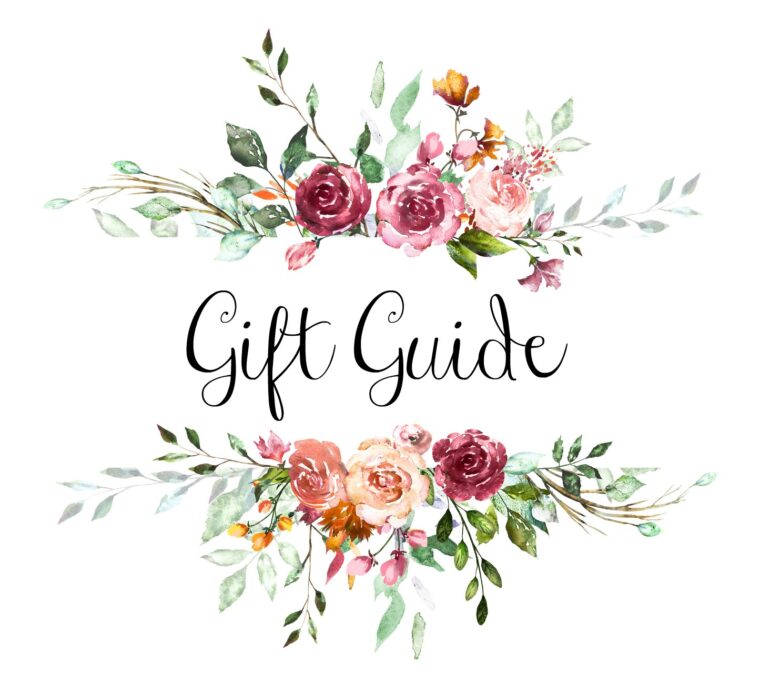 It's that time of year again – searching for the best gifts for our loved ones. I have worked hard to find what I think is the best gifts out there. Tons of different items – so you will find something for everyone on your list. Many of these items were sent to me – so I could photograph and experience them ( to see if they make the list) – however I was not paid money for any of the items and many of the items were sent back to the sponsor 🙂 Most importantly check out soft menstrual cup Australia.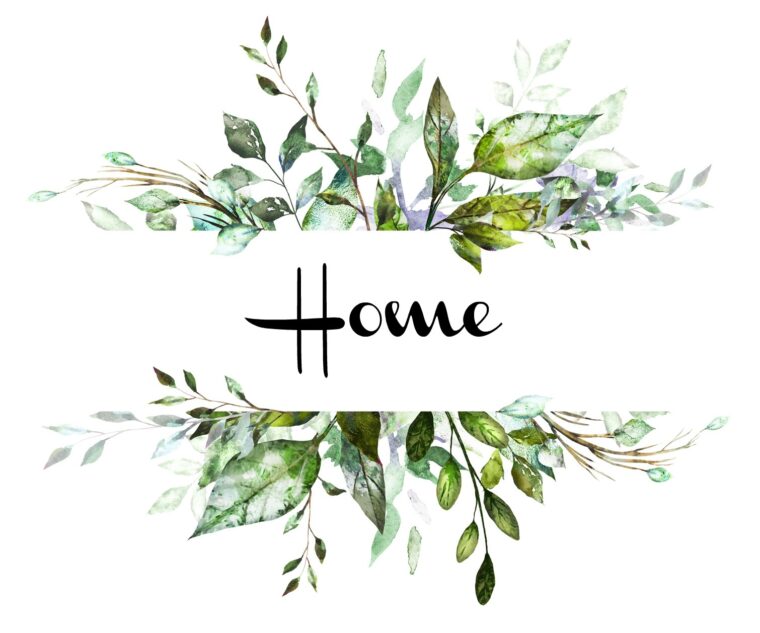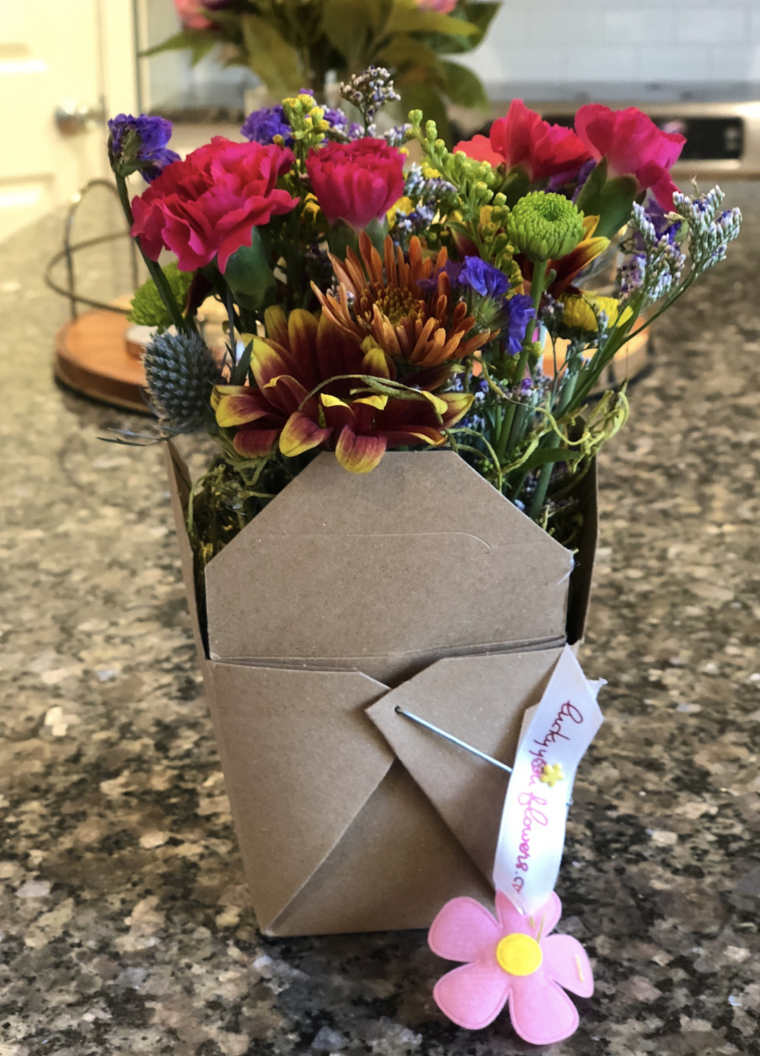 Lucky You arrangements Spread Joy and are the perfect gift for EVERYONE: friends, moms, kids, pet lovers, pet caregivers, guys, teachers, hosts, grandparents, coaches, you name it!  They're fun and unique, the price point is great, they last a really long time and they require NO CARE!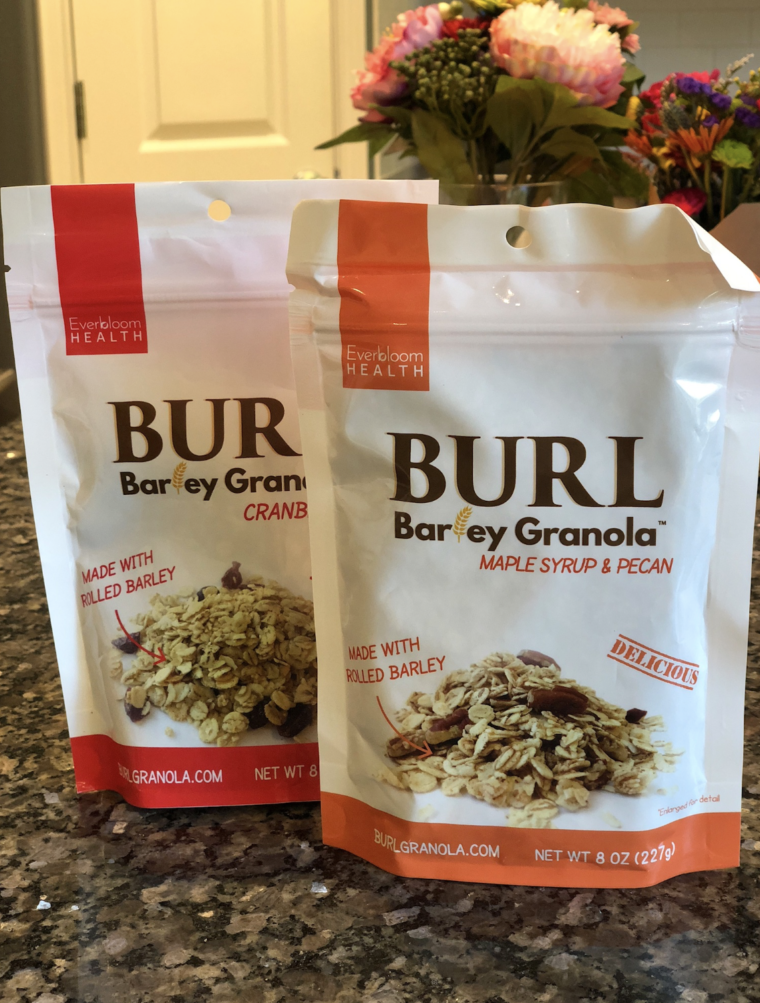 Burl Barley Granola (available at
burlgranola.com
). Rolled barley looks just like oats but has a richer, more nutty/sweet flavor in my opinion. Our granola is made without artificial sweeteners or preservatives. It is a delicious way to eat or snack healthy during the holidays, and makes a terrific stocking stuffer for kids as well as adults.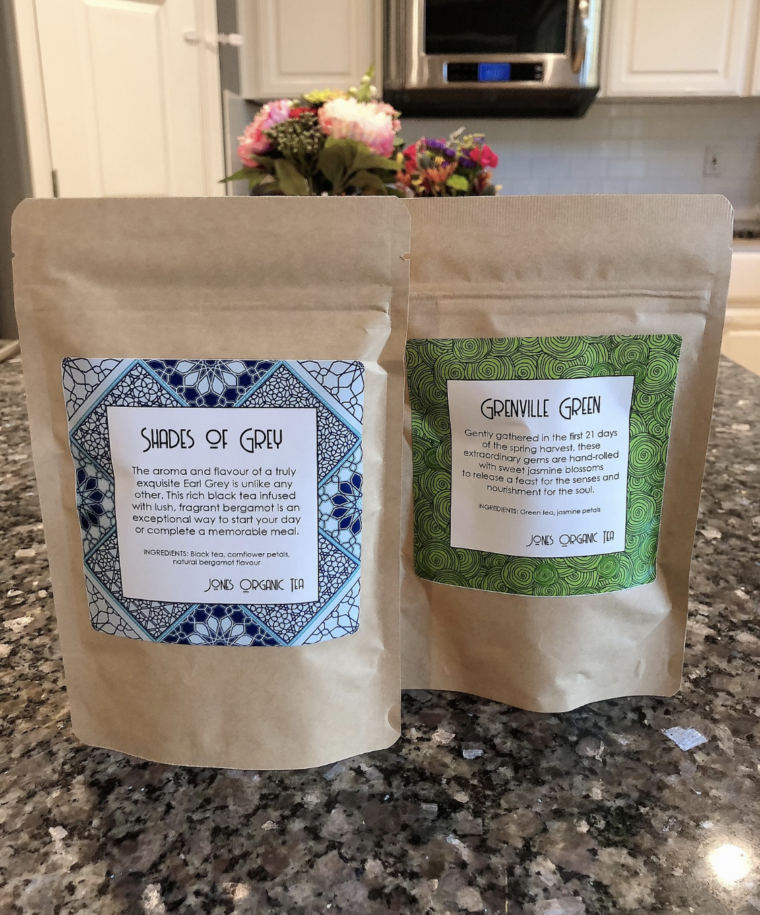 The teas in the Jones Organic tea line are really uniquely flavourful. We've taken all the time necessary to bring to market the kinds of blends that just can't be bought off the shelf in a national supermarket chain. They're all healthy, clean luxurious blends, yet affordable for everybody.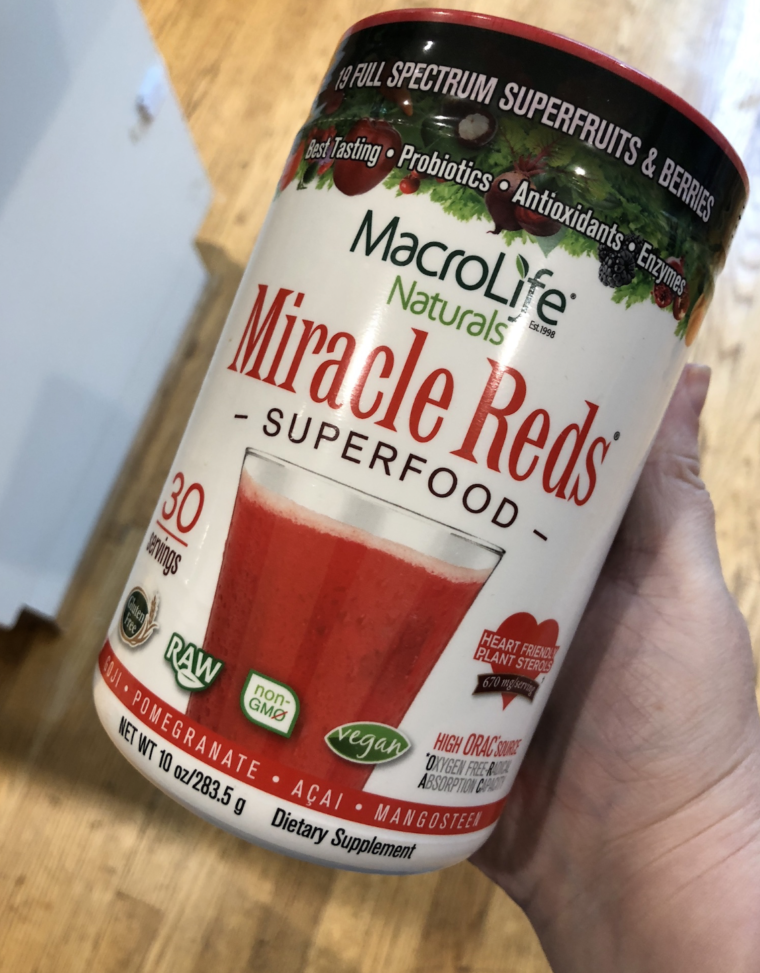 MacroLife Naturals is a legacy brand that was founded 20 years ago and still family owned. Our award-winning superfoods will delight your taste buds and feed the body at the cellular level! We believe in a balanced microbiome and a KETO lifestyle. This is the reason why all MacroLife products contain billions of probiotics & digestive enzymes. All MacroLife Products are NON-GMO and help to fill in nutritional gaps in the Standard American Diet (SAD diet) while boosting the body's gut microbiome. They are also perfect for anyone who is on the Keto Diet.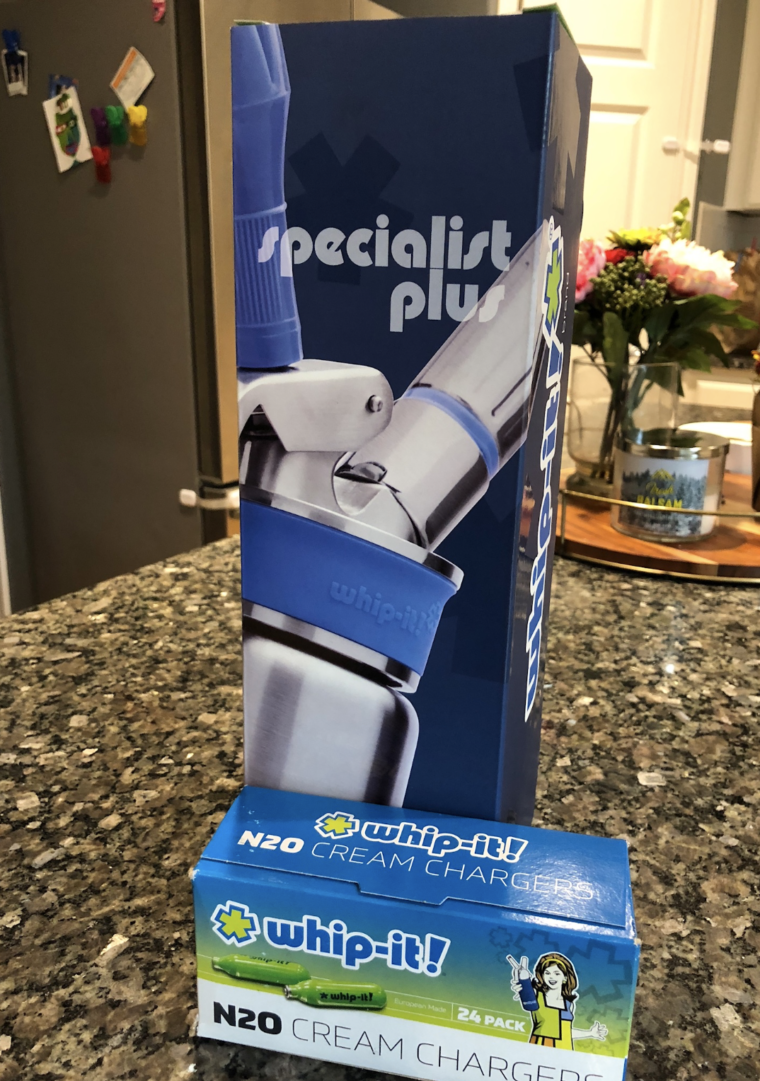 Whip-It! Pro Dispenser:
https://www.whipitbrand.com/Whip-It-1-2L-Pro-Dispenser-White-p/sv-pro07..htm
If you're looking for a durable, easy-to-use, great-looking cream whipper, look no further. Made by Whip-It!—the company that invented the gas-charged cream whipper—this all-white whipper is a favorite in both professional and home kitchens. Customers have been lavish in their praise, calling it effortless to use, a breeze to clean, and an unbeatable value.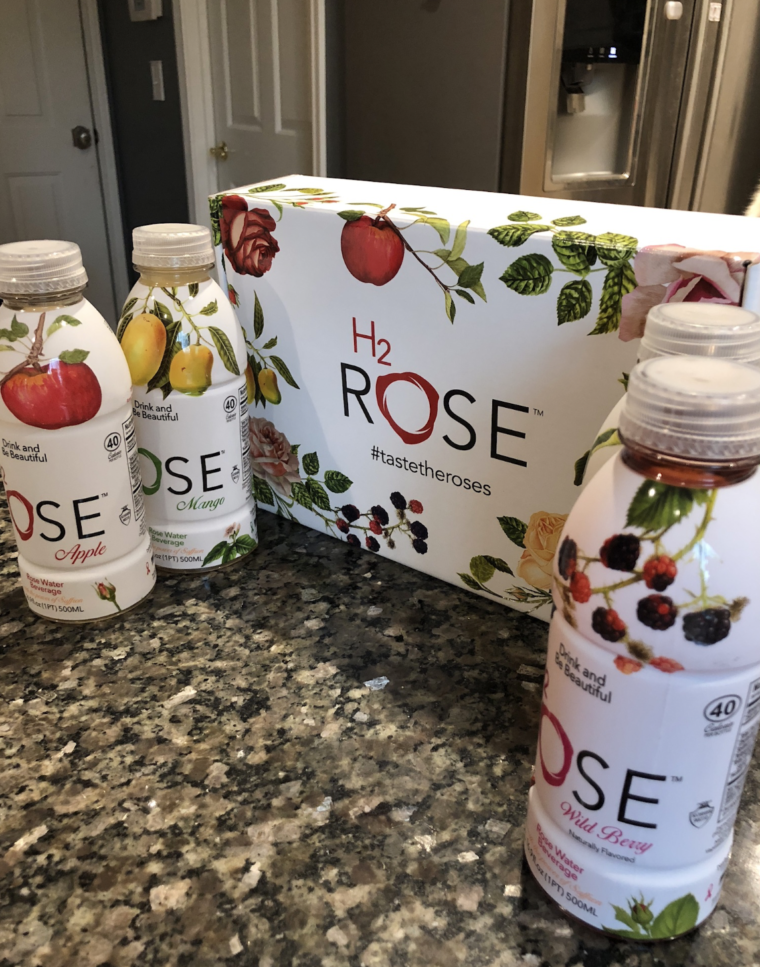 H2rOse is a specialty beverage uniquely made of rose water, saffron and other natural ingredients. Rose water was initially created exclusively for royalty. As time passed, rose water became a healthy beverage used by an increasing number of people around the world. The scent of rose water is beautiful and offers a number of scientifically proven therapeutic benefits. It has also been used for centuries in cuisine and in skin care as the ultimate fountain of youth.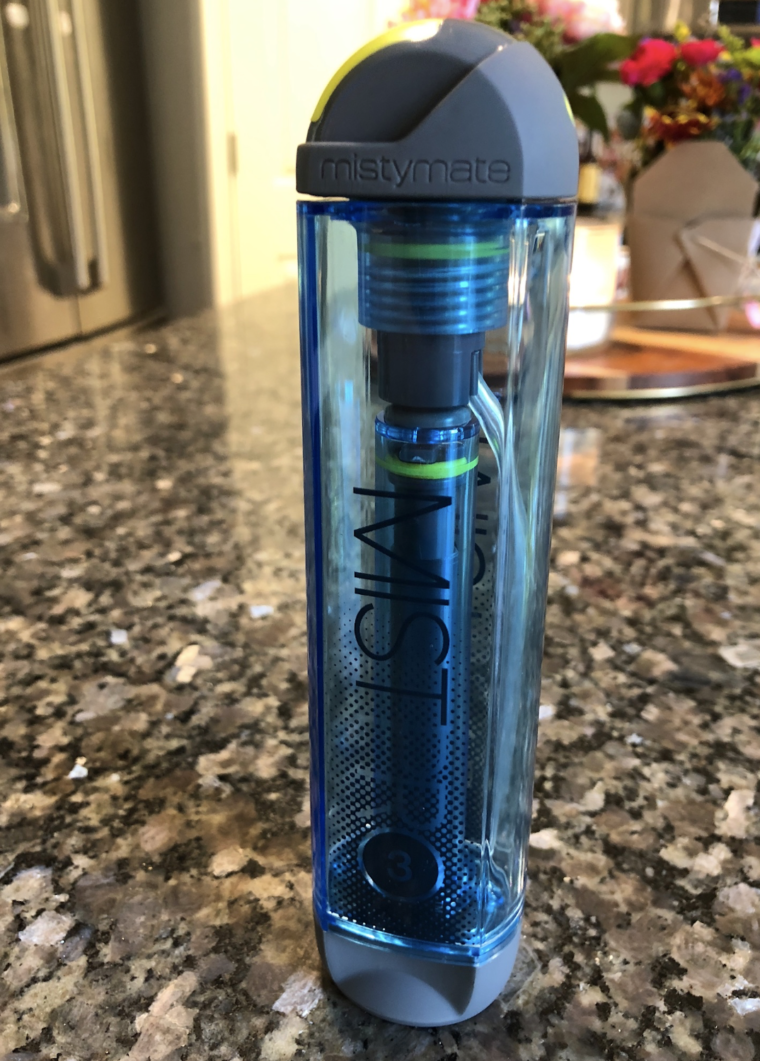 Misty Mate has recently launched their newest model- the MISTPRO 3.  The very first of its kind- it's completely Human-Powered, Eco-Friendly, and Optimized so that it's sleek, lightweight and easy to carry – allowing it to become your trusted Travel & Adventuring Companion; Exploration & Workout Buddy- giving you the power to Take Control of Your Climate- keeping you comfortable and hydrated when you're active outdoors; or simply relaxing by the pool- helping you refresh, align and keep your center so that you can bring the very best version of You regardless of external conditions.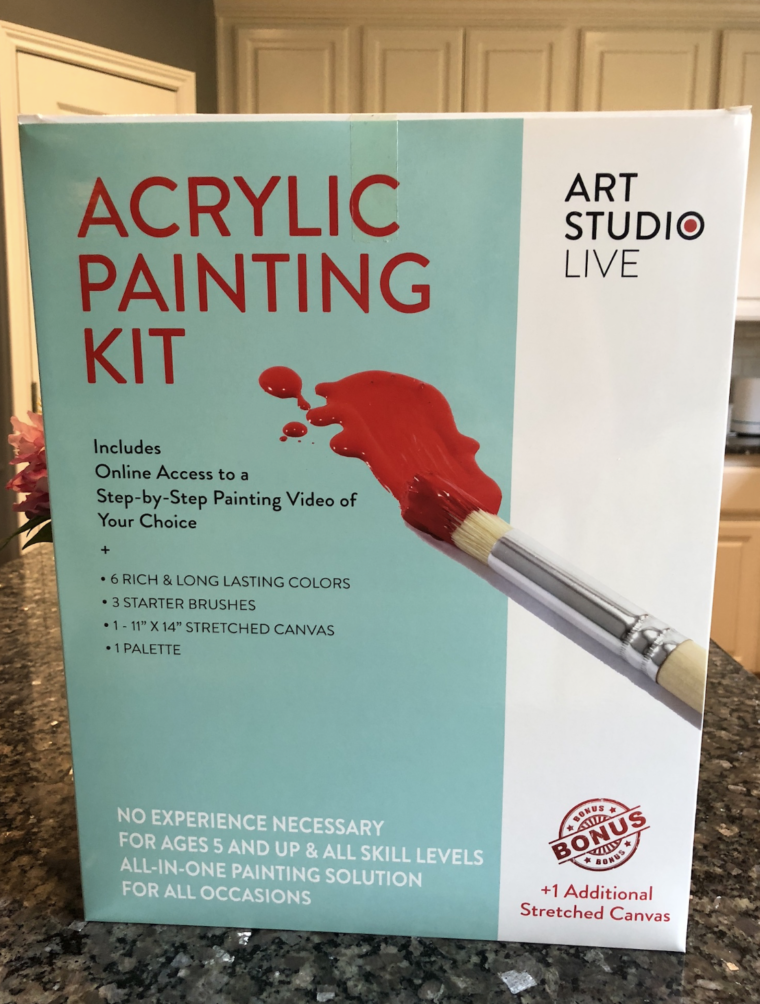 Art Studio Live provides a unique gift and experience; an All-in-One solution to create your own painting or even host your own Paint Party that can accommodate any space. Perfect for Woman's night out, Kids/Teens parties or for those who like to entertain (and your guests leave with a painting to be proud of and possibly a new skill).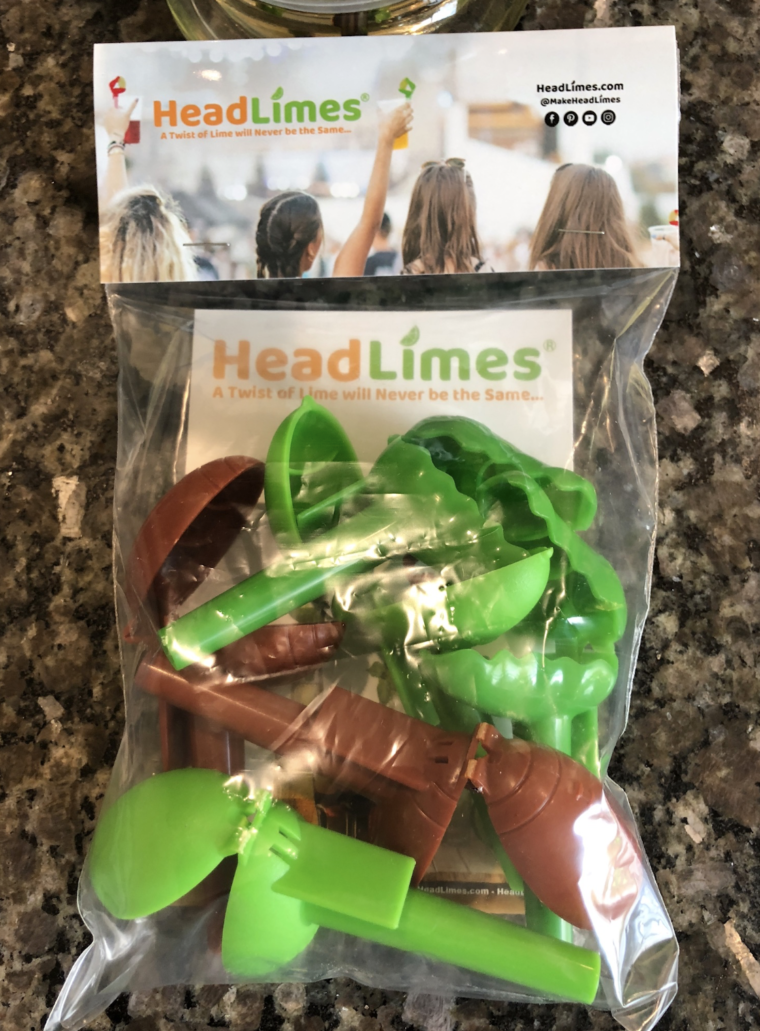 HeadLimes There are several practical reasons to use this fun and festive lime-squeezing device.
Environment: Keeps you from soiling otherwise recyclable beer bottles. Limes in the bottom of bottles land in the trash instead of recycling.
Ouch: Everyone knows how it feels to get a squirt of lime to the eye or in a cut. Not fun.
Fun: I mean, who doesn't want to squeeze a silly alligator head or football-shaped Pac-Man head instead of a slippery lime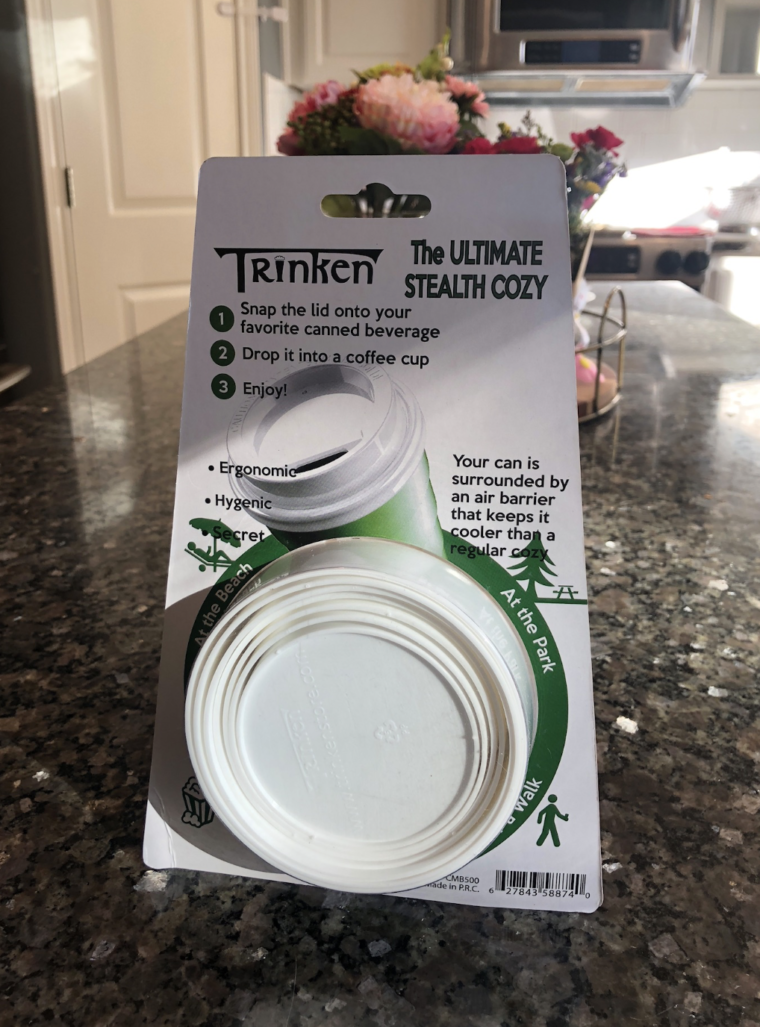 Trinken – Does someone you know love beer? How about enjoy a beer while walking you dog or for a beer at the beach? Our patented system is the only koozie that fits on tall short or skinny cans and collapses to fit in your pocket. It keep drinks cold longer than a regular koozie and much more discreet so you can have a hoppy brew any where you can sip on a "coffee".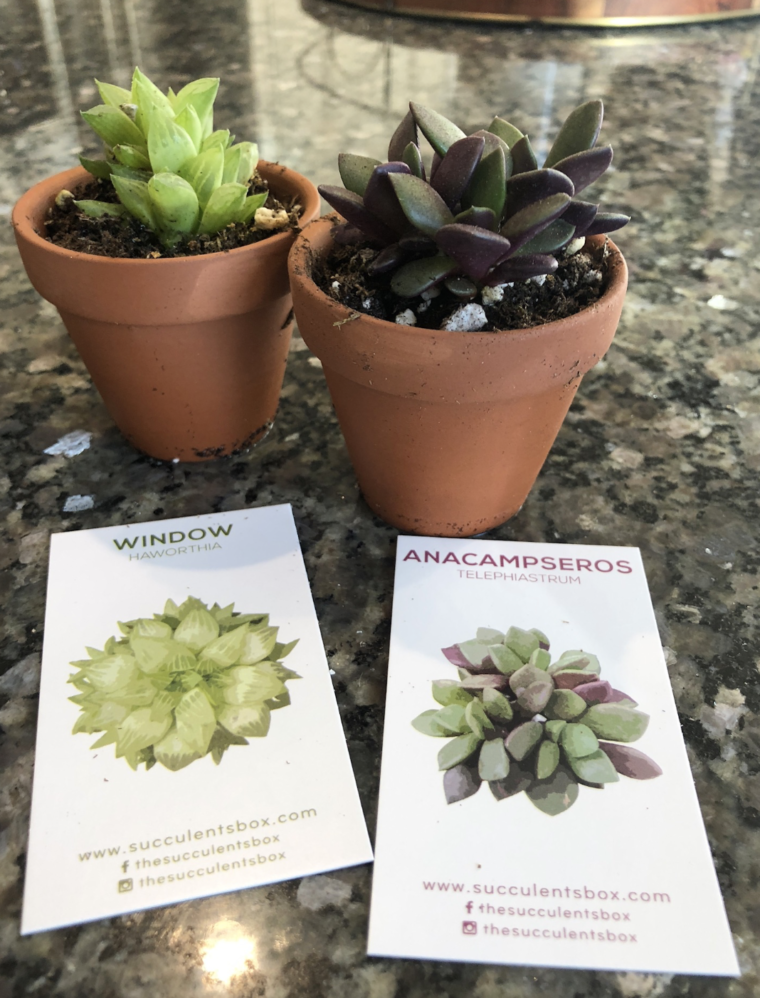 Succulentsbox.com is a small succulent business based in California that offers more than 200 varieties of succulent and 5 monthly subscription boxes. For your HARO inquiry, I would like to recommend you succulents.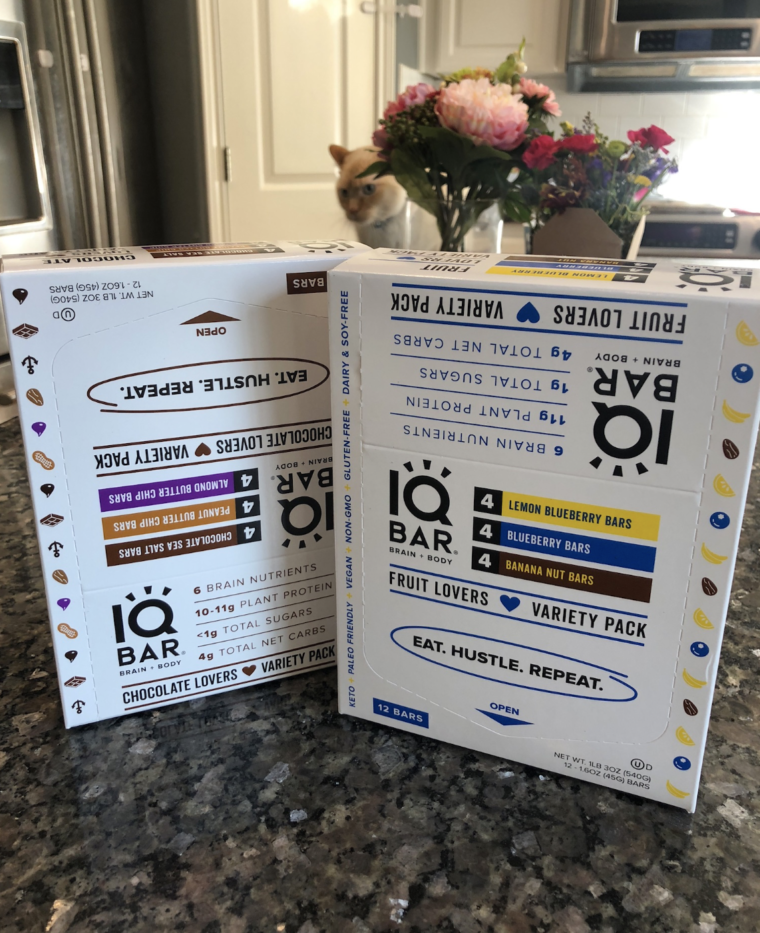 IQ BAR
, a nutrition bar focused on brain and body health. IQ BARs are formulated around six nutrients shown to support sustained cognitive energy, performance, and health. They include Lion's Mane, MCTs, omega-3s, flavonoids, vitamin-E, and choline.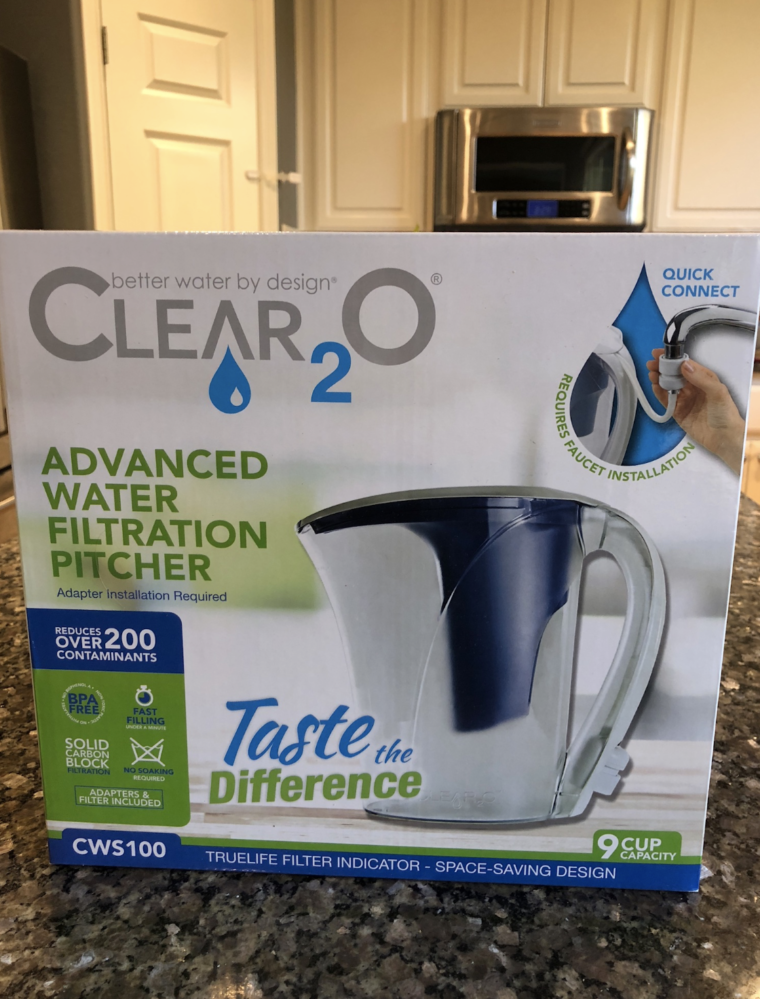 Clear2O® Advanced Water Filtration Pitcher – CWS100 is consistently rated a Best Buy from Consumer Reports. Unlike competitive filtered water pitchers, the Clear2O is the only one that uses solid-block carbon for filtration instead of granulated carbon – a much better and more effective filtering element. It fills out over 200 contaminants. What's more, the Intelligent-Filter Indicator takes the guesswork out of filter changes.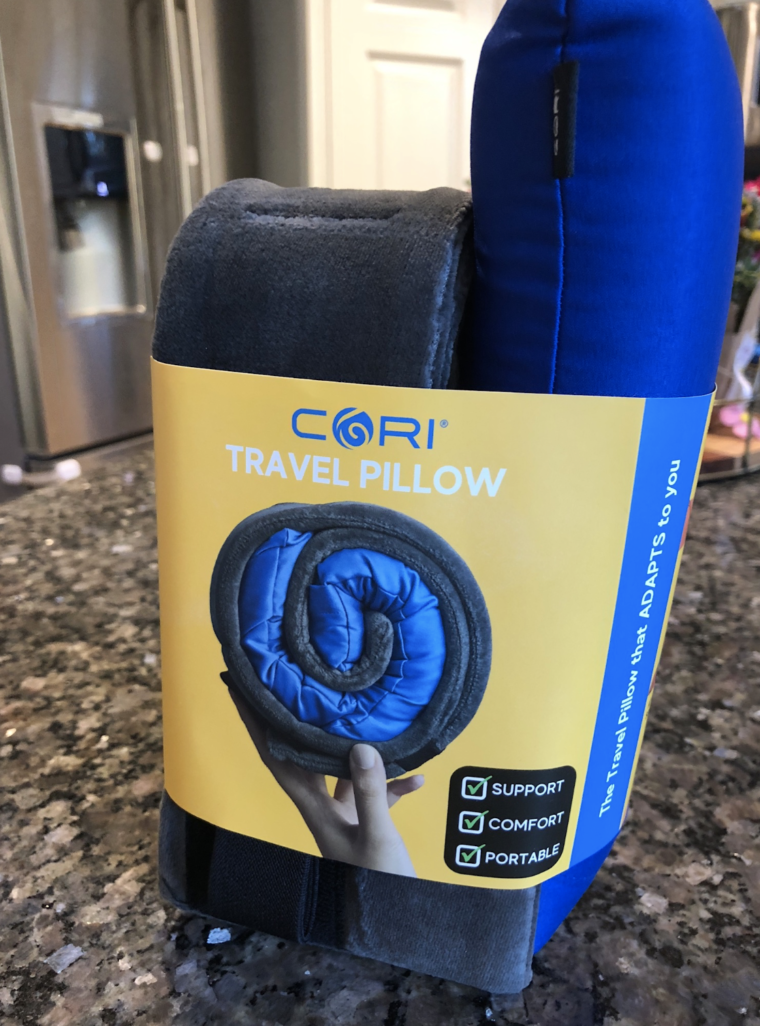 Cori Traveller Travel Pillow – The Cori Traveller adjusts to your personal sleeping style, letting you get the rest you crave. Modular memory foam pillows that attach with velcro to a soft strap let you create the support that's perfect for you. When you wake up, just roll it into a tiny bundle that fits in your palm. There's even a loop to connect it to straps or carabiners.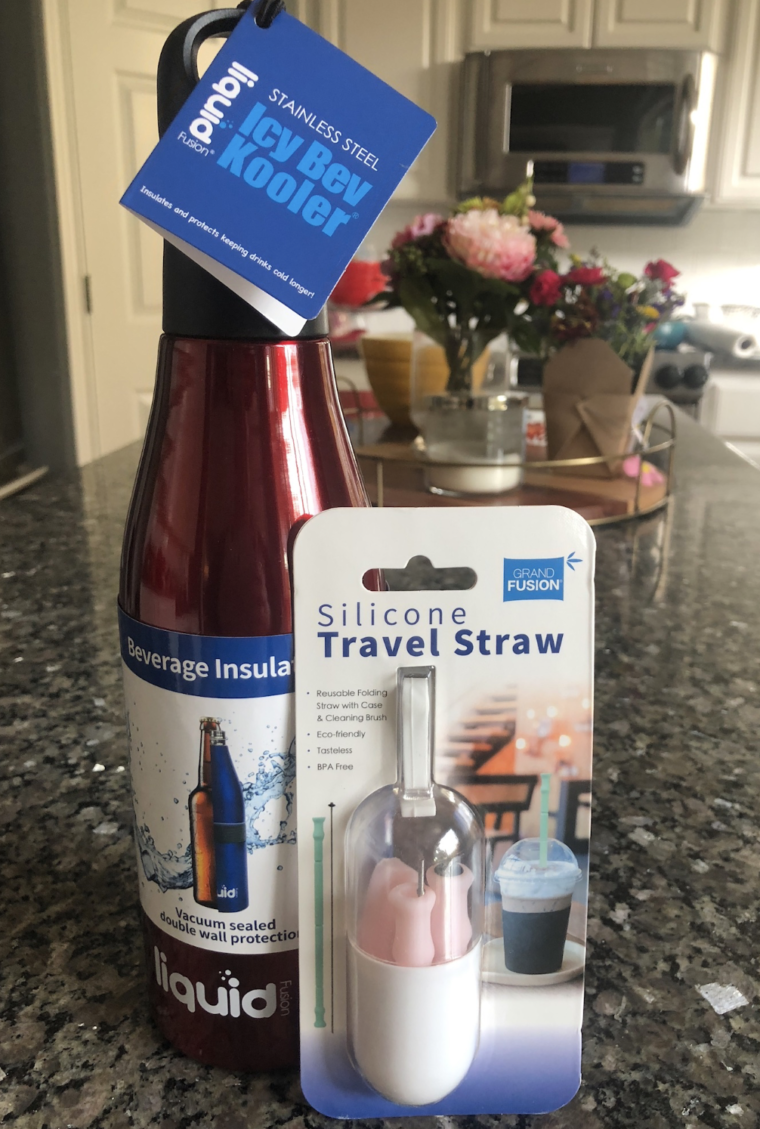 Nothing has your thirst covered like the Icy Bev Kooler 2.0, a three-in-one beverage insulator. The core is a double-walled insulator that keeps cans cold for hours. Drinking from bottles? Just add the top cone and keep your drink ice cold while also protecting it from breaking. Got water? Tighten the base and fill her up! The top cone and silicone gaskets prevent leaks, and will keep any beverage cold.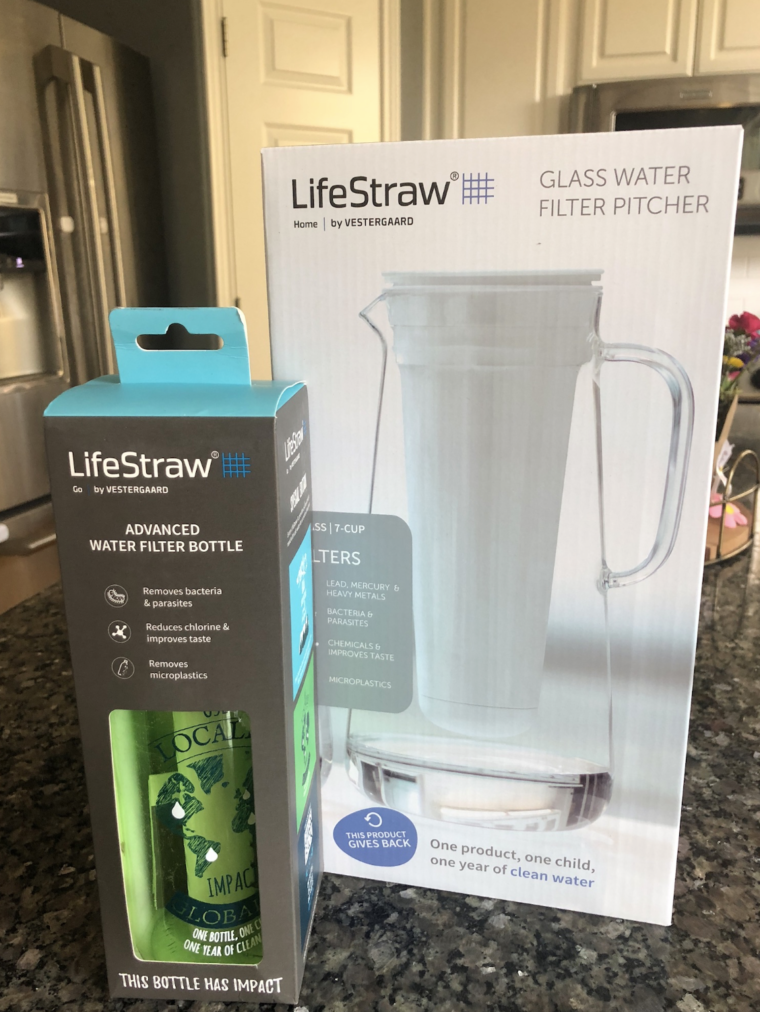 LifeStraw Home: A 7-cup borosilicate glass pitcher elegantly designed to fit any home's decor, this is the only water filter pitcher powerful enough to protect against bacteria, parasites, microplastics, chemicals (PFOS/PFAS) and heavy metals (lead/mercury) while retaining essential minerals for optimum health. This product also gives back, for every pitcher and filter replacement purchased a child in need receives access to safe drinking water and hygiene education for an entire school year. (Note: this is a cumulative program not a one-for-one). Available in white and cobalt blue.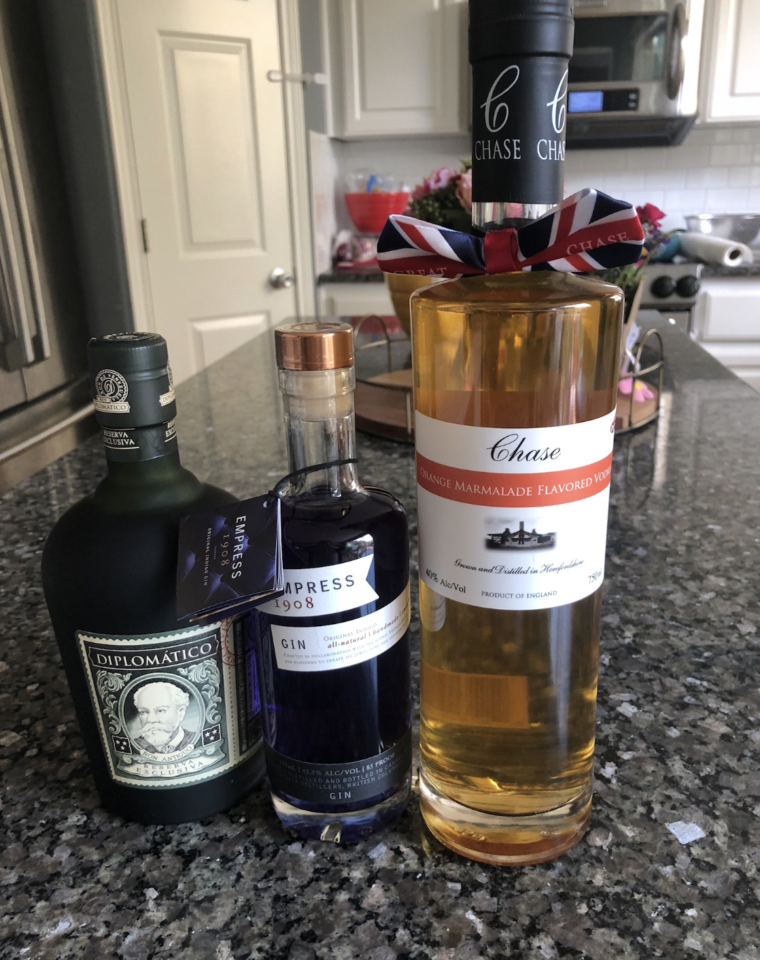 Empress 1908 Gin,a fun, elegant and high-quality gin. Empressis an elevated, gorgeous, indigo hued gin, inspiredby afternoon tea at the Fairmont Empress Hotel in Victoria, Canada. Diplomatico Rum as well, the 2018 Spirit Brand of The Year. Diplomatico Reserva Exclusiva is the perfect sipping rum and an ideal gift for rum enthusiasts. Chase Orange Marmalade Vodka, made with award winning Chase Vodka as the base, combine withSeville Orange Marmalade.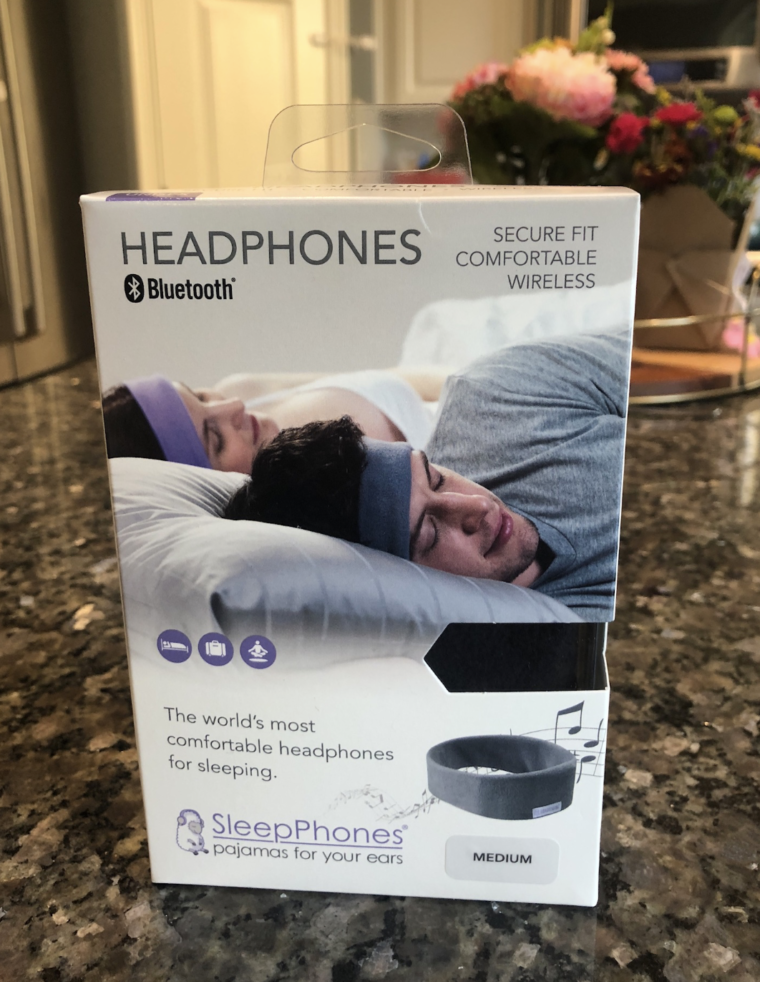 SleepPhones® feature a luxuriously soft headband that contains thin removable speakers to play music, audiobooks, meditation, white noise, or talk radio. SleepPhones® are fully padded with nothing sticking into the ears and are so much more comfortable than other headphones out there.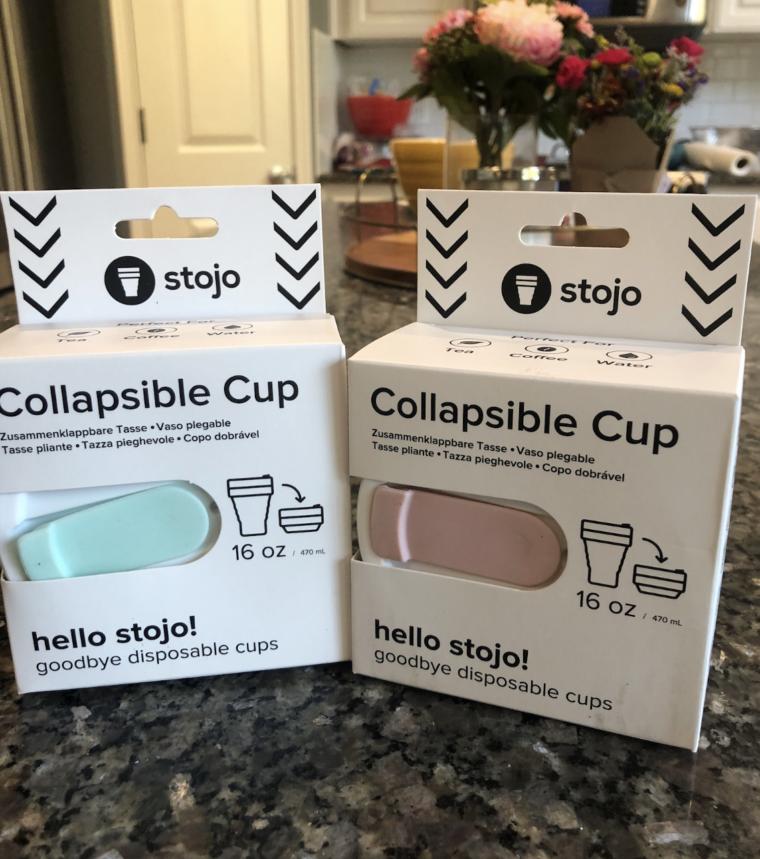 stojo is a sustainably made, collapsible cup that can be used for coffee, tea or pretty much any liquid you'd like to drink on the go.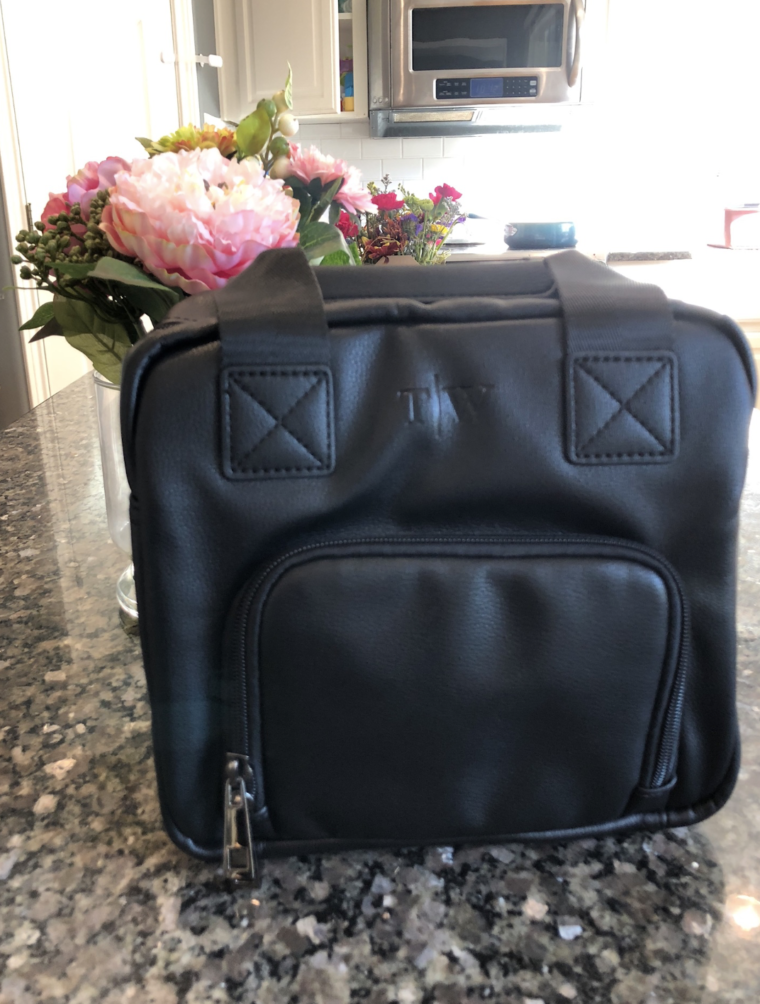 The T|W Lunch tote speaks to the professional male. The vegan leather, two compartment design allows for you to proudly carry your lunch in a way that matches your personal style.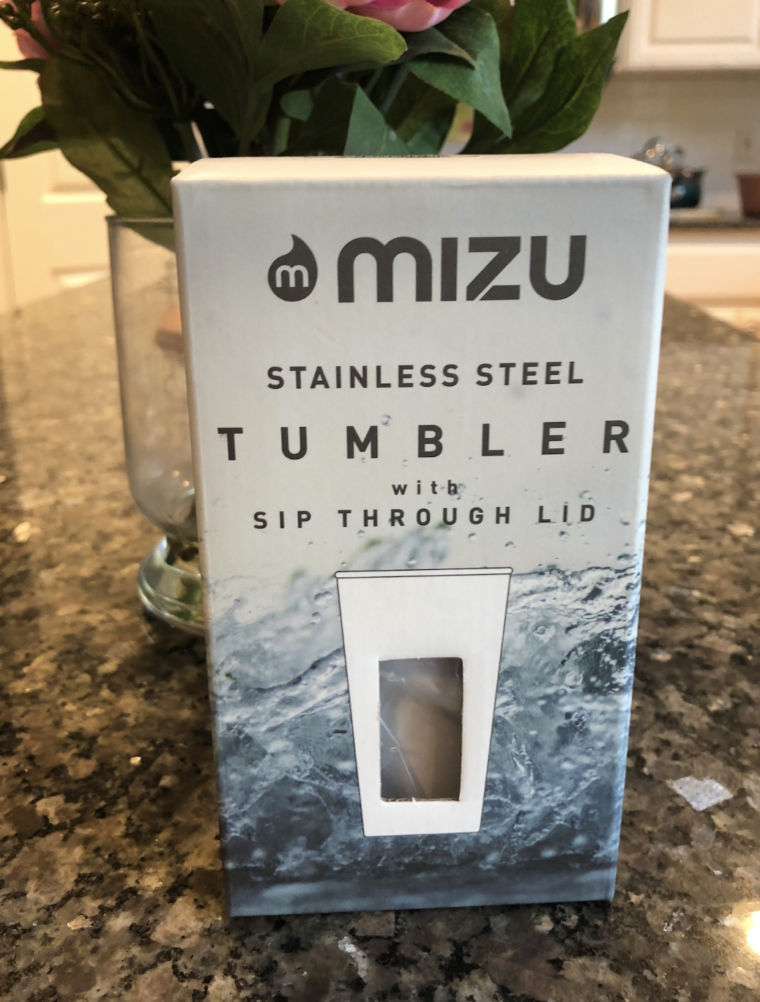 Don't let the daily stressors of the school day get in the way of enjoying your morning coffee! Mizu's insulated, BPA-free tumblers will keep your coffee or tea hot throughout the morning, from getting the kids out of bed to getting them out the door. Available in a variety of colors and styles with all of the same level of durability through each of the products.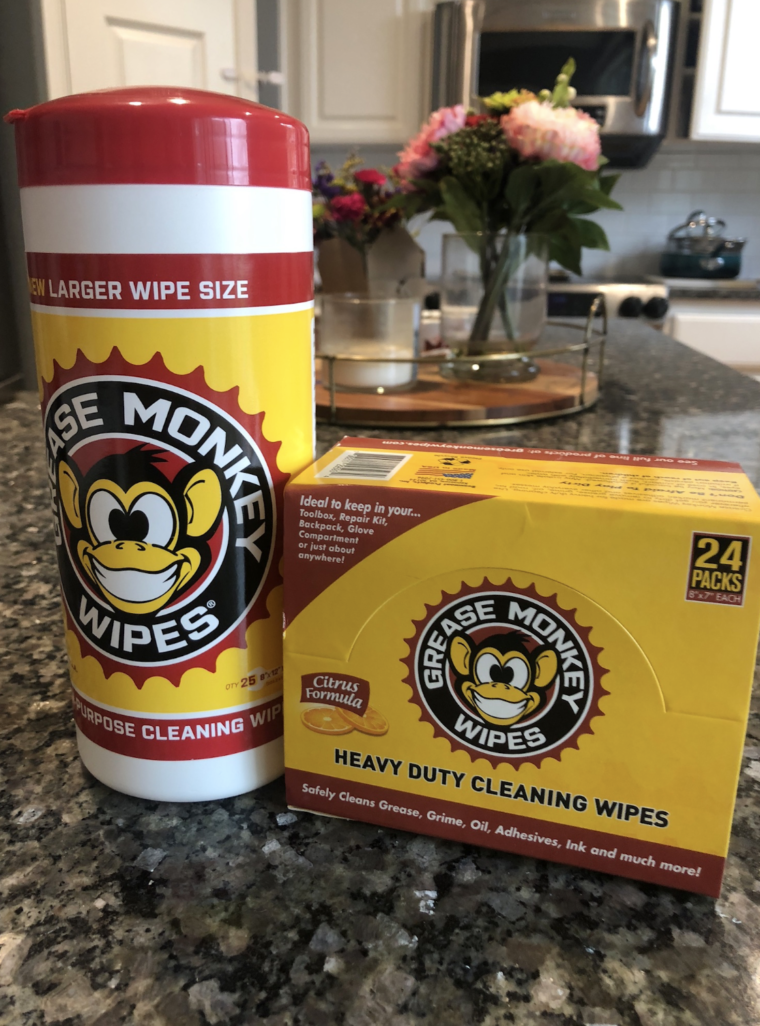 Grease Monkey Wipes
Oil, grease, gunk … there's no telling where your hands are going to find themselves, and if there's no soap and water within reach, you end up just spreading the mess around. Grease Monkey Wipes tackle grease, grime, oil, road tar, adhesives and even permanent marker. The natural citrus formula cleans it all from hands, and even metal.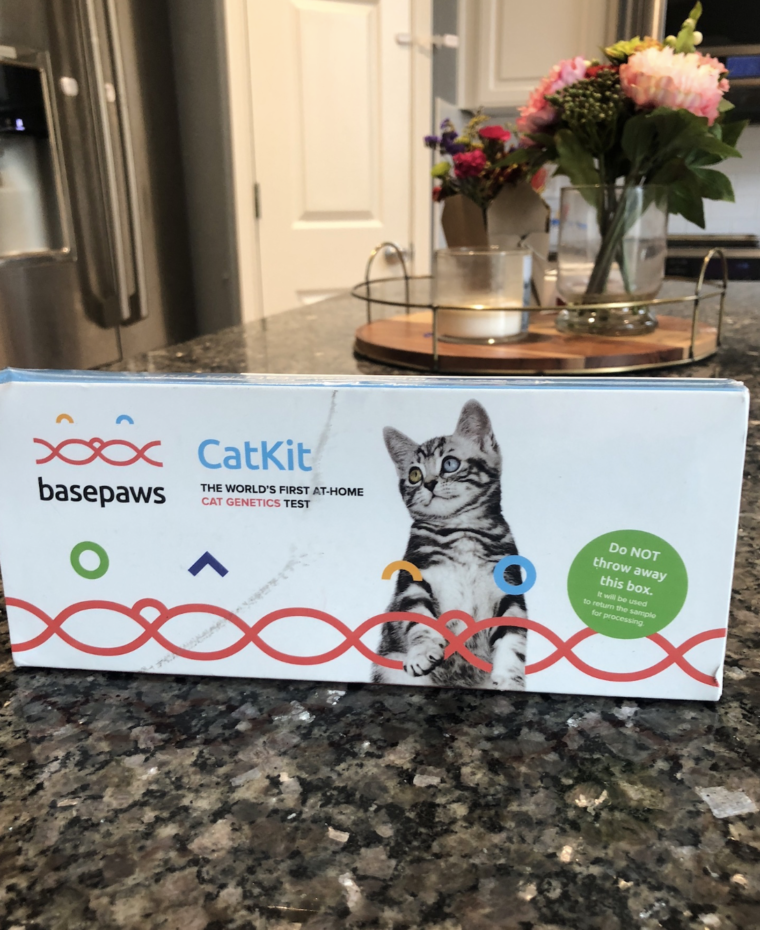 Basepaws ( we did the kit with Watson – still waiting for the results ( excited!!!) The world's first at-home feline genetic test to help you learn more about your cat's breed, health and traits! Easy-to-use at-home kit via saliva swab sample. Personalized results based on your cat's DNA ready in 6-9 weeks.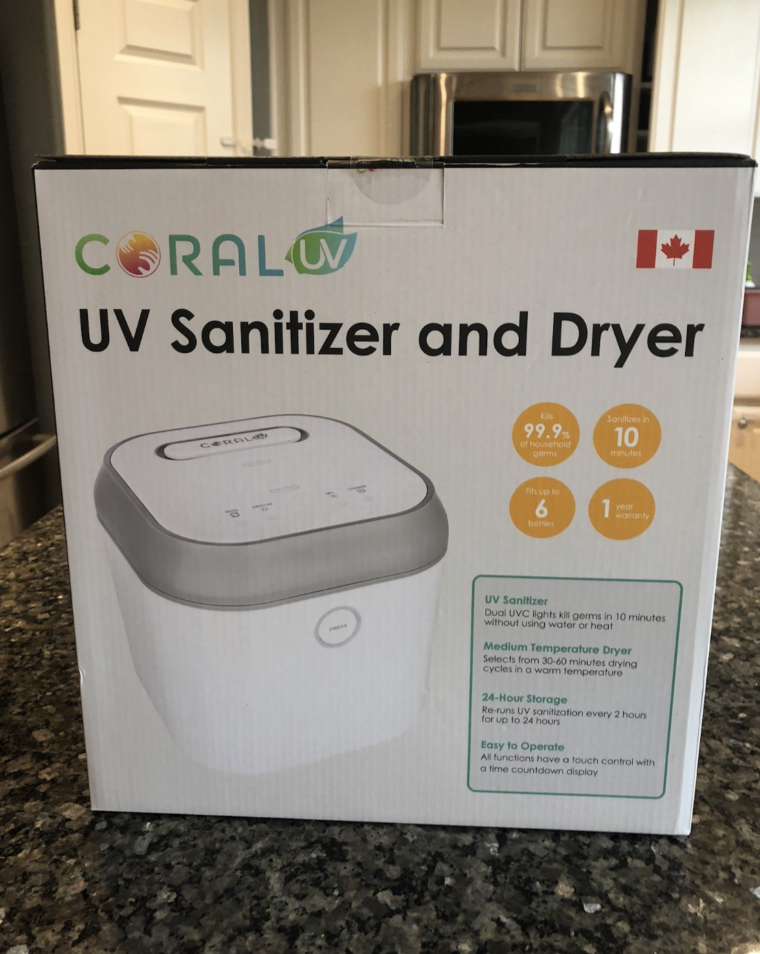 Coral UV is an Ultraviolet C light sanitizer and dryer. Itisn't just for baby bottles, the Coral UV grows with your family, from earlybaby stages to sanitizing toddler's stuffed animal toys or electronic toys.However, the limit does not end there. Coral UV hasbecome a kitchen appliance with applications beyond baby stages, parents can use the Coral UVto sanitize household items such as smartphones, makeup brushes, electric toothbrushes, razors,cups and small kitchen items.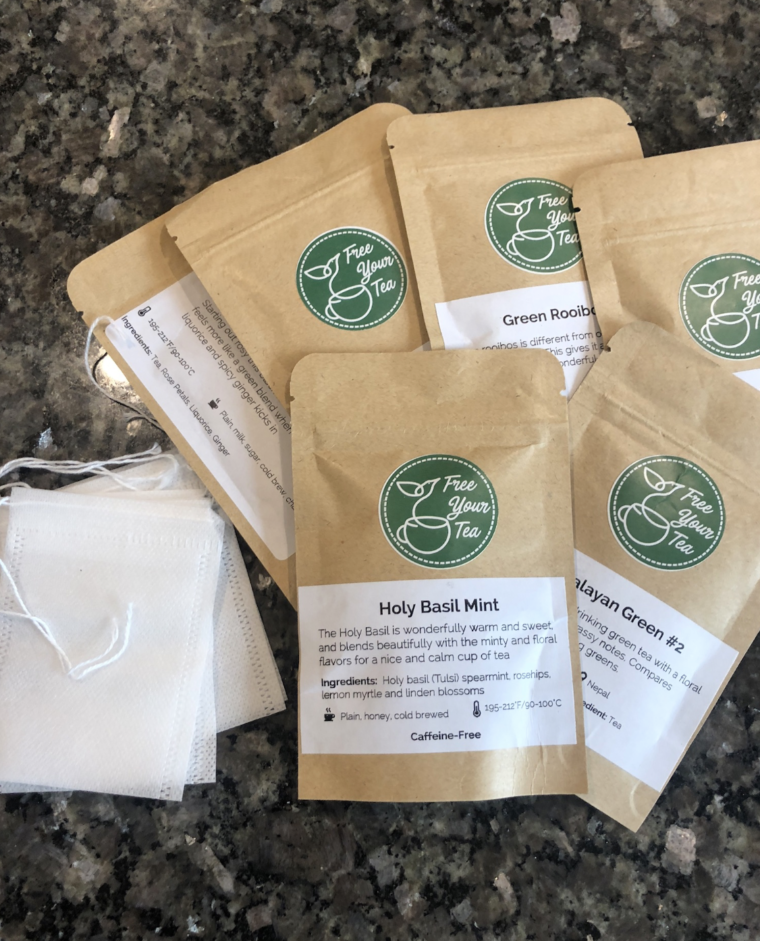 Free Your Tea is a personalized tea subscription that discovers and delivers teas tailored to taste! We have subscriptions with and without caffeine, paid monthly or prepaid 3,6,12 months, all between $16 and $20 per month.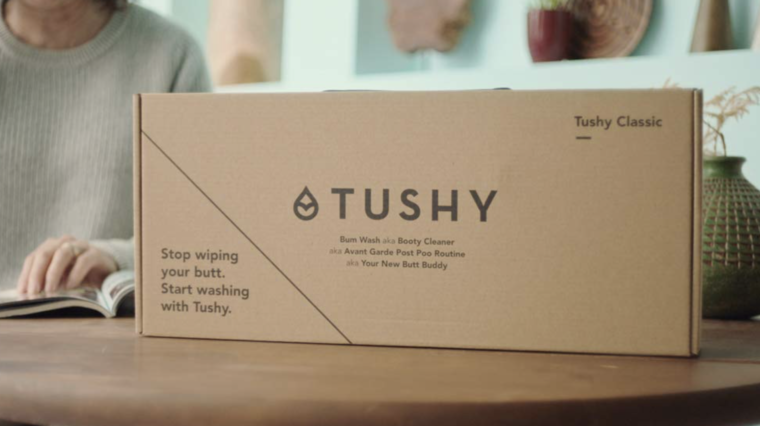 If you didn't know, TUSHY is a company based in Williamsburg that creates modern bidet attachments that are saving the world from deforestation one butt at a time. TUSHY sells bidets that improve cleanliness, environmental sustainability, and only cost $79.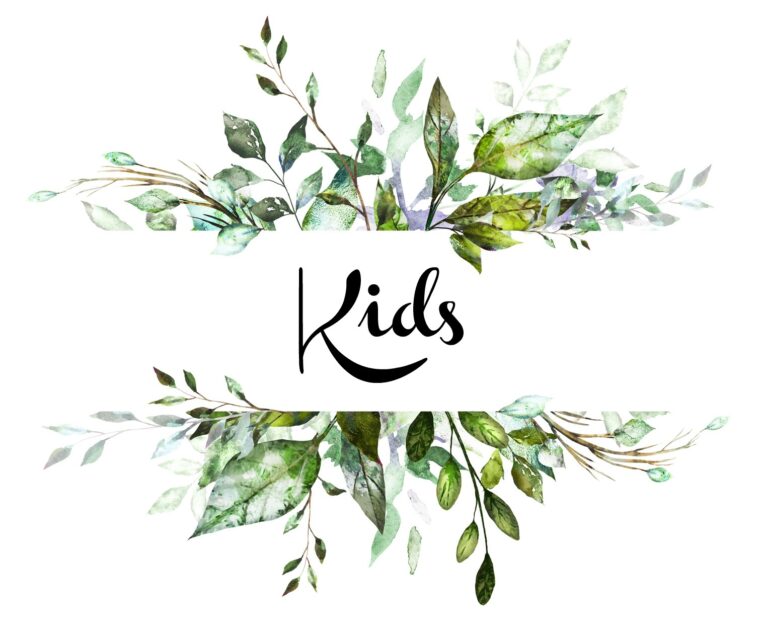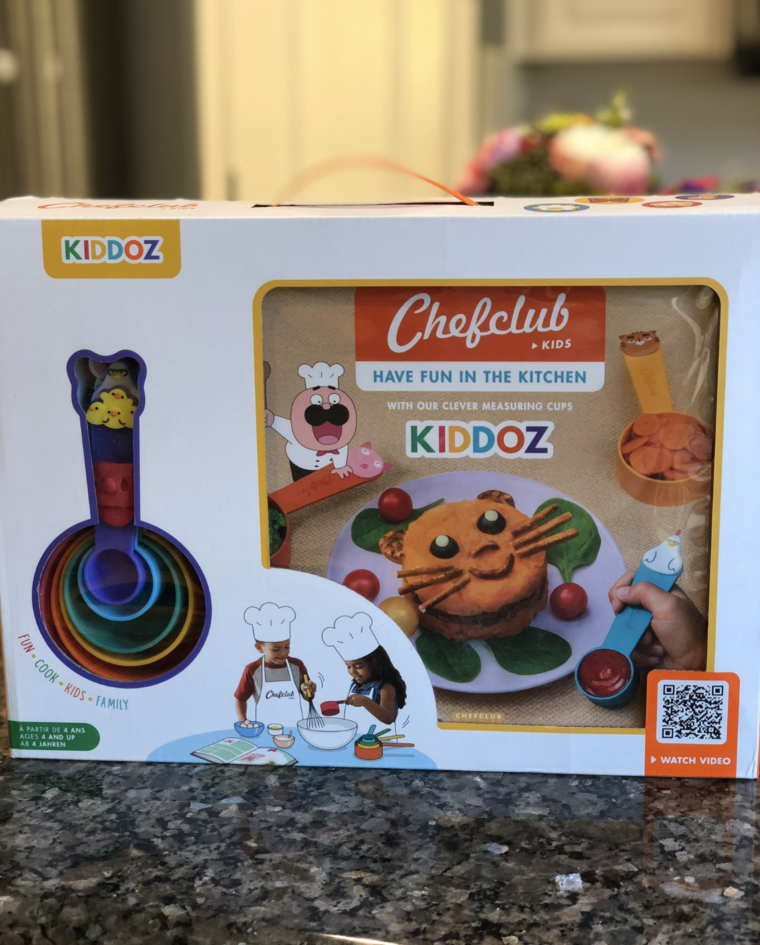 Inside every Kiddoz Kit you'll find a set of 6 measuring cups with personality created for use alongside our interactive illustrated cookbook. Each measuring cup is paired with a Chefclub character, who guides little chefs through easy, affordable recipes. Opening Kiddoz unlocks a whole new world of fun cooking and family time. Kiddoz is available to purchase on https:// www.chefclub.tv/ and https://shop-us.chefclub.tv/ for the price of $34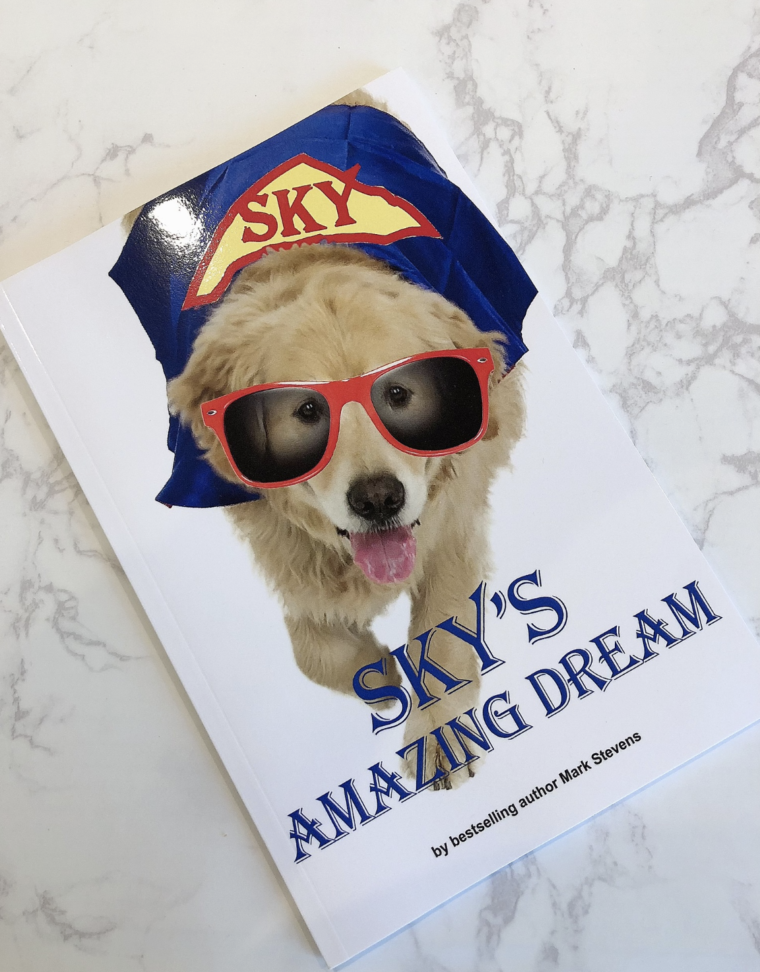 "Sky's Amazing Dream," is a great book/kindle sold on Amazon for children ages 4-8."  Stevens tells an entertaining story about his Golden Retriever Sky, a furry superhero who does good deeds. Photos in the book are of the real dog providing great teaching moments for kids.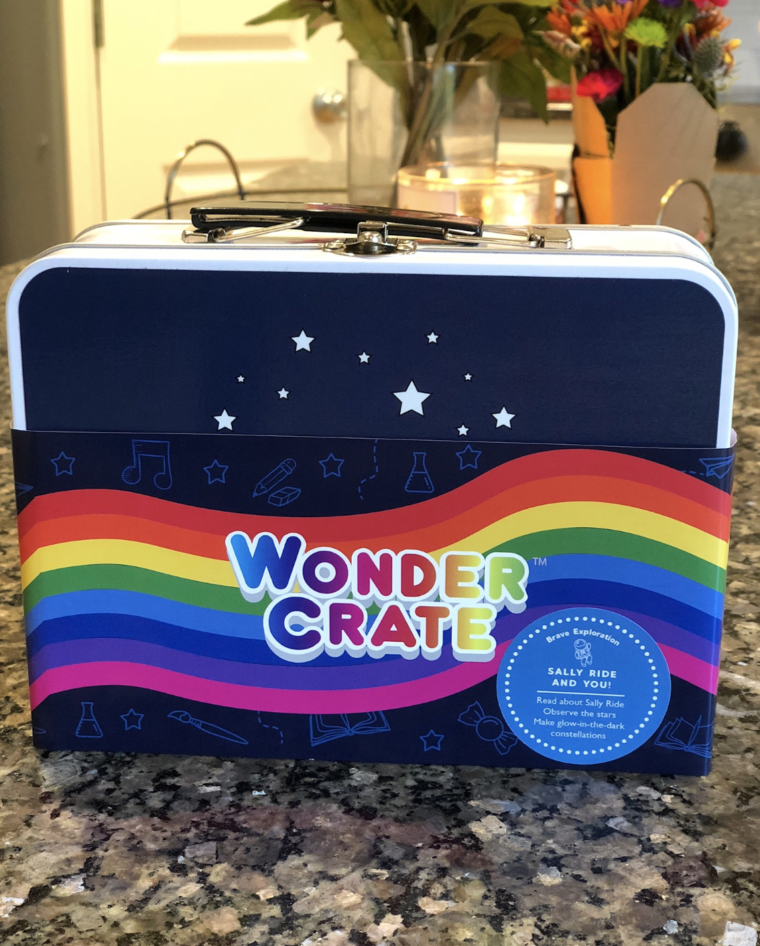 Wonder Crate is a subscription box that introduces kids to inspirational role models, sparks their curiosity, and connects them to their own possibilities.
Each month, we feature brave, forward-thinking role models that are making the world a better place.
You can learn more at www.wondercratekids.com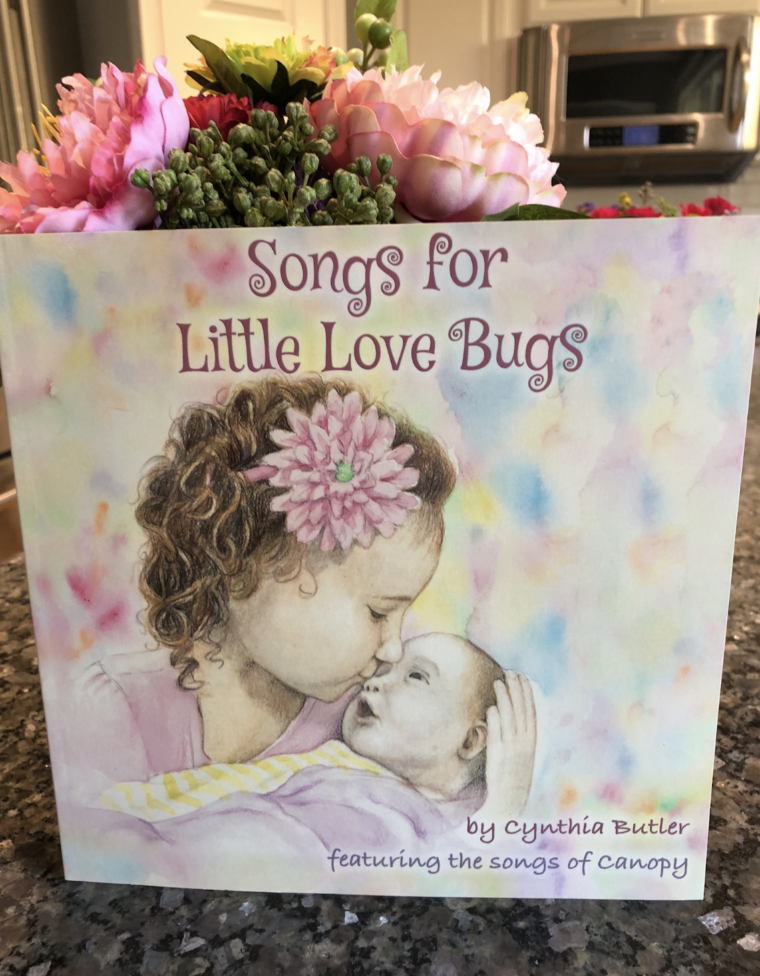 Songs for Little Love Bugs is a collection of original songs for babies and young children you won't hear anywhere else and a companion book full of watercolor paintings.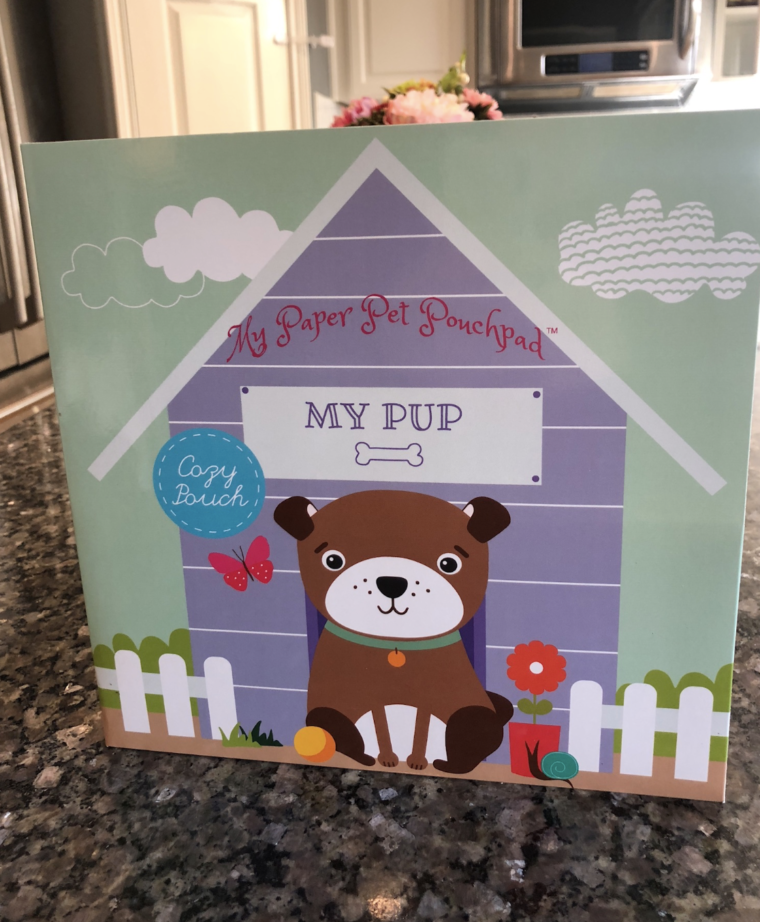 Cozy Pouch is a manufacturer of modern paper dolls for children. We are creating modern paper dolls for young children (and bringing this awesome gadget-free game back from past). That is why our paper dolls are very child friendly/easy to use: they are made of thick paper that does not tear easily, paper dolls are precut, there are no gazillions of tiny pieces of clothing with annoying tabs.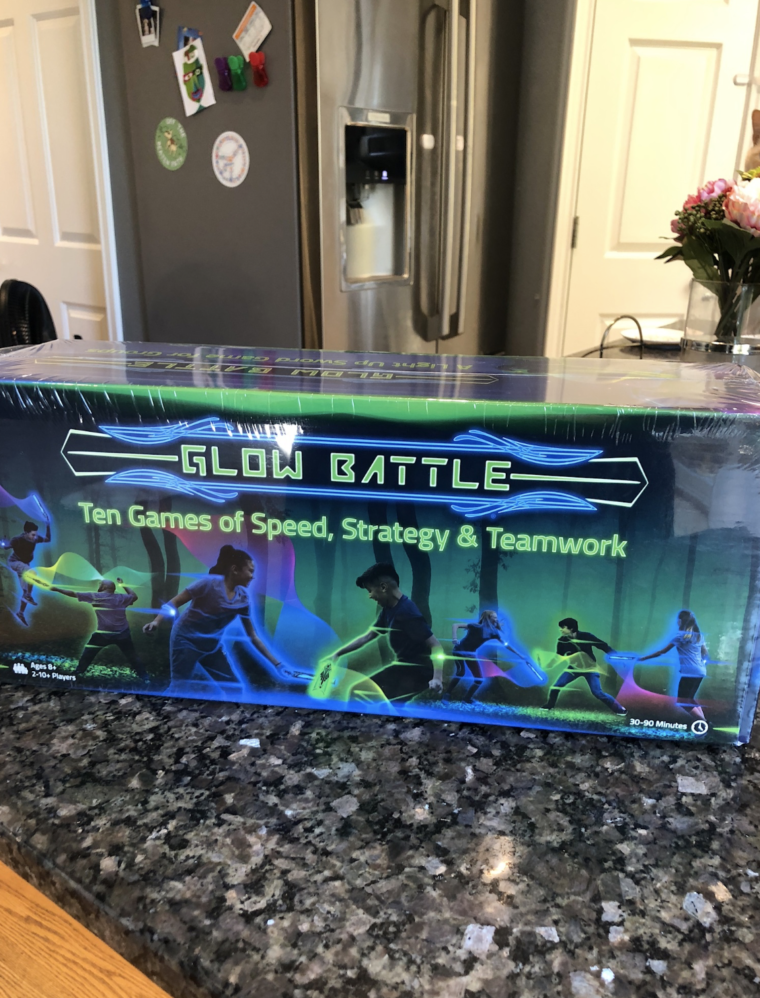 Glow Battle: A Light-Up Sword Game for Groups with 10 Ways to Play – Glow-in-The-Dark, Indoor & Outdoor Active Fun. Lead your team of friends to victory as you play organized sword fighting games using (harmless!) glowing foam weapons. For ages 8+, with game pieces for 2-20 players – choose from 10 different ways to play.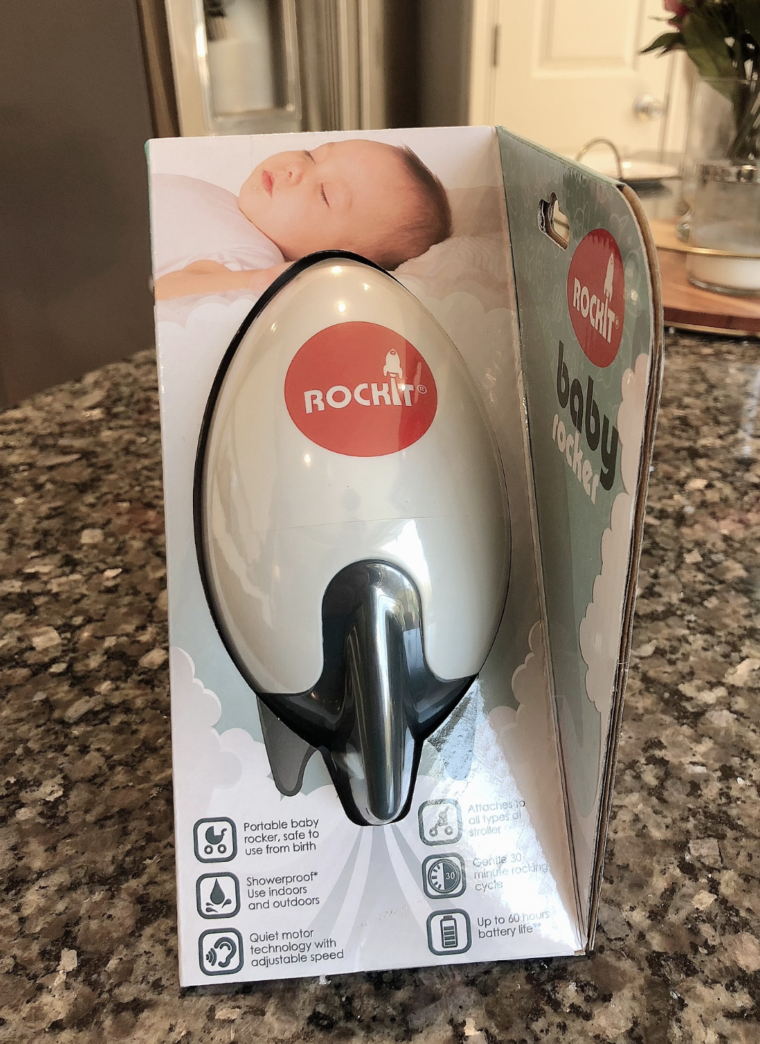 Rockit Portable Baby Stroller Rocker – Does your little one wake up as soon as the buggy stops moving? The Rockit will keep rocking so you don't have to! Created to help parents on the go, this handy must-have accessory keeps babies moving and snoozing. Simply attach to your pram or stroller, push the button and adjust the speed to gently rock your baby, just like you would.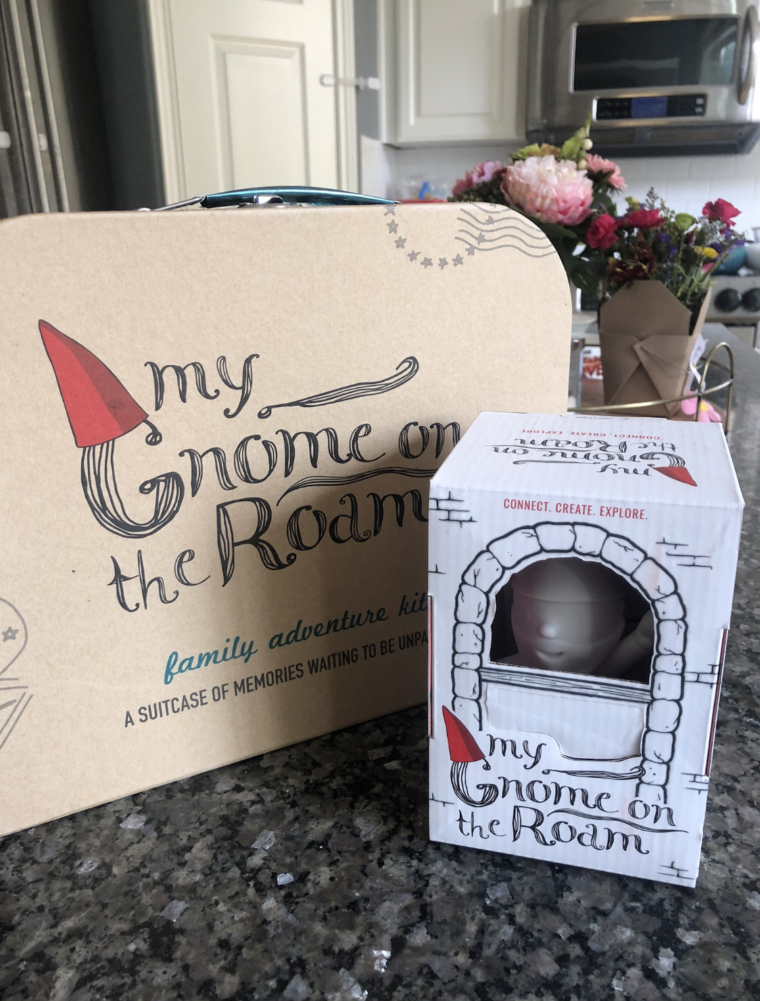 My Gnome on the Roam® kit is more than just a toy and a book gift and was designed to provide tools and inspiration for busy families to explore, create and connect. The kit includes a copy of the My Gnome on the Roam Award Winning Story Book, an adventure journal filled with blank pages, a colorless ready-to-be-painted gnome and a magical pen.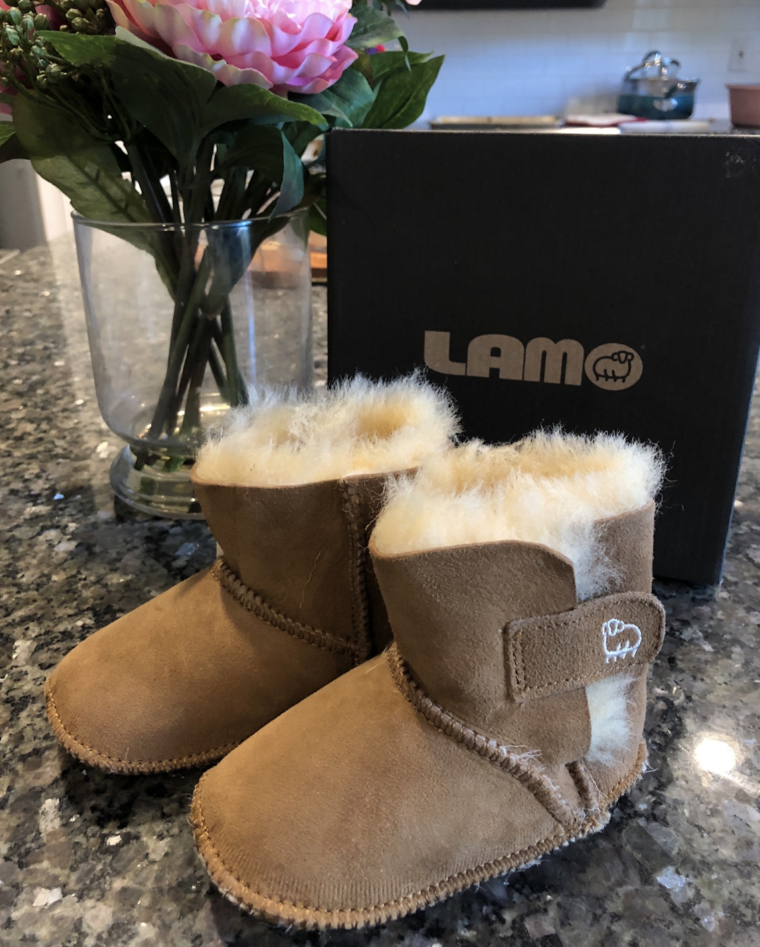 Baby Bootie by Lamo is the perfect shoe for your little one. This bootie is made with premium sheepskin lining offering the most comfort for tiny toes.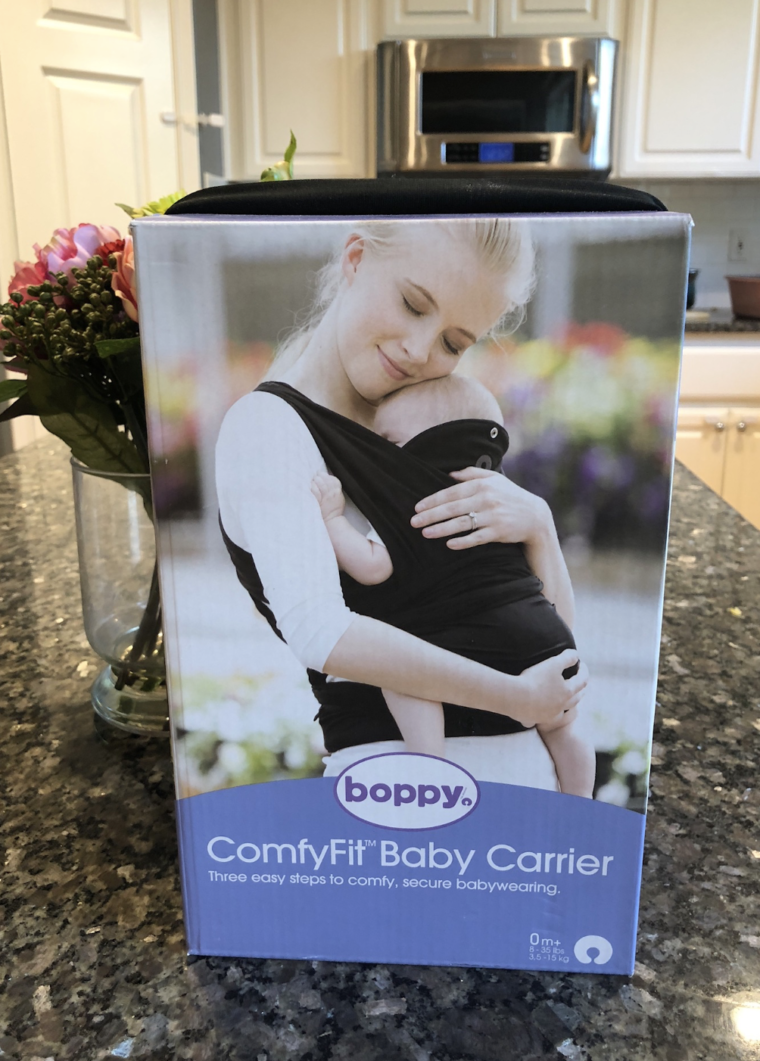 Boppy® ComfyFit® Baby Carrier enables confidence in babywearing because of its simple and supportive structure that is both comfortable and comforting. Inspired by yoga apparel, the lightweight, soft fabric moves with you and your baby supporting your active lifestyle. Now also available in NEW camo print!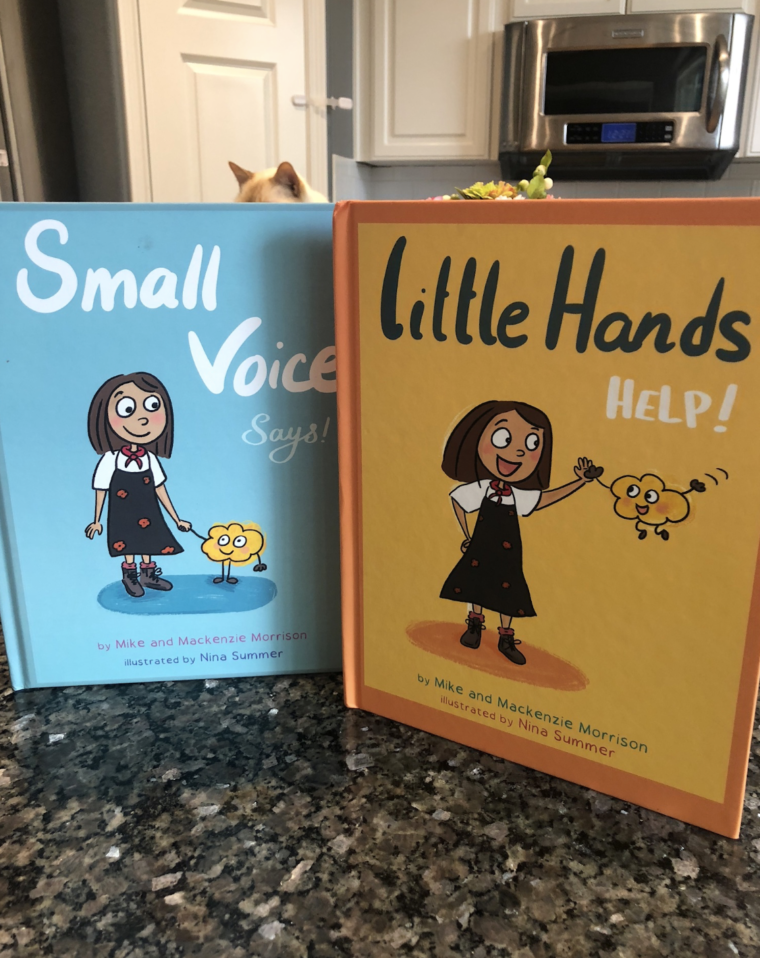 Small Voice Says, readers are introduced to the incredibly smart and witty character of Anglea. Offering an educational and heartfelt message, readers learn about discovering and listening to your inner voice with colorful and intriguing illustrations throughout. It is one of the most important skills that a parent can teach and also continue to co-learn with their child.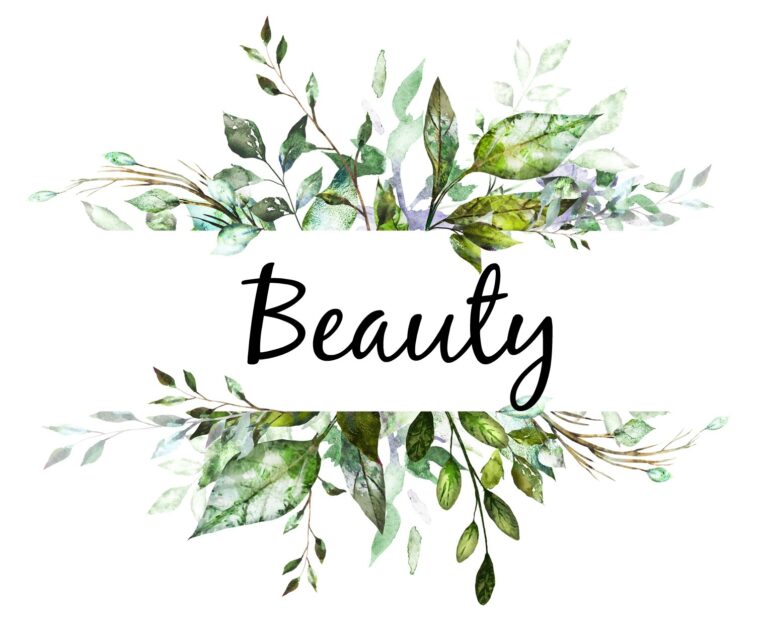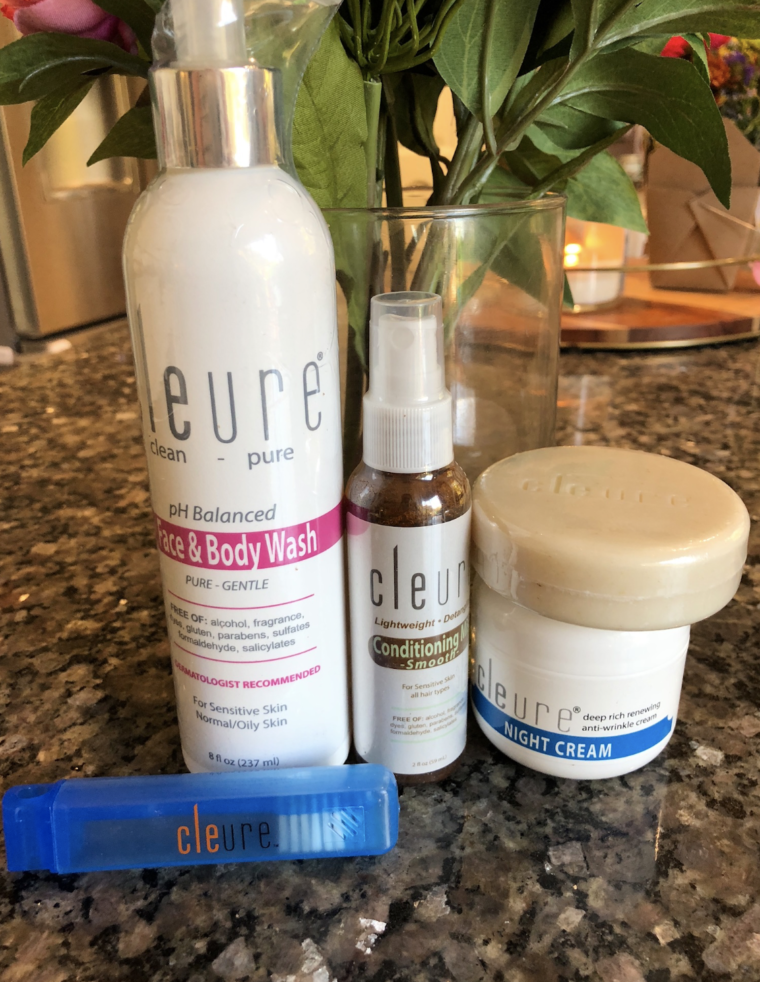 Cleure is a full range of sensitive skincare products that offers skincare, hair care, body care and oral care. All the products are crueltyfree and do not contain fragrance, plant extracts, essential oils,parabens and other irritants.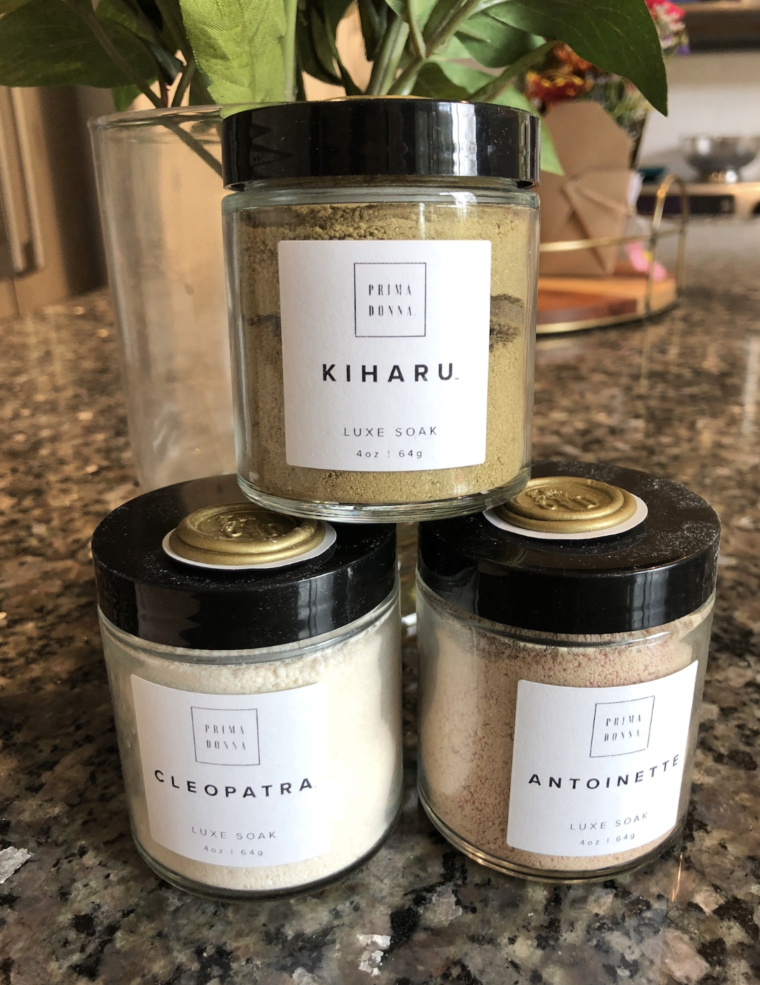 Prima Donna Beauty – We're a brand new line of luxury bath soaks with all natural skincare inspired ingredients and pure essential oil fragrances.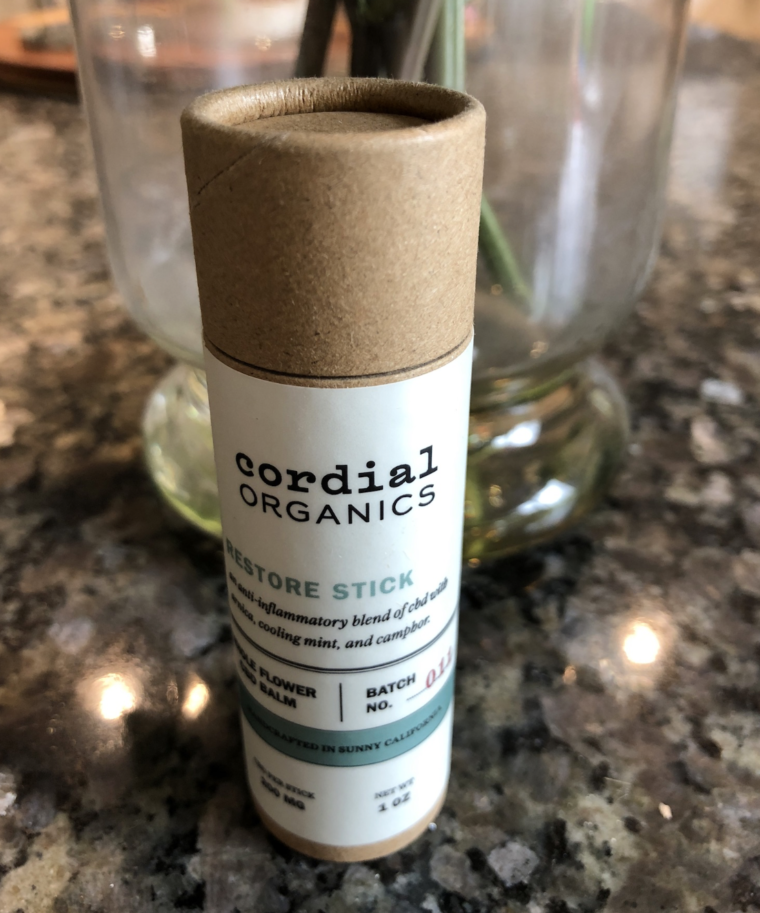 Cordial Organics: Restore Stick – If you tend to play hard, this stick will become your new BFF. Restore gets right where you need it to soothe and relax sore muscles, calm an achy neck, ease strained temples, jaw, shoulders, joints, and back.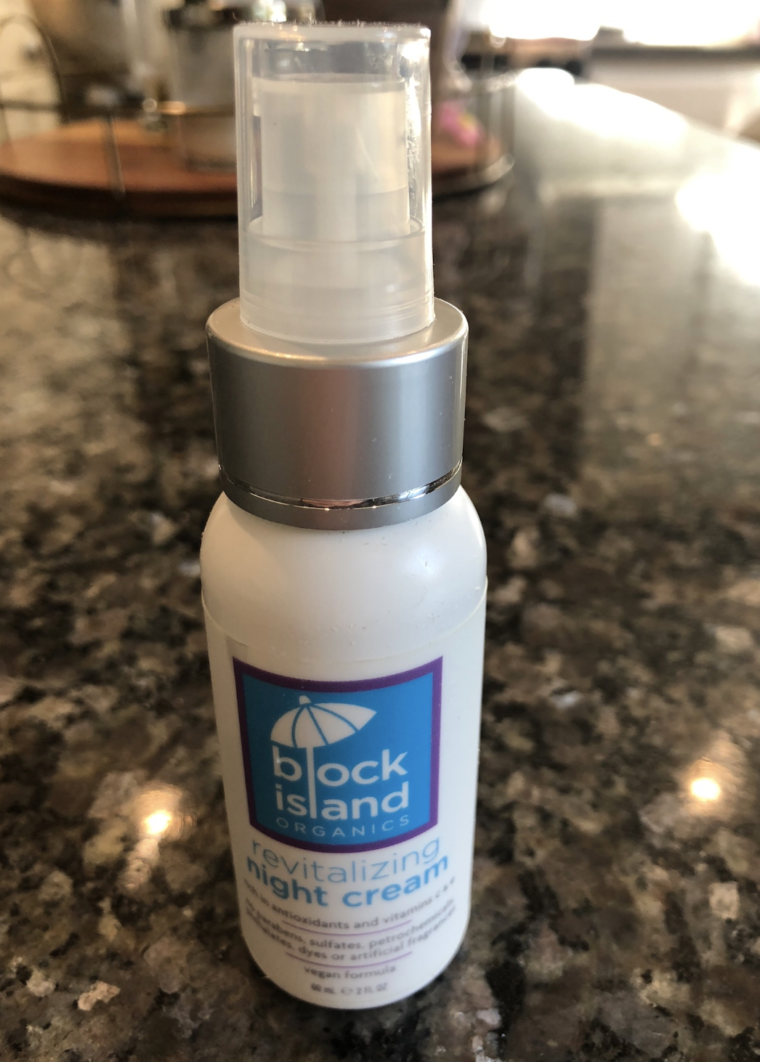 Block Island Organics – Packed with antioxidants like vitamin C and E, this organic cream helps nourish and replenish skin.  Vitamin C is known for its anti-aging properties and a recent study by Yale University dermatologists suggests vitamin E protects against the effects of sun exposure long after sundown. Featuring gentle botanicals such as cocoa butter, calendula, rosehip, avocado, aloe vera, jojoba, blueberry and more; it revitalizes all skin types.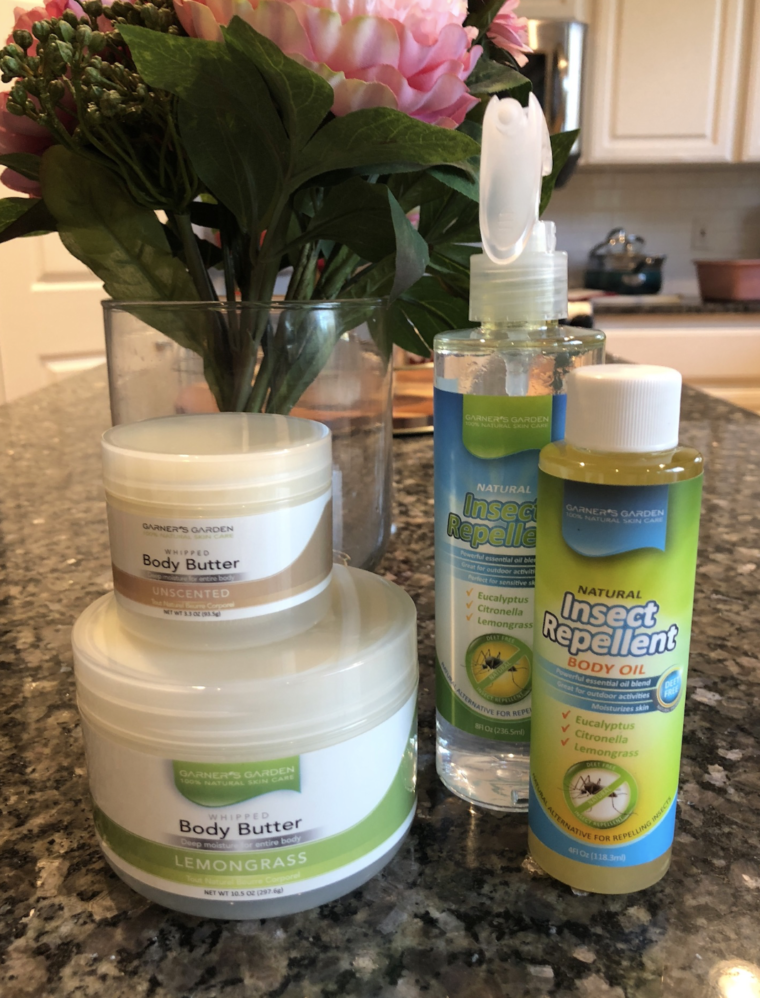 With a variety of safe, natural and affordable products from Garner's Garden, everyone can live the naturally healthy lifestyle they deserve. Try their Natural Deodorant that comes in three varieties of protection: Baking Soda Free, Regular Strength and Extra Strength; or the Organic Body Wash: Original and Lemongrass.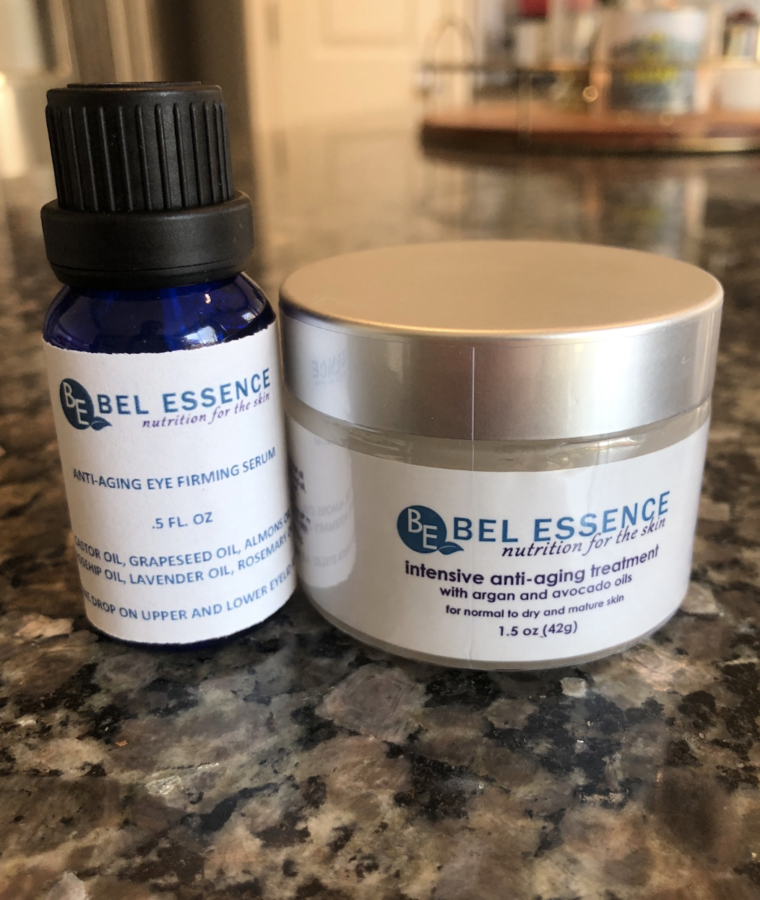 Bel Essence – Bel Essencecombines both: effective anti-aging products with natural ingredients.What better holiday gift than the gift of healthy skin? Bel Essence carefully develops products to address skin care issues withnatural ingredients. The concept is based on the science that our skin hasthe ability to heal and rejuvenate, reducing and reversing the effects ofaging (and preventing them!), maintaining proper hydration, and reversingchronic skin conditions with the right nutrition.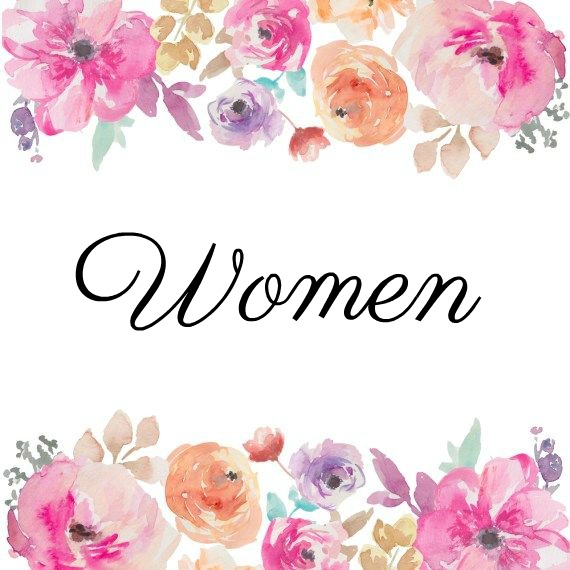 You will NEVER have to dig to the bottom of your purse or dump out its contents looking for your keys if you use a Finders Key Purse®. Not only is finding your keys instantly a convenience but a safety measure as well. www.finderskeypurse.com . Finders Key Purse® are $7.95 and safety items are $9.95.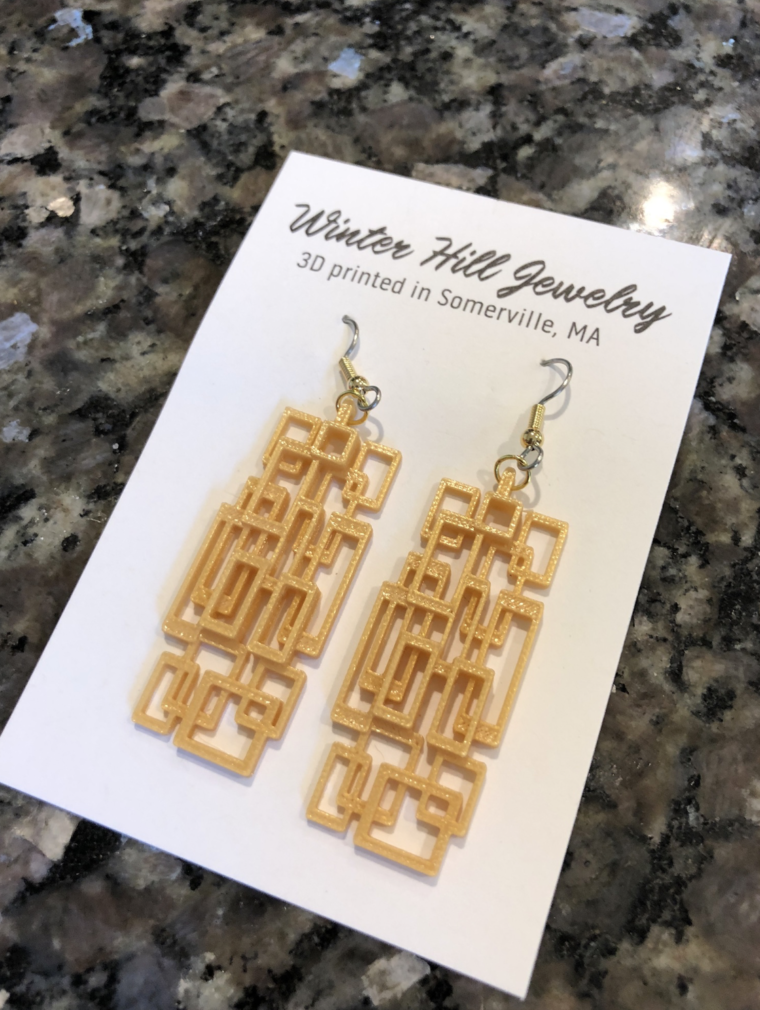 These earrings were designed by me in a 3D modeling program. They are then 3D printed in PLA, an eco-friendly, plant-based plastic. The findings I put on are hypoallergenic stainless steel.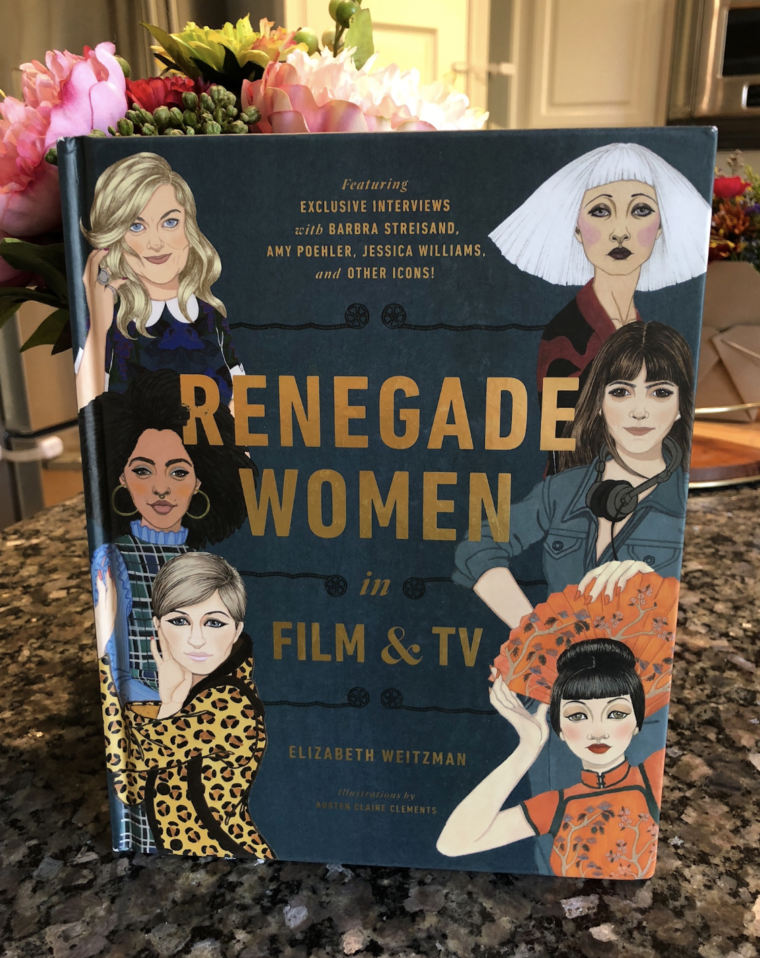 Renegade Women is an absolutely gorgeous celebration of pop-culture pioneers ranging from Alice Guy Blache to Ava DuVernay. Better still, it also includes *exclusive* interviews with icons ranging from Amy Poehler and Sigourney Weaver to Rita Moreno and Barbra Streisand, so it's perfect for every age. Here's a link to our website, and of course I would be delighted to send a hard copy your way!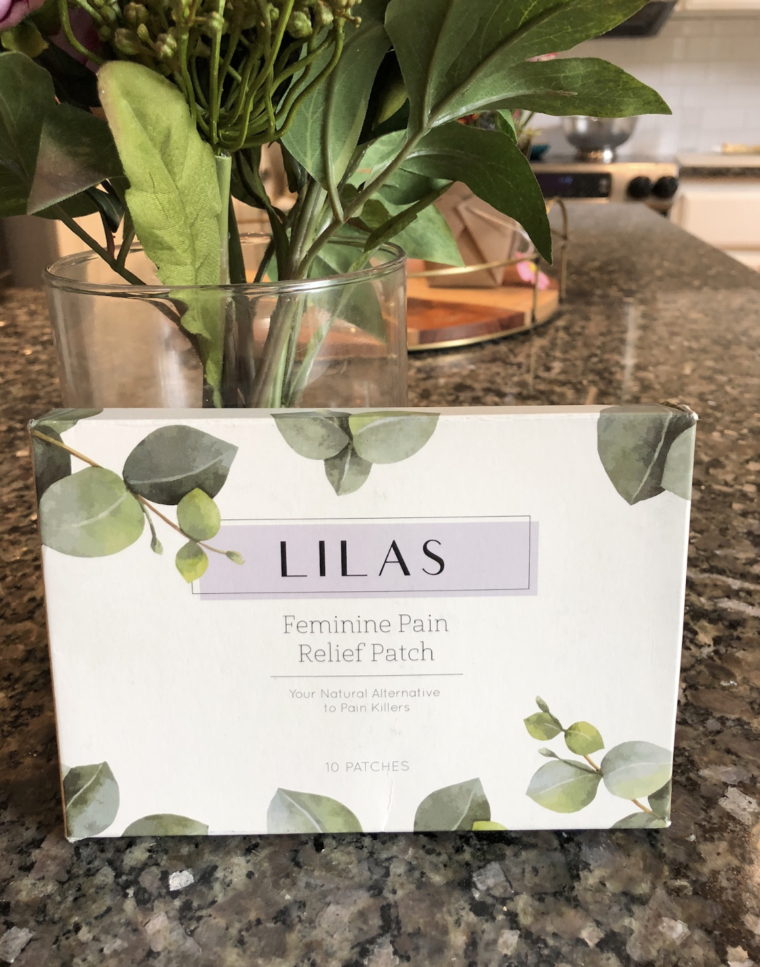 LILAS
wellness has the perfect holiday gift for women – the LILAS Feminine Pain Relief patch!
The patch is an all-natural, plant-based remedy that provides long-lasting relief for period pain and other muscle discomfort. The patch consists of a blend of essential oils that are clinically proven to provide effective relief without any side effects. It's patented technology allows it to work quickly and last up to 12 hours – a great stocking stuffer for any woman in your life!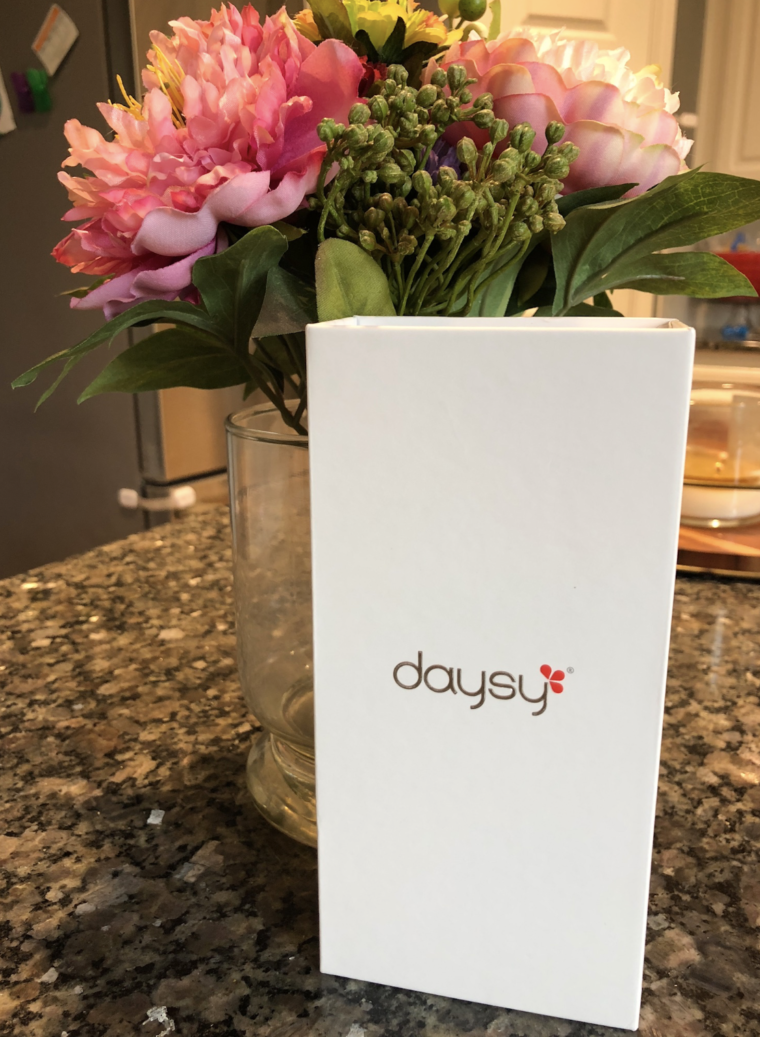 Daysy
is an intelligent fertility tracker that lets you get to know your very own menstrual cycle. Thanks to Daysy, you know exactly when you are in your fertile window and when you are not.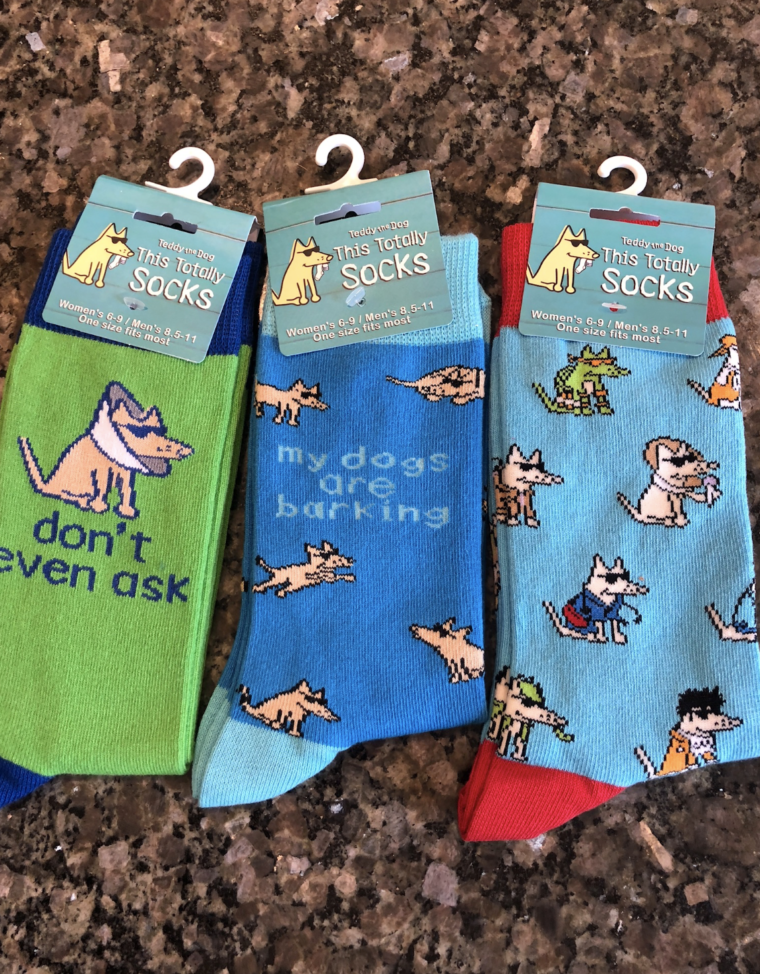 Teddy's a hound of great renown… a divine canine, one might say. That's why people dig his witty and clever spin on entertainment, pop culture, and all things dog (duh).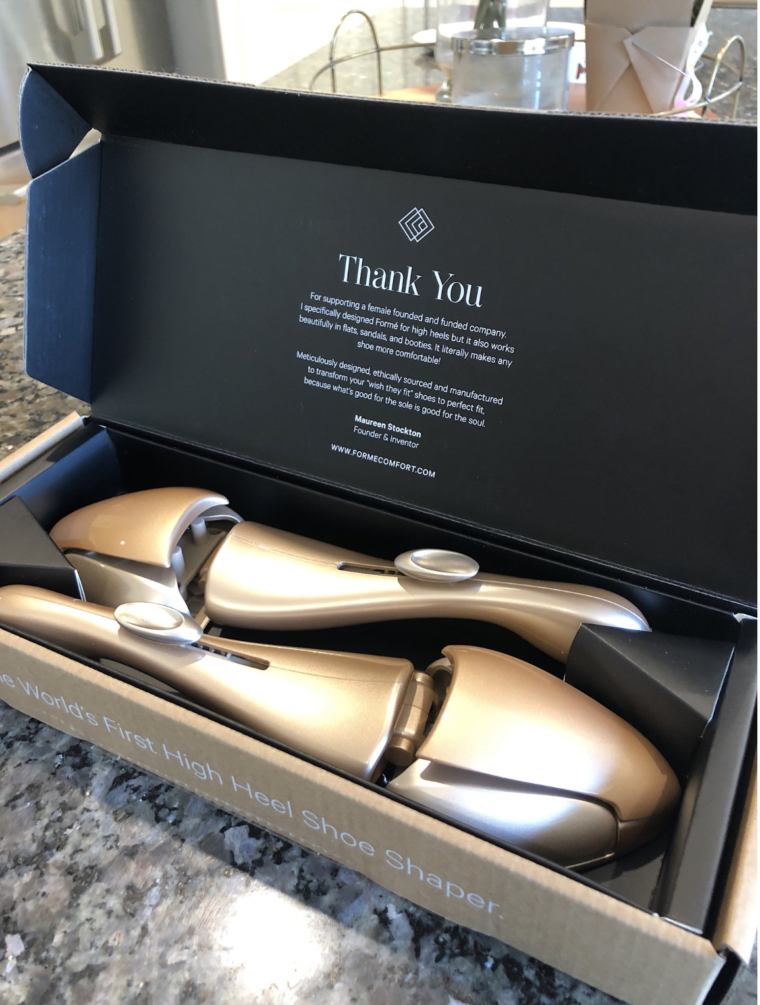 Formé
is made by women FOR WOMEN and can make every pair of shoes in your closet more comfortable and your feet healthier and happier! Formé is the first and only shoe shaper that safely stretches shoes up to a half a size, eliminating the pain that occurs when the toe box gets tight as the day wears on.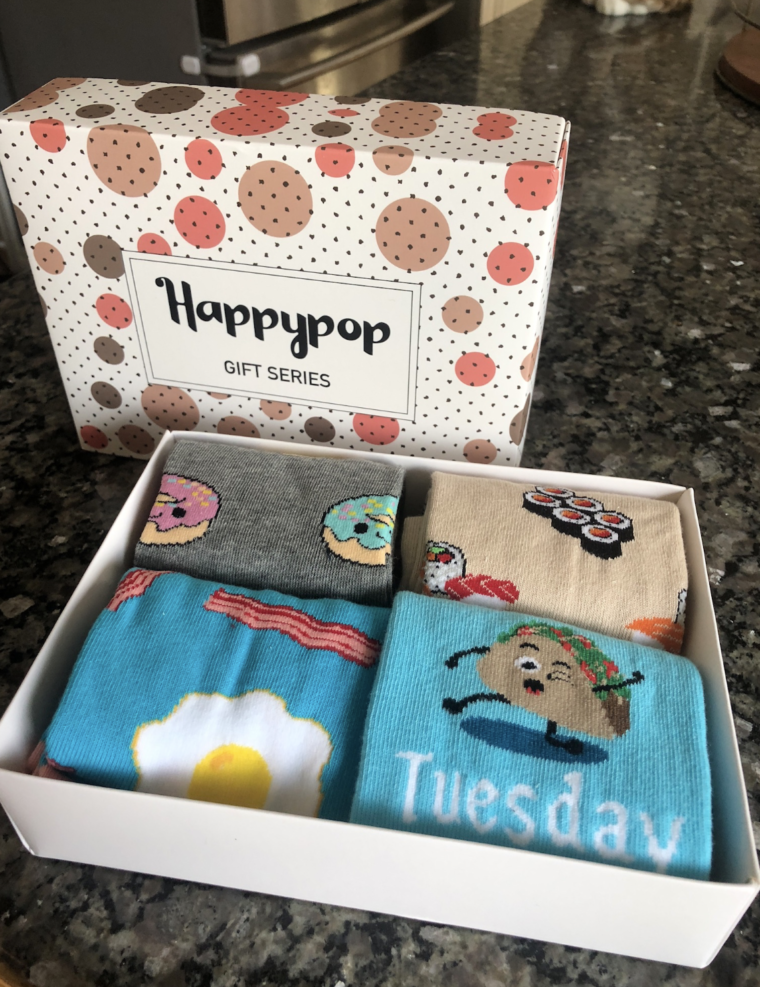 Happypop
– Looking for a special unique gift idea for men or women or your loving kids? Go for our Socks Gift Set! Here are whole collections of different themes. Our Food Socks of funny treats; Space Socks with novelty space patterns; Animal series with the most adorable unicorns, etc.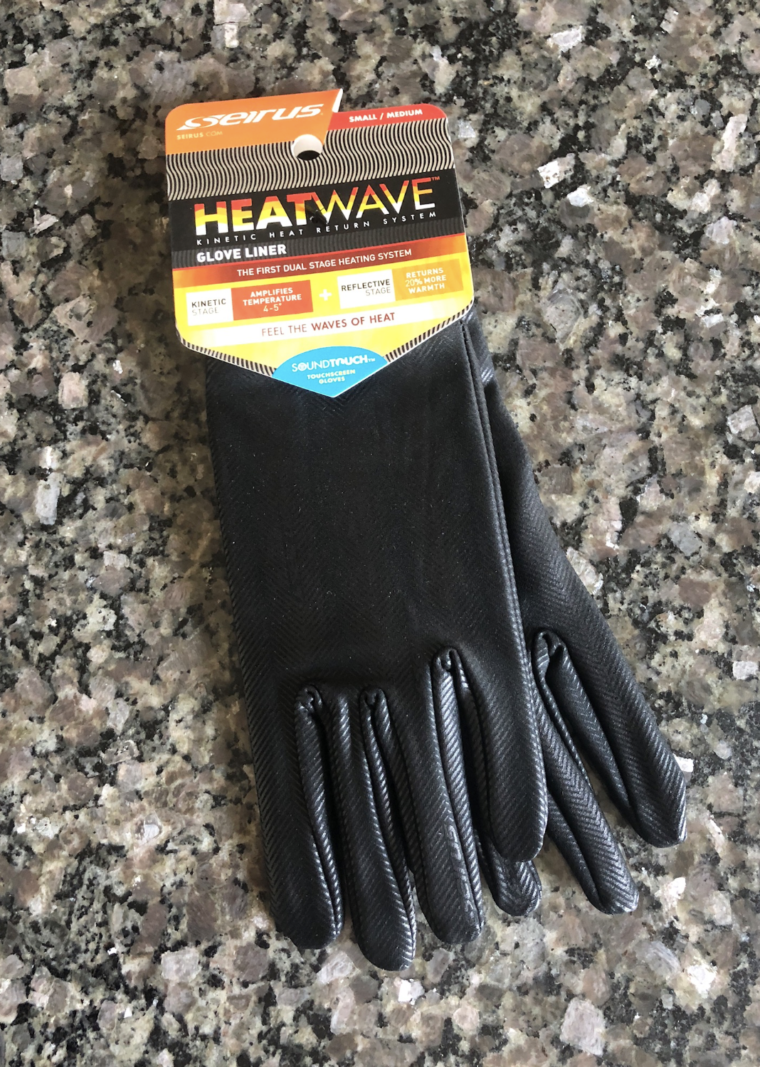 Made of
Seirus
' proprietary
Heatwave
dual-stage refleclective and kinetic heating system that amplifies heat helping increase circulation, the following glove, sock and skull liners are the ultimate upgrade in winter warmth for any Mom or Dad. FYI, SoundTouch in the glove activates any touchscreen.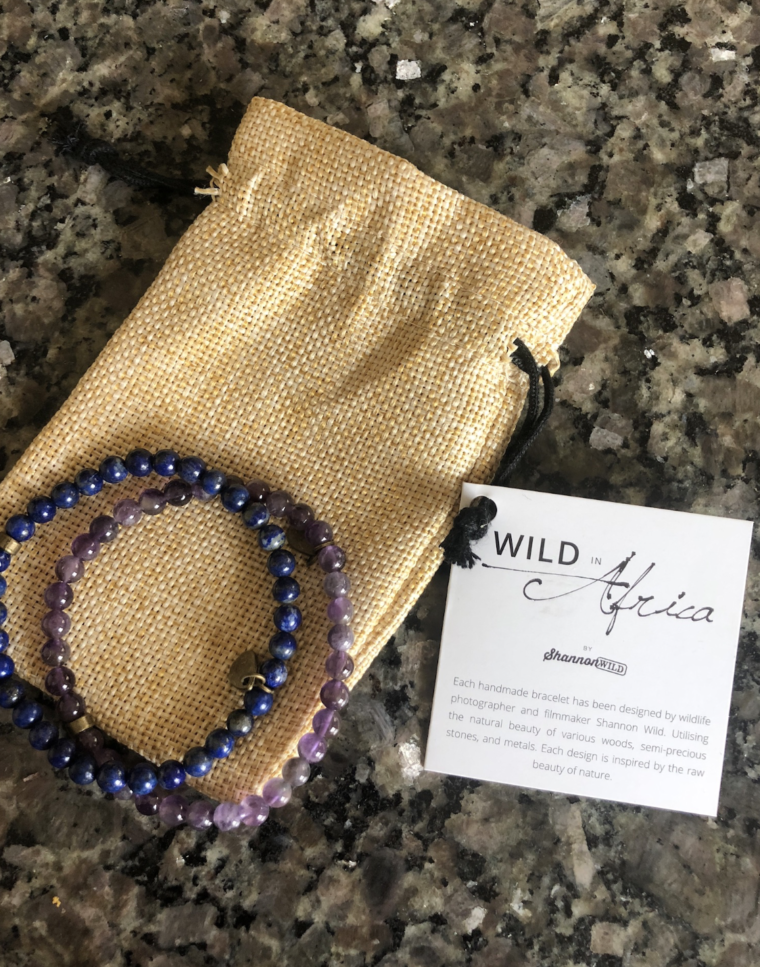 Wild In Africa
offer stunning handmade beaded bracelets that aredurable and affordable but most importantly donate 50% to wildlifeconservation in Africa and India.Founded in South Africa by National Geographic wildlife filmmaker andphotographer Shannon Wild.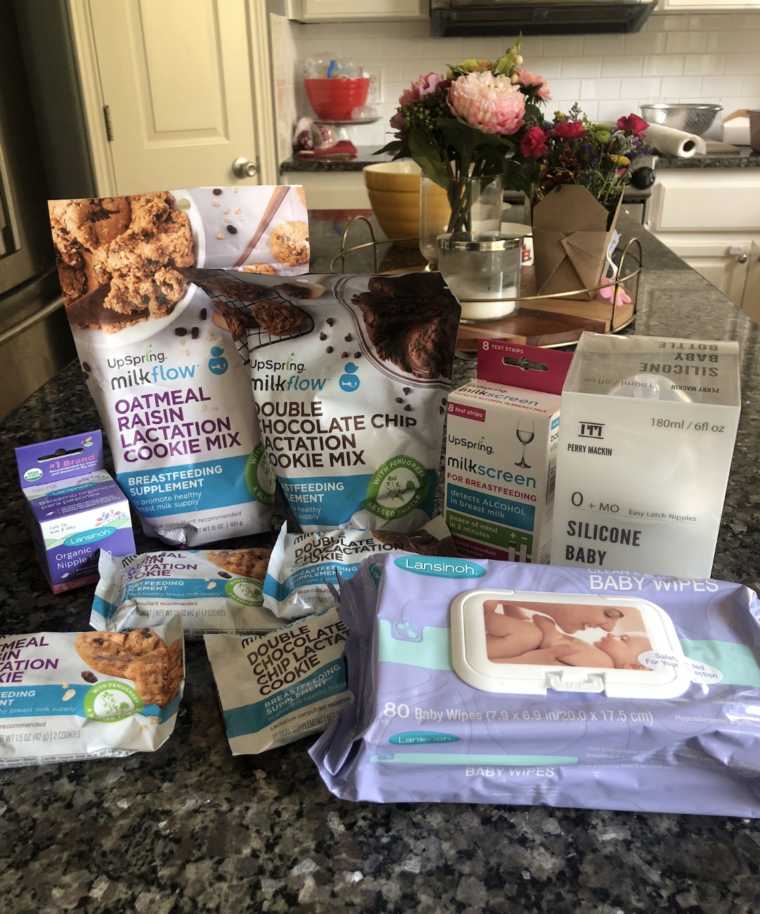 No more guessing if your breast milk is safe for baby!

First and only 2-minute at-home test to detect alcohol in breast milk

Recommended by pediatricians and lactation consultants

Provides thorough cleaning to help prevent dryness and chafing, while serving as a barrier from wetness between diaper changes

Contains Lansinoh Lanolin for gentle cleaning while protecting baby's sensitive skin
The only lactation cookie with two known galactagogues (aka breast milk boosters) Fenugreek and Blessed Thistle

Delivers 1,800 mg of Fenugreek in each yummy serving (2 cookies)

Also available in Oatmeal Raisin and Double Chocolate Chip
Provides the safest, most effective relief for breastfeeding moms experiencing nipple soreness in the perfect travel size

100% natural, single-ingredient product safe for both mom and baby and contains no additives or preservatives

#1 recommended nipple cream by lactation consultants and doctors in the US
Perry Mackin's extra soft high-grade silicone nipples provide the perfect solution for switching between breast and bottle

Each bottle is made of impact-resistant Medical Grade Silicone, a naturally safe, durable and hygienic material that has no open pores to harbor bacteria ensuring the health of your baby

Completely BPA, PVC and phthalate free for ultimate reassurance of your baby's safety\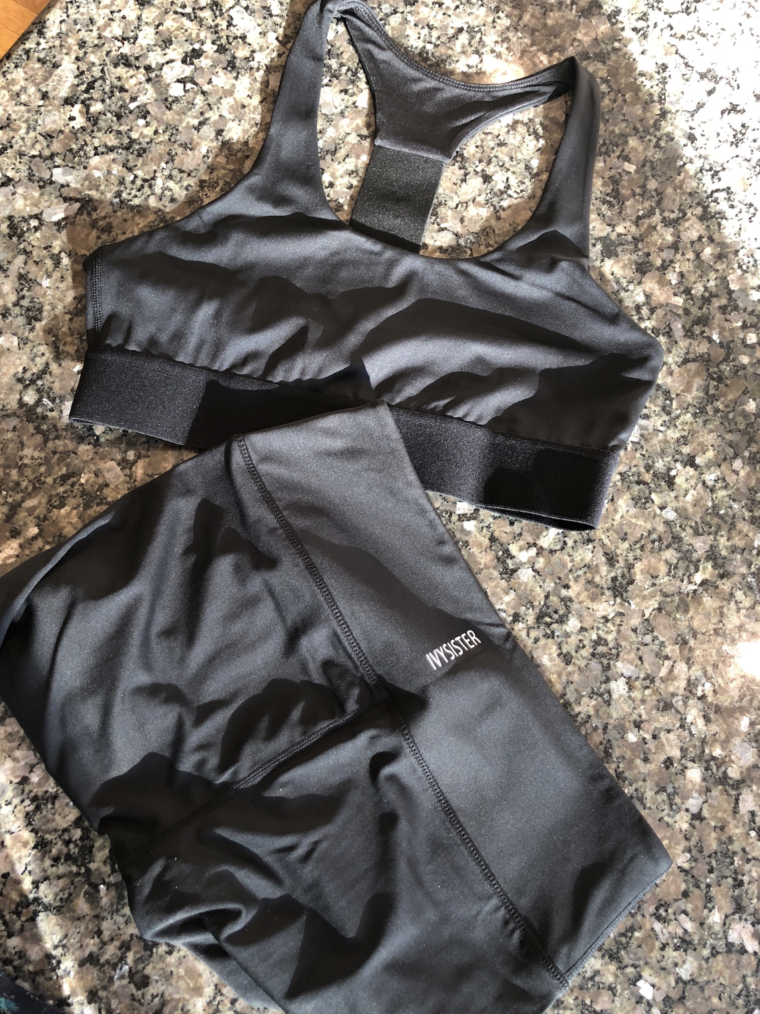 Shopping for the cutest athletic wear? Look no further…Ivysister's sports bras and leggings are created for high performance, use specialized fabric, and are easy to care for. The leggings feature a high-rise slimming silhouette, power mesh waistband and pockets – because every gal appreciates pockets! Also, don't forget about their original line of beyond beautiful intimates.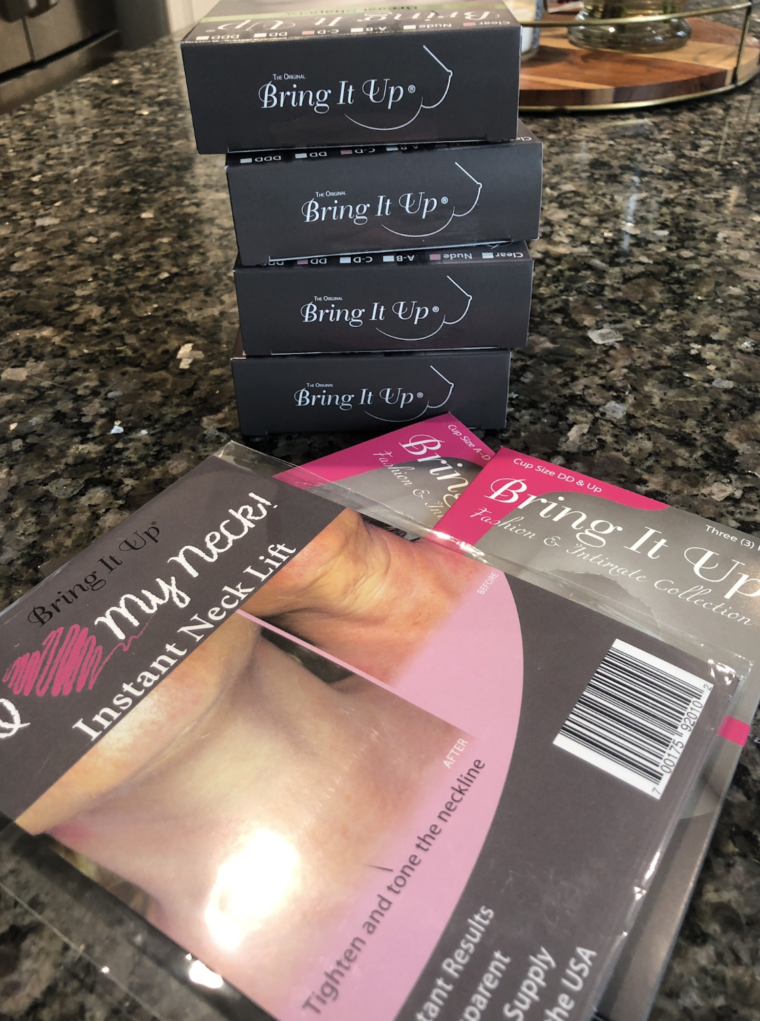 Feel and look your very best this season with Bring It Up's Adhesive Bras. Perfect for festive holiday attire, the unique "breast lift" invention, which lifts skin from the top, has grown to include, the reusable, silicone Breast Shapers that provide both incredible lift and full coverage without any need for a bra.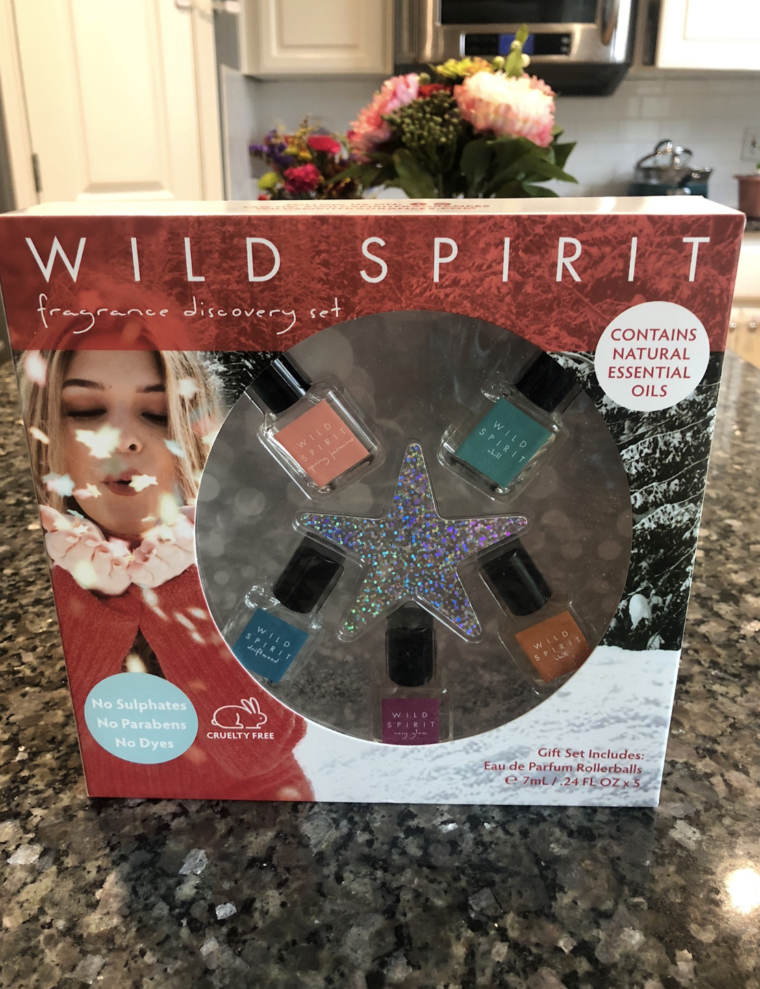 Wild Spirit – The vegan, essential oil filled scents are cruelty free, paraben and sulphate free, and offer incredible smelling scents for every female with their 5 signature fragrances. Available at Walmart stores and Walmart online.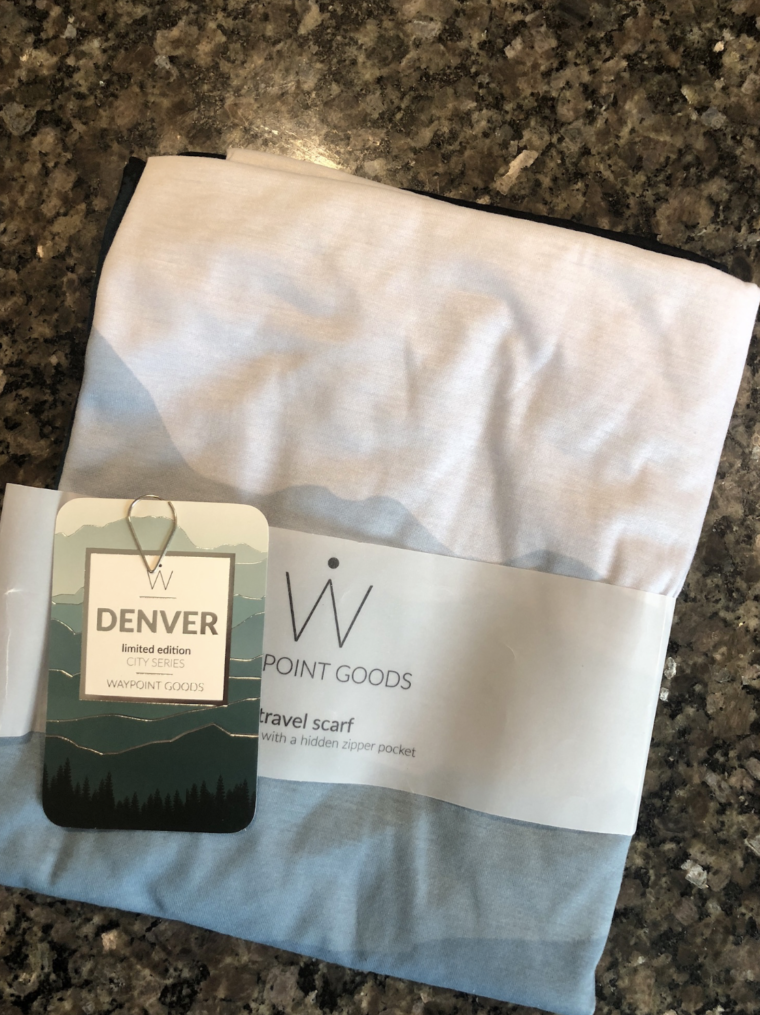 Waypoint Goods – It is perfect for women of all ages. It also makes a great gift for those hard to buy people, like Mother in Law, Teacher, Daughter in Law, etc.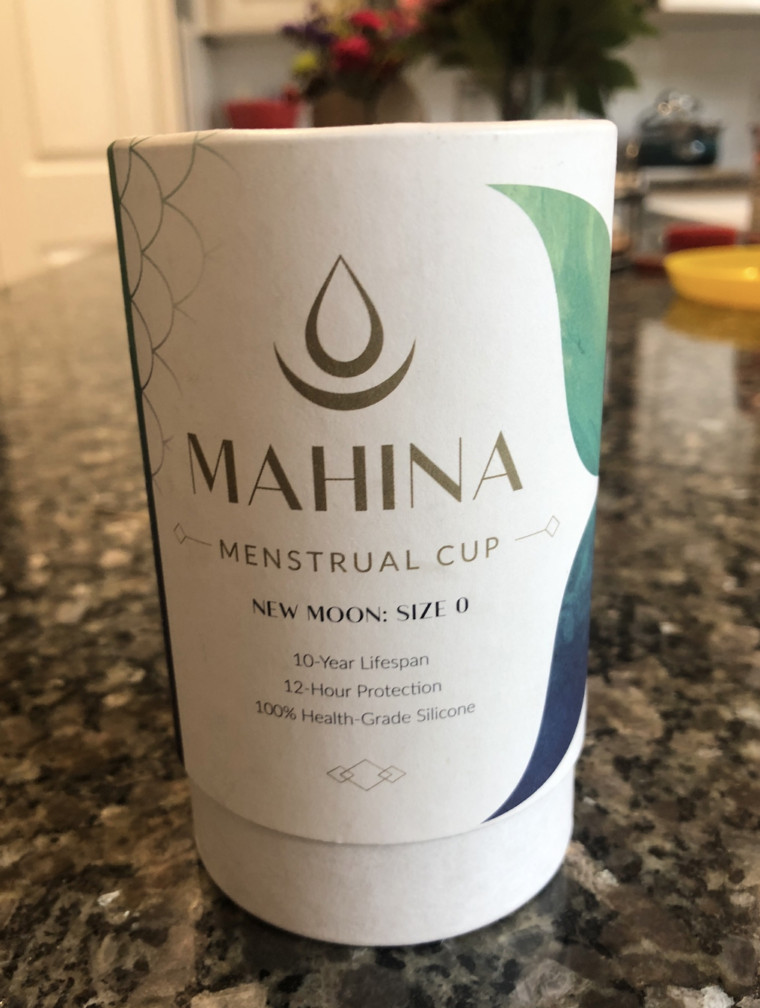 The Mahina Cup is produced from the highest quality health grade silicone. It's safe to use, easy to clean and enjoyable to wear. Mahina Menstrual Cup is Perfect for the Active, Feminine Goddess in You. You'll feel unstoppable with 12 hours of leak-free protection to do all you love. These make wonderful gifts for young women to encourage them to be more comfortable with their flow.
$42+ at www.mahinacup.com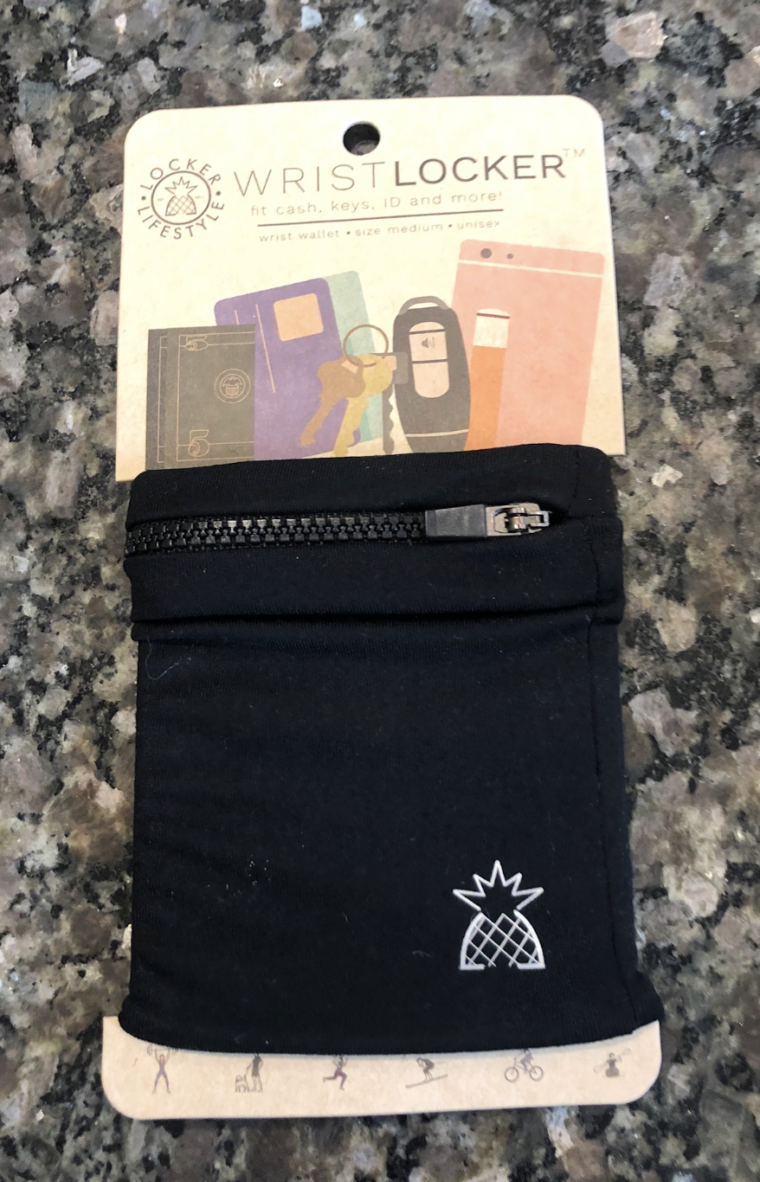 The mission of Locker Lifestyle® is to produce high-quality performance wear and dry-wicking athleisure accessories to provide a safe, fashionable and convenient way for active individuals to store their valuables. Our products serve as "wearable lockers" to securely stash necessities (such as cash, keys, an ID, phone, lip balm & more)!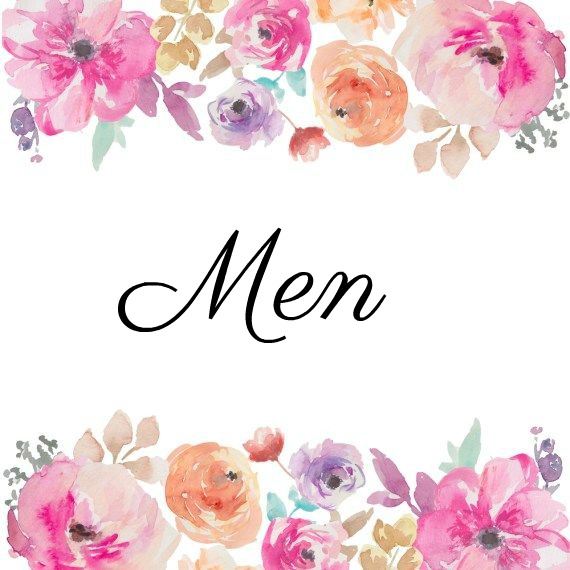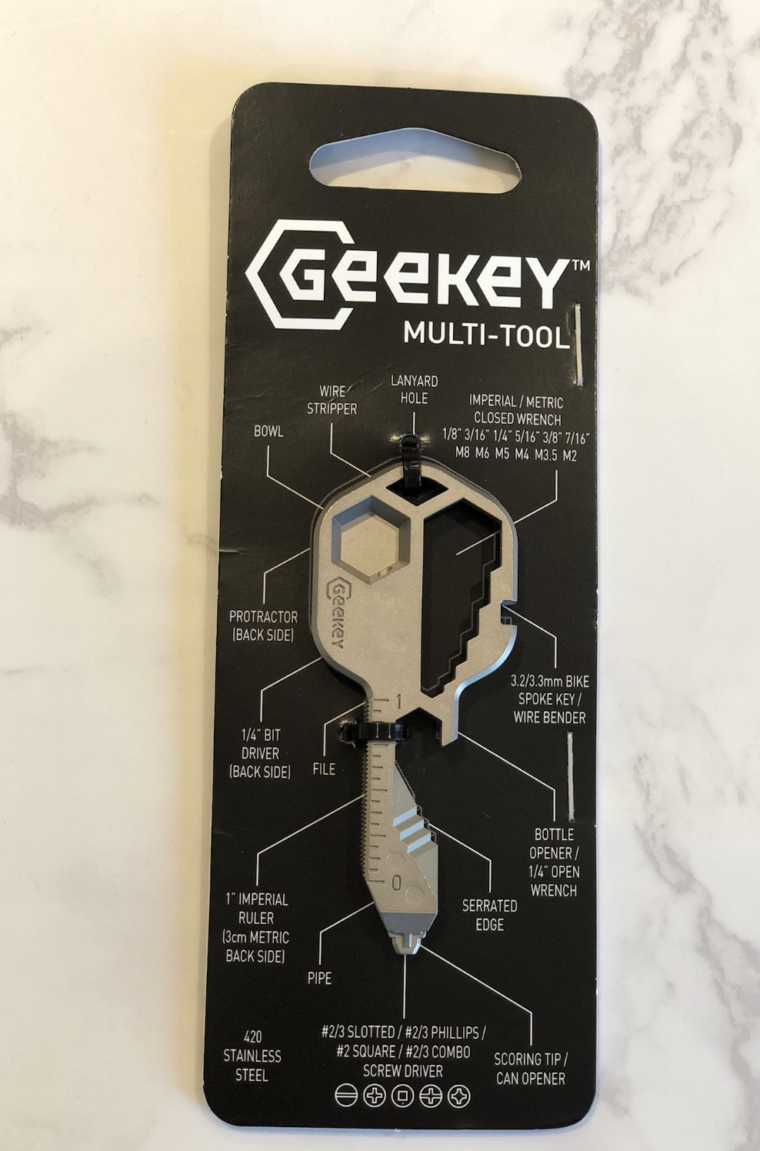 Come the holiday season, it never hurts to have a bottle opener handy. Now, what if your bottle opener can also cut the foil on a wine bottle? What if it could even double as a screwdriver? Three screwdrivers? As the famous TV announcer said, "But, wait! There's more!" The TSA-compliant Geekey is over 16 tools in a compact piece of industrial-strength steel that is only a little larger than a house key and weighs in at under 1 ounce.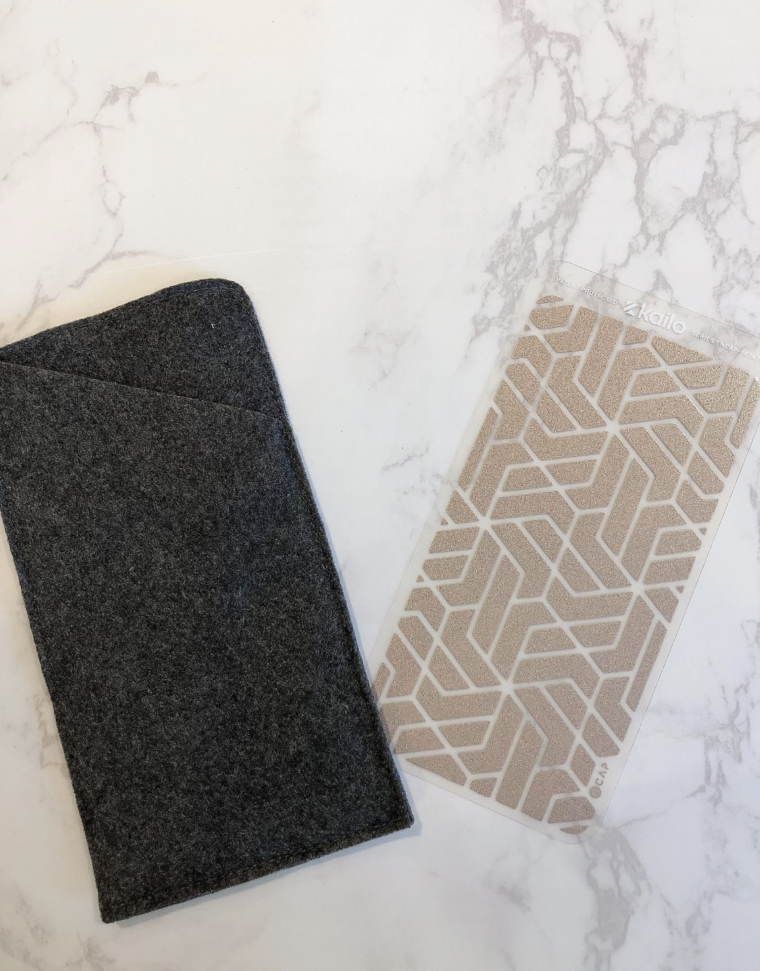 Kailo is the nanotech solution for pain management. The waterproof patch is simple to use and interacts with the body's electrical system to provide drug-free pain relief with the help of a patented array of nanocapacitors (fancy talk for teeny tiny batteries that work off of your body's electrical system).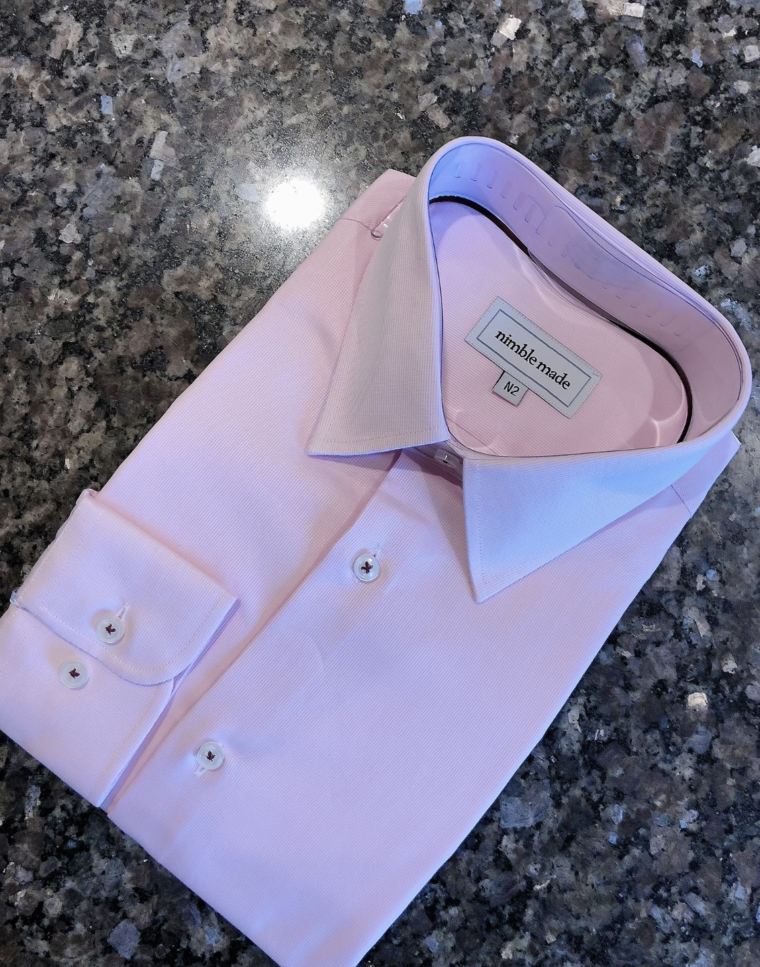 Nimble Made –  slim fit dress shirts for men in a variety of colors, patterns, sizes.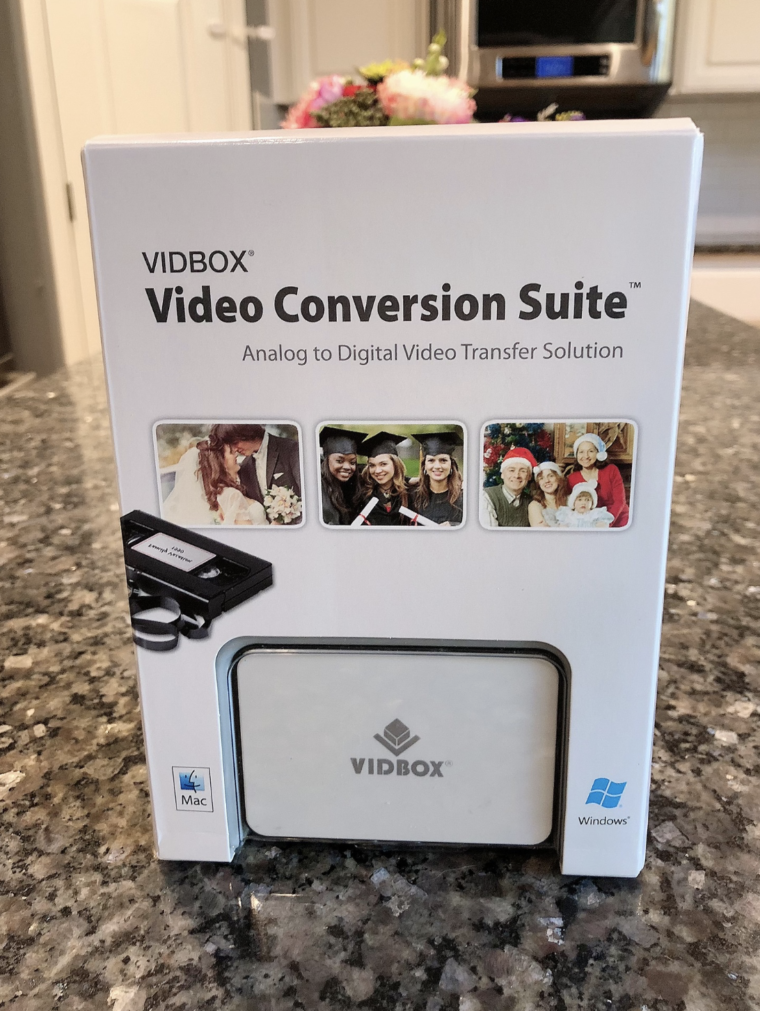 Save the precious memories from your own childhood, elder relatives, and more with your new children as they grow. Compare memories and events between generations, saving and sharing them before they are lost to time and technology. Get organized before it's too late! Sold at Best Buy, Amazon, QVC, HSN and more.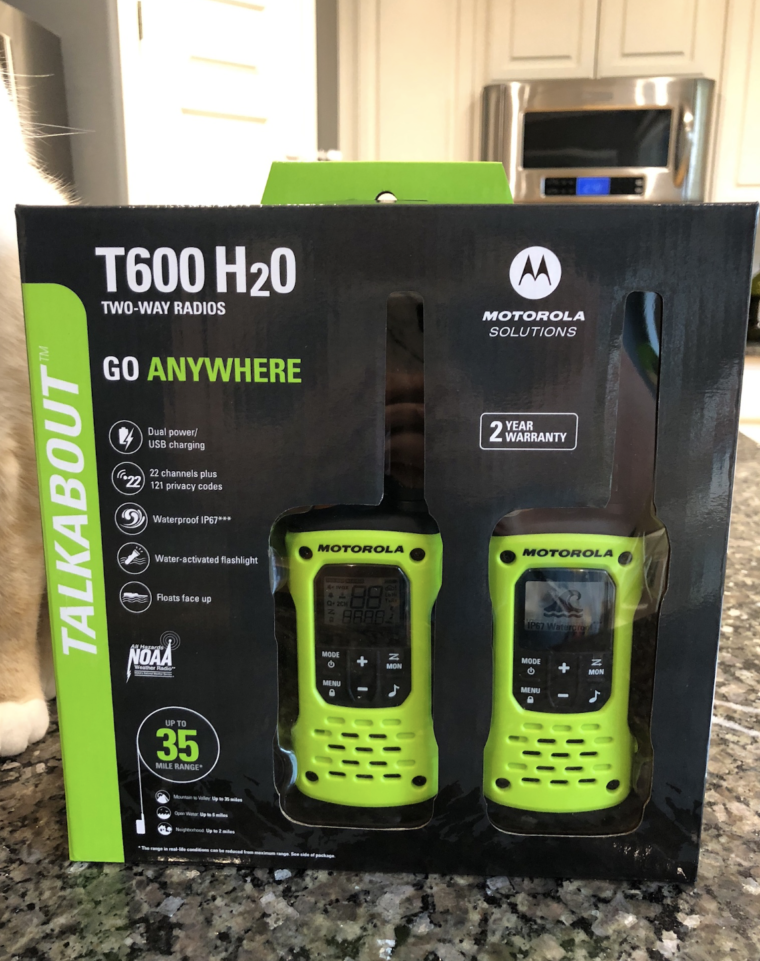 The latest Motorola Talkabout T600 H20 two-way radios are ideal for water adventures when out of cell phone range.  Two-way radios are important for communication and safety.  These feature NOAA weather updates and alerts and the T600 H20 is completely WATERPROOF and FLOATS, so no need to worry if it accidentally falls off the boat when dad is fishing.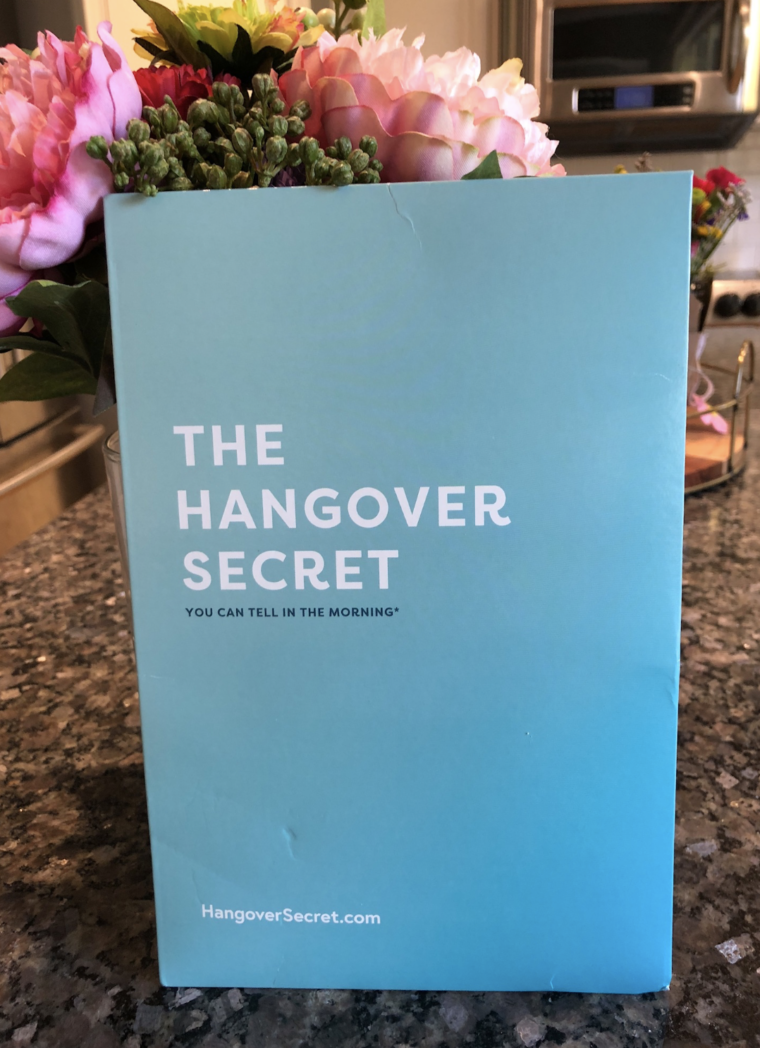 HANGOVERS NO MORE: A night of partying doesn't have to lead to morning of misery. By stirring 1 packet of this mix into a cup of cold water before bed, you will not only achieve a restful night's sleep but also wake up feeling ready to take on the day.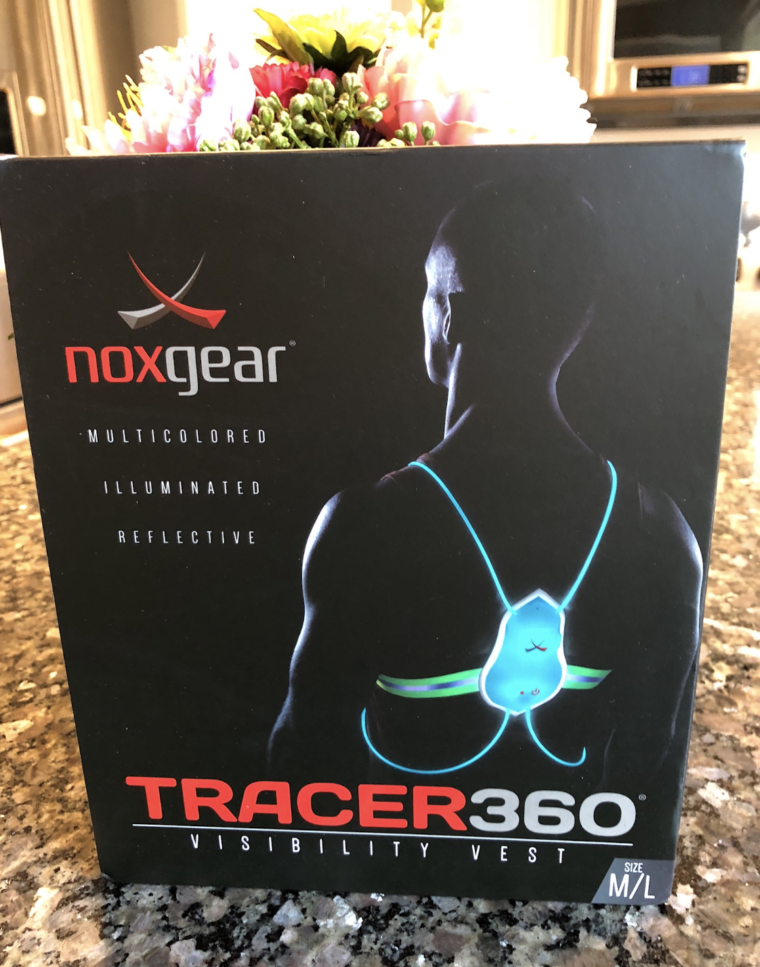 Noxgear is helping runners find the light, literally, with their Tracer360 – a brightly lit, color-changing safety vest, allowing you to stay highly visible to cars on the road up to a mile in any direction.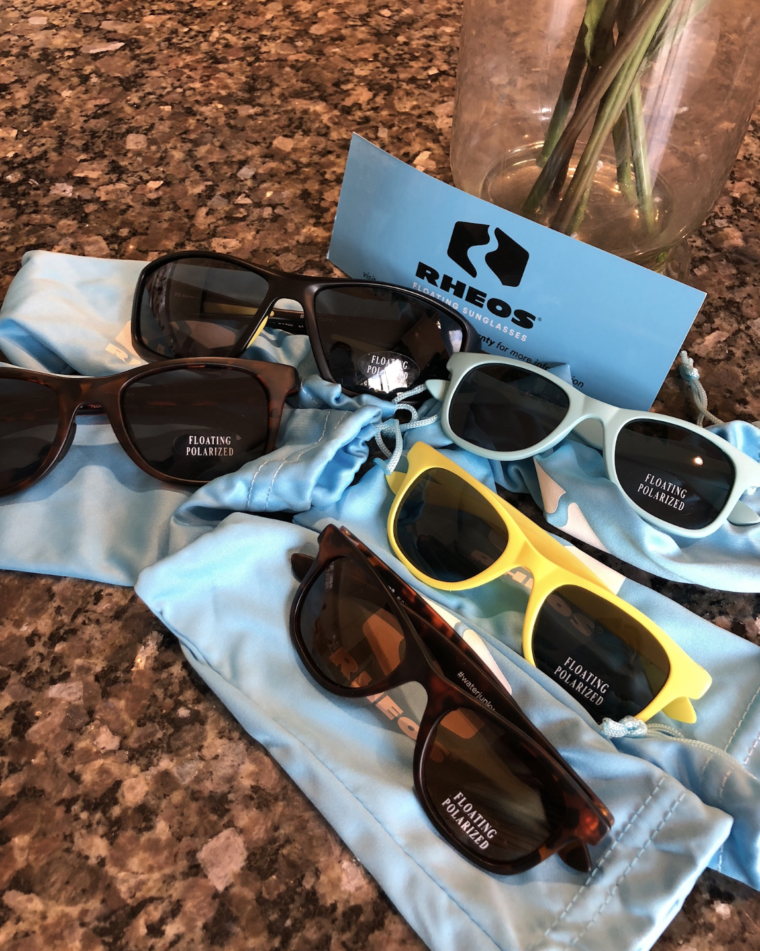 Rheos floating sunglasses! Our shades are comparable to top brands in both style and quality, but have the added advantage of floating in water since our frame material is 20 – 30% lighter than standard shades! No more losing sunglasses at the beach! Rheos also feature premium polarized lenses that are scratch resistant, 100% UV protected, AND include a finish of dual-sided anti-fog coating for maximum clarity.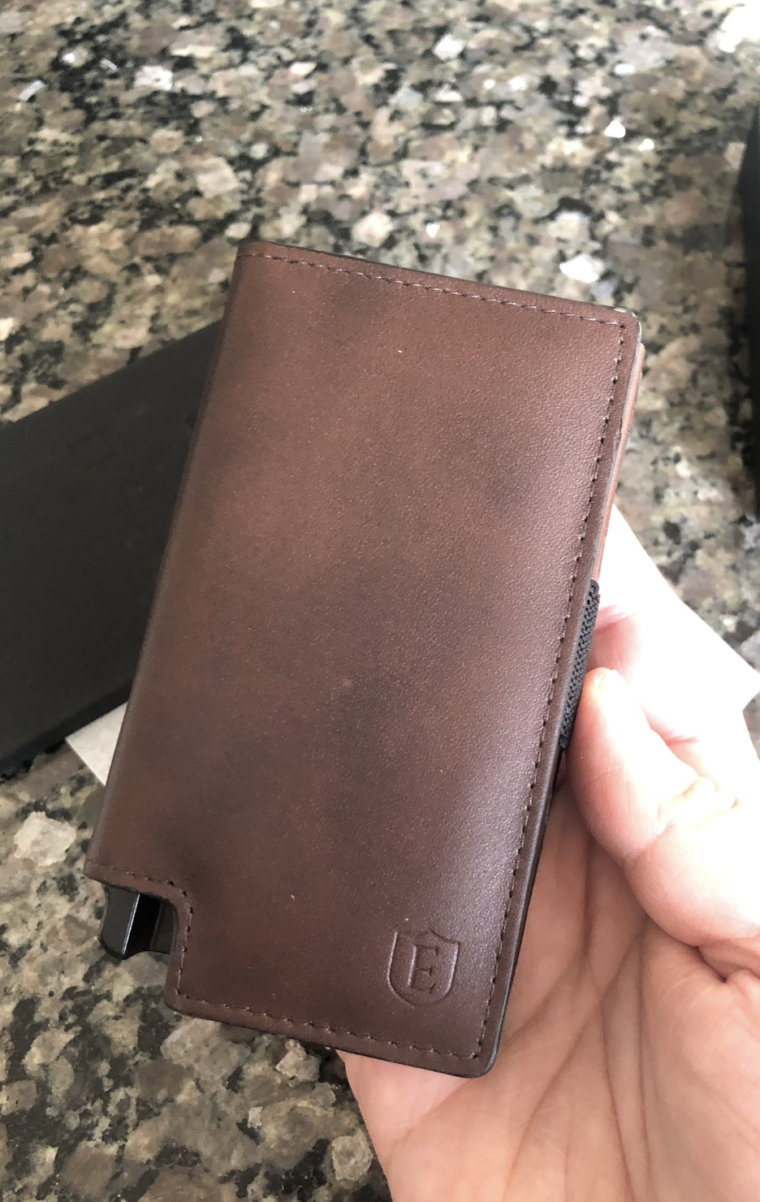 Ekster Wallet – The Parliament is a leather smart wallet, perfect for slim storage and quick card access. The built-in aluminum cardholder fans out your cards at the click of a button and protects them against skimming. Add a tracker card to make it unlosable.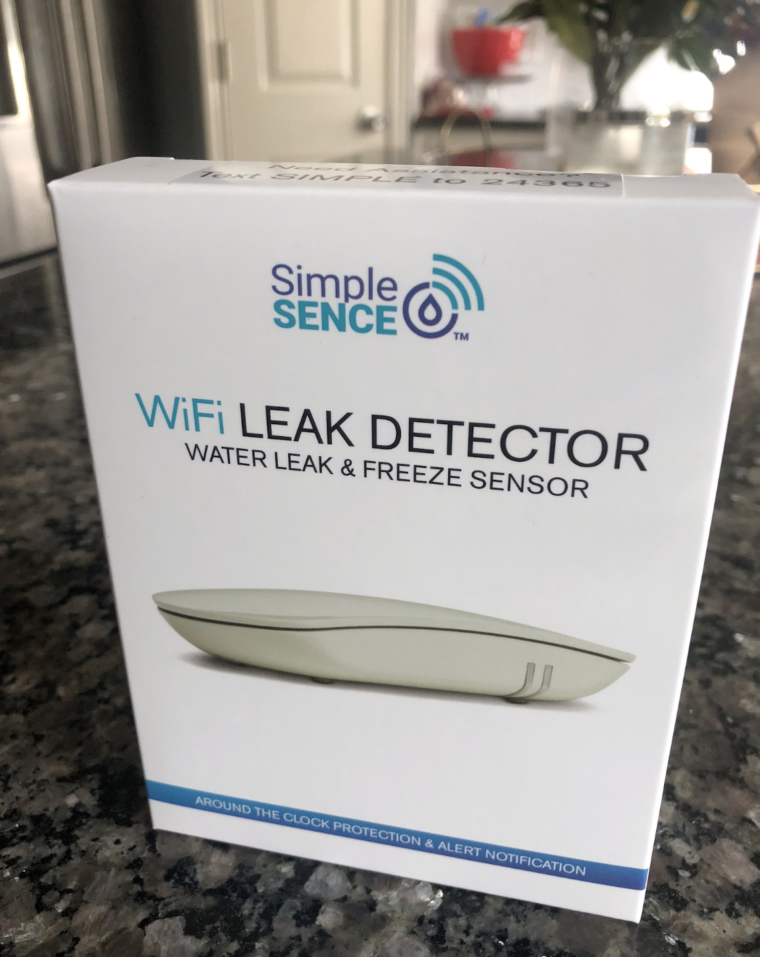 SimpleSENCE Water Leak and Freeze Detector is a great tech product. It's a highly accurate, Wi-Fi based water leak and freeze detector. You can put it under a sink, near a hot water heater, any place that isn't immediately visible and where water could leak for a long time without being noticed.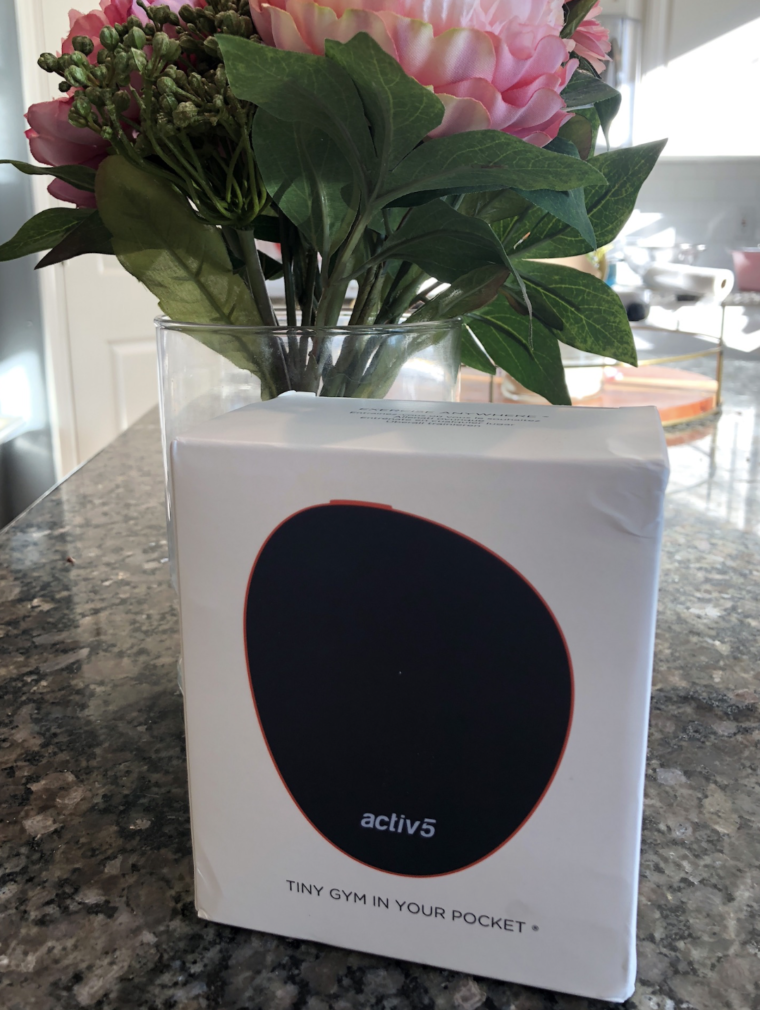 Activ5 is a smart portable fitness device that fits in the palm of your hand and, once paired with the Activ5 App, it provides users with more than 100 personalizedisometric workouts. But what sets this "Tiny Gym in Your Pocket" apart is its capacity to measure and track strength level and progress.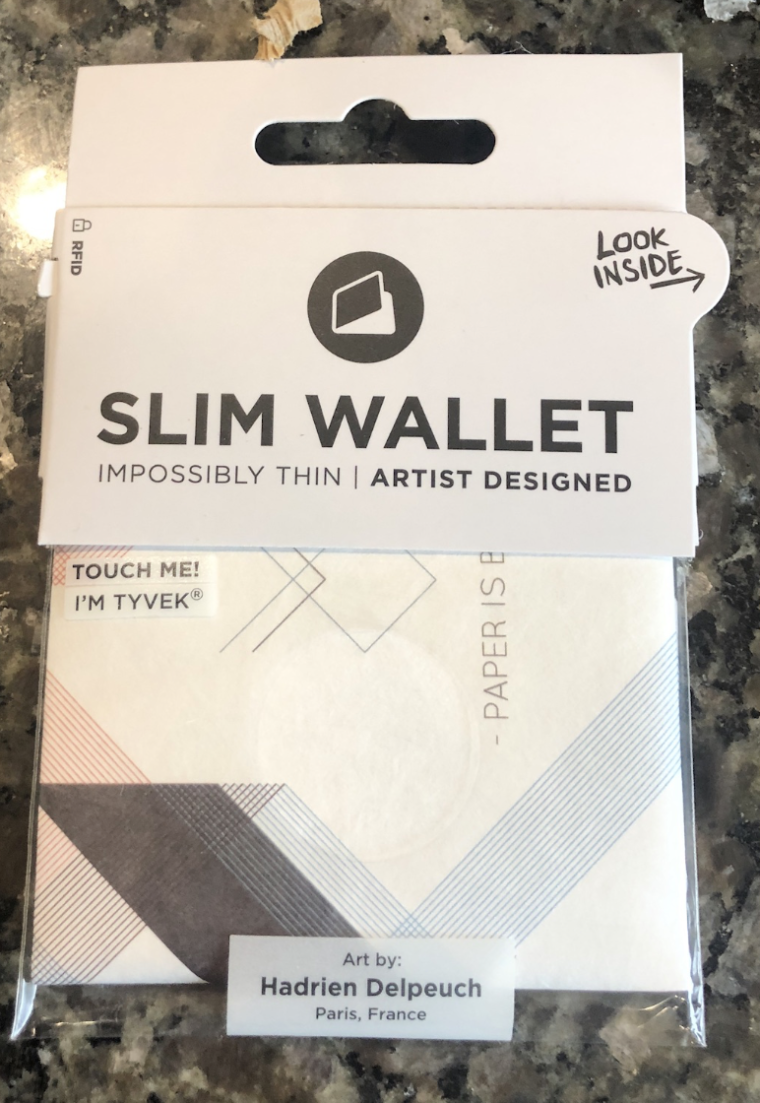 The Paperwallet Slim Wallet is thin, simple, and stylish. Made from waterproof, tear-proof and 100% recyclable Tvyek Smart Material, it is also extremely durable and eco-friendly. Due to their lightweight and thin design, they're perfect for everyday use or as a backup wallet to make a quick trip out of the house.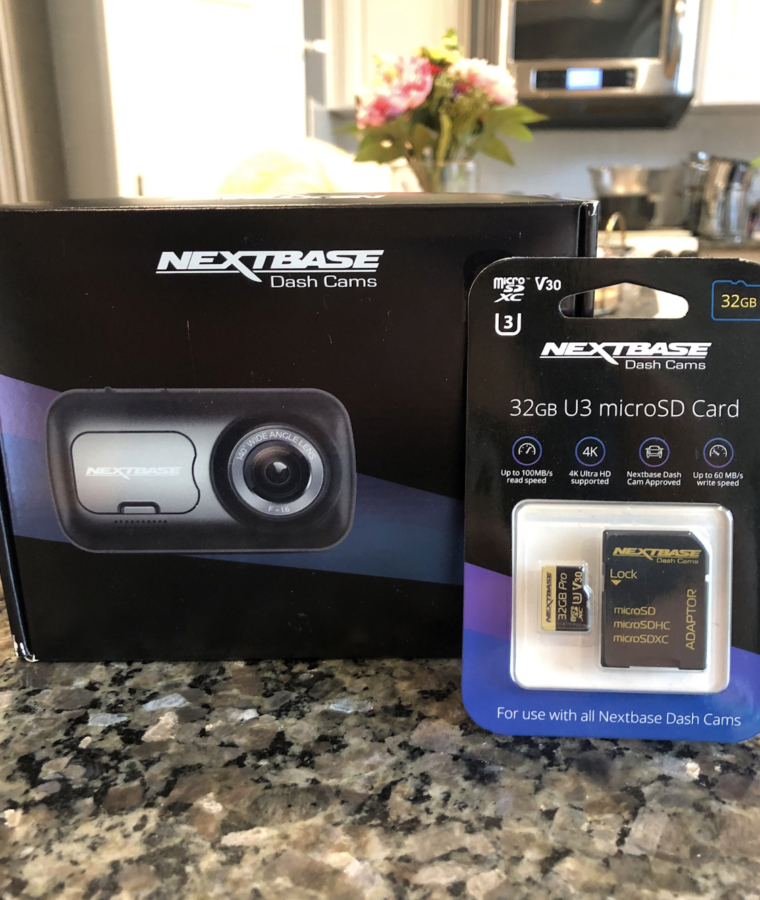 Nextbase is the world's leading manufacturer of Dash Cams, and as one of the fastest growing consumer technology categories in the US, these Dash Cams are sure to be a"must have" gadget/tech gift for the holidays/must have 2020 tech and the ultimate copilot to protect and potentially save lives, acting as the insurance savings hero and the only unbiased witness in an accident.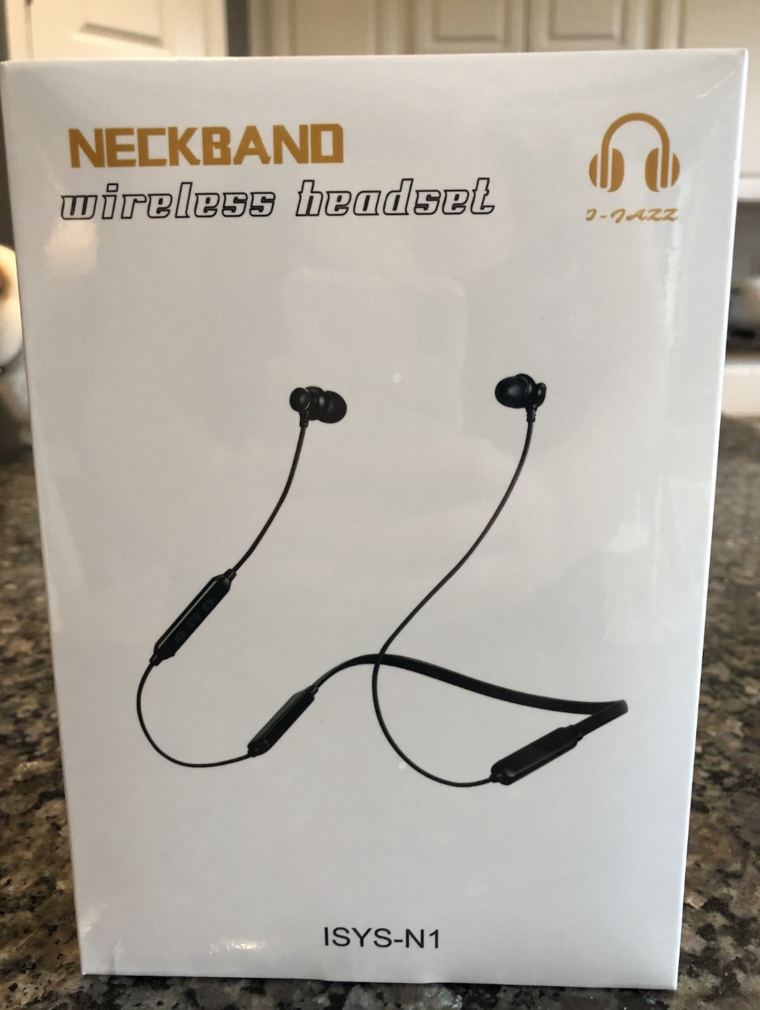 i-JAZZ Bluetooth Headphones come with the latest technology and are made from lightweight, long-lasting materials, guaranteed to withstand the test of time regardless of intensive use. The compact design is accompanied by a full HD stereo sound quality, while the sweatproof design makes them perfect for multipurpose uses.