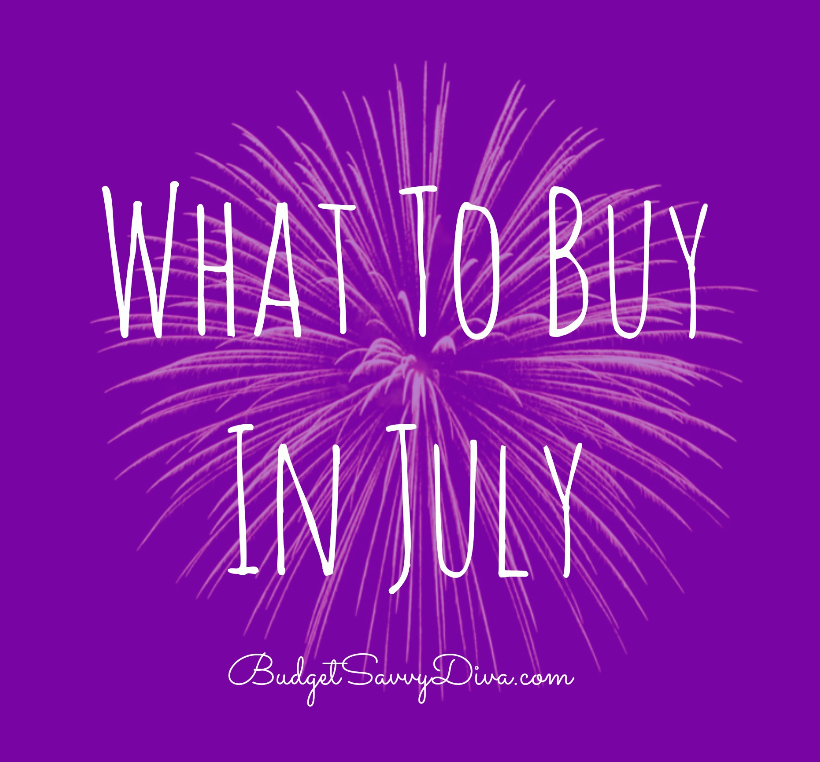 I know one of the hardest things to know when you are trying to save money is when to buy and not buy things
My team and I have gotten together and made a list for you for July 🙂
It is in video format since I really go into a lot of detail or each – plus I want that personal touch
Make sure you are subscribed to my YOUTUBE channel 🙂
Make sure to subscribe, like and comment
Love you all!!!

Things to BUY and NOT Buy in December
Here is a list of what I talked about ( please watch the video for the reasoning behind each item listed)
From July 4th weekend and onward through July there's a huge discount on summer items, such as summer apparel, bathing suits, and patio furniture. Although the prices continue to dip into August, many items in July are still 40-60% off, and getting items in July will allow you to enjoy them for longer during this summer.
After 4th of July grills go down to their lowest prices of the year, since 4th of July is the day where grills are the most used.
Numerous retailers tend to have laptop sales during July since it's a slow season for buying them, people buy them during the cold months when they are more apt to stay home, and many people buy them in August onward for school. Therefore lots of sales on laptops in July to try to boost sales during this slow time.
2013 and 2014 models of HDTV sets start to go on sale in July since the year is now more than half over, and retailers are getting ready for new 2015 models.
Ice cream: Since July is national ice cream month, many ice cream brands are having sales and lots of coupons during this month.
Jewelry: jewelry have low selling rates in July since Valentines and Mother's day has past and Christmas is too far into the future. Many jewelry stores or retailers selling jewelry have great discounts to boost sales during this slow time.
Furniture: Since most new furniture styles are released in August and September, lots of stores will start putting their furniture on clearance. This typically excludes mattresses and office furniture though.
Home décor (i.e. dinnerware, misc. decorative items): June and September are the biggest wedding months, since July falls in between the biggest wedding months, items that are typically purchased as wedding gifts go on sale.
Paint: Since many people don't like to paint in the hottest summer months of July and August, paint goes on sale at many retailers.
DSLR Cameras are at one of their lowest prices of the year second to Christmas time, since many people have already gotten cameras for Christmas or graduation.
Tools: The sales during July can sometimes be equal to the Father's Day sales in June, and even if they aren't equal they are at a very close second at being a great time of year to buy them.
Business/Winter attire: Since many people are taking off work in July, and because it's one of the hottest months of the year you can find some of the lowest prices on these items.