Family Game Night Anywhere with ProjeX Projecting Game Arcade
ProjeX supplied me with a free product and/or other compensation in exchange for my honest review.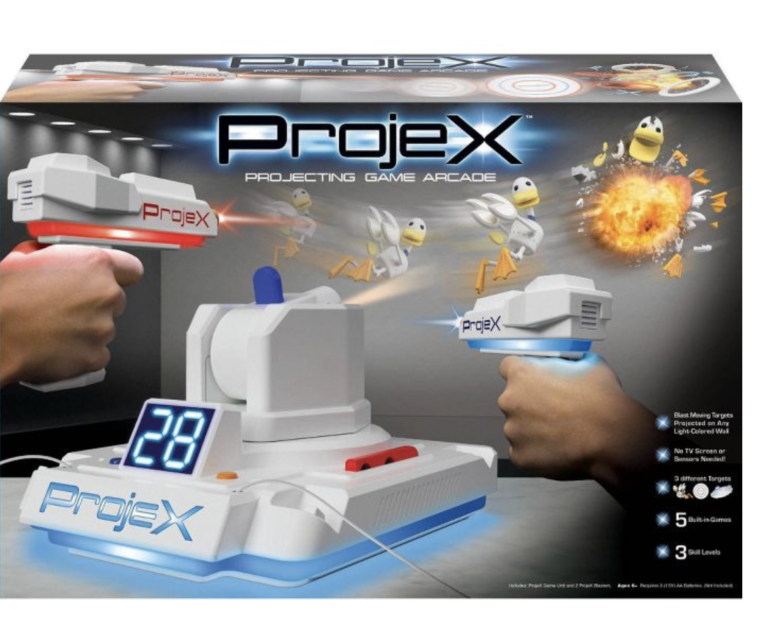 We were looking for another way for the family to have some fun together when I found out about ProjeX. The game system is recommended for ages six and up, but we thought it would be fun for us to play, and the twins would enjoy seeing us interact with the projections on the wall. As video game systems go, it's relatively easy to set up and convenient to take around. Here's what we found about ProjeX.
Portable Arcade Fun in Any Room
ProjeX is designed to conveniently turn any room in your house into an interactive game arcade. It's a portable game system that projects the game onto your wall. There is no TV or screen required, although it helps if you have a blank light-colored wall. The projector is battery operated and totally portable, plus it is built to carry the blasters and game slides as well. That makes it so easy to take out and put away while keeping all of the components together. I love how it can be moved to any area of the house and that it can even project outdoors onto the garage if we want some summer evening fun.
What's Included
ProjeX is a simply designed video game projection set with five built-in games and three image slides included. The image slides offer alternative targets and sound effects. The system comes with two blasters and a sticker sheet for fun or decoration. ProjeX does not need to plug into a wall outlet, which is awesome. However, it does require 3 AA batteries that are not included with the system.
Three Levels of Play
In addition to the five games and three sets of targets, there are also three levels of play from beginner to expert. I was happy about this because it's a good way to keep everybody interested. Small kids can play the beginner level and not feel out of their depth, but mom and dad can also play with more advanced settings, so the game remains challenging. The flexibility combined with the portability make it a valuable family activity.
Three Ways to Play
The gameplay with ProjeX is also variable, which I love. There are three different approaches to how you can use this projecting arcade system. The first way is head-to-head. That's where two players compete for the high score. The second way is Co-op mode, which combines the scores of the two players. Third, there is a solo option that you can choose if you are playing alone. This option feels like more of an afterthought because you have to plug in both blasters to start the system and then unplug one blaster to play solo.
Set-Up
Set-up is easy because it's such a straight forward design. You need to have three AA batteries to start, and that's basically it. You can get started with a coffee table or other relatively low surface. Just make sure you follow the instructions, or you may have to take out the batteries and start again. That's what happens if you try to start it with only one blaster plugged in, for example. Use the red and blue buttons to make menu selections, and you are free to play with the whole family. ProjeX Projecting Game Arcade is available at Target and Walmart for $49.99.