Best Easter Chocolates and Candies (Vegan and Dairy Free)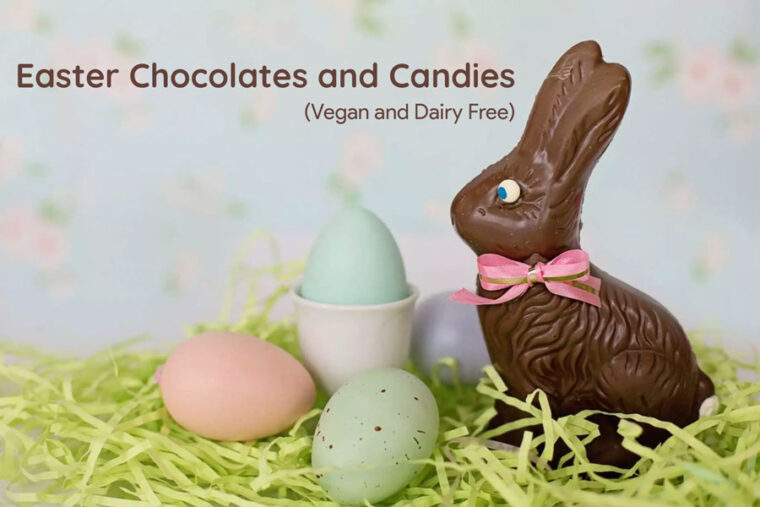 Easter is quickly approaching, and we're on top of the latest dairy-free Easter candy 2022 has to offer. However, in a period monopolized by dairy-containing Reese's and Cadbury Eggs, vegan Easter chocolates aren't always readily available out. Although there is a great deal of non-seasonal, organic candies available, occasionally, you really want to relive like a kid again with a vegan chocolate Santa or Easter bunny. And the best part is, you even need not necessarily look for candies in stores. Making them home is what I suggest. Doubles the fun, according to me. Here, use this guide I prepared earlier to make some delectable candies at home this easter.
Fortunately for vegans, huge developments by vegan candy businesses had already led to brands discovering convenient, more organic approaches to obtain the texture and flavor everyone craves, without the use of animal products.
So here's a list of vegan Easter chocolates to stuff your Easter basket with and get you in a playful mood. These are all worth a try if you're veg
an, don't eat dairy, or shop for someone with a dairy or egg allergy.
Best Vegan and Dairy Free Easter Chocolates and Candies
1. Choczero
ChocZero's dairy-free Easter bunny is ideal for those seeking a no-sugar-added alternative. Made of dark Chocolate, Soluble Corn Fiber, Sunflower Lecithin, Monk Fruit Extract, Madagascar Bourbon Vanilla Beans, it is clearly the best vegan Easter chocolate on Amazon. 
It has a high-fat content (10 grams per bar), a low carbohydrate content (2 grams net carbs per bar), and it is only sweetened with monk fruit. It is Ideal for replacing artificial sweeteners at the breakfast table or for caramelizing ingredients and sweetening baked goods in recipes!
2. Jojo's chocolate
Fill those Easter baskets with a bag of JOJO's Diverse Wrapped Bites from your "cart." The assortment pack includes bite-size replicas of their most popular chocolate bars, such as Original, Peanut Butter Delight, Raspberry Dream, and Goes Hawaiin. These flavors contain 70% dark chocolate, pistachios, almonds, and cranberries. 
The sweetness of the dry fruits balances the bitterness of the dark chocolate. These low-sugar chocolate treats satisfy your vegan Easter chocolate cravings while also supplying 6 grams of plant-based hemp protein per serving!!
3. Sour Patch Kids Candies
Sour Patch Kids are one of the best chewy candies to eat at any time of day. They come in various colors and flavors, such as Redberry, Orange, and Lime, among others. There are no non-vegan ingredients in some Sour Patch Kids variants though. If you are an enthusiastic vegan, you ought to make sure if sour patch kids sold around you are vegan or not. The candies are initially sour, but sweeten as you chew and swallow them, as the product's slogan "Sour. Sweet. Gone"
4. Yum Earth Candies