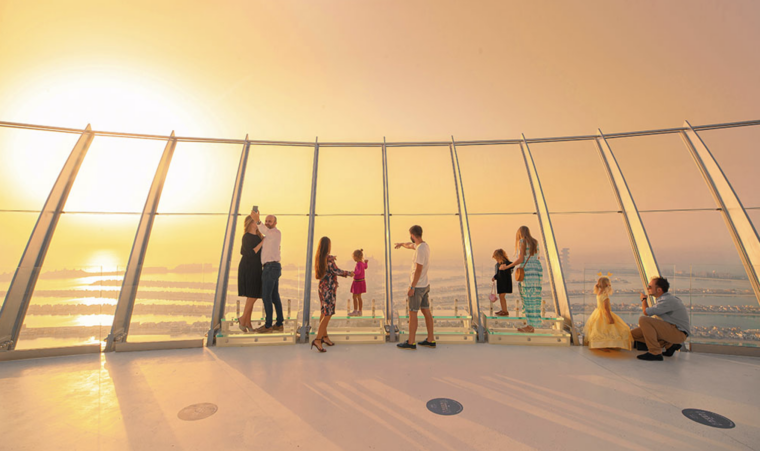 Dubai is a city of endless attractions and experiences. It, therefore, is not a wonder that most people assume it as an expensive city. While we don't deny this, the good news is that you can engage and enthrall yourself with very little money on your Dubai trip. Yes, there are a lot of Dubai attractions and activities that are cheap or even absolutely free. But, if you are not sure how to make the most of it, we have this exclusive read which guides you on how to spend a budget holiday in Dubai. 
Budget Things To Do In Dubai 
Take a Walking Tour of Al Bastakiya Quarter

 
Dubai is not a walkable city, but this traditional spot in Old Dubai must be explored on foot. Also called Al Fahidi Historical Neighborhood, it is a well-preserved 19th century enclave where its sand-colored structures with old-style wooden wind towers still exude the old world appeal. Majority of them now operate as a museum or an art gallery. There is also Sheikh Mohamed Centre of Cultural Understanding (SMCCU) – a perfect place to learn about authentic Emirati culture, heritage and religious views for a rate as low as AED 25 per person. 
Get a Slice of Dubai's Past

 
There are several museums in Dubai that you can visit for a genuine dose of the Arabian past. One of our top recommendations in this category is Shindagha Museum. Its mix of quaint location (by the banks of Dubai Creek), intriguing historical exhibits, and mostly the exciting multimedia presentation (on Dubai's transition from an ordinary fishing settlement to a superlative city) makes for a worthwhile trip here. 
See Burj Khalifa

 
It is unimaginable to visit Dubai and don't catch a view of this mighty 828 structure, which is the tallest of its kind on the planet. While it is worth going up to its observation decks on 124th and 148th levels, you can also watch it up-close for free from the Dubai Mall or other vantage points anywhere in Downtown Dubai area. 
Don't Miss the Free Attractions at the Dubai Mall

 
With more than 1200 outlets, most budget travelers skip a visit here thinking that this mega mall is only for shoppers. But, it is more than that; there are over 200 venues topped by a trove of leisure attractions. Now if you don't want to spend a single dime on your Dubai Mall visit, there are some cool free attractions including Dubai Aquarium and Underwater Zoo (however a part of it is accessible for free), Dubai Dino (dating back to more than 155 years), and of course, the Human Waterfall. 
Watch the Aquatic Extravaganza of Dubai Fountain

 
Located outside of the Dubai Mall, Dubai Fountain is one of the city's classic free attractions that you would never get bored of. Set on the Burj Lake against the stunning backdrop of the colossal Burj Khalifa, it blows you away with its scintillating choreographed aquatic show in the breathtaking harmony of music. 
Take to the View at The Palm

 
It may be one of the priciest experiences in this list. But, did you know that the View at the Palm is the cheapest alternative over taking a helicopter ride or going on a sky diving session. After all, it is the only observation deck in Dubai that gives you the full display of the iconic man-made island of Palm Jumeirah. So don't miss it; it is absolutely worth every dirham you spend. You will find it on the 52nd level of the Palm Tower. 
Cruise Dubai's Waters for Super Less

 
For those who wish to admire Dubai from water, the city has some wonderful options such as the glamorous yacht cruise and the more traditional dhow cruise Dubai. But, if you are looking to keep this experience low-key and super affordable, nothing probably comes closer to an abra ride on Dubai Creek as it costs only AED 1 to cruise from Bur Dubai to Dubai Creek. 
Retreat to the Arabian Desert

 
Whether you are here to splurge or on a tight budget, a desert safari in Dubai is unmissable! This off-road tour well combines adventure, amusement, culture and nature all in a single trip. Luckily, there are several service providers that allow you to experience it at low rates. But, make sure that the desert safari package you choose covers all the stapes including 4X4 dune bash, camel ride, and cultural activities like Shisha smoking, falconry, henna tattooing etc. 
Visit the City's Pristine Beaches & Green Parks

 
Dubai boasts of a futuristic cityscape with soaring skyscrapers. That said, its pristine beaches and verdant green parks including Jumeirah Beach, Kite Beach, Mushrif Park, Zabeel Park etc, are equally alluring. What is more amazing is that most of them are free to visit or won't cost you more than AED 7 to AED 10. 
Explore Souks

 
If you think shopping in Dubai is reserved for affluent only, you must definitely visit the region's traditional bazaars, locally known as souks such as Gold Souk, Spice Souk and Textile Souk.  You get to shop stunning jewelry pieces, unique souvenirs, colorful textiles, flavorful spices, Persian carpets, confectionaries, perfumes and other merchandise all at cheaper rates. 
Budget Places To Stay And Eat 
Dubai is famed for its ultra stylish accommodation where you can literally experience a piece of heaven. But, this will set you back the major chunk of your holiday budget. For real savings, it is most ideal to stay in a three-star hotel or four-star at Bur Dubai or Deira area. There are plenty of them such as York International Hotel, Palm Beach Hotel, Sun and Sands Downtown Hotel, and Gulf Star Hotel. When it comes to budget dining in Dubai, you will be spoilt for choices. Visit the food courts within the massive malls or savor street foods on the go that are both cheap and yum. 
More Tips To Travel Dubai On Budget 
For utmost savings, visit Dubai during off-season (between June and September.) With that being said, you can save on your Dubai visit during peak season too. Just make sure that you book all aspects of your Dubai vacation in advance, mainly accommodation, transfers, sightseeing etc.

 

To save a bundle of transport, make the most of the region's public transport system, especially the longest and fastest of its kind Dubai Metro, to get around in the city.

 

Fancy drinking or dining in a posh restaurant? You can make this dream come true by hitting the happy hour deals offered by the region's choicest dining venues.

 

Buy an all-inclusive combo pass that packages two or more of Dubai attractions and experiences like Burj Khalifa, the View at the Palm, and Atlantis Water Park Dubai at a relatively single low rate.

 

Acquaint yourself with the region's rules and regulations. For instance, smoking / consuming alcohol in public, PDAs etc are serious offences which may require you to pay fine.

 
Conclusion 
Dubai is not all about its glitzy skyscrapers, swanky malls and out of the world leisure choices. There are plenty of affordable and free things to do in Dubai that won't cost you a fortune. Add to this cost-effective accommodation and dining options which overall make it easy to discover this stunning Arabian city on a budget.