How to Make Delicious Homemade Waffles at Home?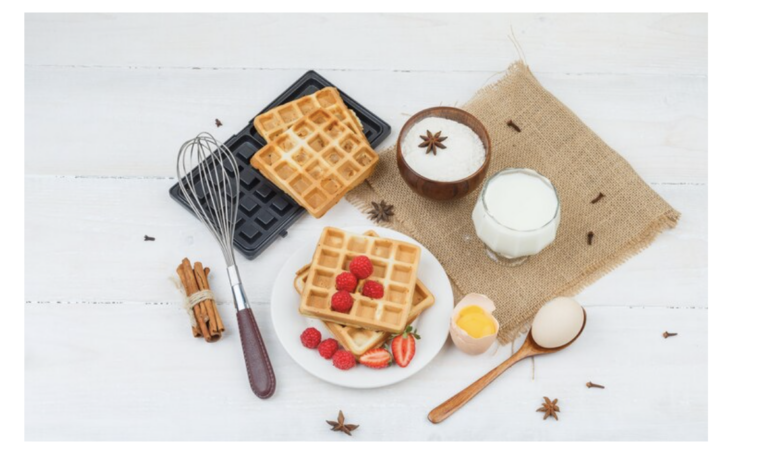 There are a lot of ways to enjoy the food that you want, and one of these is when you are the one who made it. Many of us want to make homemade food, but most of us don't know how to do it. Luckily, we may learn new things by simply conducting research online, which is why you are reading this piece right now, indicating that you have arrived at the proper location.
The Differences Between Pancakes and Waffles
This waffle recipe uses a different mixture than pancakes. For the fluffiest waffles ever, you can beat the egg whites separately and then fold them into the waffle mixture. A waffle's extra egg creates a crispy outer layer that surrounds a moist, fluffy inside with lots of air pockets. While the pancake mixture can be cooked in a waffle iron, the finished product won't have the same texture or flavor as standard waffles. The outside texture of pancakes made from a pancake recipe or pancake mix will be slightly different and thicker.
The Making Of A Waffle
This quick and simple waffle recipe needs a few minutes to prepare. The extra work of beating the egg whites will be worth it because of the excellent reviews!
After separating the eggs, beat the egg whites until stiff. It is optional, but it is advisable. Additionally, compared to other waffle recipes, the extra step in this one makes it fluffier.
Combine the dry and wet ingredients. Add whipped egg whites immediately.
Pour batter onto hot waffle iron and cook for 5 minutes or until crispy and lightly browned.
Serve it with your favorite toppings. There are waffle makers that have an on/off switch, and some need a temperature setting. If your waffle maker has a temperature setting, cook the waffles at four hundred degrees Fahrenheit or until the outsides are nicely browned. To make the best waffles, keep the batter lumpy and avoid overmixing. Keep the batter lumpy; don't overmix it. Use vegetable oil rather than cooking spray when frying the waffle.
Ingredients
  2 cups of flour
  1 tablespoon baking powder
  ½ teaspoon salt
  2 tablespoons sugar
  2 eggs divided
  1 ⅔ cup of milk
  ⅓ cup melted butter
Extra Notes to Remember
If you want to achieve the fluffiest waffles, they are made by beating the egg whites very well and folding them in slightly. You can cook this recipe without whipping the egg whites. If you do not whip the egg white, cut the milk down to one and one-half cups and pour the entire egg into the butter mixture. Whenever you are thinking of making a lot of waffles, these might help you keep the waffles warm while you are still cooking the others. Place a baking pan in the oven and heat it to two hundred twenty-five degrees Fahrenheit. Place the cooked waffles on the baking sheet to keep them warm while you prepare the remaining waffles.
Buttermilk Waffles
To create buttermilk waffles, use one and a half teaspoons of baking powder and one-half teaspoon of baking soda. In place of milk, substitute buttermilk.
Perfect Combos For Waffles
Waffles are incredibly adaptable and welcome a wide variety of toppings. These waffles, which are crisp on the outside and have a fluffy texture on the inside, taste great when topped with melted butter and syrup. The perfect way to start your morning! Some are using waffles as desserts or substitutes for bread in meals, and they will add a lot of gravy. Sweet foods include strawberries with whipped cream, all kinds of jams and jellies, Nutella, strawberry butter, honey, cinnamon sugar, or apple butter, as well as honey butter. Savory toppings include sausage gravy, fried chicken for fried chicken and waffles, chopped pecans that have been toasted, or even a boiled egg and shredded cheese.
In General
Preparing food to eat on the table makes your heart overwhelmed, especially when it is appreciated by everyone who eats it. The main ingredient in cooking is love. Even if you do not enjoy cooking, as long as you put love into preparing the vegetables or other ingredients and cooking, it will taste delicious. In addition, when you are full of love while cooking, it will automatically add up as a spice to the food that you prepare. Let love be one of the spices!