Things to Consider When Buying a Gaming Desk for Your Kid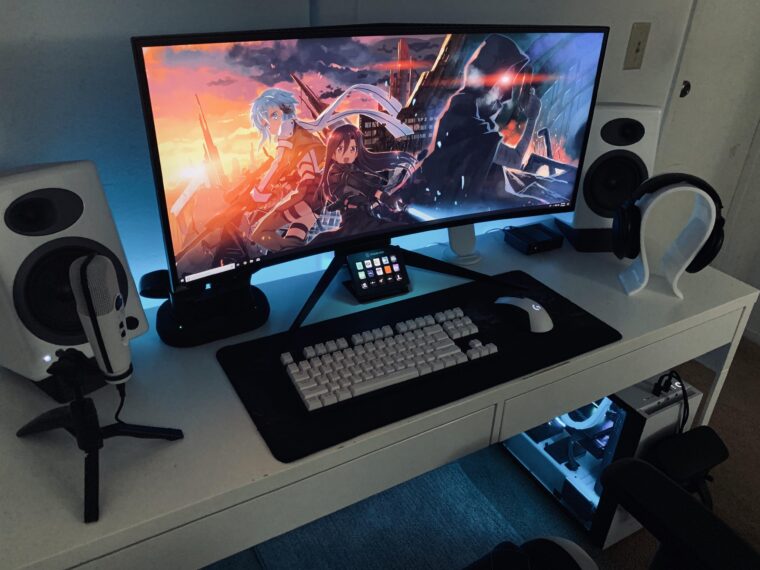 https://images.unsplash.com/photo-1560671563-7a75c5838af3
If you are a gamer, you know the importance of having a gaming desk. It is one of the things that can make your gaming experience more comfortable and fun. The world of gaming is varied. Your kid can play on smartphones and PCs. In a survey by Statista, in the US, nearly 46% of children between the age of 13 to 18 admitted to playing video games daily. 
Gaming desks are also handy for college students who have to study for exams. But what if you need one for your child? It can be tricky because there are so many different types available today.
Here are some tips on how to choose the best gaming desk for kids:
Dimensions
The dimensions of the gaming desk are a necessary consideration. If you plan on having one monitor, a smaller size is appropriate. However, if you plan to have two or more monitors side by side for video editing or gaming purposes, a larger surface area is great for your kid to spread out their materials.
The size of the chair should also match up with any existing furniture in your child's room and any other pieces they may need later down the line. The chair should be comfortable enough to keep them focused while they work. It should also provide adequate support, so they don't feel pain after long periods of sitting down at their desk.
Space for Speaker and Headphone Storage
As a parent, you might consider investing in a gaming desk that has space for speaker and headphone storage. Your child should be able to store his or her speakers and headphones near the computer so they can easily be plugged into it when needed. The same goes for their gaming system.
If they are playing with friends, they need to be able to easily access their headsets and speakers. If not directly built into the desk itself, many great options are available online that allow you to have speaker storage next to your gaming system.
Most people worldwide choose to shop for speakers and other audio accessories online. As a result, the trend is on the rise. The global market for this equipment is expected to reach $36.3 billion in 2022, as per Businesswire.
The easiest way for you as a parent is to buy all these things separately. It will work fine if you can get your kid's computer on top of an existing desk with plenty of room underneath. Make sure there's enough room below before buying anything else. You don't want things getting knocked over by accident while playing video games with friends.
Height Adjustability
You want something that will grow with your child. The desk should be adjustable to the height of your child, their computer chair, and the keyboard. It is crucial because it means you won't have to buy a new gaming desk every few years. Gaming desks are good because they can help your child improve their performance at video games.
The desk should also be adjustable so you can set it up in various ways. It is crucial to set up a standing desk, for example, or if your child wants to use their computer while lying on the floor.
Surface Material
The material of your desk is an important consideration. The table should be sturdy enough to hold a computer, keyboard, and mouse. Wood is a good choice because it's durable and can last many years. Steel is also a good option because it will resist warping and bending over time.
Plastic is another popular choice because it's lightweight and easy to move around. Glass tables are attractive but may not stand well in high-traffic areas. In addition, kids might bump into them when playing games or eating snacks at their desks. Glass surfaces may also be more susceptible to scratching from staples than other materials like wood or steel.
Cable Management
It's necessary to consider cable management when purchasing a desk. For example, some desks can have cables hidden behind and under the desk, but not all will allow this type of hiding. In addition, some desks are open on the bottom so that wires can be seen if you choose not to hide them.
If you don't want your child sitting up high all day long, consider choosing another kind of equipment stands instead of a standing desk. You can even buy an inexpensive folding chair for gaming sessions if it doesn't matter what kind of seat they use while gaming.
Is It Easy to Assemble?
Now that you've researched the best gaming desk for your child, it's time to think about how easy it will be to assemble. It is crucial if you're buying this as a gift for someone else.
If they are not well-versed in DIY projects, they'll need a product that can be put together with minimal effort. However, according to studies, nearly 36% of Americans are well-versed in DIY projects. Hence, it is necessary to choose a product that is easy to assemble.
The number of pieces involved will have a big impact on how long it takes to assemble your new desk. You may also get annoyed when trying to do so. Multiple-part products tend to take longer than single-piece ones. But there are ways around this problem if you read reviews carefully before purchasing anything.
In addition to the number of pieces in each product, consider what tools are needed for assembly. If all goes well and everything lines up perfectly, no tools might be necessary. However, sometimes things don't go so smoothly, and things come loose unexpectedly when trying them out later. Make sure there are no hidden surprises before investing in one product over another.
Computer Setup
The first thing you should look out for is a built-in place to put your computer on. If the desk doesn't have one, it will require extra assembly and added cost.
The next thing to consider is a place to put your keyboard, mouse, and monitor. You may want to invest in some separate mounts if they don't come with the desk. It's also helpful that they are adjustable, so they can accommodate different types of monitors when your kid grows older.
The last thing to recommend checking out is whether or not there is room for speakers underneath the desk. If not, ensure enough space elsewhere in the room where sound won't interfere with other activities.
Consider the Above Factors When Buying a Gaming Desk
There are many things to consider when buying a gaming desk for your kid. To begin with, the desk should be comfortable and ergonomic. In addition to that, it should have cable management so that you can easily hide the cables of their gaming devices and consoles.
If you're looking for a good gaming desk, the best way to go about it is by considering the features that you need and want. By doing this, you can choose a desk that will meet all your requirements.
It is necessary for parents who have children interested in video games to get them an appropriate gaming station so they can enjoy their hobby. The best way to do this is by investing in high-quality.