9 Things You Need for Your Home Office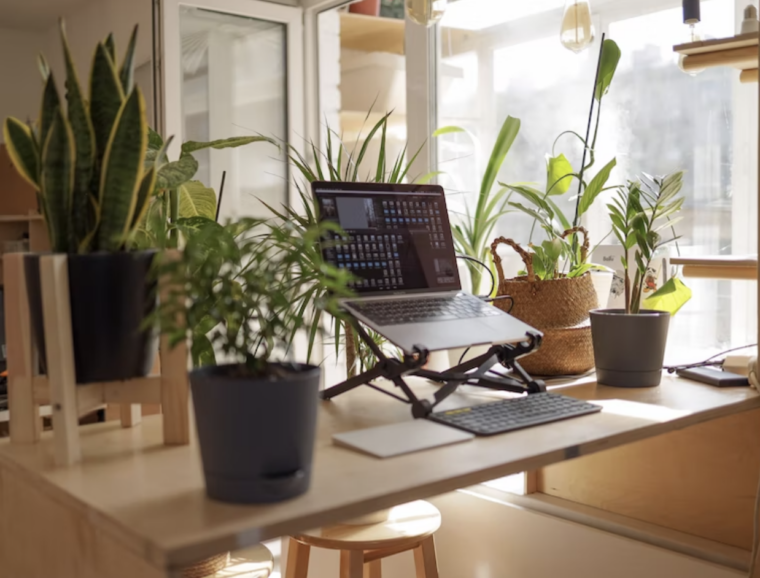 Working from home is becoming more and more popular. In fact, according to an article in Forbes, "The number of people who worked from home at least one day a week increased by 115% between 2005 and 2012." 
If you're thinking about making the switch to working from home, or if you've been working from home for a while and would like some tips on how to make it work best for you, read on! This blog post will outline the things you need for your home office to be productive and comfortable.
Design
Creating a comfortable, efficient workspace is key to maximizing productivity when working from home. This means dedicating a specific area of your home to serve as your office and making sure it has all the necessary features you need, such as adequate storage, organization systems, proper lighting, and ergonomic furniture. 
Investing in nice-looking furnishings also creates a professional environment that can provide motivation and inspiration while working. Having good look design aspects such as antique clocks or a bone handle magnifying glass on your desk can give it a more interesting look as well. 
Essential Home Office Supplies
In addition to having an organized workspace, certain items should be included in every home office for optimal efficiency. These include things like an internet connection (wired or wireless), printer, computer/laptop, scanner/fax machine (if needed), telephone/voicemail, desk/chair, filing cabinet, and storage containers. If you are thinking about which PC to invest in, considering MacBook lifespan, it is a great choice. If you are not sure, ask an expert how long should my MacBooks last?
Having the right tools can make all the difference when it comes to staying on top of tasks and reaching goals.
Work Table
Finally, you should consider investing in a work table for any larger projects that may come up. This should have enough room to spread out documents and other materials while still giving you enough space to move around. 
A good-quality desk with adjustable height can also provide comfort over long periods spent working at home.
Reusable Water Bottle
Forget a water cooler – these days, it's all about the reusable water bottles. Staying hydrated is key to staying energized and alert while working from home, so having a bottle of water nearby at all times makes sense. Plus, it's better for the environment than buying single-use plastic bottles every day.
Ergonomic Chair
Sitting for extended periods can cause strain on your back and neck, so make sure to invest in a comfortable, adjustable seat that provides the necessary support. Taking breaks throughout the day is also helpful in preventing fatigue.
Laptop Stand
Prevent eye strain, neck pain, and shoulder aches by investing in a laptop stand. This will lift the screen to an ergonomic level and make typing more comfortable for longer durations of time.
Noise Cancellation Headphones
Working from home can be distracting, and noise-cancellation headphones can help keep you focused. These also come in handy when attending virtual meetings or video calls, as they will block out any background noises that could interfere with the call.
Power Supply
Most laptops and other electronic devices require an external power supply, so make sure you have one handy. This will ensure that your device is always charged and ready to go when it's time to work.
Technology
Technology is an essential part of any home office setup. Whether you're working remotely for a company or are self-employed, having access to advanced software applications can provide you with the power to stay connected, organized, and productive from virtually anywhere in the world. 
Word processing programs like Microsoft Office offer users a range of features that allow them to create documents quickly and easily; cloud computing solutions such as Google Drive, or Verticomm, enable collaboration with others in real-time; video conferencing tools like Skype help keep teams connected while apart; project management systems like Basecamp help keep projects on track.
Socializing With Others
No matter how much you love working from home, there may be times when you need to stay connected with your colleagues and clients.
To do this, ensure your office is equipped with a reliable internet connection that can handle all of the web activities you've got planned for the day (and night). If possible, invest in a good router and consider setting up an Ethernet connection for wired speeds or buying an extender to boost signal strength if needed.
Also, consider making use of chat programs such as Slack so that everyone can stay in touch no matter where they are located.
Coffee Maker
No home office is complete without a coffee maker. Whether you prefer to start your day with an espresso or a cup of tea, having a good machine on hand will help you stay energized and productive throughout the day. 
Look for one that is easy to use and clean, and consider investing in a milk frother.
Final Thoughts
Working from home can be a great way to increase productivity while still maintaining a flexible schedule and work-life balance. However, to make the most of this situation, it's important to have the right supplies on hand. 
From ergonomic furniture and organizational systems to an internet connection and water bottle, these things will help ensure your home office is comfortable and efficient.