Blockbuster Days are Numbered – Bye Bye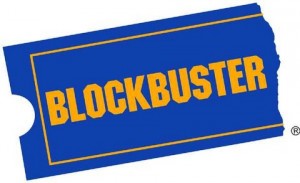 Bye Bye Blockbuster 🙁
We all knew that is was coming – but it was not until I saw the " WE ARE CLOSING" sign at my local Blockbuster that the truth really sunk in.
The future of Blockbuster Inc. hangs in the balance – In an effort to save themselves from Chapter 7 liquidation, Blockbuster is putting itself up for a sale auction this April.
Anyone interested in owning a prehistoric video rental franchise – did not think so
Especially with Blockbuster owning – $100 million to companies such as Disney.
Do you think Blockbuster is able to survive on any level after the sale?
With companies such as Netflix and Redbox filling the need of the public for quick and inexpensive video rental – where is the place for Blockbuster – nowhere it seems.
Though it is a bittersweet parting – though I did not like the $5.00 price tag – I will always remember one of my first dates with my husband was walking through the aisles of Blockbuster for movies to rent.
To read more bankruptcy news check out this article:
Budget Savvy Diva Opinion: Is BEST BUY next on the Bankruptcy Chopping Block?