McDonald Exposed: Want Raw Chicken with Those Fries? – THE SHOCKING FOLLOW UP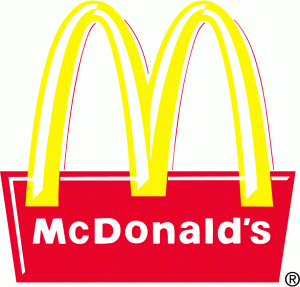 I posted this yesterday but I know that many of y'all did not get a chance to read it.
So if y'all did not know my friend over at Bebellies Bargains has had a distributing find in her chicken strips find all about the story
Here is the follow up
So… most of you were completely grossed out by my RAW chicken experience as was I. There were several comments on a few other blogs where people thought I overreacted and "threw a hussy fit" for no apparent reason. I had to laugh those off and think back to my science class in high school, oh so long ago, where we took a swab sample of RAW chicken and left it in a petri dish overnight… the next day, we looked at the dish under a black light and were shown how to test for salmonella and e.coli… yep! It was there along with 4 different types of mold… talk about a group of grossed out teenagers! Then I thought about my own kitchen when I cook chicken, I wash my hands a lot before and after handling and wipe the counters down with Lysol to keep the bacteria away so WHY ON EARTH WOULD I BE MAD THAT I INGESTED THIS STUFF?? <— That's obviously a rhetorical question:)
Anyway… I also wanted to point out a few misconceptions that I uncovered while I made my many calls to corporate, which we'll get to as soon as I get off my soap box. Chicken Selects come pre breaded NOT pre cooked. McDonalds restaurants have a specific time that they must cook the Selects in oil at a set temperature. I was given the time and temperature but asked not to publish this information.
That said… this is not an isolated incidence. I have personally been in contact with 6 other people, in my area who have experienced the RAW CHICKEN treatment, as I'm calling it:)
On to the follow up… I contacted corporate via voicemail, e-mail and snail mail. I didn't receive any communication back so I called again on Tuesday afternoon (remember this happened on Saturday), where I was immediately handed off to a senior manager, Carol. Carol was very cautious from the get go; she listened as I rehashed the details and apologized for my experience. I was then given two options, I was told that I could seek medical attention but if I did so, she would forward my call to their insurance company and I would not be in contact with McDonalds further OR she would send me some free coupons to return to any McDonalds in the future. I opted for neither. I won't be going back… instead I asked that the District Manager follow up with their store and offer additional training to all managers involved. I asked for them to take this as a lesson and learn from it.
I was also told that corporate would take a look at the internal video from the grill and fryer to see exactly what happened so they could insure this won't happen again at the same store. I will not receive follow up regarding the video…. although I wish I would:)
As for the e-mail I sent, I received an auto response today… yep! 5 days later stating that someone would follow up on Monday.
Anyhoo… like I said… a boring ending to an awful experience.
Should anything else happen, y'all will be updated here:)
Thanks for reading and thanks for caring.