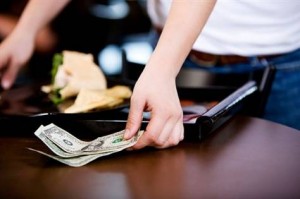 Tipping?
Now I always tip at least 20 %  of the bill. I have never been a server – but I know it is a difficult job so I try and show my appreciation.
Well that changed last night – I went to a restaurant I have been to before and enjoy. This time around was different. The service was horrible – took 10 minutes for a server to take our order. Another 30 minutes — food comes with no napkins – plates. The food was pretty good.
After we finished  – we asked for the check.
5 minutes go by
10 minutes….
The server is about 5 feet away this whole time – not really doing anything other then pick her nails.
15 minutes
20 minutes go by…
Finally I got the manager to get the check…
Would you of left a tip? If so how much?
Do you always leave a tip? If Not When have you not left a tip