*BRAG Shopping Trip Picture Of The Day* New Couponer!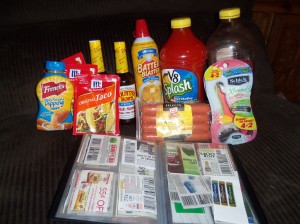 Thanks! Reader Gina
This is what Gina Wrote
" My husband and I just have started couponing the past two weeks. We went to our local Walmart 9/26
12 items bought.
Coupons we used.
~ One Free Can of Batter Blaster
~ Three 75 cents off McCormick Seasonings
~ 75 cents off Frenches Honey Mustard
~ Two Coupons for Free Bottles of Country Bobs All purpose Sauce
~ $6.00 off Schick Razors (They had 4 packs with 2 extra)
~ Coupon for free Oscar Meyer Hotdog SELECTS
~ Coupon $1.00 off two V8 Splash
And the little book is my coupon book my husband got me has 56 slots. It was $4.98
Total came to $30.74 without Tax
With coupons we paid $9.77 with Tax
First time we used more than two or three coupons at once. I've seen better, but I think we did pretty good for
our first time!"
What do YOU think about this Shopping Trip?
Check Out MORE BRAG PICTURES
If you have a Awesome Shopping Trip Photo – please send it to [email protected]!