*Brag Shopping Trip Of The Day*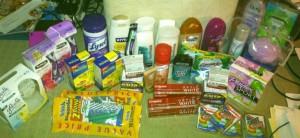 Thanks! Reader Michelle 🙂
This is what Michelle Wrote
I've been couponing for only a couple of months now and I am obsessed! Here are my goodies from the last two weeks from Rite Aid, Walgreens, CVS, Target, and Walmart. I've limited myself to these stores because until I saw extreme couponing the other night for my first time, I didn't realize how many deals could be found at supermarkets. I am excited to begin couponing at my local grocery stores!
My purchases included:
1 Glade Lasting Impressions
2 Schick Quattro Trim Style Razors
1 Lysol 35 ct Dual Action Wipes
1 Brita Pitcher (not shown)
2 Theraflu
6 Cascade 3ct (some not shown)
2 Schick Disposable Razor 12 packs
2 Bayers
2 Excedrin
7 Shout Wipe n Go (some not shown)
2 Optic White Toothpaste
1 Jergens Natural Glow body lotion
1 Skintimate Shave gel
2 Pantene Shampoo
2 Pantene Conditioner
1 Nivea Bodywash
1 Reach toothbrush
1 Olay/Venus Gift Package
2 Softsoap Bodywash
1 Speed stick
1 Playtex Sport tampons 18 ct
2 Playtex Sport tampons 36 ct (not shown)
I paid 33.80 out of pocket and will receive $22.49 in rebates for the brita, olay/venus gift set from walmart, and lysol wipes, bringing my actual cost to 11.31!!
What do YOU think about this Shopping Trip?
Check Out MORE BRAG PICTURES
If you have a Awesome Shopping Trip Photo – please send it to [email protected]!