*Brag Worthy Shopping Trip* – Hundreds of Dollars Worth of Products For ONLY $7.56 !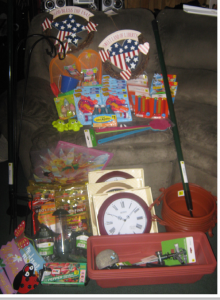 Another brag picture from the Dollar General $.10 Sale
Find out more below
Dollar General: 10¢ Summer Sale (Starts Today)
Thanks! Reader Kristy 🙂
This is what she said
I had so much fun tonight! I had to share this picture with you! I got everything for .10 each!!!
I am making some garden baskets for Christmas, summer birthday presents for next year, and more!
I spent $7.56 after tax!
Some of the 70 Items I got Include:
Fourth of July Wreaths
Bubbles
Chalk
Plant Food
Hanging Baskets
Planting Boxes
Hooks to hang flower baskets
Bird Feeders
Garden Tools
Clocks
Princess/Fairy Place mats
Hanging Door Spring Signs
Sand Toys
Pool Toys
and more!!
Thanks for the heads up! My dollar general said they do this after every season!