*Brag Worthy Shopping Trip* Kmart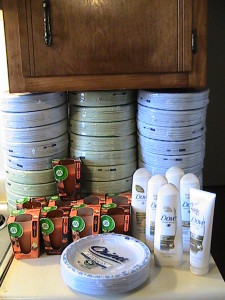 What do YOU think about this Shopping Trip?
Check Out MORE BRAG PICTURES
If you have a Awesome Shopping Trip Photo – please send it to [email protected]!
Thanks! Ana
This is what she wrote
I went to K-mart last week and was able to find Chinet Casual plates (36-ct) for $1.49! Used $0.55/1 chinet casual plates (K-mart was doubling coupons last week) so my total after Q was 0.39 for each package.
Dove deal (K-mart) Save $5 instantly when you purchase $15 worth of dove products.(ended 10/29)
Shampoo/conditioner/treatment
was $3.39 X 6=$20.34
-$5.00 DOVE promotion
-(3) Buy one get one dove coupon(takes $10.17 off)
-(3) $0.75 cents any one dove hair care treatment coupon.( each doubled)
final price.$2.92
WALMART AIRWICK HALLOWEEN CANDLES
Orig.Price $4, after halloween $2.00
used $3/2 airwick candle (SS 10/30)
$0.50 each after coupons.
I bought 27 packages of plates for 0.39 each= $10.53 (from 3 different stores)
10 air wick candles 0.50 each= $5.00
6 Dove shampoo/conditioner/treatments=2.92.
My nephew's birthday is this month so we need lots of plates for his birthday party.
Thanks, I love your page.