Check Out The $3.05 Gift Baskets Budget Savvy Diva Made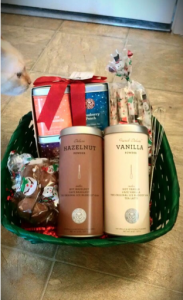 I have received many emails from readers wondering what I give away for Christmas – well I am a BIG FAN of gift baskets 😉
This is one I put together for one part of my family – I ended up making 3 of them.
My #1 rule of making gift baskets is use what you have.
1) Teas and Hot Chocolate were FREE! My hubby gets credits where he works monthly and we save them up to use them on the 40% discount yearly sale. We were able to snag about $150 worth of products for FREE!
2) Fluffy Stuff – I actually do not know the right word – but I reused packaging from another package – you cannot see it in the picture too much – but it is red.
#2 Homemade Saves You Money!
1)  Inexpensive Christmas Craft: Christmas White Chocolate Pretzels – $.80 Each Pack

2) Dark Chocolate Truffles ( If People Want the Recipe I will Post It) – $1.25 Each Pack
Bought The Basket at Dollar Tree – $1.00
Gift Basket Cost – $3.05 !